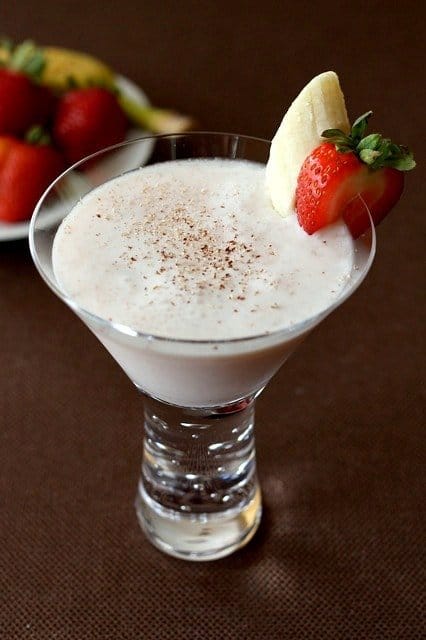 Instead of cake or pie…try a Banana Split Martini for dessert!
This Banana Split Martini is my second cocktail over on the Food Fanatic website and it's a good one. It has all the flavors of a huge banana split sundae shaken and poured into a martini glass.
This martini features Smirnoff Caramel Vodka, which I think at the moment is one of my favorite flavored vodkas. It actuallly tastes like real caramel and not a bad imitation. I've made a few drinks with it so far and they've all come out amazing. Add in some strawberry and banana liquor, cream and some fresh banana that's shaken up in the martini – and you've got yourself dessert in a glass.
I love trying to make cocktails taste like something else. I'll put a drink down in front of one of my friends and make them guess what the drink is supposed to taste like. Usually they do guess but sometimes they just can't put their finger on it. This Banana Split Martini was an easy guess. But some aren't and we'll be getting to those…
This martini is all about combining dessert and your booze together. Maybe you don't feel like a big bowl of ice cream or a huge slice of pie…but there's always room for martinis!
Click over to read the full Banana Split Martini post and recipe over at Food Fanatic, and make sure to browse some of the other cocktail and drink recipes while you're there!
Oh yeah, and there's actually food recipes too. We do need food to go along with all these cocktails!