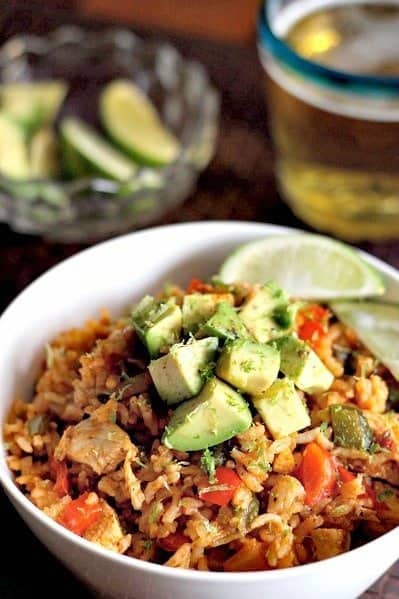 This Chicken Fajita Rice is perfect for your Cinco De Mayo dinner! Chicken, peppers, onions and avocado mixed in with seasoned rice, it's a fiesta for dinner!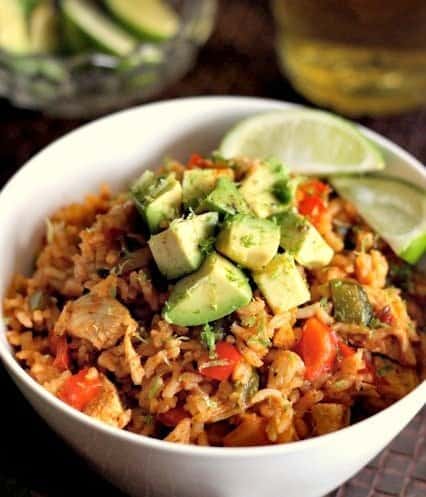 You know that delicious Mexican rice you get on the side when you're out at a Mexican restaurant? This tastes just like that – but even better.
I had asked my wife to help me this week with the Cinco de Mayo recipes. She mentioned maybe lightening things up a bit, like we did with the Chicken Enchilada Quesadillas, so we thought of one of our other favorite Mexican dinners – Chicken Fajitas.
Chicken Fajitas made at home are actually pretty low in calories to begin with but as usual I wanted to add my own twist…
Rice bowls seem like comfort food to me but I never really considered that they could actually be good for you too.
You can get as crazy as you want with the toppings…cheese, crushed tortilla chips, sour cream…but I think it's delicious just the way it is.
Grill up your chicken or bake it in the oven. A great shortcut for this recipe is grabbing a rotisserie chicken at the grocery store…shred it, season it up and then move on to step two…
Place all your diced vegetables in a large skillet and let them cook for 15 minutes. You want your vegetables to get charred like this so they have that sizzling fajita taste.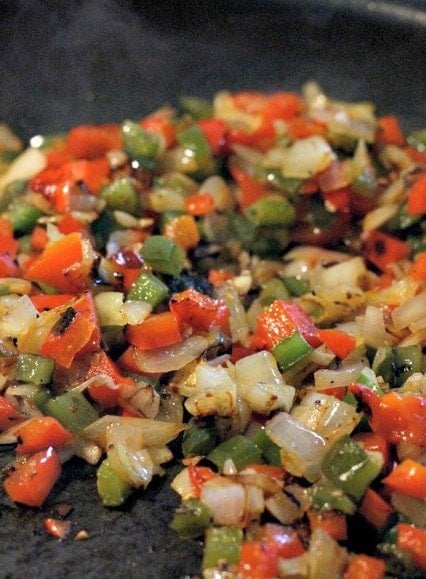 Then you stir in your shredded chicken, cooked rice and seasonings…and you're done. Chicken Fajita Rice made at home is way better tasting than ordering out and I'm pretty sure a lot better for you. My wife did the calculations (for those of you that are interested) and a serving of this rice is only 5 Weight Watchers points. You can even add a light beer for another 3 points…a definite for me if I'm eating Mexican food. Or any food really.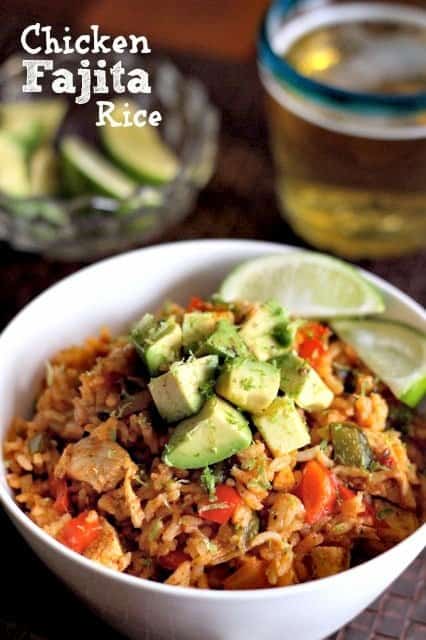 Print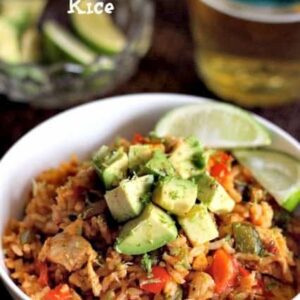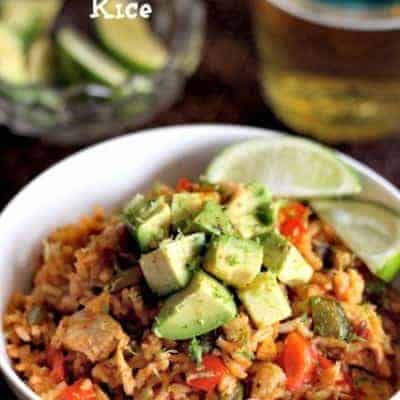 Chicken Fajita Rice
Author:

Yield:

4
---
Ingredients
For the chicken (you can substitute rotisserie chicken)
1 1/2 lbs. boneless, skinless chicken breast
1/4 teaspoon cumin
1/8 teaspoon salt
1/8 teaspoon pepper
1/4 teaspoon chili powder
2 teaspoons olive oil
For the rice
1 tablespoon olive oil
1 cup diced green peppers
1 cup diced red peppers
1 large onion, diced (about 1 1/2 cups)
3 large cloves of garlic, minced
4 cups cooked white rice
1/2 teaspoon cumin
1/2 teaspoon chili powder
1/2 teaspoon salt
1/4 teaspoon black pepper
The juice and zest of 1 lime
1 teaspoon hot sauce
1/4 cup salsa
1/2 cup tomato sauce
3 tablespoons olive oil
1 ripe avocado for garnish
---
Instructions
Season the chicken with cumin, chili powder salt and pepper on both sides. then rub with the olive oil.
Bake in a pre-heated 400 degree oven for 15 minutes. Let the chicken cool, then dice into large bite-sized pieces and set aside. If using a rotisserie chicken, shred the meat and toss with the cumin, chili powder, salt and pepper.
Heat the olive oil in a large skillet, then add the peppers, onions.
Season with the salt and pepper.
Cook until slightly charred over medium-high heat, 10-15 minutes, stirring often.
Now add the 4 cups of cooked white rice, the diced chicken, tomato sauce, salsa, cumin, chili powder, the hot sauce and the juice of the lime to the pan, stir to combine, turn the heat down to low and let cook for 5 minutes.
Taste and adjust the seasonings with more salt and pepper if needed.
Dish out into bowls and top with the lime zest and fresh avocado.
---
Notes
Additional toppings could include shredded cheese, crushed tortilla chips, sour cream and black beans.
If using a rotisserie chicken, shred the chicken and add the 1/4 cumin, 1/8 t. salt and 1/8 t. pepper, 1/4 t. chili powder and mix together.