Chicken Fajita Rice is an easy dinner that tastes like smoky, chicken fajitas! Charred peppers and onions add all the flavor to this rice!
If you love fried rice as much as we do, try our classic Chicken Fried Rice, and even this low carb Cauliflower Fried Rice!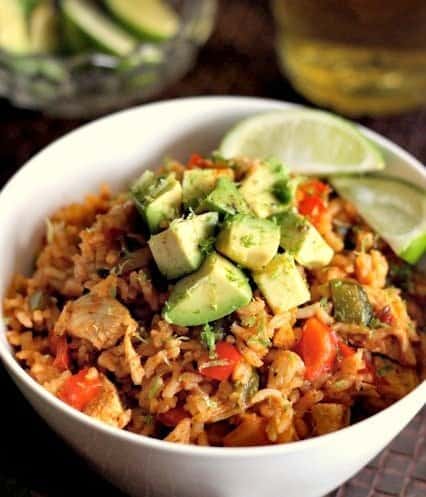 Why We Love This Chicken Fajita Fried Rice Recipe
You know that delicious Mexican rice you get on the side when you're out at a Mexican restaurant? This tastes just like that – but even better. We make chicken fajitas at home a lot. It's a great way to get vegetables into your diet and if you make them at home, they're pretty healthy for you too.
What I love about fajitas is that nice, charred flavor that's on the onions and peppers from a really hot skillet or griddle. You can get that same effect at home by using a really hot pan and letting the vegetables char by not moving them around too much.
Then we added those peppers and onions to this fried rice recipe with chicken and salsa and avocados to get that same fajita effect right in a bowl of rice!
Ingredients To Make Chicken Fajita Rice:
Fried rice recipe can be really versatile. Leftovers are no match for any type of fried rice – just get them in there and fire up the wok. The basics that you'll need to make this recipe are:
White Rice: Leftover rice or cooked and cooled white rice
Cooked Chicken: Leftover chicken or rotisserie chicken works great
Peppers: Any color will do
Onions: Yellow or red, red will be a little sharper but get sweet when cooked
Tomato sauce: Tomato sauce will mix with the salsa to add flavor
Salsa: Whatever kind of salsa you like, mild or spicy
Limes: Limes will add a fresh citrus flavor
Avocados: Well, because avocados are a must:)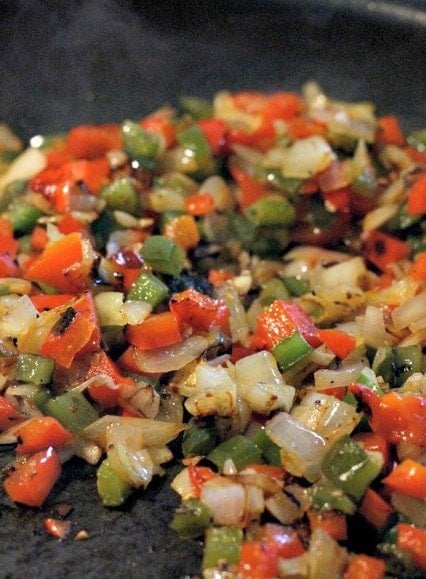 How Do You Make This Chicken Fajita Fried Rice Recipe?
First place all your vegetables in a large skillet and let them cook for 7-8 minutes. You want your vegetables to get charred like this so they have that sizzling fajita taste.
We're using a couple different colors of peppers, onions and garlic. Next stir in your shredded chicken, cooked rice and seasonings…and voila! You're done.
This chicken fajita fried rice literally only takes minutes to make and it's so much healthier for you than ordering out. Making fried rice is so easy because all of your ingredients are already at the ready, so all you need to do is add them to your skillet or wok!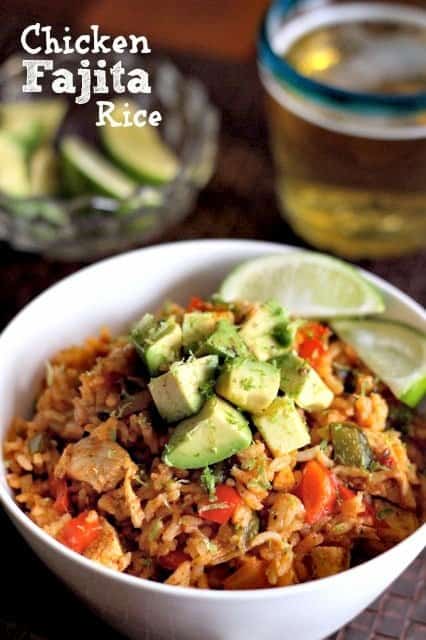 Tips For Making The Best Fried Rice!
There are a few tips for making really delicious tasting fried rice at home. One is to make the rice ahead of time and let it cool in the refrigerator. The rice will become firmer this way and the grains will separate making for a more authentic fried rice, not mushy fired rice that no one wants.
Another great tip is to grab a couple of containers of rice from your local Chinese take out place and use that instead of making your own rice. We usually make our own and let it cool but whenever we have leftover rice from getting take out, you can be we're making fried rice the next day.
The next thing you need to do when you're making fried rice is to use the right pan, typically a wok. If you don't have a wok try and use a deep skillet so there's a lot of surface area to come in contact with the food.
So, a few easy tips and you'll be on your way to making this easy chicken fried rice recipe – or any fried rice recipe right at home!
What Can I Substitute In This Recipe?
Pretty much anything you've got in the fridge! That's another reason why we love making fried rice, it's so easy to dump everything into the wok and have it on the table in minutes.
Here's some great swap out ideas:
Leftover steak or any type of protein, ground pork, chicken or turkey
Firm tofu
Keep the meat out for a vegetarian dinner!
Add broccoli, cabbage or different kinds of vegetables instead of or in addition to the one we have in this recipe
Brown rice or cauliflower rice instead of white rice
Black beans for added protein
Looking For More Fried Rice Recipes?
Print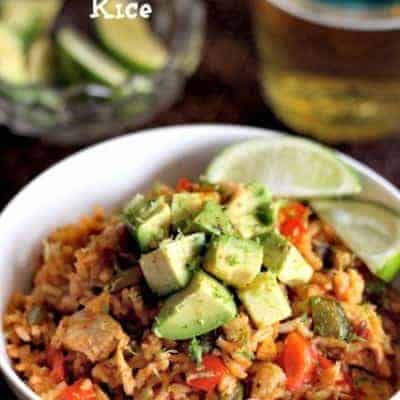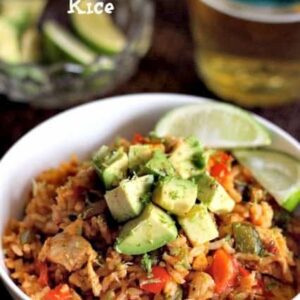 Chicken Fajita Fried Rice
Author:

Prep Time:

5 minutes

Cook Time:

10 minutes

Total Time:

15 minutes

Yield:

6

1

x
This fried rice recipe uses all the flavors of your favorite chicken fajita recipe! You can swap out rotisserie chicken to get this chicken dinner on the table fast!
Scale
Ingredients
For the chicken (you can substitute rotisserie chicken)
1 1/2

lbs. boneless, skinless chicken breast, diced

1/4 teaspoon

cumin

1/8 teaspoon

salt

1/8 teaspoon

pepper

1/4 teaspoon

chili powder

2 teaspoons

olive oil
For the rice
1 tablespoon

olive oil

1 cup

diced green peppers

1 cup

diced red peppers

1

large onion, diced (about

1 1/2 cups

)

3

large cloves of garlic, minced

4 cups

cooked white rice

1/2 cup

tomato sauce

1/4 cup

salsa

1 teaspoon

hot sauce

1/2 teaspoon

cumin

1/2 teaspoon

chili powder

1/2 teaspoon

salt

1/4 teaspoon

black pepper
The juice and zest of 1 lime

1

ripe avocado for garnish
Instructions
Season the chicken with cumin, chili powder salt and pepper on both sides.
Add the tablespoon of olive oil to a wok or large skillet, then add the seasoned chicken. Cook for 5 minutes, stirring until chicken pieces are cooked through. Remove to a plate.
Heat the other tablespoon of olive oil in the skillet, then add the peppers, onions and garlic.
Cook until slightly charred over medium-high heat, 7-8 minutes, stirring often.
Add the rice, the cooked diced chicken, tomato sauce, salsa, hot sauce, cumin, chili powder, salt, pepper and the juice of the lime to the pan. Stir to combine then turn the heat down to low and let cook for 5 minutes until all the ingredients are warmed through.
Taste and adjust the seasonings with more salt and pepper if needed.
Dish out into bowls and top with the lime zest and fresh avocado.
Recipe Notes
Additional toppings could include shredded cheese, crushed tortilla chips, sour cream and black beans.
If using a rotisserie chicken, shred the chicken and add the 1/4 cumin, 1/8 t. salt and 1/8 t. pepper, 1/4 t. chili powder and mix together.
Category:

Dinner

Method:

Stove Top

Cuisine:

American / Tex-Mex
Keywords: fried rice, fried rice recipe, chicken fried rice, easy chicken dinner, easy chicken recipe