These Stick of Butter Smashed Potatoes are soft and creamy on the inside and super crispy on the outside! This potato recipe is going to be a favorite! Serve it as a Thanksgiving side dish and watch it disappear.
Looking for more potato recipes? We LOVE all potato side dishes! Also be sure and try our Creamy Mashed Potato recipe and this perfected Classic Potato Salad!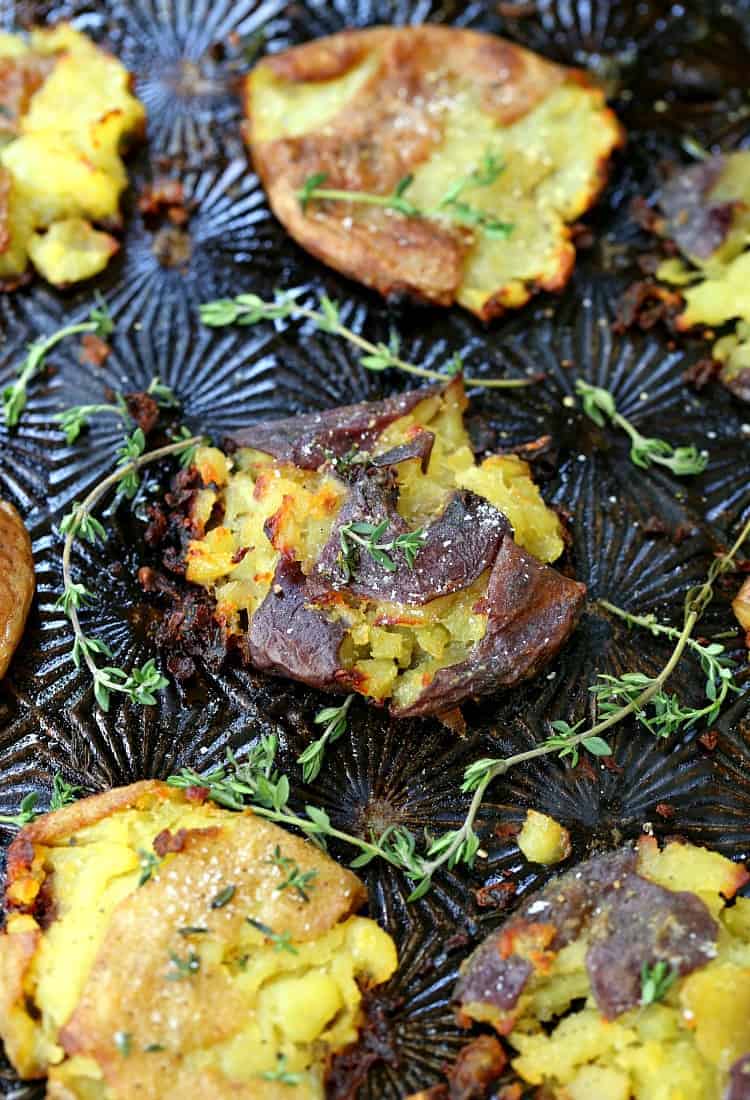 Up Your Potato Game with Smashed Potatoes!
If you're a meat and potatoes person like I am, then you've probably tried potatoes in all the ways shapes and forms possible by now. But I bet you haven't tried these Stick of Butter Smashed Potatoes – because once you do – the potato game is over.
This potato recipe is definitely on our constant rotation now, we're grabbing these little potatoes every time we go to the store, and trust me guys, we go to the store a lot.
Our boys love when we make this potato recipe, too. They love the crispy texture on the outside and the smooth, creamy texture on the inside. It's really pretty close to perfection.
French fries are always good, roasted potatoes are delicious…but something happens to these little smashed potatoes like no other potato recipe can do. You just have to try them and see for yourself!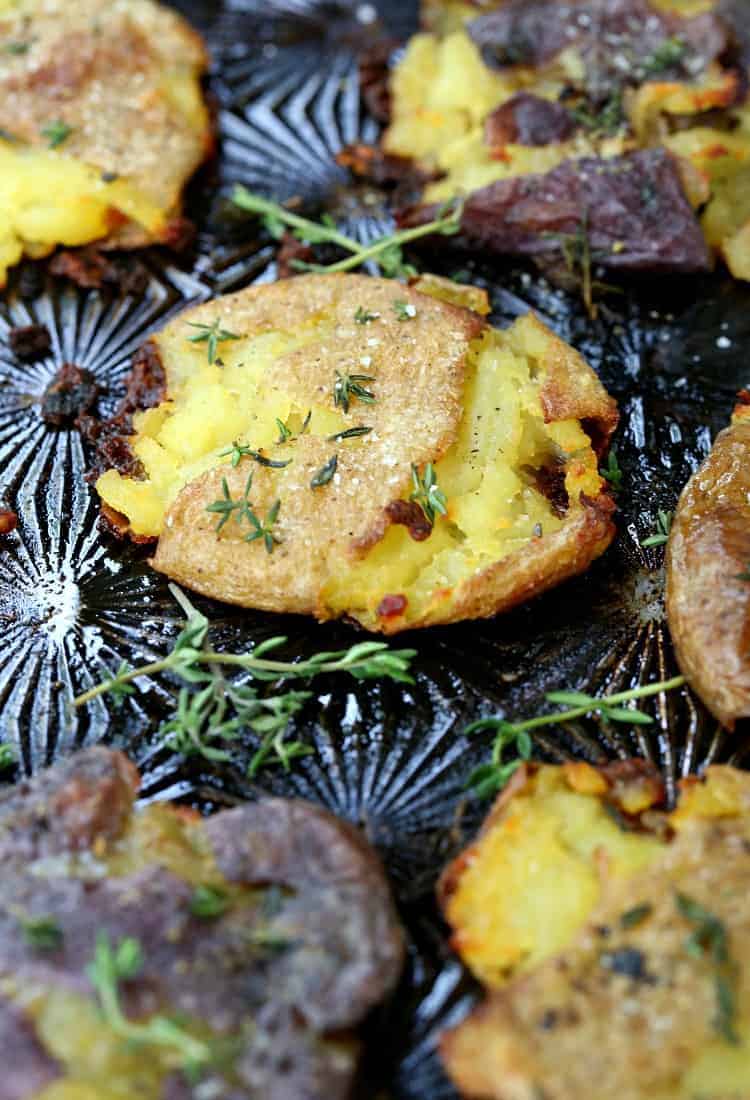 Can You Make These Smashed Potatoes Ahead Of Time?
Yep, you can definitely make these ahead of time so if you are planning on having them as a side for a dinner party or just for your own family.
All you need to do is heat them back up in the oven a few minutes before dinner is ready and you're good to go. Doesn't get much easier than that, am I right?
We've even made this potato recipe, cooled them off and then put them in plastic bags and froze them! Pretty genius right? You can pop these babies in the oven right from frozen and you've got a supreme side dish in less than 15 minutes.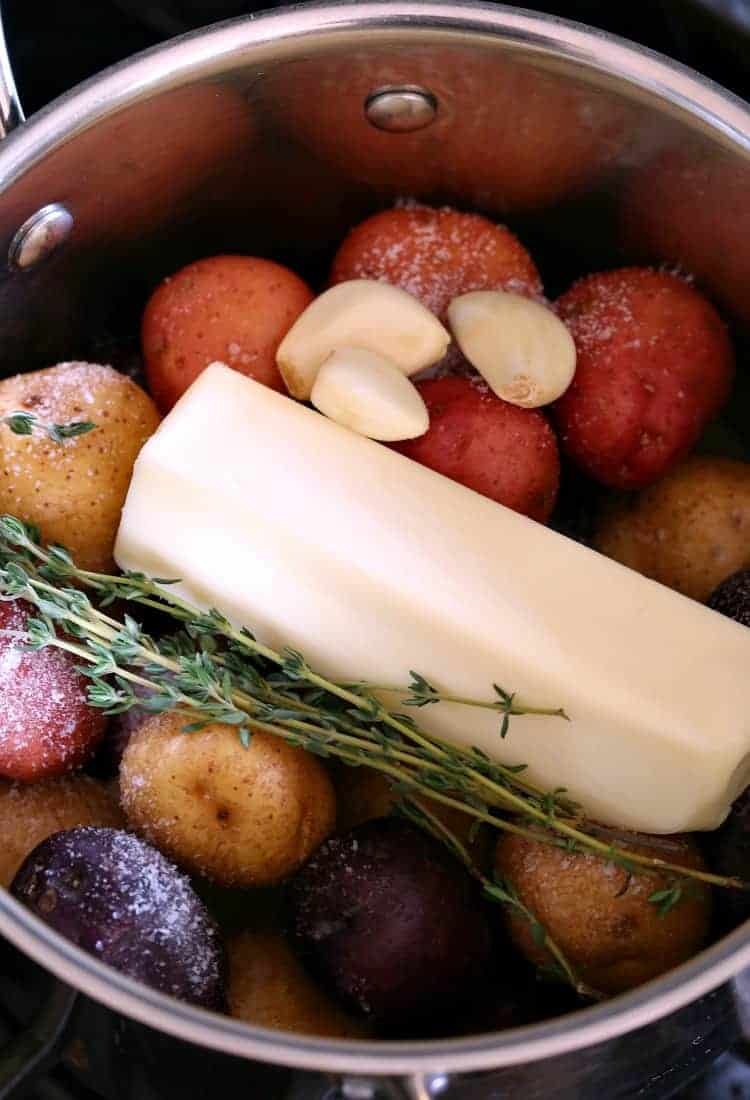 These Stick of Butter Smashed Potatoes get boiled in chicken broth, not water, and – you guessed it – a stick of butter. The butter and the chicken broth flavors the potatoes as they boil, and you're also going to use it to flavor the potatoes when they're done, too.
What Makes These Smashed Potatoes So Delicious?
The answer has a lot to do with butter. Because butter makes everything better, right? But really, since the potatoes are actually cooked in butter and chicken broth, they are going to have so much more flavor than potatoes boiled in water.
Start by boiling the potatoes until they are fork tender. Let them cool a few minutes then smash them with whatever object you like.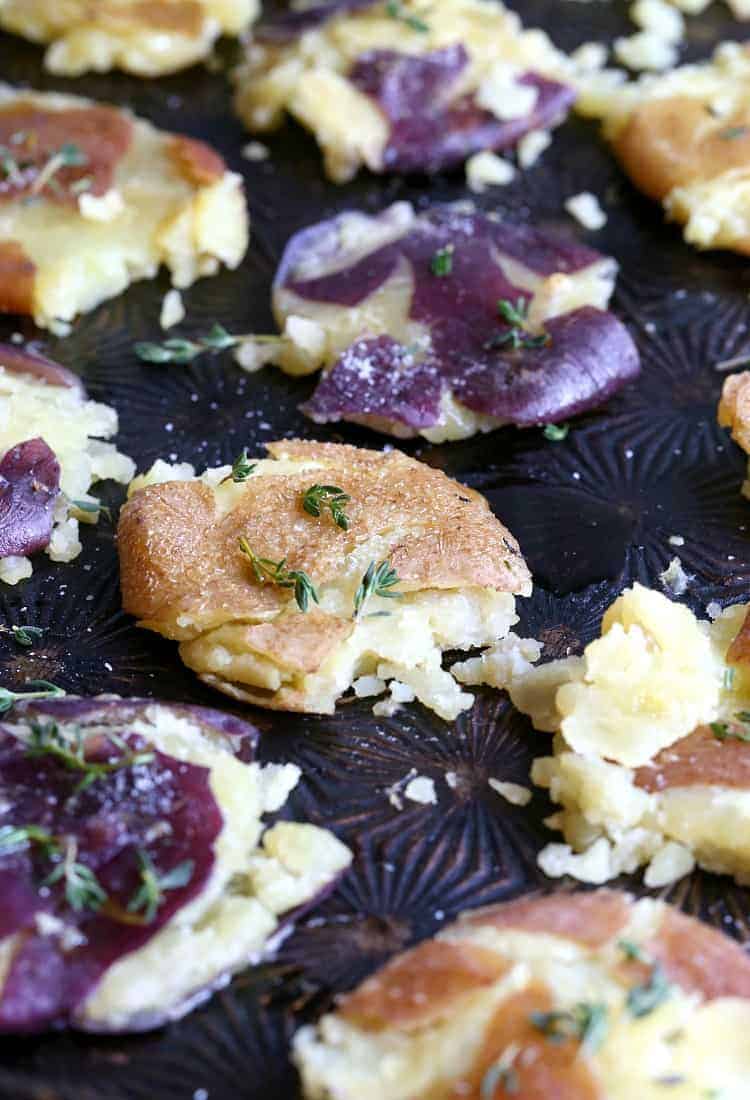 I used a thick bottomed glass but you could use a small pan or anything that has a flat bottom you can flatten the potatoes with. Spray the bottom of whatever your smashing object is with cooking spray so the potatoes don't stick to it.
If they do though, just scrape them off and flatten them on the baking sheet with a spatula, they'll bake and stick together from the starch in the potatoes.
Now, before you get these smashed potatoes in the oven, you're going to spoon that buttery, herby, chicken flavored broth on top of them so it all bakes right in.
And you're going to do that again after they bake for about 15 minutes. You're infusing these potatoes with so much flavor you aren't going to believe it when you bite into them!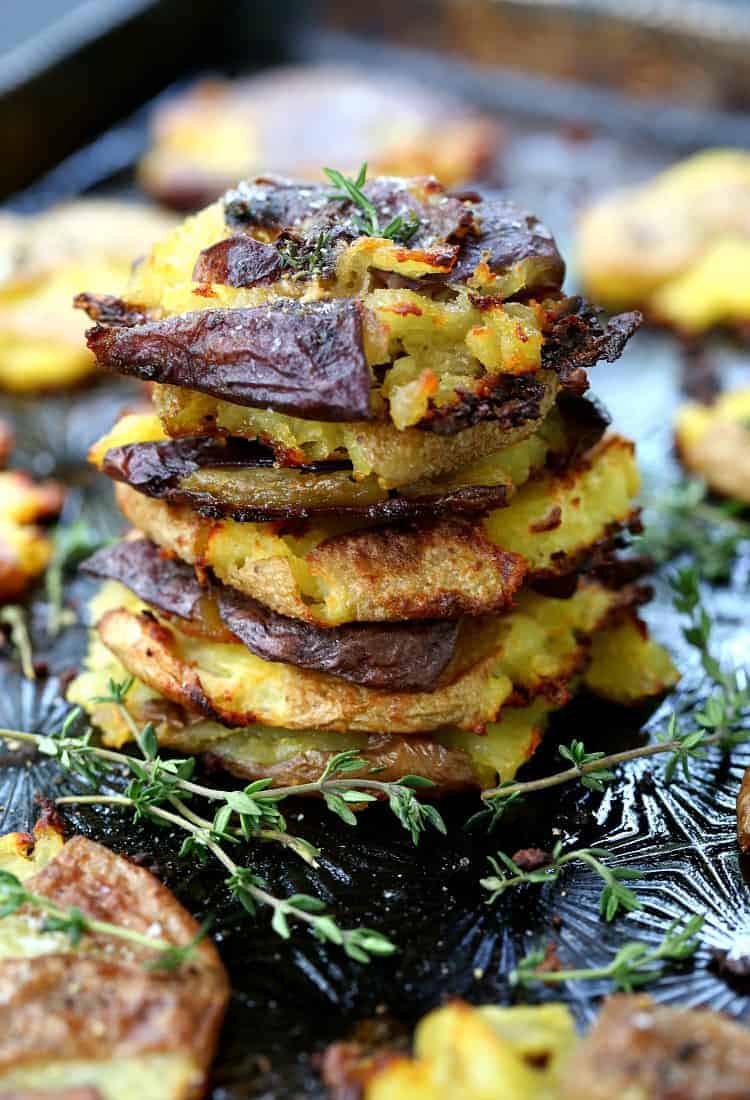 What you end up with is crazy addicting, crispy but still creamy potatoes that you are NOT going to be able to stop eating!
Side dish recipe? Yes, of course. But I'm telling you, we could turn this Stick Of Butter Smashed Potato recipe into a whole meal!
What Can You Serve With This Potato Recipe?
PIN IT!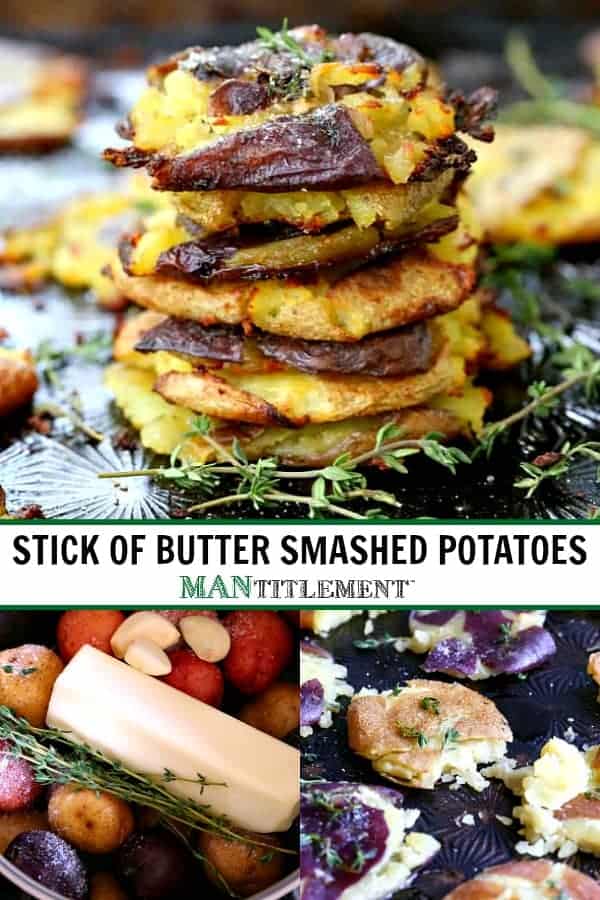 Print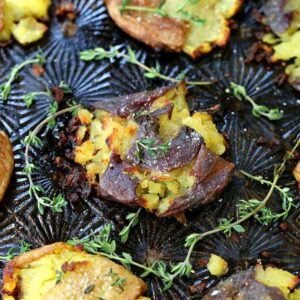 Stick of Butter Smashed Potatoes
Author:

Prep Time:

5 minutes

Cook Time:

40 minutes

Total Time:

45 minutes

Yield:

4

Servings

1

x
This potato side dish is going to become a family favorite! Crispy on the outside and creamy on the inside!
Scale
Ingredients
1 1/2 pounds small potatoes
1 stick butter
1 1/2 cups chicken broth
3 cloves garlic, peeled
5–7 sprigs of fresh thyme
2 teaspoons salt
black pepper to taste
Instructions
Preheat the oven to 425 degrees.
Add the potatoes to a pot along with the butter and chicken broth, garlic, salt and 4 pieces of thyme. The liquid won't cover the potatoes completely, that's fine.
Bring to a boil then reduce the heat to a simmer. Partially cover the pot and cook for 20 minutes until the potatoes are tender.
Remove the potatoes from the pot, saving the liquid.
Spray a baking sheet with cooking spray.
Place then potatoes on a baking sheet and press down with the bottom of a glass. If some potato sticks to the glass just slide it off and add it back to the potato. Repeat with all the potatoes.
Season the potatoes with salt and pepper then drizzle the potatoes with some of the butter and broth mixture.
Cook for 15 minutes, remove from the oven and flip the potatoes over. Spoon more butter over the tops and place back in the oven for 8-10 minutes. The cooking time will depend on how thin you've made the potatoes so when they're in for the second bake just keep and eye on them to make sure they don't burn.
Garnish with more fresh thyme leaves and salt and pepper if desired.
Recipe Notes
To reheat these potatoes, place on a baking sheet in a 400 degree oven for 15 minutes.
To reheat these potatoes from frozen, place on a baking sheet in a 375 degree oven for 20-25 minutes.
Category:

Side Dish

Method:

Oven/Stove Top

Cuisine:

American
Keywords: potato recipe, potatoes, smashed potatoes, smashed potatoes recipe, thanksgiving potatoes, thanksgiving side dish idea, christmas side dish, easy side dish recipe