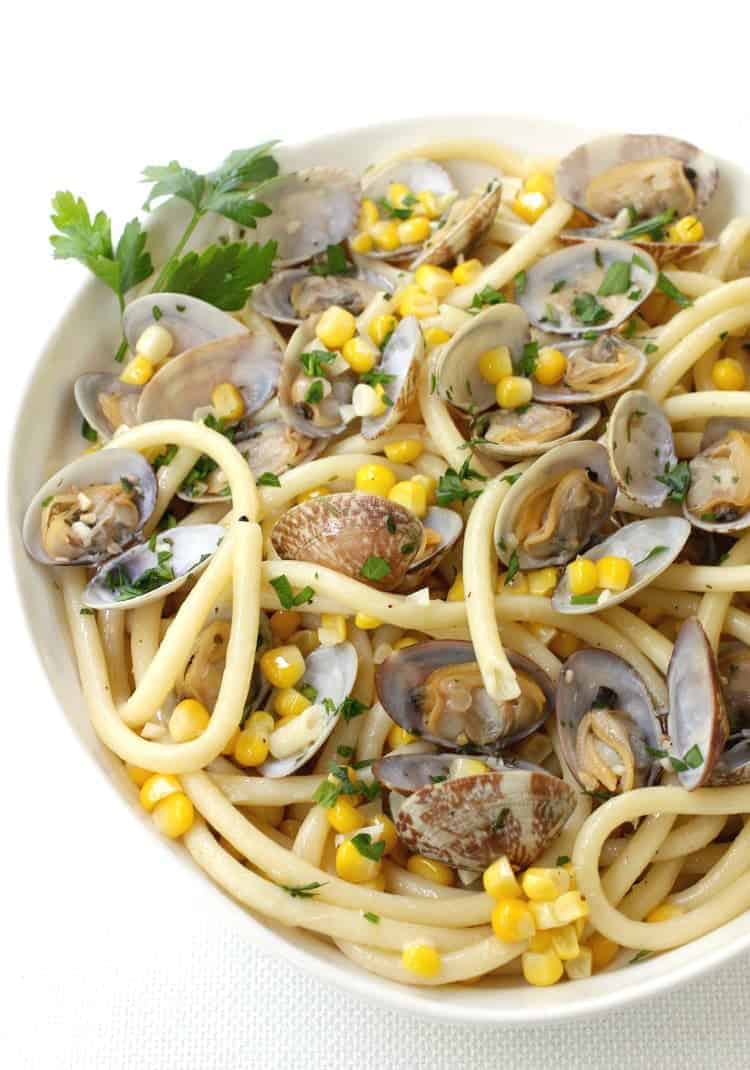 Spaghetti with Fresh Corn and Clams
This Spaghetti with Fresh Corn and Clams is one of my favorite pasta dishes to eat in the summer, even though we really make it all year long!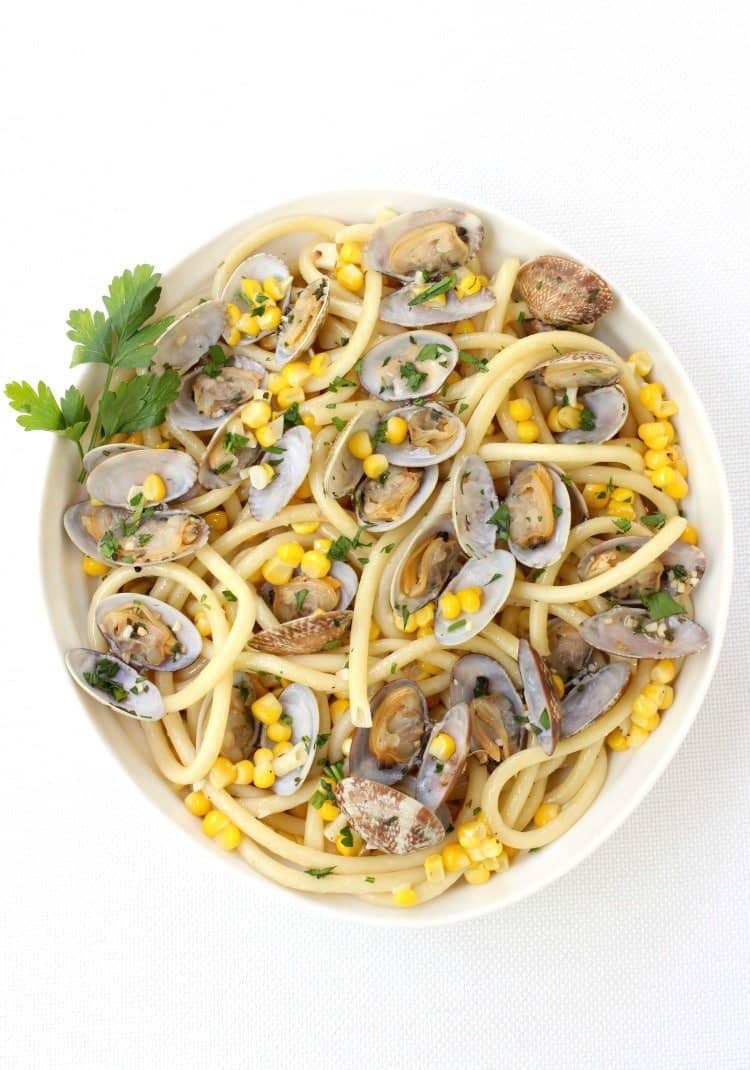 This has definitely become a family favorite. Spaghetti with Fresh Corn and Clams is sort of like a take on linguine with clam sauce, but in this version there's just a light sauce made with wine, a little pasta water from cooking the pasta and butter. And that's really all you need to make this pasta dish taste fresh and totally delicious. Pasta, garlic, butter…it's amazing, right? That flavor combination can't be beat.
We used a little help from the store in this recipe – but when littleneck clams are on sale go ahead and grab a pound or so and this is just as easy.
One of the things we have in our freezer at all times are Trader Joe's Steamer Clams. I don't even know what made Christie grab them the first time but ever since she did we buy them in bulk. Literally it's 5 bucks for a pound of littlenecks in the most amazing garlic/butter sauce – ready right in the microwave in five minutes.
I know what your thinking, clams in the microwave…trust me on this one. Trader Joe's nailed this. They're sweet, fresh and totally addicting.
So when we want dinner on the table fast – and we want Spaghetti with Fresh Corn and Clams, all I have to do is get some fresh corn and we're on our way.
If you get fresh clams, just make sure to scrub them really good and let them soak in a big bowl of water for 20 minutes to release all the sand from inside. Sandy clams equal gross dinner. We've learned that before too.
So I'll give you this recipe both ways, using the Trader Joe's clams and fresh. There's not much difference, just a few steps and they're both simple.
Start off by boiling your pasta. We used a spaghetti called bucatini, it's a long spaghetti like pasta that's thicker and has a hole running through the center. We love using this pasta for this recipe because the sauce gets all trapped in the hole running through the pasta and it tastes even that much better. I'd recommend trying it if you never have before…and the boys love it because it's bigger for them to slurp up strand by strand….
Once the pasta is cooked, scoop out about a cup of the water before you drain it in case you need to thin the sauce out when it's done.
Then grab a big pot and get the clams going.
Add in some olive oil and lots of chopped garlic, then the fresh corn kernels and the cobs, the clams and wine.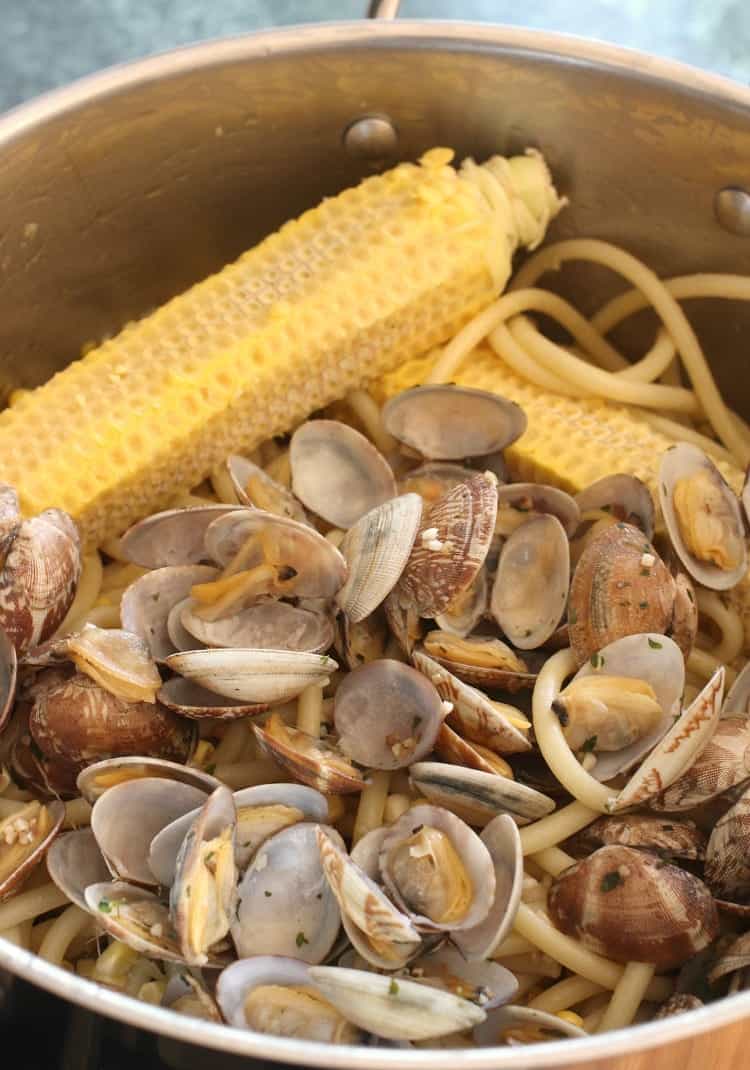 Give it a stir and put the lid on. Let the clams steam in the wine for about 7-8 minutes until they're all opened, toss aside any that don't, but you can stir the clams and cook for another minute or two and see if any more do open before you get rid of them.
Now you can add the pasta and a little butter and give it a good stir to make sure the sauce coats all the pasta. Let it cook for another minute or two and place it all in a large serving bowl.
Top the pasta with some fresh, chopped parsley and you're ready to go.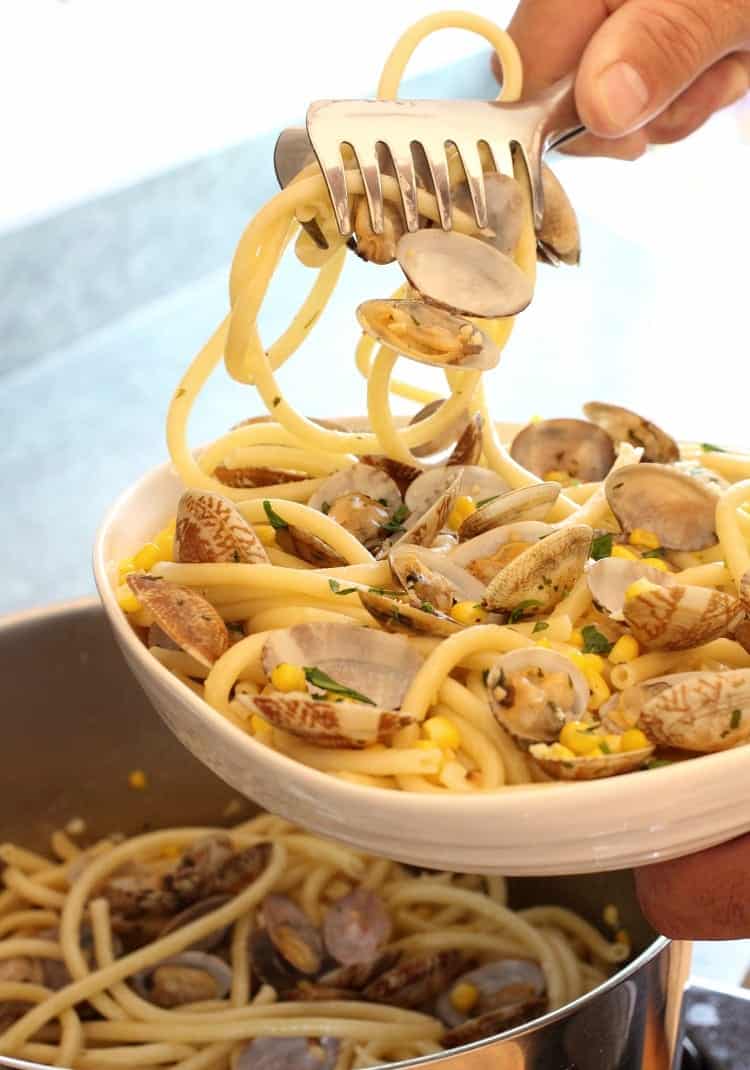 I'm telling you this pasta dinner is like the ultimate summer time meal. A glass of wine or a few cold beers (in my case) and you're there. Even in the winter we make this using frozen corn and most often the frozen clams and it still tastes amazing. There's definitely your cold weather soups and pasta dishes, and your warmer weather ones – I guess, right? We don't seem to follow that much though. If someone want Beefy Tomato Soup for dinner, that's what we have. Even if it's August.
So Spaghetti with Fresh Corn and Clams in January, yep, we make that too.
But take a few bowls of this pasta outside with some drinks on a warm, summer night and you've got yourself a party!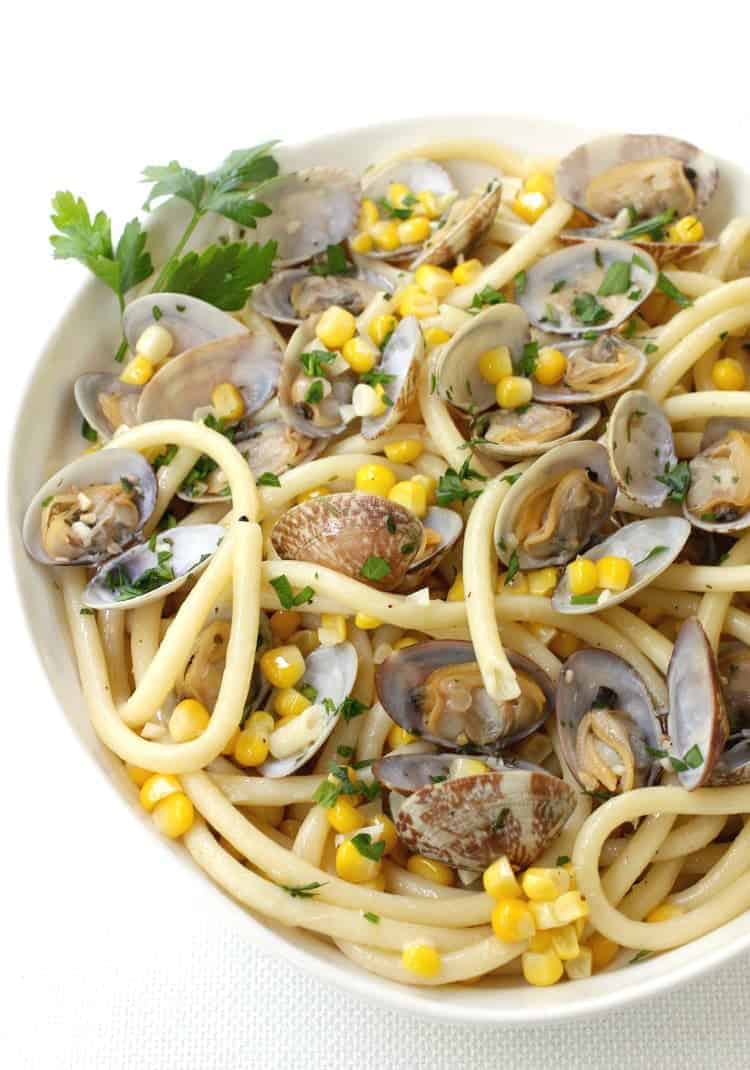 Print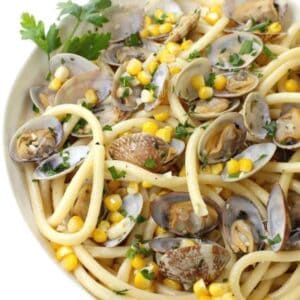 Spaghetti with Fresh Corn and Clams
---
Ingredients
12 ounce

s bucatini (or any long pasta like spaghetti or linguine)

1

lb. littleneck clams, scrubbed and soaked in water for

20

minutes

4

cloves garlic, chopped

2

corn cobs, kernels removed and cobs reserved

1/4 cup

olive oil

3/4 cup

wine

1/2 teaspoon

salt

1/2 teaspoon

pepper
pinch of crushed red pepper flakes (optional)

3

T butter

1/4 cup

chopped parsley
---
Instructions
Cook the pasta in a large pot of salted water a couple minutes short of the cooking time on the package.
When the pasta is done, reserve a cup of the water and drain.
In the same pot, heat the olive oil over medium heat then add the garlic.
Cook for 2 minutes, stirring so it doesn't burn, then add in the corn kernels and cobs, the clams, wine, salt and pepper and bring to a boil.
Turn the heat down to a simmer and cover to steam the clams, about 7-8 minutes.
If all the clams aren't opened, give them another stir and cover for another minute or two, then discard any clams that haven't opened.
Add the pasta and butter to the pot, stir to coat the pasta, and cook for another 2 minutes.
If you want more sauce you can now add in a splash or two of the cooked pasta water (don't add the whole cup, just a little at a time to thin it out)
Garnish with chopped parsley and serve.
---
Notes
If using frozen clams, cook according to package directions then just add to the pasta, corn and wine. Cook together for two minutes and serve.