I'm trying to stay in the Halloween spirit by cooking with pumpkin…and you guys have to try these Spaghetti and Meatball Cups with Pumpkin Sauce!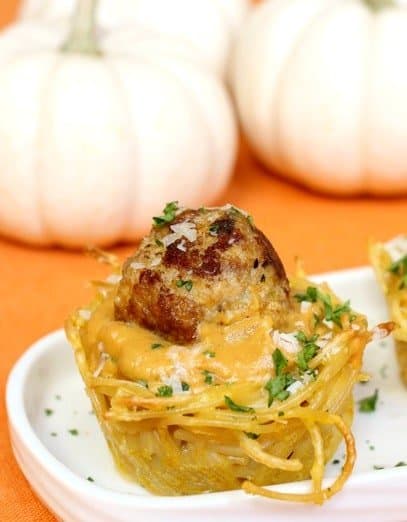 At first I thought about making these into a bite-sized appetizer. Mini food is always fun and it's definitely appeals to the kids, but it was hard to get the spaghetti to fit in that tiny muffin pan and actually form a cup.
So I went to a regular muffin pan and called it dinner instead. You have to be willing to adjust when things don't work out…I've got lots of experience with that so far!
I started with a basic meatball recipe that uses a combination of beef and pork. My meatball "recipe" is really me asking the wife how to make a good meatball. Then I added in the basics – an egg, breadcrumbs, parmesan cheese, salt and pepper. But instead of parsley I added fresh sage to go with the pumpkin sauce.
This recipe will get you about 18 golf ball sized meatballs which are going to fit perfectly inside your spaghetti cups.
I do think a good meatball needs to be pan fried to get nice and crispy on the outside – so I did.
When the meatballs are done, wipe out the skillet and start the pumpkin sauce.
When the sauce is put together and simmering you can add the meatballs back to the pan and let cook until your spaghetti cups are ready.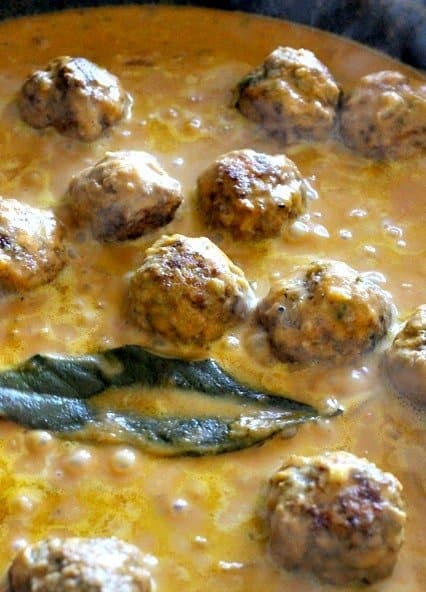 Cook up some spaghetti and mix it together with some parmesan cheese, an egg and 1/4 cup of the pumpkin sauce. You're almost done now…
Time to fill the muffin tins – this is a lot easier than it looks, trust me.
I threw a handful of spaghetti in the muffin cup and then pushed it out of center towards the sides.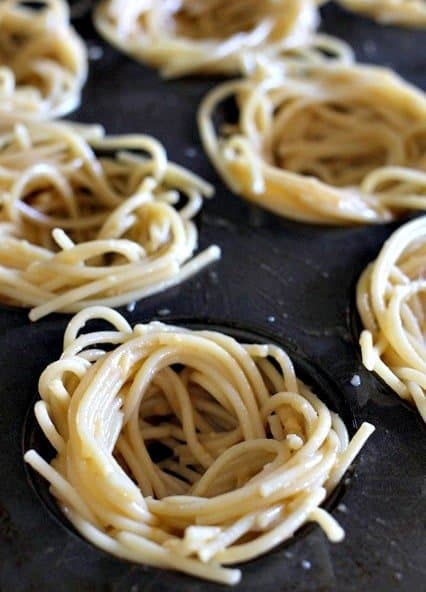 They'll pop out of your muffin tin pretty easily when they're done and then all that's left to do is put them together.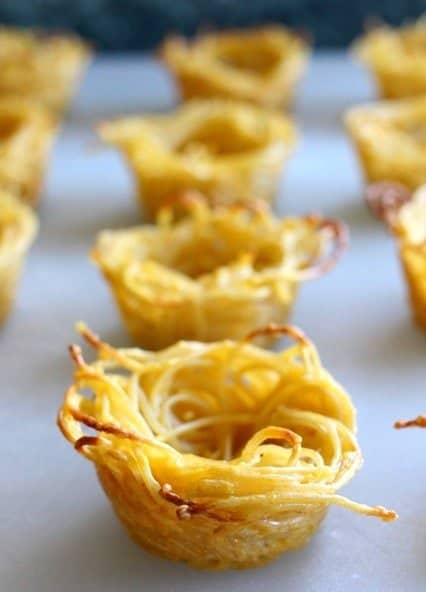 Spoon some pumpkin sauce in the center of the spaghetti cup and then put a big meatball on top.
Crazy good.
The clean plate club won't be a problem when you serve these Spaghetti & Meatball Cups with Pumpkin Sauce – so it's a good thing the recipe makes a lot!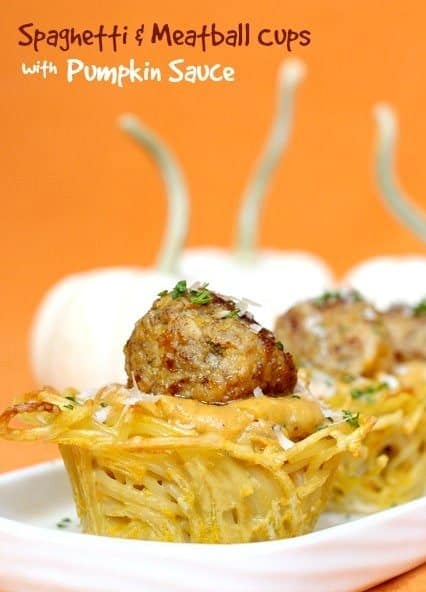 Print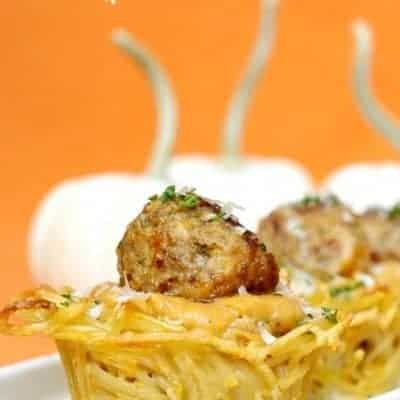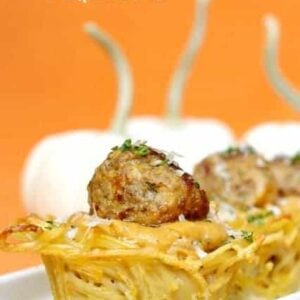 Spaghetti & Meatball Cups with Pumpkin Sauce
Makes 12 spaghetti cups with meatballs.
Scale
Ingredients
For the Meatballs
8 oz

. ground beef

8 oz

. ground pork

1/4

c. bread crumbs

2

T. milk

1/4

c. parmesan cheese

1

egg

1/4

t. salt

3

–

4

fresh sage leaves, chopped
For the Pumpkin Sauce
2

T. olive oil

1

small onion, chopped fine

3/4

t. salt

1/2

t. ground black pepper

3

cloves garlic, chopped fine

1

bay leaf

4

fresh sage leaves, chopped

1

c. dry white wine

1

14 oz. can of chicken broth

1

c. canned pumpkin

1/2

c. heavy cream
For the spaghetti cups
8 oz

. spaghetti, broken into pieces

2

eggs

1/4

c. parmesan cheese

3

T. pumpkin sauce
Instructions
Start a large pot of water to boil over high heat.
Once it comes to a boil, add in the broken spaghetti and cook for 8-10 minutes.
Drain and set aside to cool.
Preheat the oven to 400 degrees.
Meanwhile, mix all the ingredients together in a large bowl for the meatballs.
Using a 2 T. scoop, portion out 18 meatballs.
Heat 2 T. olive oil in a large skillet, then add the meatballs being careful not to crown the pan. (you might have to cook them in 2 batches)
Once the meatballs are browned on all sides, remove to a plate to cool.
Wipe out the skillet and add the onion.
Cook over medium heat for 5 minutes until softened.
Add in the chopped garlic and cook for a minute more.
Add in the wine, the bay leaf and the sage and let reduce for 2 minutes.
Stir in the chicken broth and the pumpkin.
Next add the cream, stir to blend and then return the meatballs to the skillet.
Let simmer for 10 minutes.
While the sauce is simmering, mix the cooked spaghetti together with the eggs, parmesan cheese and the 3 T. of the sauce.
Divide the spaghetti mixture equally into the muffin tins , using your fingers to create a cup shape, and bake for 15 minutes.
When the spaghetti cups are baked, add a couple of tablespoon of the sauce to the bottom then top with a meatball.