Sausage Stuffed Artichoke Hearts are made with flavorful Italian sausage and sun dried tomatoes! These appetizers are great for the holidays or any party!
Love artichokes recipes? Then be sure and check our our favorite Whole Stuffed Artichoke Recipe, filled with sausage, parmesan cheese and bread crumbs! Or you can go the simple route with these Cheesy Stuffed Artichokes too, which are always a favorite!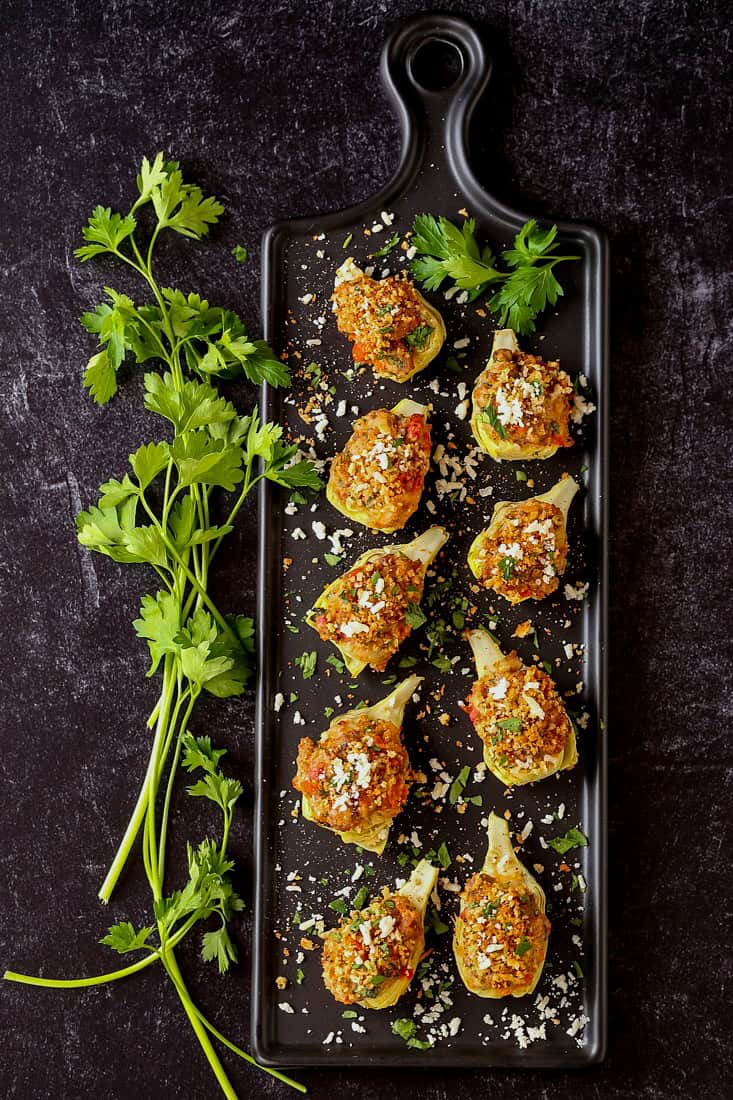 An Easy Appetizer Recipe For Parties
You can always put out the cheese and crackers, the antipasto platter and of course some chips and salsa. We actually put out all of those appetizers for parties, homemade and store bought, doesn't matter as long as it's good!
So we do like to have at least one or two homemade, knock your socks off recipes among all the others and theses Sausage Stuffed Artichoke Hearts are definitely on the menu!
Like a large stuffed artichoke but in tiny, bite sized form, this artichoke recipe is the perfect appetizer recipe for holidays, game days or just a happy hour with friends. They're easy to make and can be made ahead of time so you'll come out looking like a pro.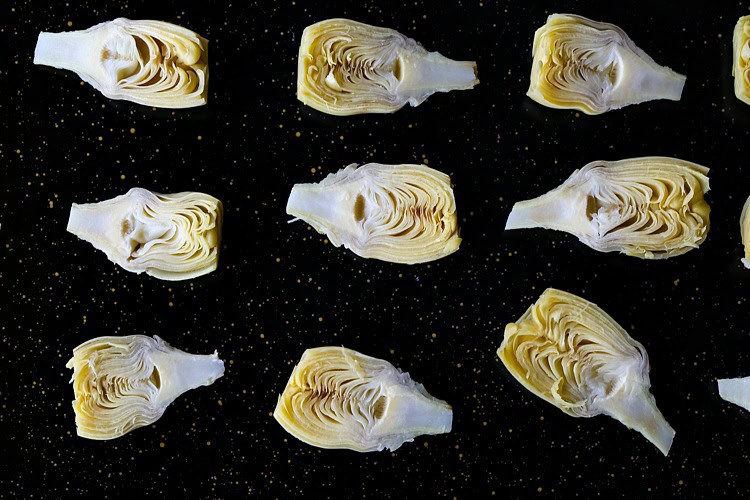 What Kind Of Artichoke Hearts Should I Use For This Recipe?
There's a couple of different options here for these stuffed artichoke hearts. Frozen, defrosted artichoke hearts will work really well and they won't have that canned tastes to them so frozen is my top choice.
If you can only find canned artichoke hearts, never fear, those will work too! Just drain the artichoke hearts from the can and rinse them very well. This will get the canned flavor off of your artichoke hearts pretty well, so don't skip this step!
What you DON'T want to use is marinated artichoke hearts for this appetizer recipe. Save those delicious artichoke hearts for your antipasto platter! The marinated artichoke hearts will have too much oil and vinegar on them to cook up properly in the oven.
So just make sure that you're not using a marinated artichoke heart and you'll be good to go.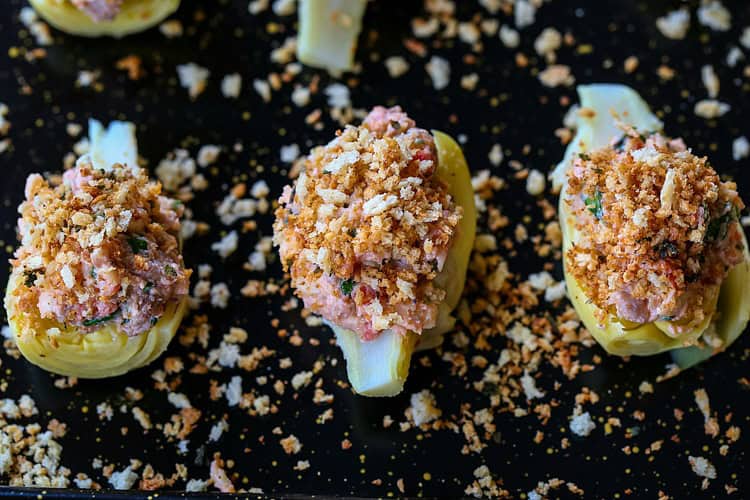 Can I Make This Appetizer Recipe Ahead Of Time?
For sure. So you see that picture right above here? Those are the artichoke hearts on a baking tray stuffed and topped with toasted bread crumbs. That's where you stop making this artichoke recipe if you want to do it ahead of time.
Then all you have to do is pop you baking sheet in the oven for 15 minutes and you've got amazing, party worthy appetizers piping hot from the oven! The filling for these stuffed artichokes is really easy, just browned sausage (mild or hot) mixed together with ricotta cheese, sun dried tomatoes and a few seasonings.
Just for the fun of it, we added mozzarella cheese into the filling, too. Because the more cheese the better, am I right?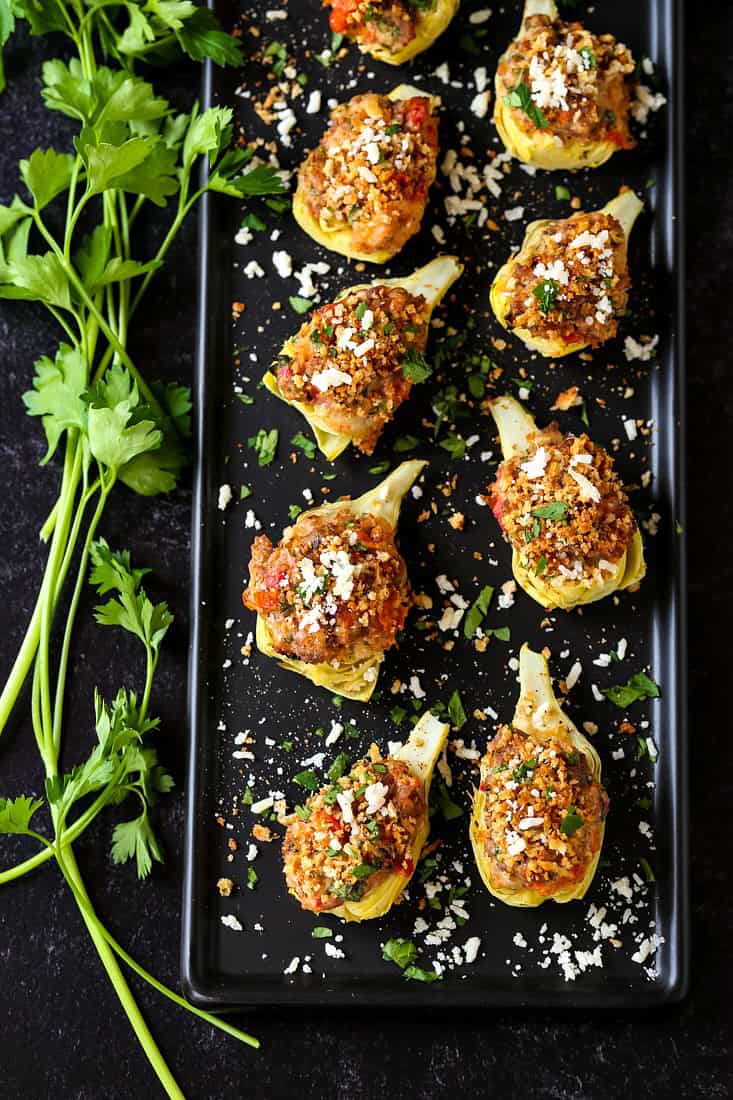 Do I Have to Use Italian Sausage For The Filling?
Nope! Italian sausage, hot or mild, is just our flavor of choice for these little stuffed artichoke hearts. Also, have I mentioned that this appetizer recipe only has a couple of carbs per serving??? AND they are really low in calories so if you're looking for a healthier appetizer recipe this is the one to make.
But if you really want to trim those calories even more you can substitute turkey or chicken sausage in the filling too! Another option would be ground beef or pork sausage. You can use ground turkey, pork or chicken for the most lean appetizers here, but those options are going to be more bland in flavor.
So if you're using ground turkey, chicken, beef or pork just add a little more seasoning to the filling and definitely taste it before you stuff the artichoke hearts!
Other Filling Options:
Toasted Pignoli Nuts
Diced Tomatoes
Black olives
Different cheeses like asiago or blue cheese crumbles
Fresh herbs like thyme or rosemary (especially if you're not using Italian sausage)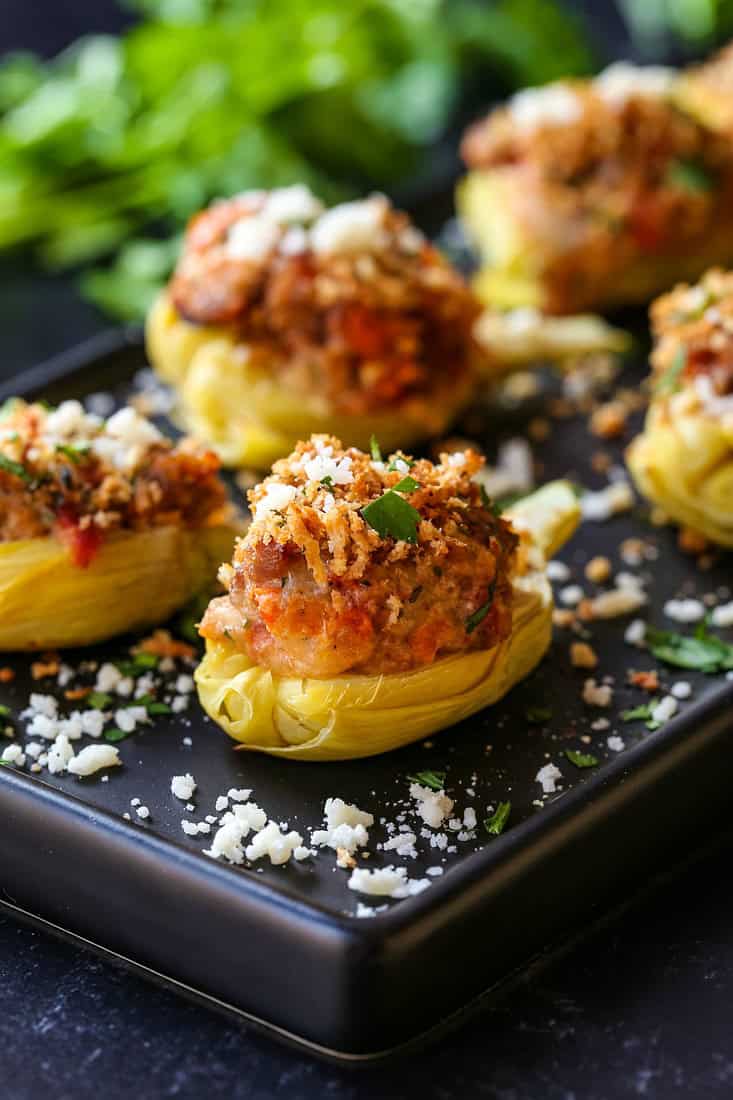 I know we're starting to sound a lot like Ina Garten, but when you're making a recipe like these Sausage Stuffed Artichoke Hearts that only have a few ingredients, try to get the best that you can find.
Really good grated parmesan cheese on top of these artichokes makes all the difference. That sharp, nutty bite you get from good parmesan cheese it what it's all about. So don't go to the trouble of making these beautiful little appetizers and then shake on some canned grated parm.
Usually the good parmesan cheese is over by the cheese section up near the deli counter at your store. Sometimes they will have it grated for you and sometimes just in the block, no biggie, just grate it yourself at home! Trust me, it's worth the extra few bucks and effort.
Looking For More Appetizer Recipes?
Skillet Spinach & Artichoke Dip
PIN IT!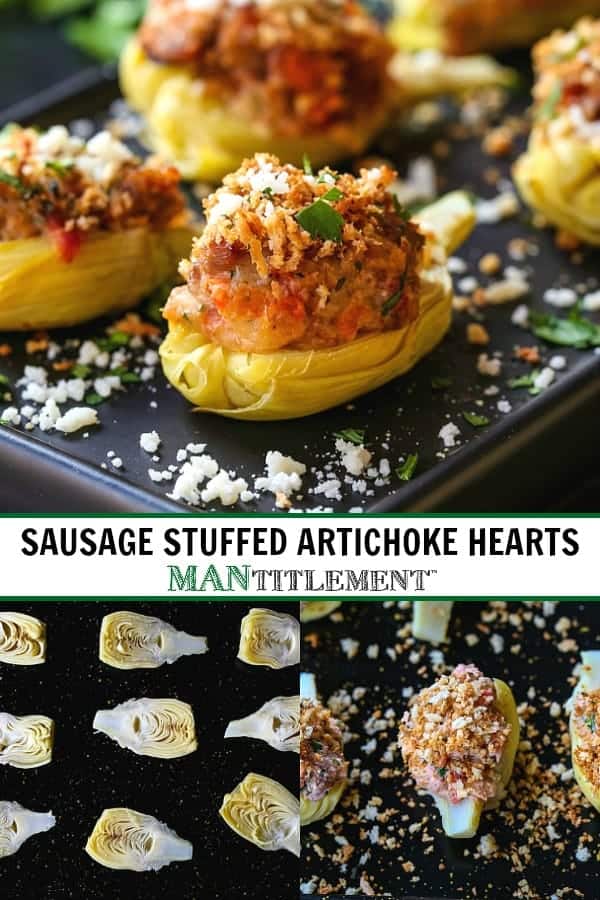 Print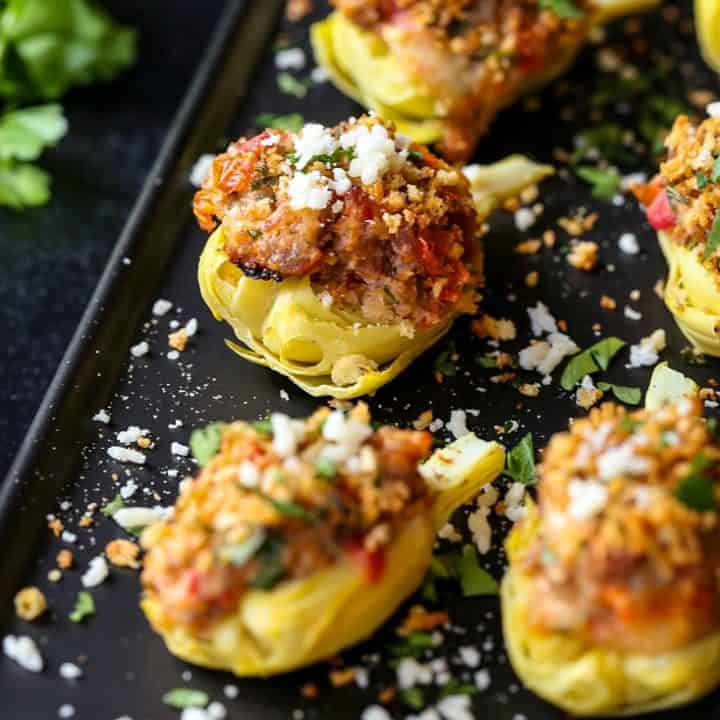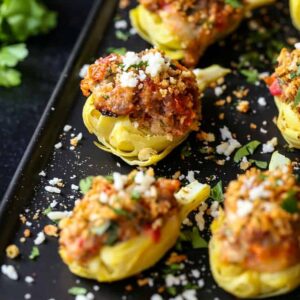 Sausage Stuffed Artichoke Hearts
Author:

Prep Time:

10 minutes

Cook Time:

15 minutes

Total Time:

25 minutes

Yield:

3

0

1

x
These flavorful stuffed artichokes are not only delicious, but a super low carb AND low calorie appetizer recipe!
Scale
Ingredients
2 (14 ounce cans) artichoke hearts – can substitute frozen or jarred but not marinated
3 Italian sausage links, casings removed
1/2 cup ricotta cheese, part skim or whole
1/2 cup shredded mozzarella cheese
1/4 cup sun dried tomatoes, drained and chopped
1/4 teaspoon kosher salt
Fresh Black pepper to taste
1/4 teaspoon garlic powder
2 tablespoons grated parmesan cheese (plus more for garnish)
1/4 cup fresh parsley, chopped (plus more for garnish)
1/2 cup panko bread crumbs, toasted in a dry pan until golden brown
Instructions
Preheat the oven to 400 degrees.
Brown the sausage in a skillet, breaking the sausage into small crumbles. Drain the sausage on a plate lined with paper towels and set aside.
Drain the artichoke hearts well, patting dry with paper towels. If using canned artichoke hearts, rinse well under cold water then drain and dry.
Cut the artichoke hearts in half, lengthwise, and add them cut side up to a baking sheet.
Add the cooked sausage, ricotta cheese, mozzarella cheese, sun dried tomatoes, salt and pepper, garlic powder, parmesan cheese and parsley to a bowl. Mix the filling together until all ingredients are combined.
Add a heaping teaspoon of filling to the top of each artichoke heart, pressing down slightly to stick to the artichoke. Top with toasted bread crumbs and bake for 15 minutes.
Remove the artichoke hearts from the oven and top with more parmesan cheese and chopped parsley. Serve immediately.
Recipe Notes
If making these appetizers ahead of time, you can make them up until the point of baking and keep them in your refrigerator up to a day in advance. Remove from the refrigerator 30 minutes before baking and bake per the instructions.
Category:

Appetizers

Method:

Oven

Cuisine:

American
Keywords: low carb recipes, low carb appetizer, artichoke hearts, artichoke recipes, appetizers, appetizer recipes, easy appetizers, recipes with sausage, new year's eve recipes, christmas recipes