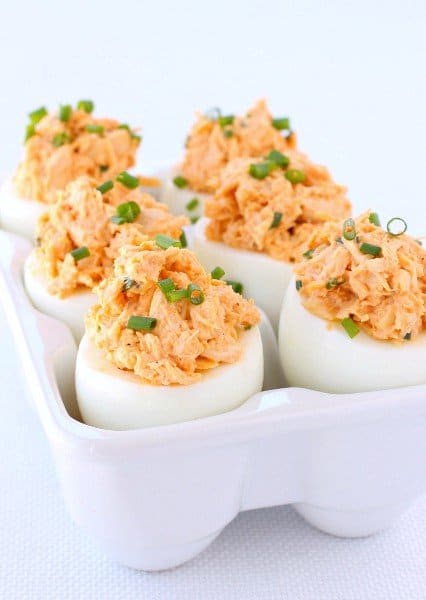 Buffalo Chicken Stuffed Eggs
I know everyone has leftover eggs from Easter…but instead of making the usual deviled eggs try these Buffalo Chicken Stuffed Eggs – because everything's better with hot sauce!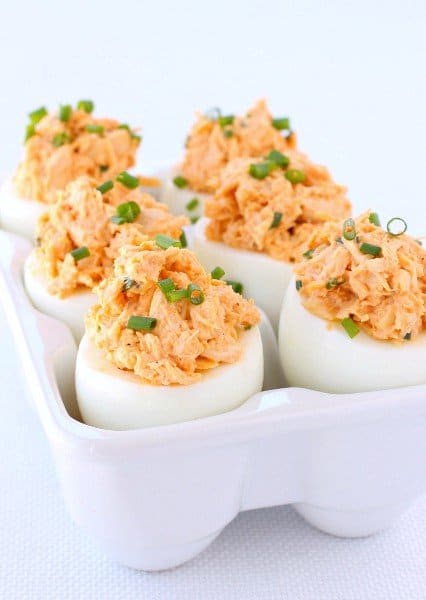 Don't get me wrong, I love a good deviled egg recipe. There's so many different recipes to choose from every time you make them can be different. From spicy deviled eggs to deviled eggs with bacon…I even found recipes with caviar on them.
And there's no way I'm making those. I've expanded my food list pretty far since I've started cooking but I draw the line at caviar. I just don't get it, why does anyone think eggs from a fish are that much of a delicacy? They aren't in my book. That's one expensive thing I can do without.
But my stuffed egg recipe is a little different. It doesn't actually use the yolks at all, you can save those for something else…throw them in a potato salad or something. For these Buffalo Chicken Stuffed Eggs you just need the whites, and of course the buffalo chicken salad.
If you're looking for a low-carb, low-fat amazing snack or light lunch then look no further. These stuffed eggs are full of flavor without all the extra fat that comes along with a deviled egg recipe.
I told you guys that I can do "good for you" food too – and I'm definitely not going to make it boring. If it's low-fat or low-carb it's going to have to be really tasty for me to want to eat it.
All you have to do to make these is peel up some hard boiled eggs, them cut the top third off of the egg.
Scoop out the yolk with a small spoon and save them for another use.
Mix together a quick chicken salad with shredded chicken, buffalo wing sauce a little mayonnaise and cream cheese and a few seasonings.
Stuff the chicken salad into your eggs and stuff them into your mouth. Enjoy.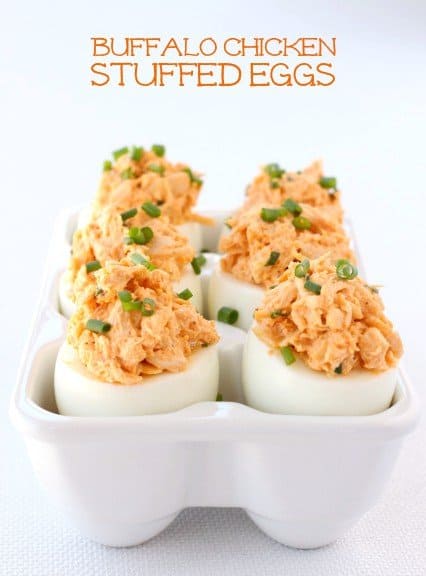 Print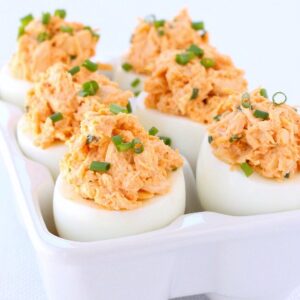 Buffalo Chicken Stuffed Eggs
---
Description
makes 12 stuffed eggs
---
Ingredients
12 hard boiled eggs, peeled
3/4 lb. cooked, shredded chicken (you can grab a rotisserie chicken from the store to make this quick)
1/4 c. buffalo wing sauce
1/2 t. salt
1/2 t. garlic powder
2 T. chives, chopped and divided
2 T. mayonnaise, regular or low-fat
2 oz. regular or low-fat cream cheese, at room temperature
---
Instructions
Cut the top third off of each hard boiled egg and scoop out the yolks.
Mix the ingredients together for the buffalo chicken salad, using 1 T. of the chives, in a medium bowl.
Stuff the chicken salad into each egg, top with remaining tablespoon of chives and serve.