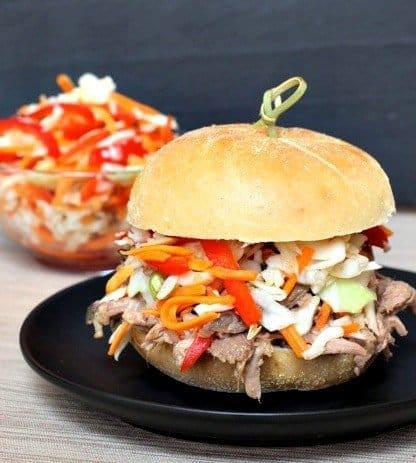 Thai Pulled Pork Sandwiches
I think you're all starting to get it now, I'm trying to cook as much food as I can with beer…like with these Thai Pulled Pork Sandwiches! These sandwiches will be ready to go for dinner when you are!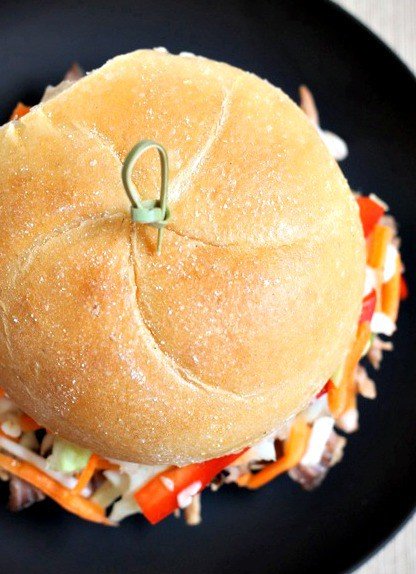 That's really not my goal. I'm kidding – sort of.
But it just seems that so many things I'm making taste so much better if you just add a bottle of beer. It also gives you an excuse to get beer out of the fridge before noon.
I mean if you're just cooking with it, right?
Anyway, the theme this week is really more about peanuts. First the Chicken Satay Bruschetta and now these Thai Pulled Pork Sandwiches. Friday will be the boozy version of peanuts…it's a good one, stay tuned.
So this version of a pulled pork sandwich gets cooked in beer and a spicy peanut sauce in your slow cooker. 8 hours on low will do it – but I'll confess, I cooked mine more like 13.
13 hours for a pulled pork?
Yeah, well I sort of forgot about it.
As soon as the wife texted me a reminder (she knows I can be a little forgetful) I rushed downstairs thinking it would be ruined, but it wasn't.
It was actually perfect.
So I'm not going to tell you to cook your pork butt for 13 hours, but if you want to, go right ahead. It just gets better!
It starts with a simple dry rub then into your slow cooker with a beer and your peanut sauce.
8 (or 13) hours later, pull it out and let it cool enough so you can shred it.
Pour the sauce from your slow cooker into a large pot and turn the heat onto medium-high. Thicken the sauce with Wondra® Flour and let simmer until you're ready.
The asian slaw takes just a few minutes to put together since I used a store bought bag of cole slaw mix for the base…No need to go crazy chopping cabbage.
When you shred up your pork, take a few ladles of the thickened sauce and mix it in. As little or as much as you want – I don't like pulled pork swimming in sauce so I just added a little to coat the pork.
And that's all folks – Pile it up on a big bun and throw some of that slaw on top.
Oh, and some beer to wash these down too?
Absolutely.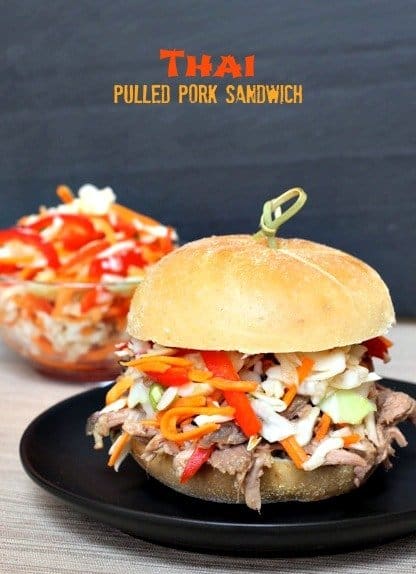 Print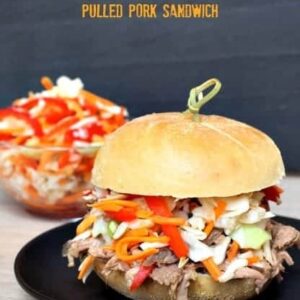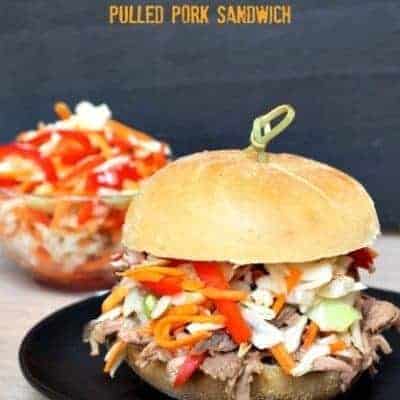 Thai Pulled Pork Sandwiches
---
Description
Makes 10-12 sandwiches
---
Ingredients
For the Pork
5

lb. pork butt

2

t. salt

1

t. fresh ground black pepper

1

t. garlic powder

1

t. cumin
For the peanut sauce
1/3

c. peanut butter

1

bottle of beer

1/2

c. light coconut milk

2

garlic cloves, minced

2

T. brown sugar

3

T soy sauce

2

t. sriracha

1/4

–

1/2

t. cayenne pepper

1/2

lime, juiced
For the Asian Slaw
1

16 oz. bag cole slaw mix

1/2

c. shredded carrots

1

red pepper, cut into thin strips

2

scallions

1/2

t. salt

2

t. sesame oil

1

T. canola oil

1 1/2

t. sugar

1/2

t. fresh grated ginger

4

T. rice wine vinegar
For Serving
---
Instructions
Mix together the salt, pepper, garlic powder and cumin in a small bowl.
Rub the mixture all over the pork butt covering all sides.
Place the pork butt in your slow cooker.
Mix the ingredients for the peanut sauce together in a medium sized bowl.
Carefully pour in the bottle of beer.
Don't whisk the mixutre or the beer will foam up, just stir gently to combine.
Pour into the bottom of slow cooker and set to cook on low for 8 hours.
Put all the ingredients for the asian slaw into a bowl, mix together and place in the refrigerator until you're ready to use it.
After 8 hours, remove the pork butt to a platter to cool.
Pour the sauce from the slow cooker into a large pot and turn the heat to medium.
Add 1 T. Wondra flour to the pot and bring to a boil to thicken, then let simmer until you're ready.
Shred the pork into bite sized pieces, removing any visible fat.
Add in a cup or 2 of the sauce to coat the pork, as much or as little as you like.
Put a heaping scoop of the Thai Pork on a bun, then top with some of the asian slaw.