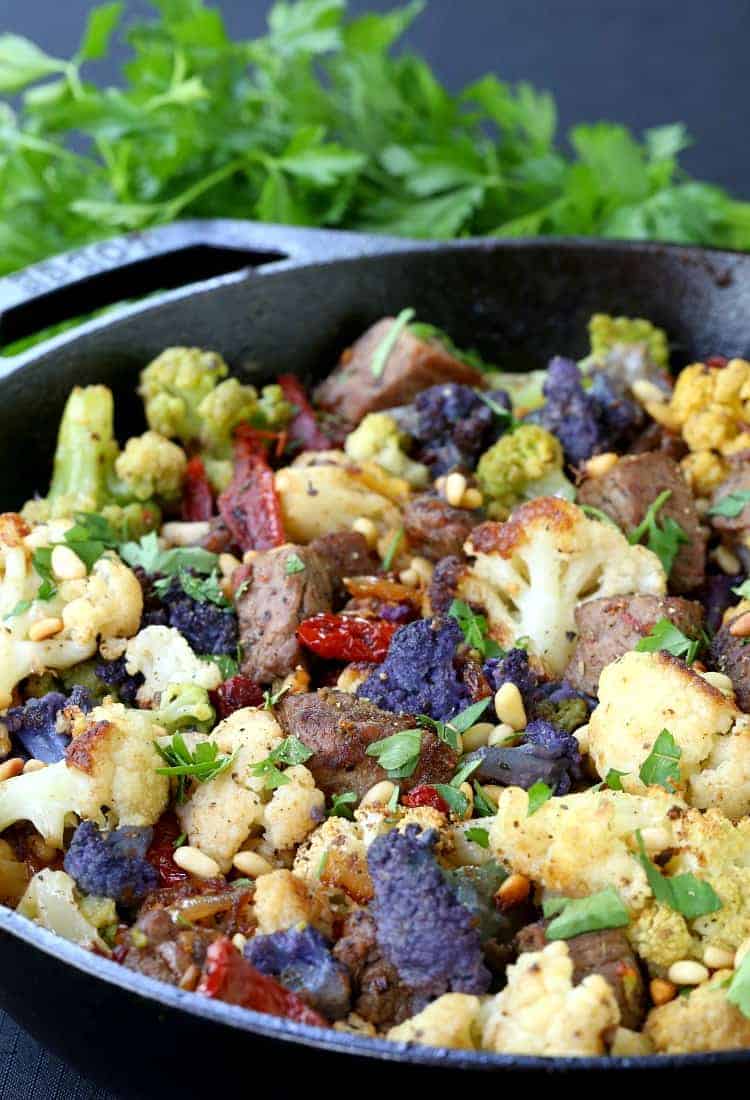 Skillet Sicilian Beef and Cauliflower
This Skillet Sicilian Beef and Cauliflower is so delicious and full of flavor, you'll forget that you're eating a healthy dinner! And when healthy looks this good, dinner is going to be a breeze!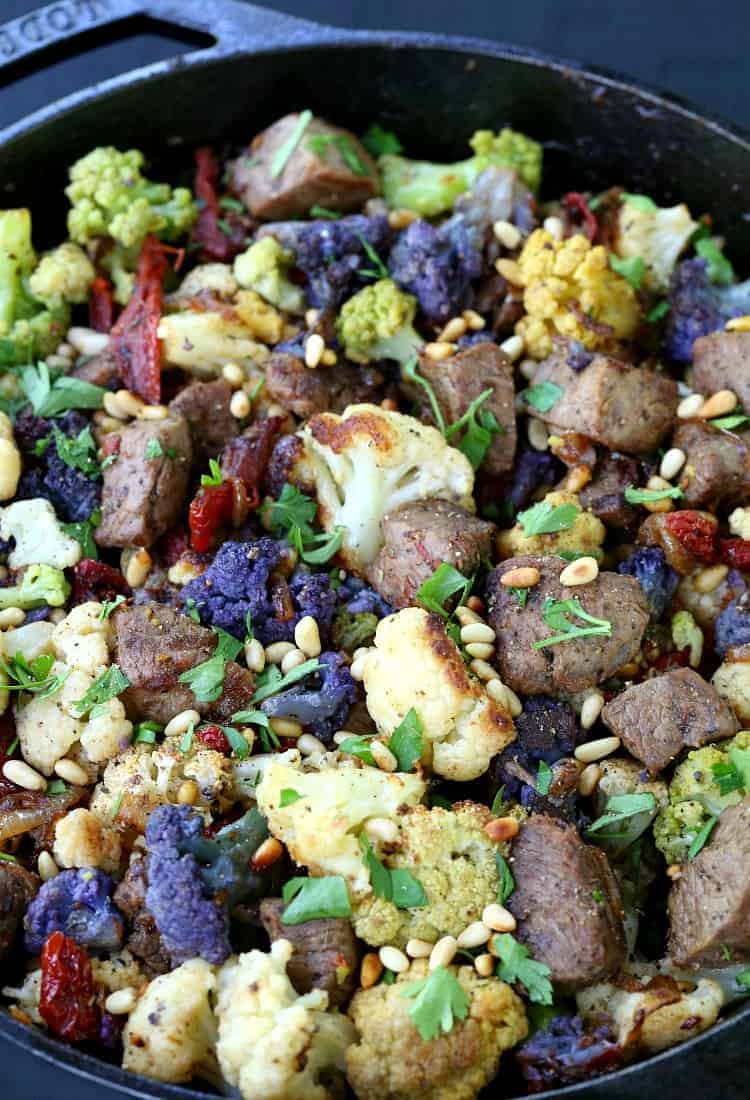 I am not kidding when I say that I'm still cooking dinner with the beef I got on the Meat Retreat in NYC.
Still making dinners…
I'm totally amazed by how much they gave us to take home that day, it's the gift that keeps on giving!
And we're not ones to really ever get sick of meat for dinner in anyway so the ideas just keep on coming. We started out with these Fiesta Steak Bites, then moved on to Slow Cooker BBQ French Dip Sandwiches and now we're making this Skillet Sicilian Beef and Cauliflower.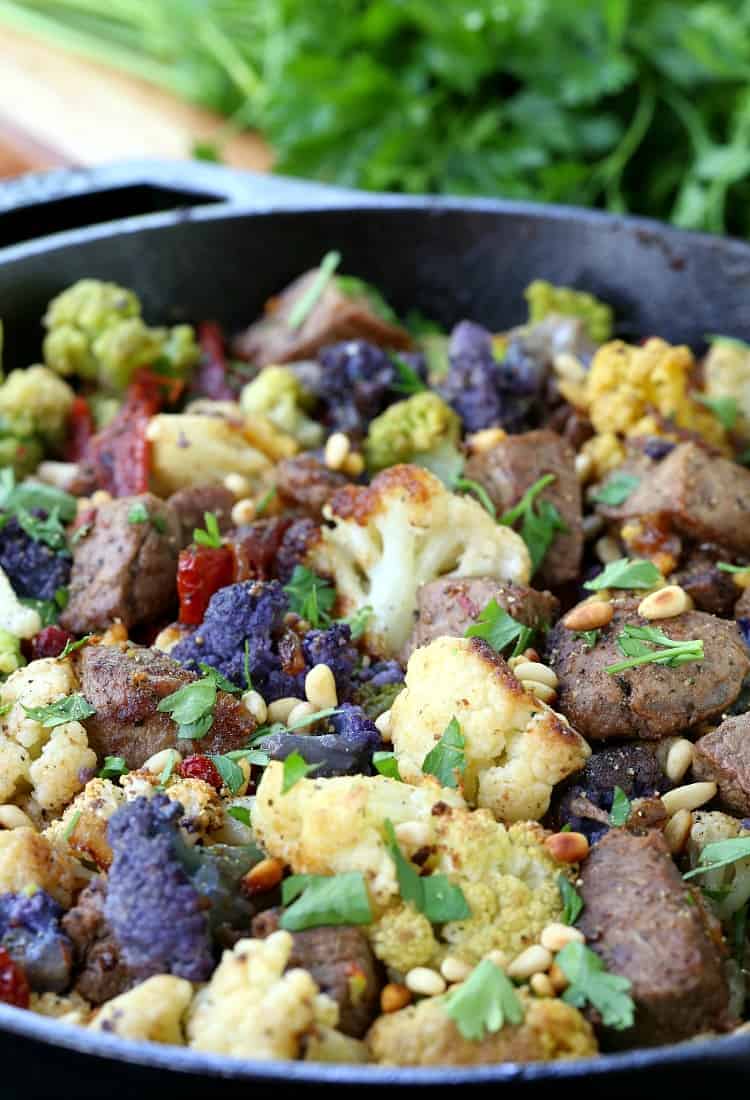 This was a recipe that was made out of a "what do we have in the fridge/freezer to make" night. All the food we buy for making recipes sometimes gets a little pricey…well, a lot of the time…so we try and have days that we just eat what we have on hand.
We obviously had the beef. And it seems like our freezer is usually pretty well stocked with cauliflower these days, so we grabbed some other pantry items and got to cooking.
Have you guys ever noticed how expensive sun dried tomatoes are though? I couldn't believe the last time I bought a jar they were like 8 bucks! So I was really glad to find a jar of sliced (bonus) sun dried tomatoes at Trader Joe's for just over 3 bucks.
Stocked up, I did.
And this cauliflower – the kids love it for the crazy colors but even as a side dish it's easy for just roasting with olive oil, salt and pepper.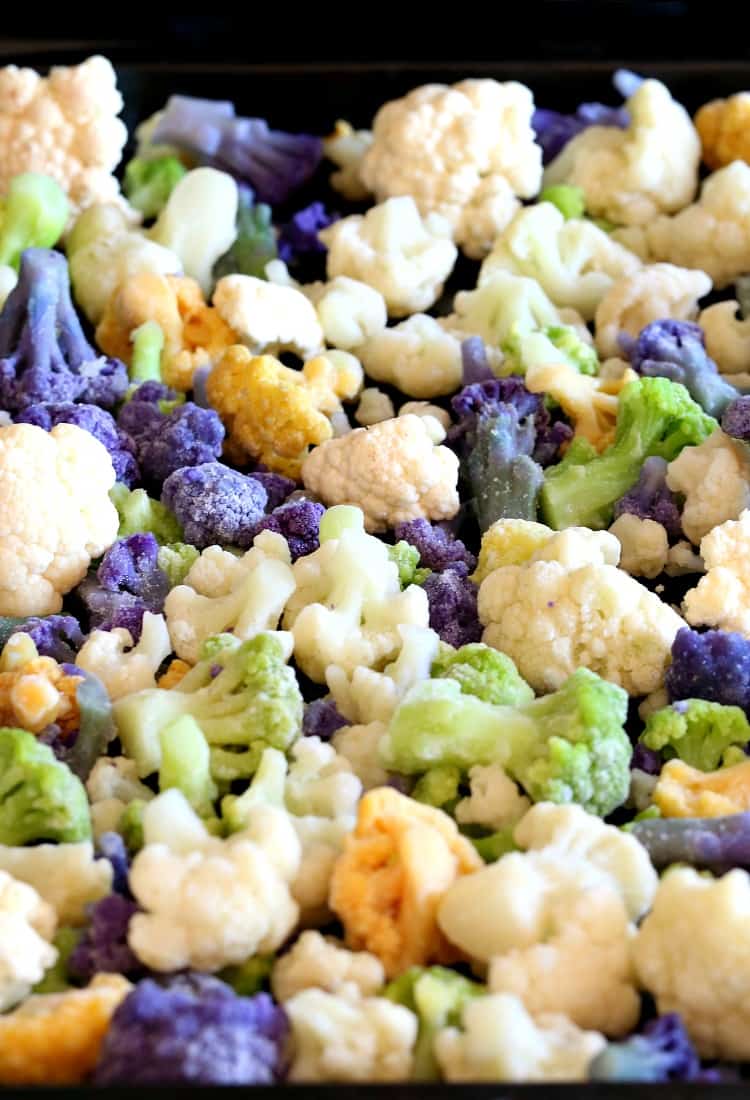 Then we toasted up a bunch of pignoli nuts to keep the Sicilian flavored theme going here…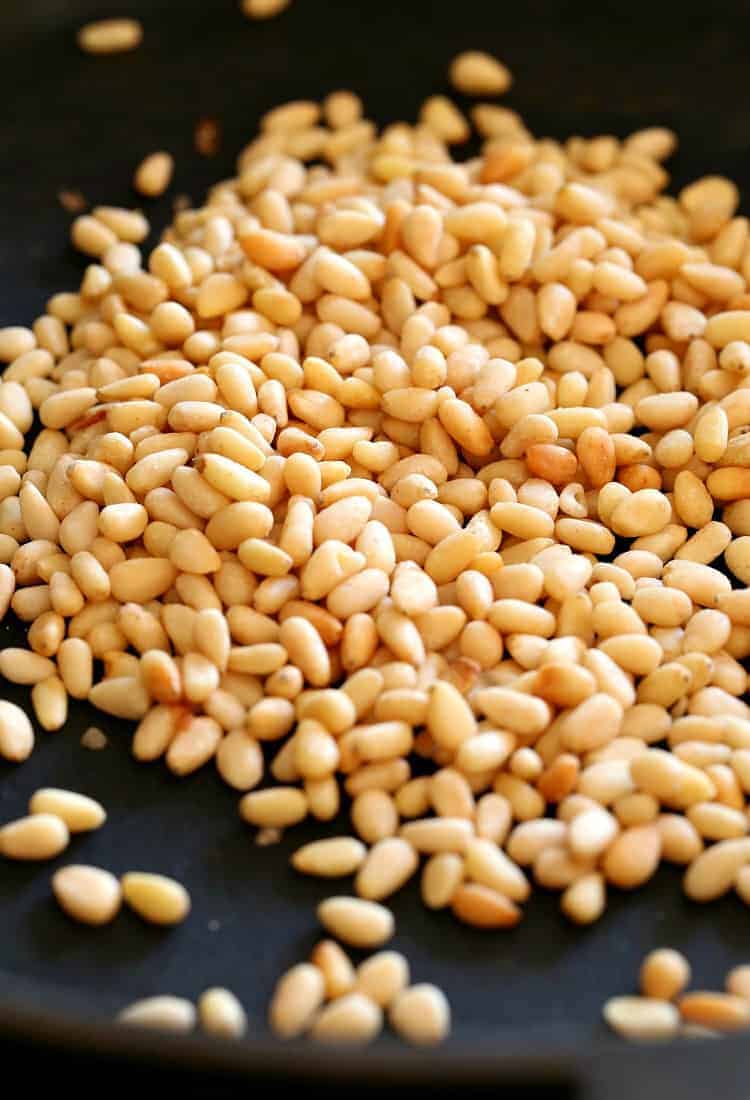 Then it was time to sear the beef. Crank up the heat and really give this beef a good crusty coating. You want the windows open and your smoke detectors pulled off for a minute so you get the right result.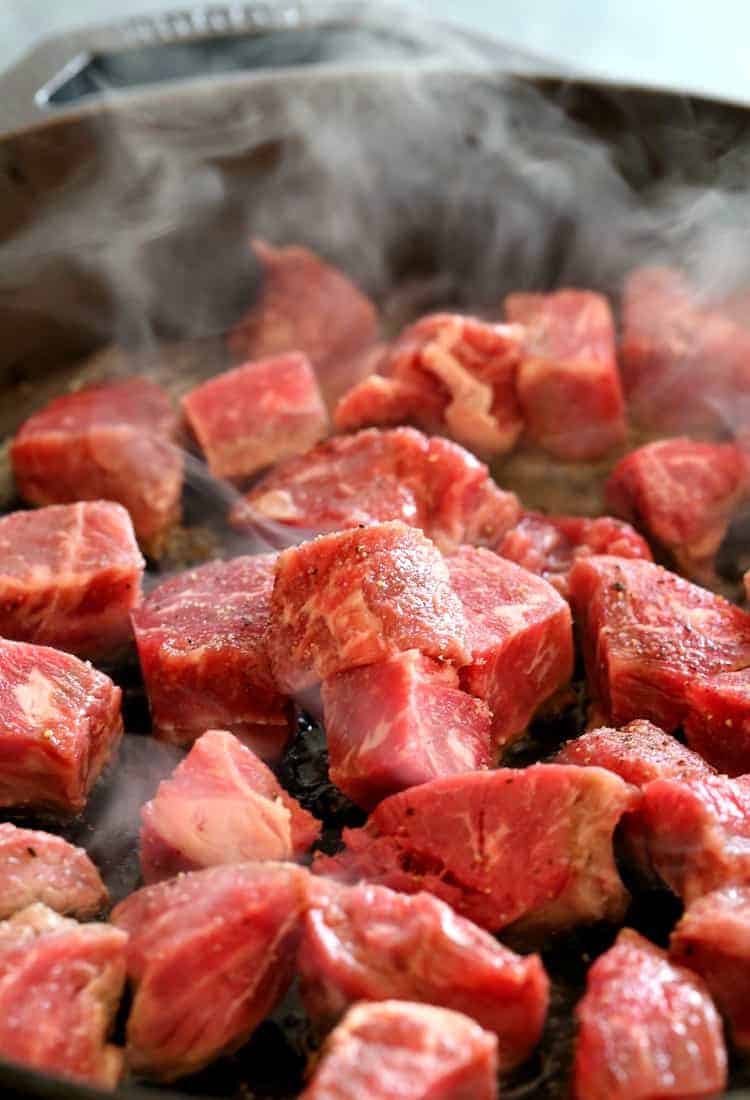 Now you can add the pignoli nuts to the skillet, along with the sun dried tomatoes and some of the oil from the jar. Then go ahead and grab your roasted cauliflower and get that in the skillet too along with some last minute flavor additions.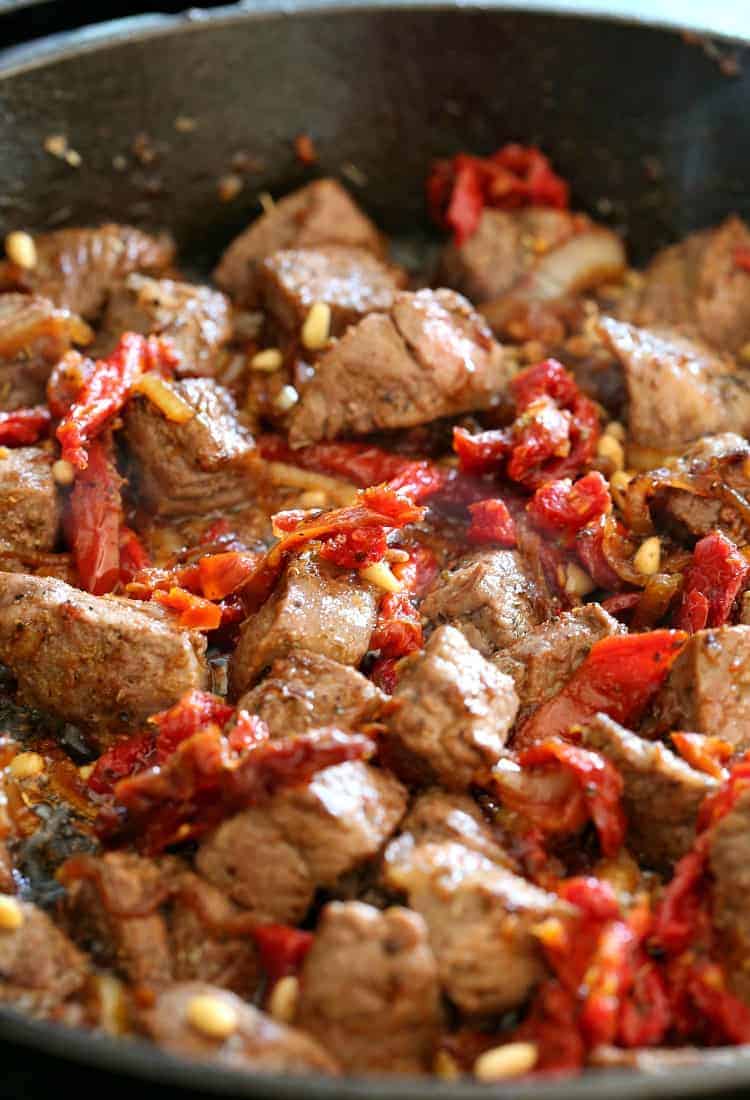 And it's done! This Skillet Sicilian Beef and Cauliflower is really going to be on the table pretty quickly, and without a ton of effort.
Low carb? Yep, pretty good there. The sun dried tomatoes have a few carbs in them but everything else is zero to crazy low carbs so that's about all the carb that are added to this recipe.
So low carb – yes.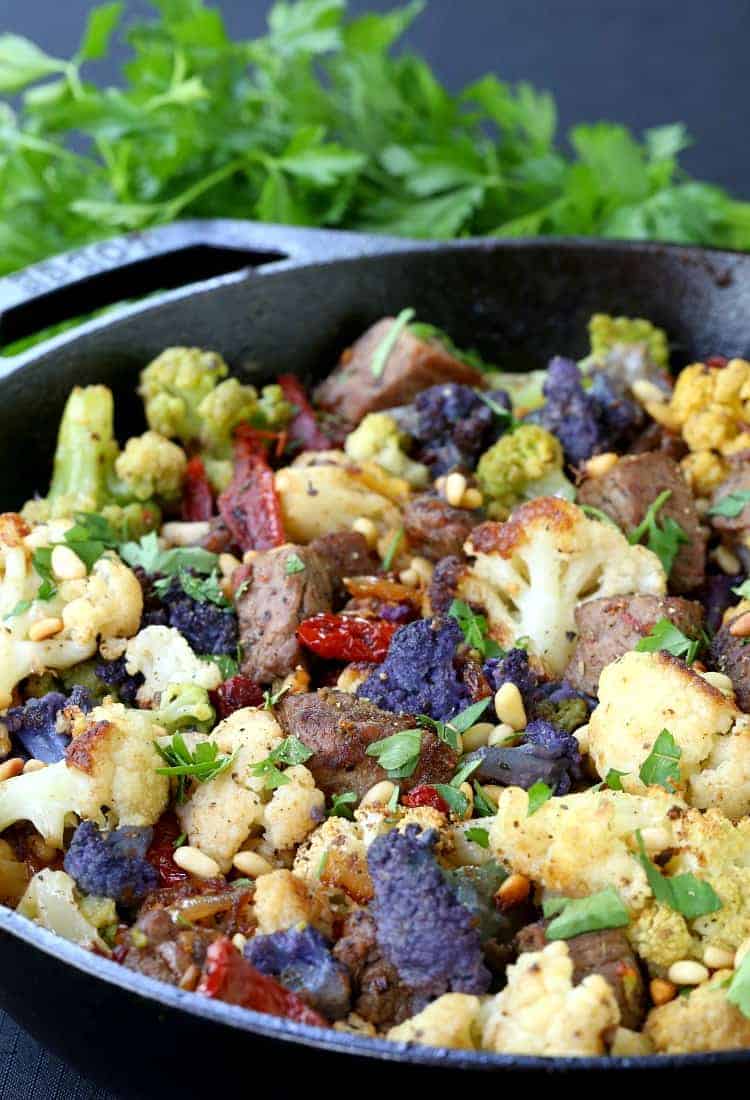 And if low carb isn't your way of eating, I'd serve this next to a big pile of rice to soak up all the flavorful sauce in the skillet. This Skillet Sicilian Beef and Cauliflower is an awesome way to get the kids to eat their veggies…it works on adults too!
Print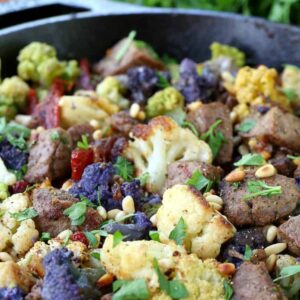 Skillet Sicilian Beef and Cauliflower
Author:

Yield:

4 servings
---
Ingredients
2 bags (1 pound each) cauliflower
1/2 cup pignoli nuts
1.25 lb sirloin or strip steak cut into large cubes
2-3 tablespoons butter
1 large onion, sliced thin
3 garlic cloves, chopped
1 (8.5 ounce) jar sliced sun dried tomatoes
3 tablespoons balsamic vinegar
5 tablespoons extra virgin olive oil, divided
1/4 cup grated parmesan cheese
1/2 cup fresh parsley, chopped
Kosher salt and fresh ground black pepper for seasoning
---
Instructions
Preheat the oven to 425 degrees.
Place the cauliflower on a baking sheet and season with salt, pepper and a drizzle of olive oil.
Roast for 20 minutes, turning once during roasting.
While the cauliflower is roasting, heat a large cast iron skillet over medium heat.
Add the pignoli nuts to the dry pan and toast until lightly browned. Remove the nuts from the pan to cool.
Melt the butter and 2 tablespoons of the olive oil in the skillet over high heat until frothy and lightly brown.
Season steak generously with salt and pepper then add to the skillet in an even layer. Let the steak sear for 5 minutes before turning, then turn the beef and sear on the other side for another 5 minutes. Remove the steak from the pan to a plate and cover with foil.
Turn the heat down to medium, then add the onions and stir. You can add a little more butter or a drizzle or olive oil if you think it needs it.
Cook for 8-10 minutes until the onions are softened, then add the garlic and cook for a minute more.
Add the sun dried tomatoes with a couple tablespoons of the oil from the jar to the skillet along with the pignoli nuts and the roasted cauliflower.
Pour in the vinegar and the remaining 3 tablespoons of olive oil.
Add the steak back to the skillet with any juices and stir to combine.
Preheat the broiler.
Top the skillet with the parmesan cheese and place the skillet under the broiler for 3-4 minutes, watching carefully not to burn the nuts or the cauliflower.
Garnish with extra pignoli nuts and chopped parsley if desired.