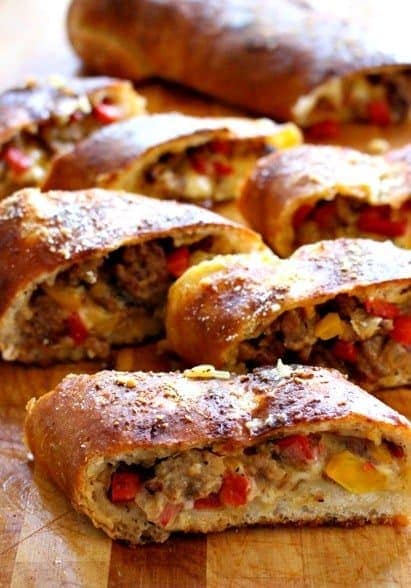 Sausage and Pepper Stuffed Bread
This Sausage and Pepper Stuffed Bread is the answer to getting a sausage roll done right. Make it ahead, freeze it then bake right before you need it!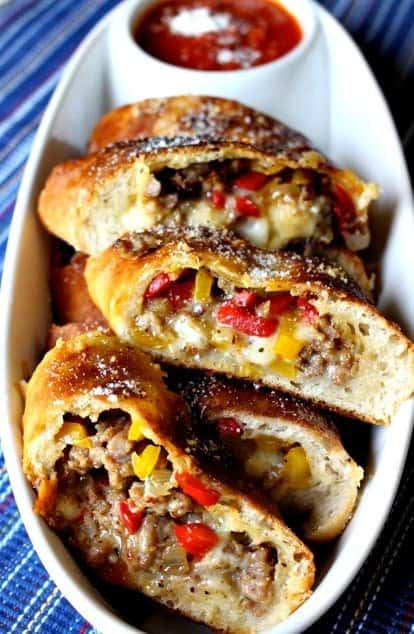 Let's talk about stuffed bread for a second. Sausage Rolls, Stromboli, Calzones. Whatever you want to call bread with some sort of filling inside.
Here's what I can't stand – when you order your sausage roll, or your Stromboli, and it comes with the smallest amount of filling and all bread. Or on the other hand, you get your stuffed bread and it's ALL cheese. Just a bunch of cheese oozing out of the bread. Not good.
What I'm talking about here is ratios. You need to have the right ratio of ingredients for a stuffed bread.
So in my constant disappointment of ordering stuffed bread of any kind out at restaurants, I decided to do it right and make my own. I'm love sausage and peppers so I went with that combination of ingredients for this recipe. You can switch up the filling ingredients to whatever you like, chicken, ground beef, mushrooms, different cheeses, etc.
Here's how I did it…
To keep it easy, I used a store-bought italian bread dough. Then I chopped up a couple of peppers and onions and got out my cheeses…but the secret ingredient in this stuffed bread is the Cabot® Horseradish Cheddar Cheese. Cabot was nice enough to send me a package a while back and I've been trying to think of the right way to use this cheese besides just cutting it up and eating it. I have to say, I was totally surprised when I tasted this – I knew it would be good, but it was way better than I had expected. It worked out perfect in this sausage and pepper stuffed bread!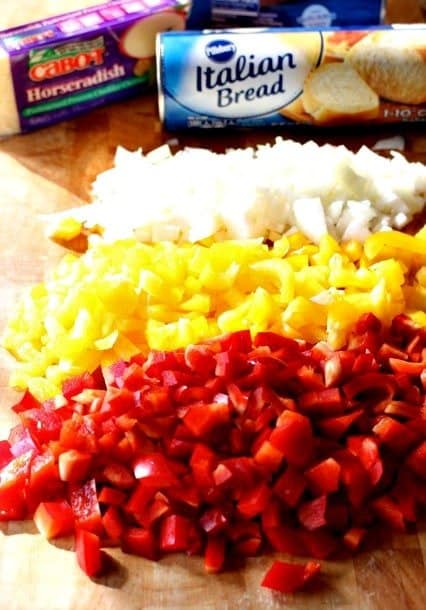 Start by cooking the onions and peppers together with a pound of Italian sausage in a large skillet for about 15 minutes.
Divide the filling in half and let cool.
Open one of the dough packages and set the loaf on a floured cutting board. What you want to do is cut a line right down the center but not all the way through so that you can open it into a rectangle like this.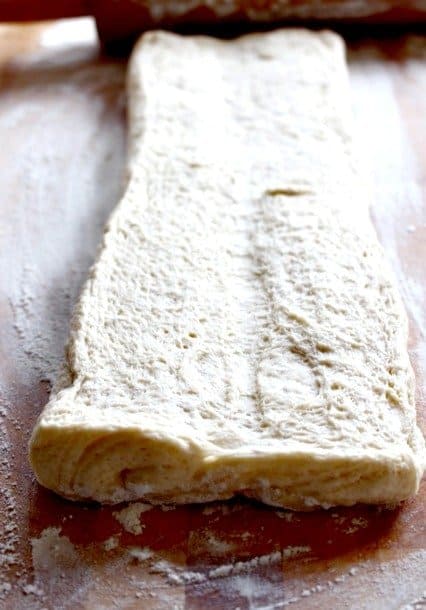 Next you're going to roll out the dough into a 15″x7″ rectangle, approximately, don't worry too much about the size.
Once you're filling is cooled, take half the filling and lay it down the center of your rolled out dough. Then fold over each half of the dough to seal the bread, using an egg wash to help it stick together.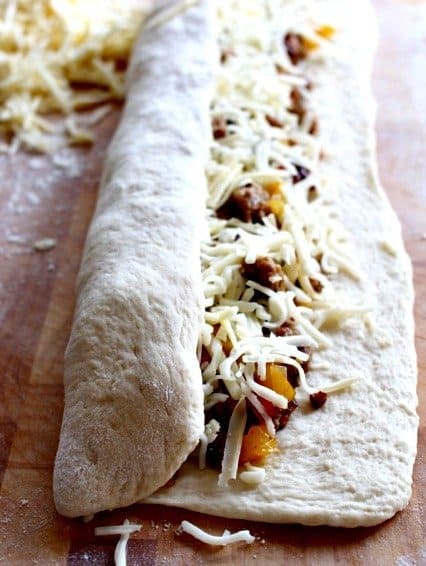 Here's where you'll put the egg wash, then fold over the other side of the dough to close the bread up.
Repeat with the other loaf and place on a baking sheet, seam side down in a 400 degree oven for 15-18 minutes.
Once they cool for a few minutes, slice carefully and serve with marinara sauce for dipping.
Perfect stuffed bread…the Mantitlement way.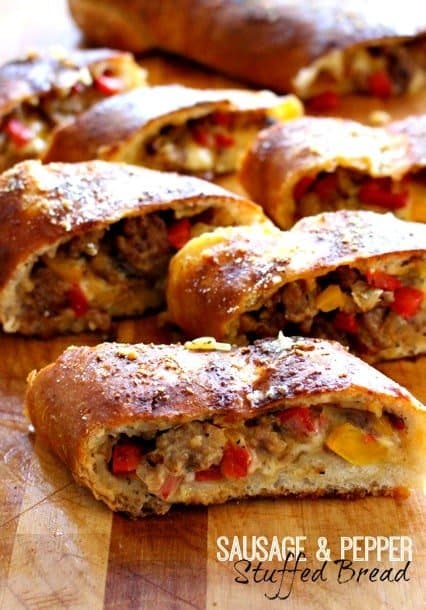 Print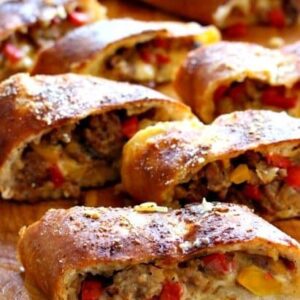 Sausage and Pepper Stuffed Bread
Author:

Yield:

2

1

x
---
Description
sausage and peppers with a creamy cheese stuffed in a parmesan coated bread.
---
Ingredients
1

lb. italian sausage, sweet or hot

1

red bell pepper, chopped

1

yellow bell pepper chopped

1

large onion, chopped

1

t. garlic powder

1

/2 t. dried oregano

1/2

t. dried basil

2

packages of Pillsbury Italian Bread

1

8 oz. package Cabot® Horseradish Cheddar

2 cup

s of shredded mozzarella/provolone blend
Extra virgin olive oil
salt and pepper

2

T. parmesan cheese
marinara sauce for dipping
---
Instructions
Saute the sausage in 1 T. of olive oil until browned.
Add in the chopped onions and peppers, cook until softened, about 10 minutes.
Season with salt and pepper to taste and the garlic powder, oregano and basil.
Divide the filling in half, then set aside to cool.
Open the package of dough and place the loaf on a floured board. Make a cut down the center of the loaf to butterfly the loaf open. You won't cut all the way through, just cut enough to spread the loaf in half.
Place half of the filling down the center of the dough. Add 1 cup of the horseradish cheddar and 1 cup of the mozzarella/provolone blend on top of the filling.
Fold half of the dough over the filling, brush with egg wash, then fold the other half of the dough over to seal. Fold both ends over and press to seal with egg wash.
Place the stuffed bread seam side down on a baking sheet sprayed with cooking spray. Brush the entire loaf with egg wash then add some parmesan cheese on top.
Repeat with the other loaf.
Bake in a 400 degree oven for 15-18 minutes until golden brown on top.
Let cool for 5 minutes, then carefully slice and serve with marinara sauce for dipping.