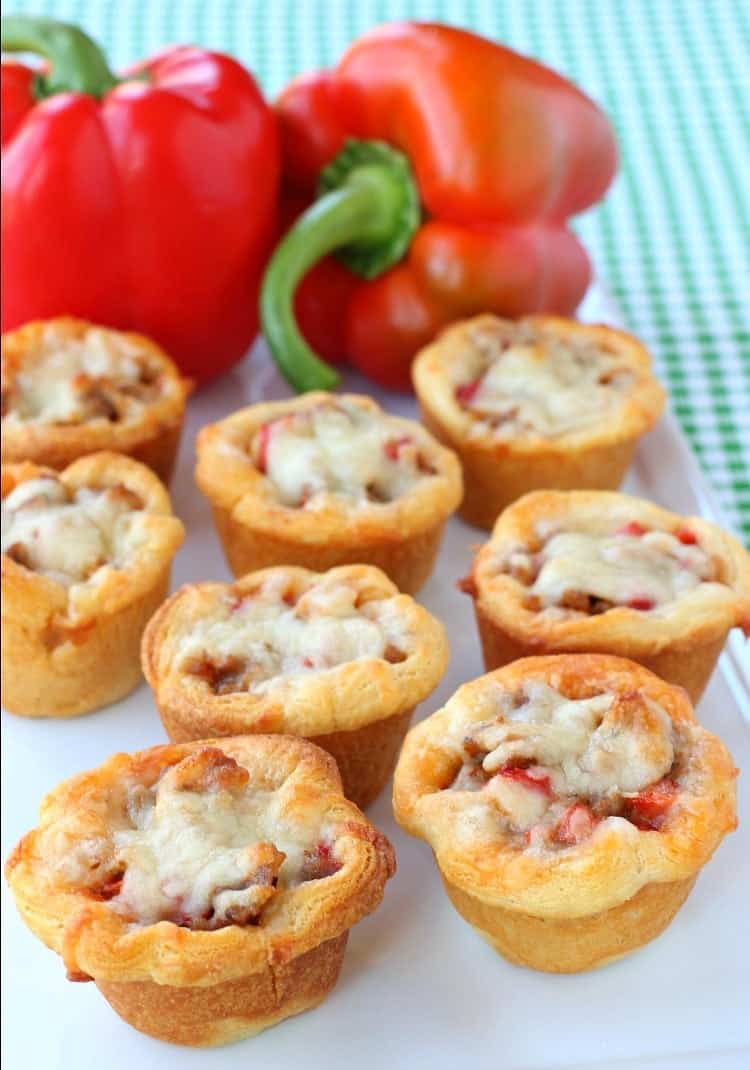 Sausage and Pepper Crescent Cups
Sausage and Pepper Crescent Cups are the perfect bite sized game time food! Our kids love these for after school snacks or even dinner!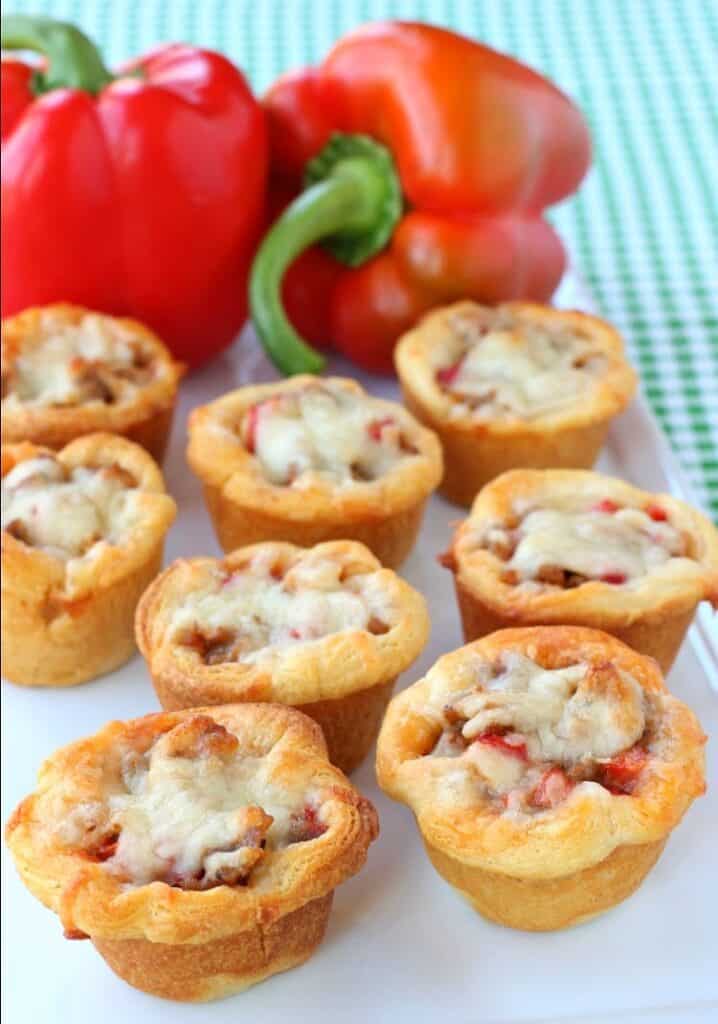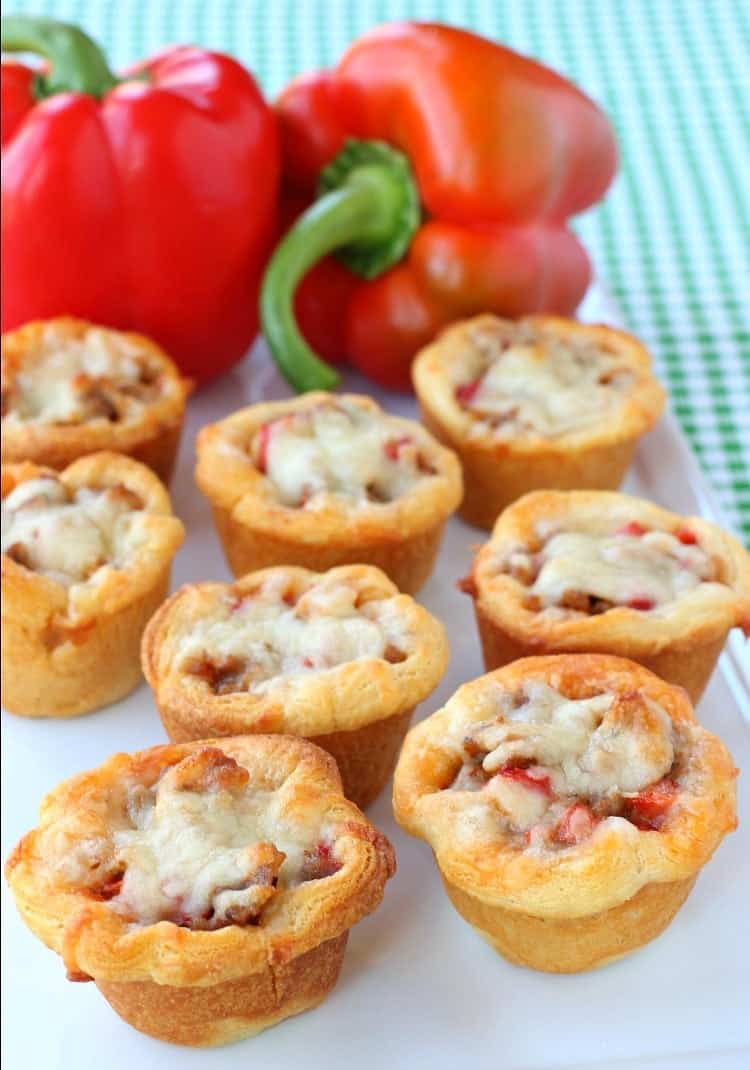 Football season is closing in. And what does football mean besides watching the game of course? All the food. Apps mostly for me. I'm all about having as many different appetizers as possible. Maybe one main course in the background, like a shredded beef crock pot type thing. But mostly apps. And beer. And a few cocktails thrown in. So there you have it, my football menu plan…
We knew these Sausage and Pepper Crescent Cups were gonna be good. Really good. So we doubled the recipe from the beginning. What could be bad about sausage, roasted peppers and cheese in crescent rolls?
So this recipe does require a little rolling out of the dough – not much – don't worry, these are going to be in the oven so quick you won't even have time to drink a beer.
All you need to do for the filling is cook up some onions and garlic with some marsala wine…then brown the sausage, add some chopped roasted red peppers and stir it all together with cream cheese. The cream cheese holds the filling all together and makes it all just taste better.
Roll out the dough on a board and cut out rounds using a 3 1/4″ cutter. Use whatever you have that's as close to that size as you can. You want the dough to come a little above the rim of the muffin tin so the filling stays in.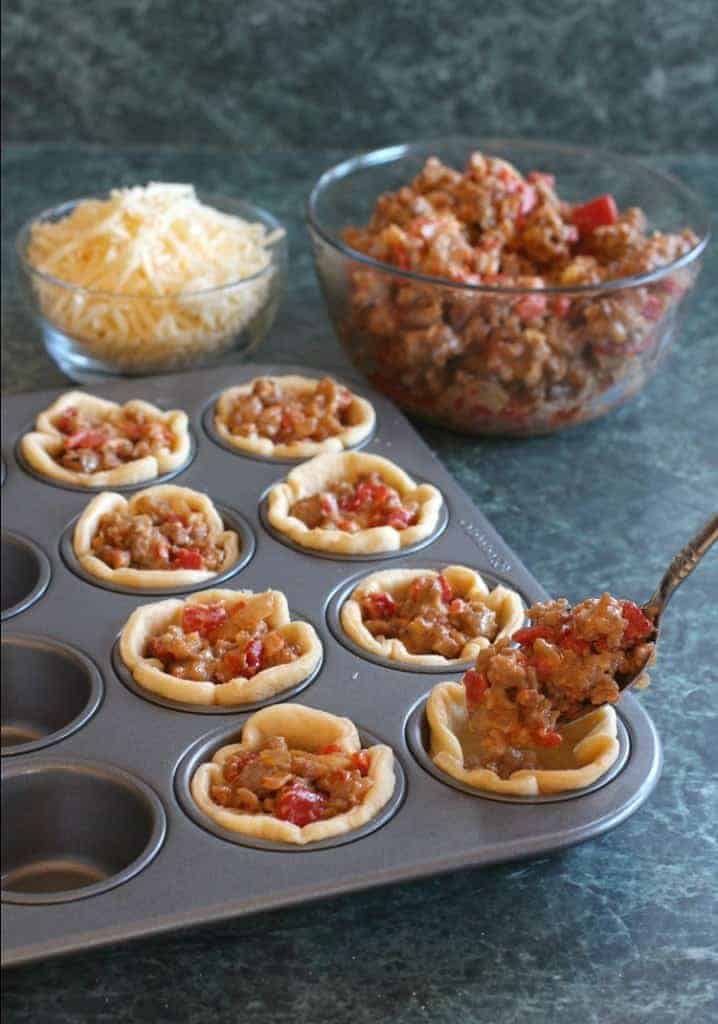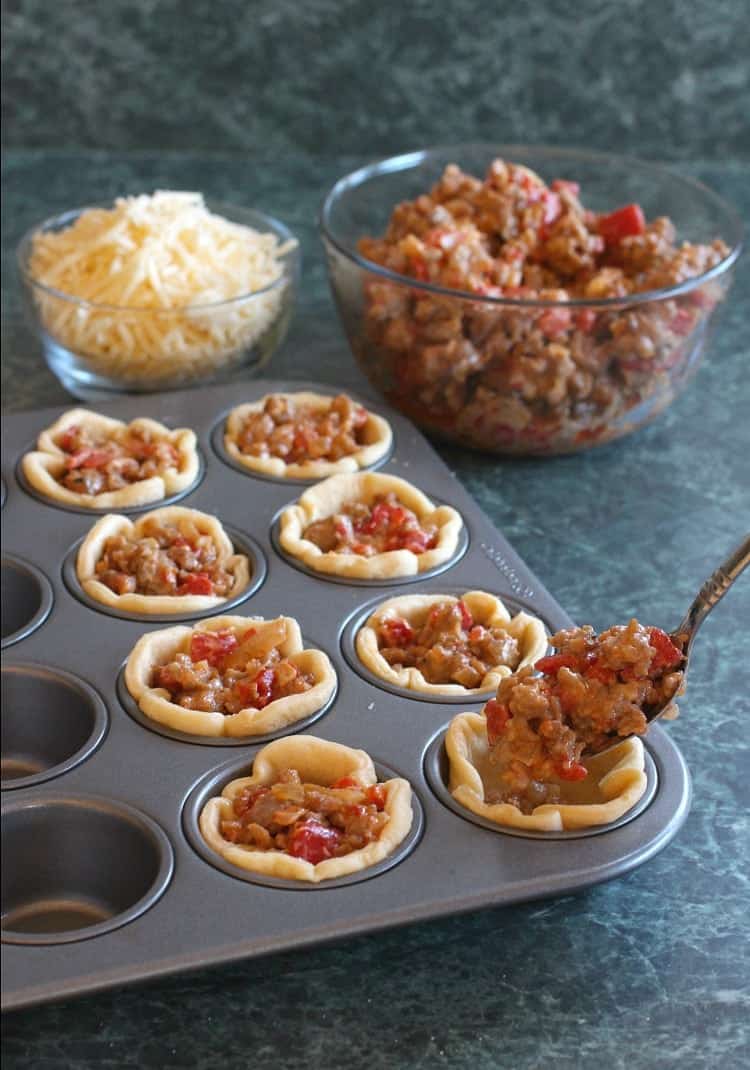 Fill the cups with the sausage and pepper filling and top with mozzarella cheese.
In ten minuets you have cheesy, buttery, bite sized sausage and pepper appetizers.
You can definitely make the filling ahead of time and then just fill and bake when it's game time!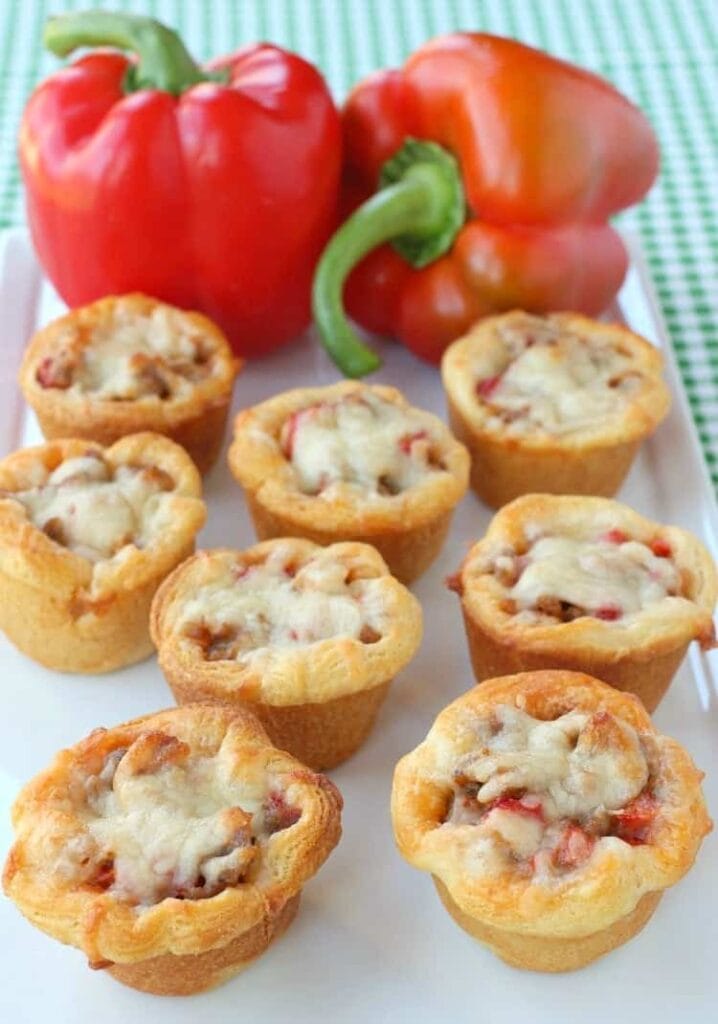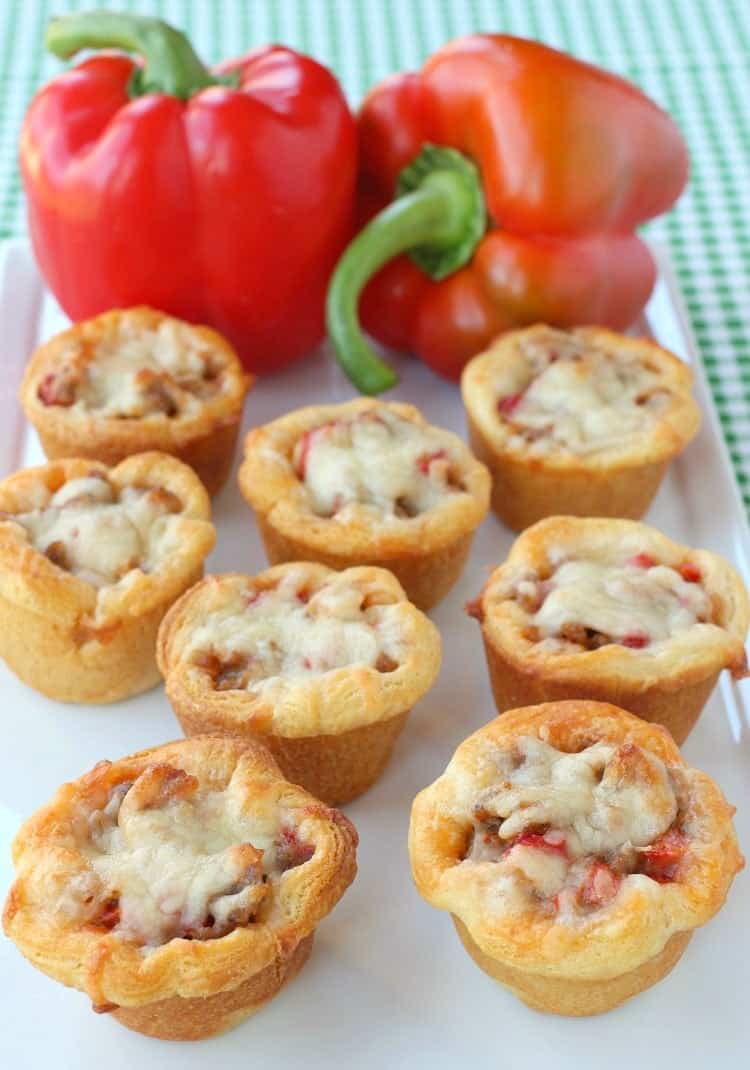 Print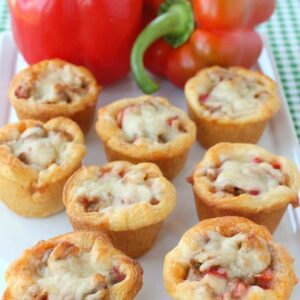 Sausage and Pepper Crescent Cups
---
Description
Makes 20 appetizers
---
Ingredients
2

packages Pillsbury Crescent Rolls

2 tablespoon

s olive oil

1

lb. Italian Sausage

1 cup

onion, diced

3

garlic cloves, minced

1/4 cup

marsala wine

1 cup

chopped roasted red peppers

1/4 cup

cream cheese

1 1/2 cup

s shredded mozzarella cheese
---
Instructions
Preheat the oven to 375 degrees.
Add the olive oil to a large skillet with the onions over medium heat.
Stir and cook until translucent, about 5 minutes then add in the garlic and cook for another minute.
Pour in the marsala wine and stir, cooking until the wine is mostly gone from the pan.
Put the sausage in the skillet with the onions and break up with a spoon until browned through.
Stir in the cream cheese and roasted red peppers until combined.
Turn off the heat and set aside.
Place one package of crescent roll dough on a cutting board with a little flour.
Press the seams together with your fingers then roll out slightly.
Using a 3 1/4″ round cutter, cut out 8 rounds of dough and place each round into the center of a mini muffin tin. Roll out the leftover dough and cut out 2 more rounds.
Repeat with the other package of dough, then fill to the tops with the sausage filling.
Top with the mozzarella and bake for 10 minutes.