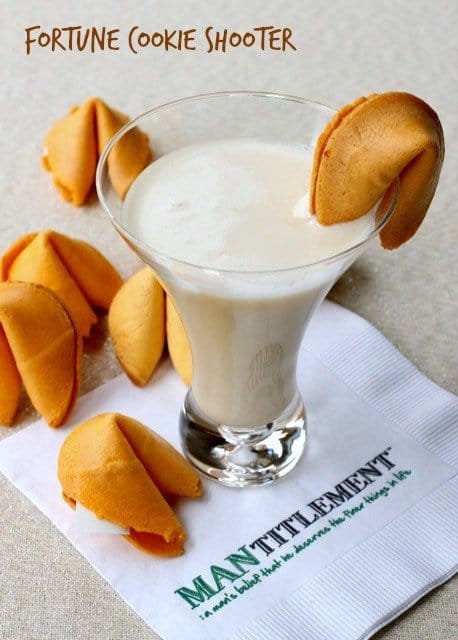 Shake up a few of these Fortune Cookie Shooters for some good luck in the New Year! A good luck cocktail…I'm in!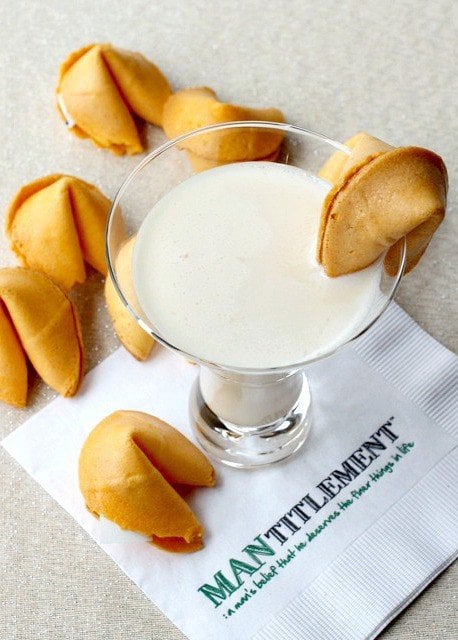 Coming up with a drink for today wasn't as easy as it would seem.
I've done a few champagne cocktails already – the standard New Year's Eve drink of choice.
In the meantime I've been reading all about different traditions and belief's that people have surrounding New Year's Eve.
Eating 12 grapes at midnight for good luck.
Make a dish of "Long noodles" for longevity.
Have some black eyed peas for good fortune on New Year's Day.
But as far as what to drink besides champagne?
Let's make some shooters – Fortune Cookie Shooters to be exact.
Because what could bring you better luck than a fortune cookie? Or a fortune cookie with booze…
These Fortune Cookie Shooters do have an unusual ingredient to make them extra tasty so don't panic – it's an egg white.
What? You're freaked out by a raw egg white? No need to be, just make sure you're eggs are fresh, or if you want to be extra careful buy pasteurized eggs and you'll be good to go. Here's a pretty cool tip for pasteurizing eggs at home in case you didn't buy them at the store.
But if you really want to make these shooters without the egg you totally can. It won't be as creamy and frothy as if you used the egg but it'll still taste the same. The egg is just for the consistency of the drink, it doesn't add any flavor so your shooter will still taste just as good.
You could make these up to pass out during your cocktail hour or you could serve them with a whole pile of fortune cookies after dinner for a dessert cocktail.
So by the time midnight rolls around you'll have all the good luck you need.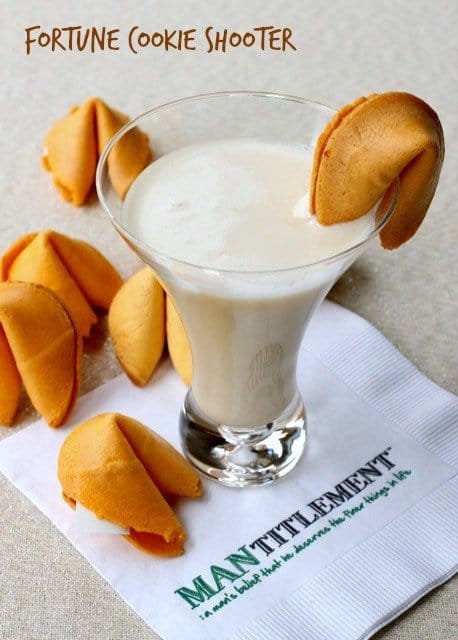 Because if good luck means I have to drink some of these shooters, I'll be sure to have a few!
Print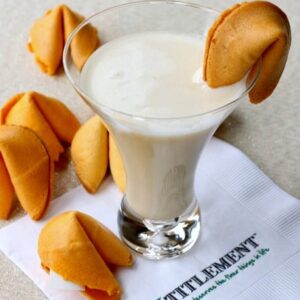 Fortune Cookie Shooter
---
Description
makes 2 shots or 1 large shooter.
---
Ingredients
2 oz

. vodka

1 1/2 oz

. amaretto

1 oz

. heavy cream

1

egg white

3/4 oz

. Liquor

43

1/4

t. vanilla extract
Fortune Cookie for garnish, and extra for eating
---
Instructions
Add all of the ingredients to a cocktail shaker filled with ice.
Shake very well then strain into 2 shot glasses or a larger shooter glass.
Garnish with fortune cookie.
---