Pork Egg Rolls are so easy to make at home and taste even better than take out! Serve these egg rolls with your favorite Chinese dinner!
Asian food is one of our favorite cuisines! We love making homemade Chicken Fried Rice and there's always tons of our easy Stir Fry Sauce in our refrigerator for making quick meals!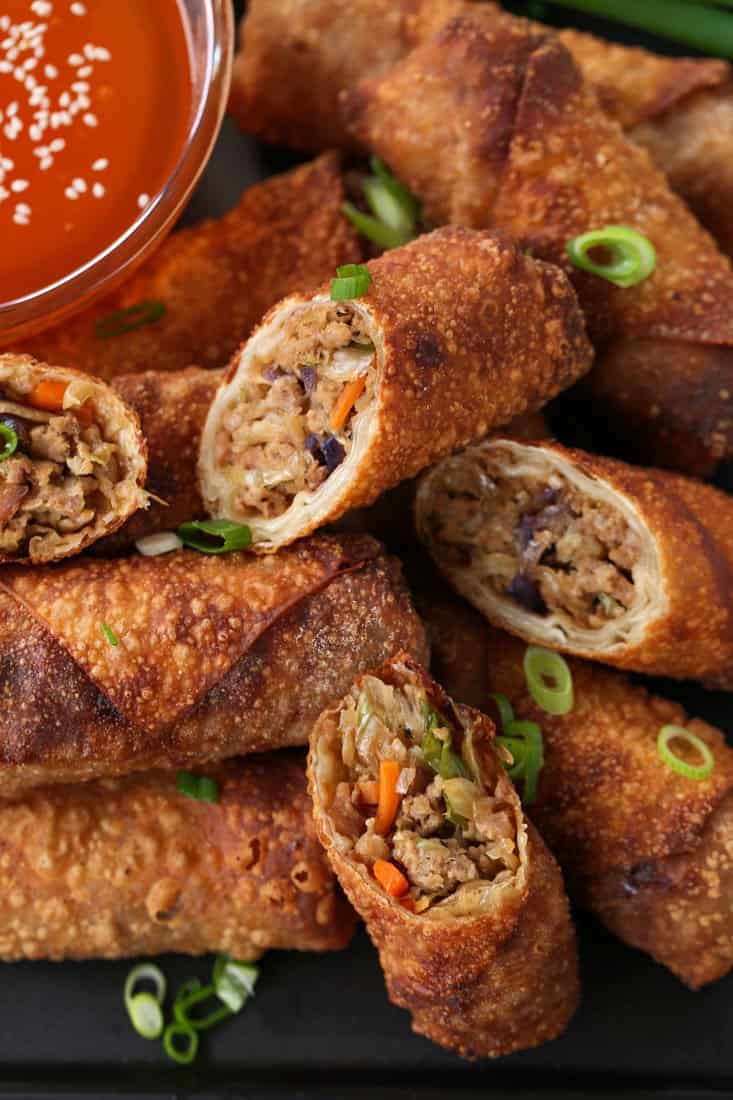 Homemade Pork Egg Roll Recipe
One of the things we never really seem to order from Chinese take out is egg rolls. We love egg rolls but they never are as good as we expect them to be, sometimes too greasy, sometimes just all cabbage.
So we've made our Pork Egg Roll filling loaded with pork and vegetables, a good balance of ingredients if you ask me, and then fried them up perfectly crispy.
How Do You Make Egg Rolls From Scratch?
Start by purchasing wonton wrappers at the grocery store. For this egg roll recipe you'll need the larger size, they usually say egg roll wraps, not the smaller size for making wontons or dumplings.
Make the filling by cooking ground pork along with cabbage, carrots, garlic, ginger, soy sauce and toasted sesame oil. Once the filling is done, set it aside and let cool. Heat a large pot of oil to about 350 degrees, if you have a thermometer that will work best for you.
Grab one if you don't, they are only a few bucks at most stores or on Amazon. Getting the oil to the right temperature is key for making non-greasy fried food!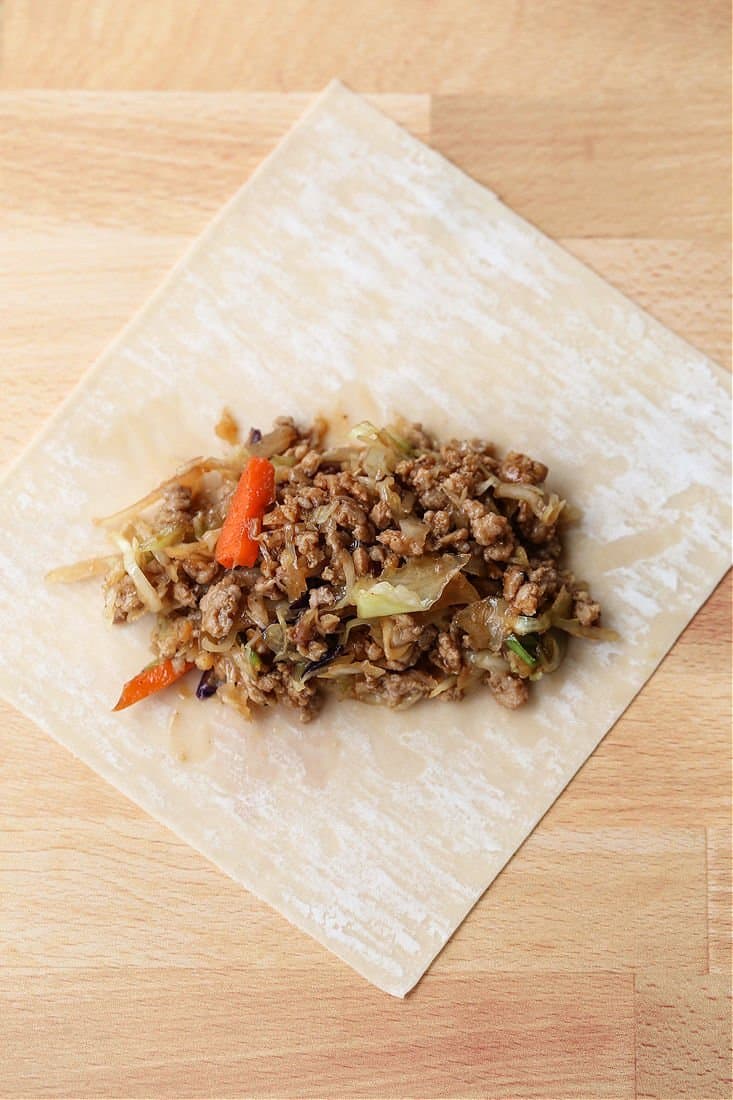 Wrapping Egg Rolls:
Make the pork and cabbage filling, let it cool and then add it to the center of an egg roll wrapper as shown above. There are a couple of different ways to wrap and egg roll, we like this method because the filling stays tucked inside better.
Next fold the two outside corners over the center of the filling as shown below. Another way to do this is to fold the bottom corner up first, over the filling and then tuck in the sides, you can choose which method works best for you.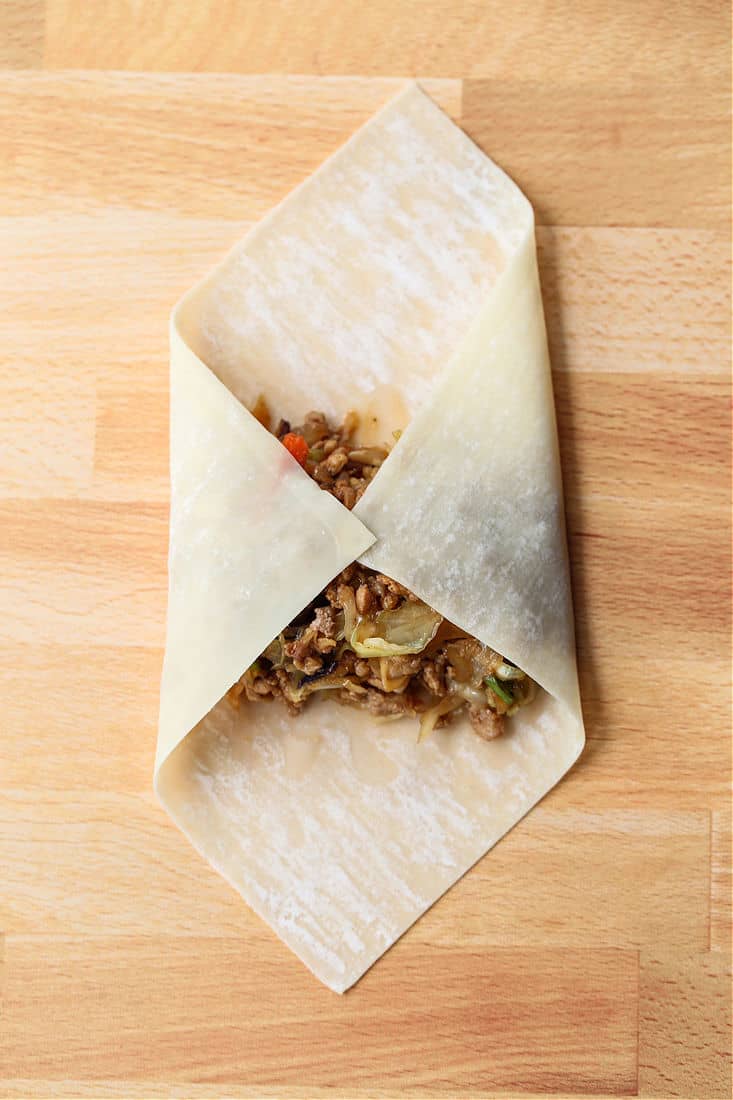 Now bring up the bottom of the wrapper as shown below and pull back to tighten the filling as you tuck and roll. You want to make sure that the sides are still tucked in and the roll you are making is fairly tight and compact.
This way none of the filling will escape as you fry these pork egg rolls, and also the oil will stay on the outside of the egg roll and not seep into it.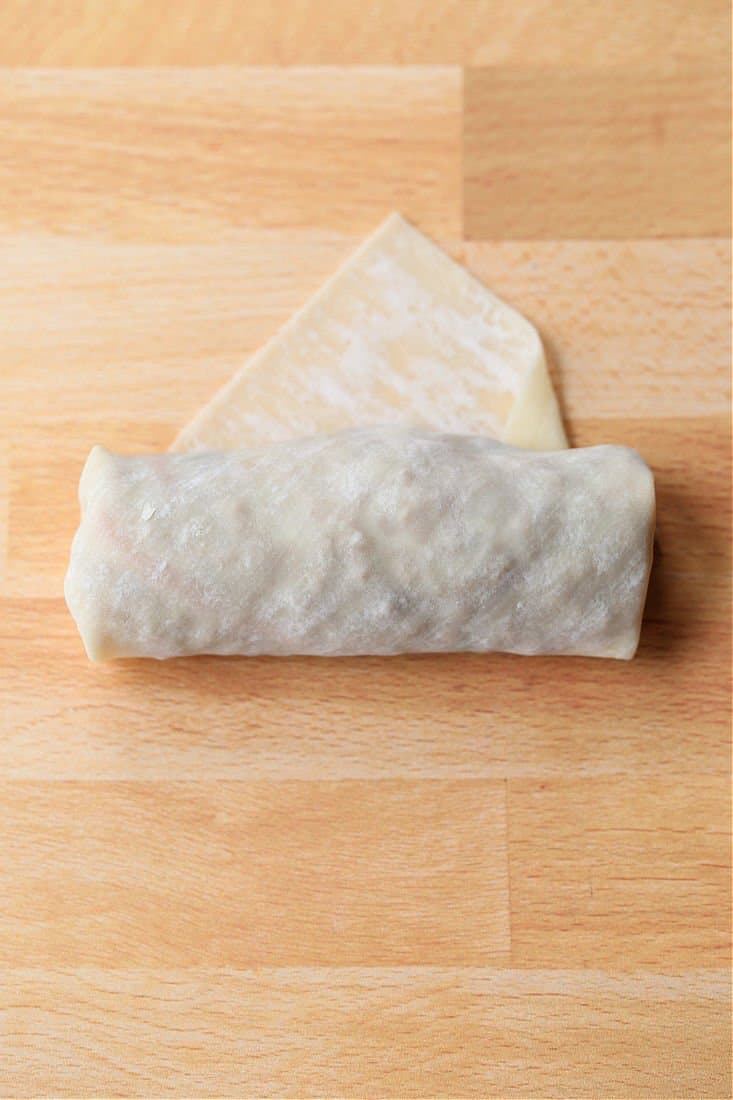 Repeat until you have about 12 large egg rolls. If you add less filling to the wrappers, you'll obviously yield more egg rolls but we like ours nice and packed with this tasty pork filling.
Hands down these are the BEST egg rolls you will ever taste! FUN FACT: Legit, these are the first egg rolls that Dan has ever eaten in his life. This guy never stops amazing us with the random food he's never tried.
Obviously, new he's a BIG fan. Big fan. But as we told him, he'll be ruined for ordering egg rolls at a local take out place because these taste so much better!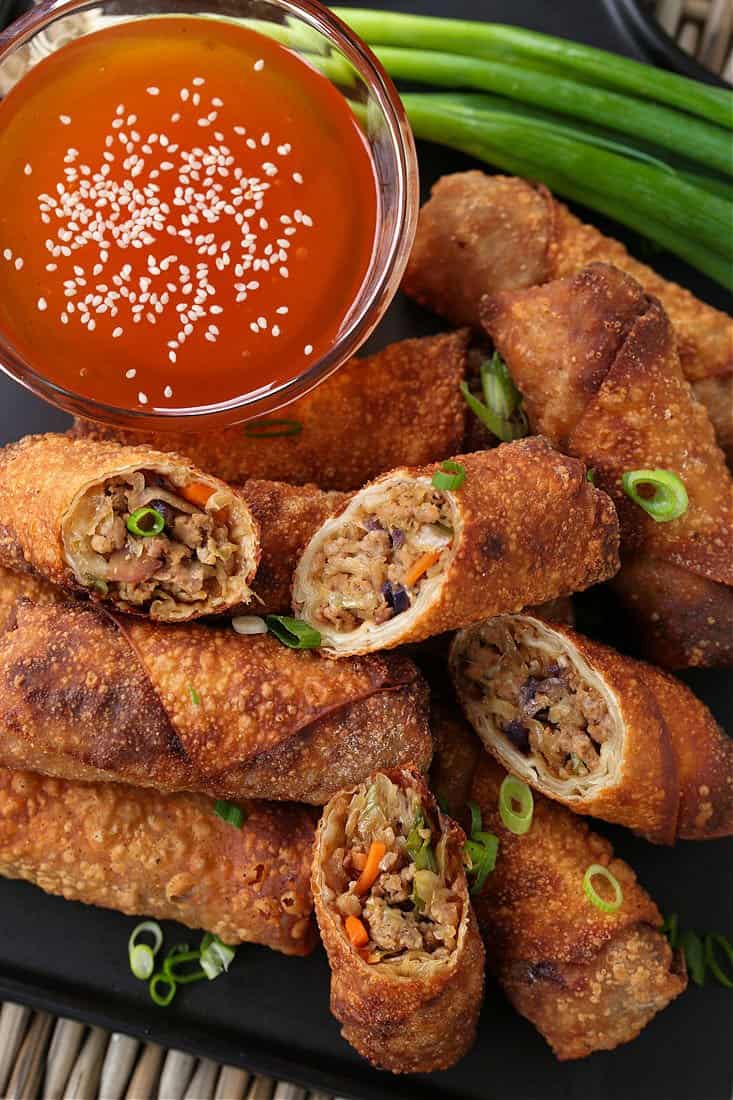 Can You Make Egg Rolls In An Air Fryer Or Oven?
You can, but I have to tell you they aren't going to be as good. We tried oven baking these pork egg rolls and while they were OK they weren't great. Air frying might be your best option if you really don't want to fry these but we haven't tried doing that yet.
We'll try that for you guys real soon and check back in here, but I'm sure they will turn out just fine. Deep frying, however is the best way to do it.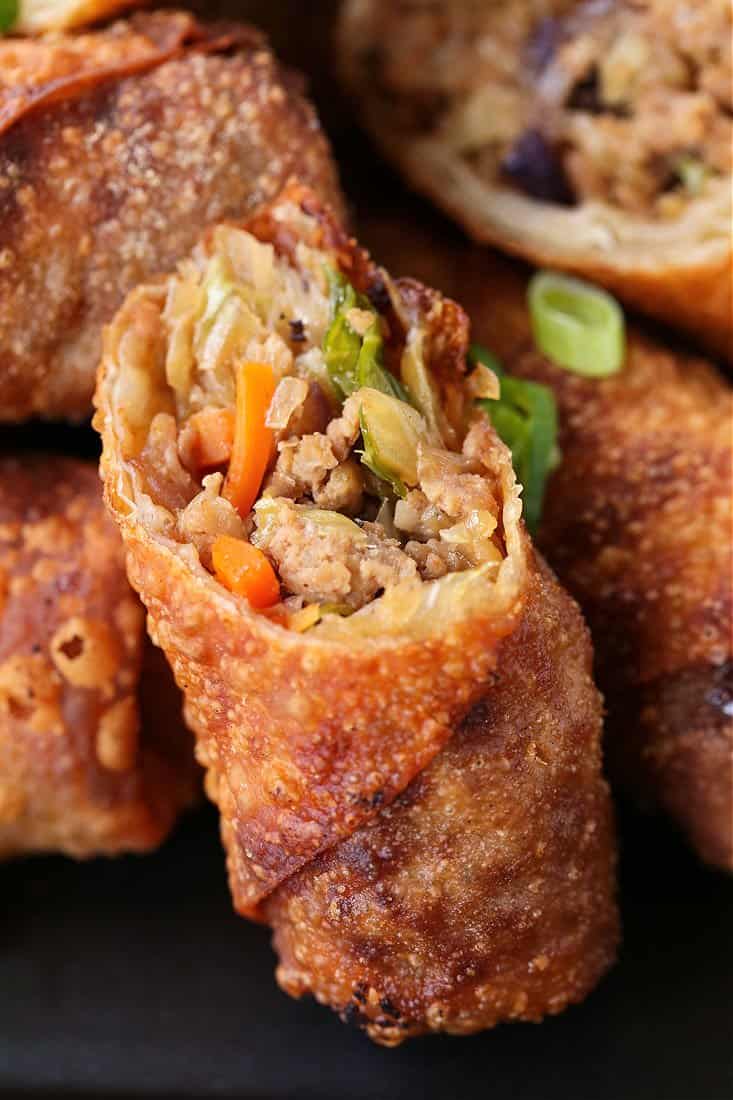 Do I Need A Deep Fryer Or A Fry Daddy To Fry Food?
NO! And heavens, why would you buy such a thing unless you fry food like all the time. I have a feeling these days people don't do a lot of deep frying, so buying an appliance that only fries food seems crazy to me.
All you need is a deep, heavy bottomed pot or dutch oven filled only half way with oil. So the amount of oil you use will depend on hoe big your pot is. Filling the pot halfway with oil does tow things.
One, it gives enough oil in the pot so that your food won't stick to the bottom and two, it prevents your hot oil from boiling over the top of your pot and creating a serious mess, or worse. Been there, done it. Don't recommend trying it.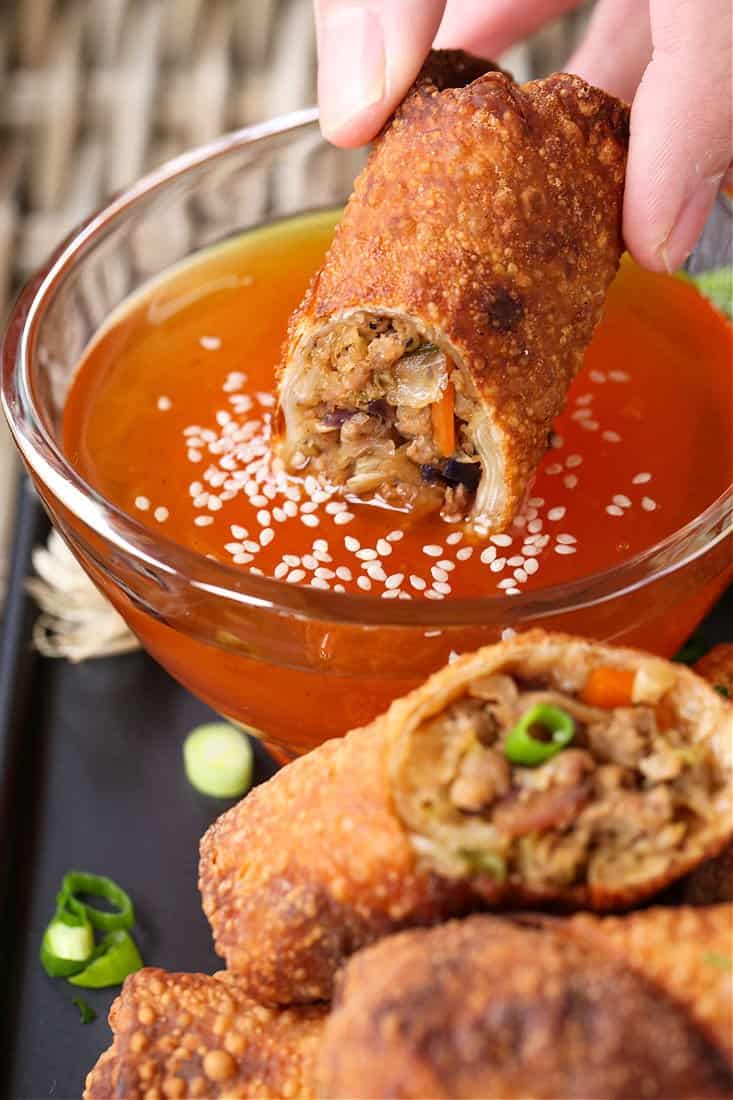 Can You Reheat These Pork Egg Rolls?
Definitely. Just add any leftover egg rolls to a baking sheet sprayed with non-stick cooking spray, cover with foil and reheat in a 350 degree oven for 10 minutes. You do need to cover the egg rolls with foil or they will burn and/or get too dark. The wrappers will still crisp up nicely!
Make these egg rolls and freeze them for a quick party appetizer! Take the frozen egg rolls and place on a baking sheet sprayed with non-stick cooking spray and cover with foil. Bake in a 350 oven for 15-20 minutes until the filling is warm.
Looking For More Deep Fried Delicious Recipes?
Print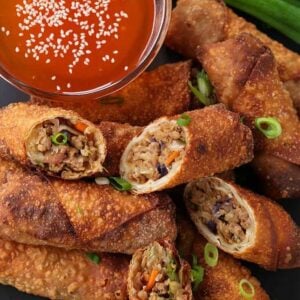 Pork Egg Rolls
Author:

Prep Time:

20 minutes

Cook Time:

5 minutes

Total Time:

25 minutes

Yield:

6

Servings

1

x
These delicious homemade pork egg rolls are so much easier to make then you think! So much better than any take out egg roll you've ever tried!
Scale
Ingredients
1

pound ground pork

14 ounce

bag shredded cabbage or coleslaw mix

1 1/2 teaspoons

kosher salt

2 tablespoons

soy sauce

2 tablespoons

teriyaki glaze or baste

2 tablespoons

hoisin sauce
Fresh black pepper to taste

2 teaspoons

toasted sesame oil

1 teaspoon

ginger paste

1 tablespoon

finely minced garlic or garlic paste

12

large egg roll wrappers
Canola or vegetable oil for frying
Duck sauce for serving (optional)
Instructions
Spray a large skillet with cooking spray and brown the pork until all the pink is gone. Drain any drippings from the pan if needed, then add the coleslaw mix or shredded cabbage. Add the salt and cook for 5-7 minutes until the cabbage wilts.
Add the soy sauce, teriyaki glaze, hoisin sauce, pepper, sesame oil, ginger paste and garlic to the filling. Stir to combine and cook for another 5 minutes. Set aside and let cool.
Fill a large pot halfway with oil and set over medium heat. The oil will need to be at 350 degrees to start frying the egg rolls.
While the oil is heating up, wrap the egg rolls by placing a wrapper in a diamond shape on a board. Place about 1/4 cup of the filling in the center of the wrapper in a line going across, leaving space along the edges (refer to the pictures in the post for a step by step guide).
Fold the outside corners of the wrapper over the center of the filling and then bring the bottom corner up and over to roll the egg roll. Tuck in the filling and make sure the sides stay inside as you roll so that the filling doesn't leak out when you go to fry the egg rolls. Use egg wash to seal the edge of the egg roll and place on the board seam side down. Repeat with the rest of the wrappers until you have 12 egg rolls.
When the oil reaches 350 degrees, fry a few egg rolls at a time until golden brown. This should take about 3-4 minutes, but it will depend on if your oil is at the right temperature and how crowded you pot is. Once they are brown, they are done. remove them from the oil, draining as much as possible and place them on a paper towel lined plate to drain while you make the rest of the egg rolls.
The egg rolls can be kept in a 250 degree warm oven until ready to serve.
Recipe Notes
You can freeze these egg rolls and reheat from frozen at 350 degrees for 15-20 minutes, covered with foil. If reheating from the refrigerator, heat for 8-10 minutes, covered with foil.
This recipe makes about 12 large egg rolls, counting 2 per person for 6 servings. You can also make this recipe into smaller egg rolls for appetizers.
Category:

Appetizers

Method:

Stove Top

Cuisine:

Asian
Keywords: egg rolls, pork egg rolls, egg roll recipe, ground pork recipes, asian recipes, appetizers recipes, fried food, party food