It's Derby weekend! Should we mix up some a Mint Julep? I think so. And I also think that some of the classics are meant to be left alone just the way they were meant to be made!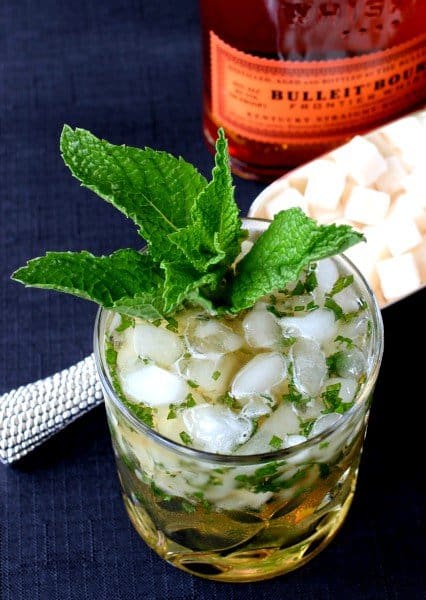 Not that I wouldn't like a twist on a mint julep, since I like twists on pretty much everything. I'm sure there's a lot of great variations out there.
But after making this drink the original way (and also tasting it for the first time) I thought it was damn good enough on it's own. No need to try and make it something it's not. I honestly didn't think I was going to like this drink at all but it surprised me. I guess all those Derby people are on to something.
I think one of the keys to making this Mint Julep is using a high quality bourbon like Bulleit. When you have a recipe for a drink or any food recipe that only has a couple of ingredients you want to make sure that what your using is top notch.
Like this drink – bourbon, mint and sugar. That's all. Nothing else to hid that distinct bourbon flavor. This is actually the perfect cocktail for bourbon lovers, especially the ones that enjoy their bourbon neat. They can actually enjoy a bourbon "cocktail" without it taking too much away from the actual bourbon.
Don't have a shiny silver glass? That's OK too, I didn't either and I can promise you it still tasted amazing.
Get some appetizers and snacks ready…lots of food needs to be served along with all the bourbon going on…you don't want your friends taking naps on your couch…and get ready to watch the horses.
The Kentucky Derby seems like such a cool sporting event to go to – I've never been but I'd love to go one day. It's like all this crazy preparation for this race and it's over in a few minutes. That's what makes it fun to watch at home though too, the race might be over but we can still eat and drink our Mint Juleps!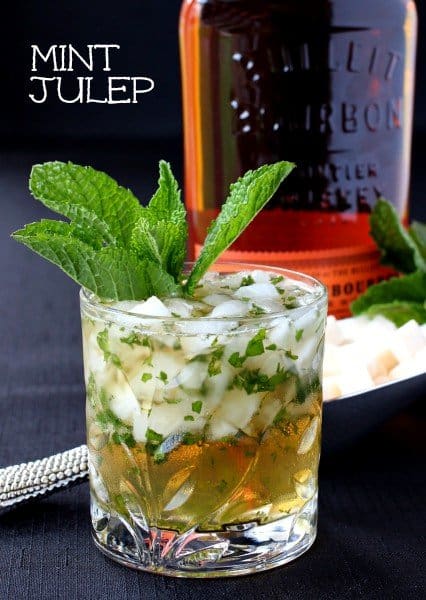 Print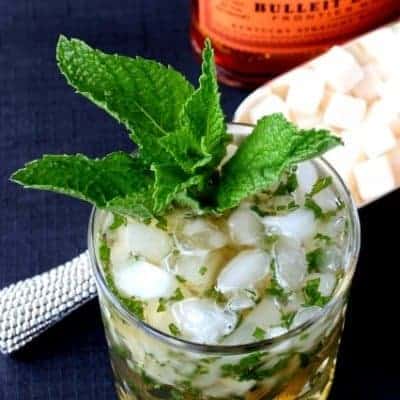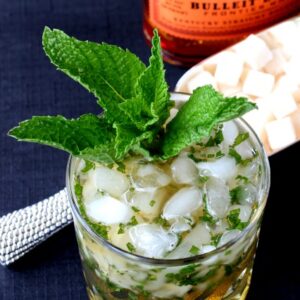 Mint Julep
Scale
Ingredients
2 oz

. Bulleit Bourbon

2

sugar cubes

4

–

5

sprigs of fresh mint, plus extra for garnish
seltzer for topping
Instructions
Muddle the sugar cubes and the mint leaves in the bottom of a shaker.
Fill the shaker with ice and add the bourbon.
Shake well and strain into a low-ball glass filled with crushed ice.
Top with a splash of seltzer and garnish with fresh mint leaves.