Italian Sausage and Potatoes is a one skillet dinner that can be served in many ways! On rolls, over pasta or as is with a salad on the side!
We love making skillet dinners like this one not only because they're so easy, but the flavors you get from everything cooking in one pan can't be beat. Also check out our mouth-watering Pepper Steak recipe and this fun Meatball Parmesan Pasta Bake!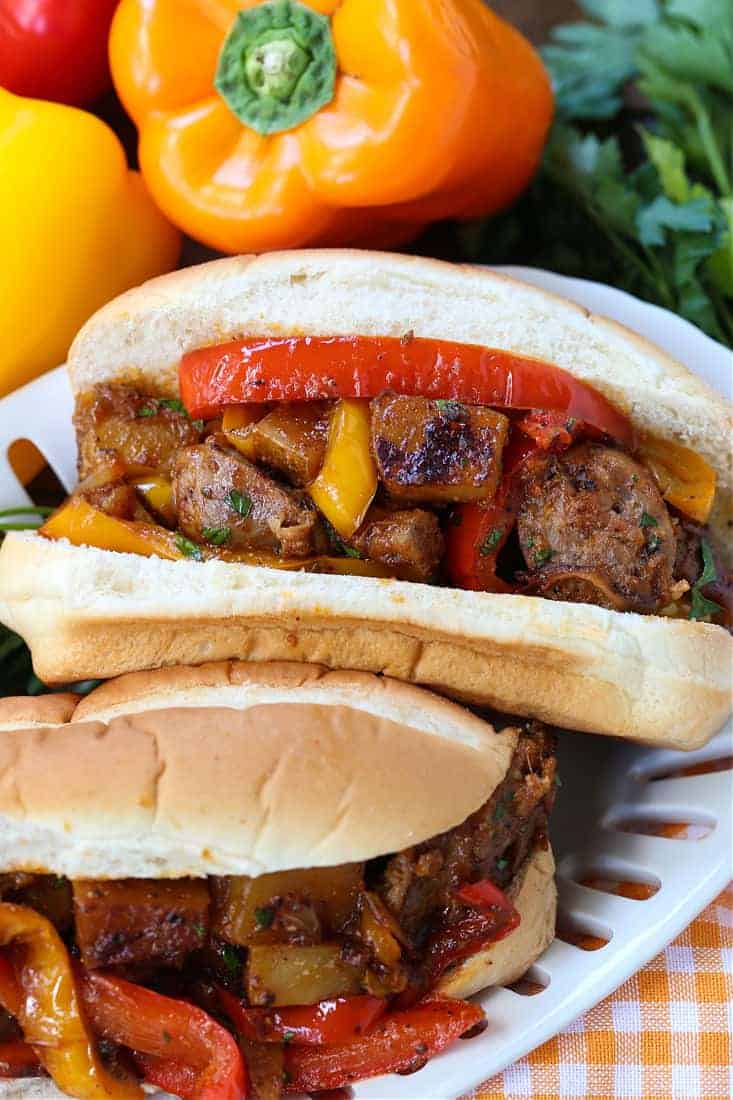 Italian Sausage and Potatoes Recipe
One skillet dinner recipes like this Italian Sausage and Potatoes are a life saver when trying to get a delicious dinner on the table quickly. Everything cooks in one pan so that means there's very little clean up! Besides just an easy clean up, when everything cooks in one skillet all the flavors blend together in the most amazing way it's really tough to beat.
Also be sure to check out our easy, super tasty Crock Pot Sausage & Peppers recipe! Similar flavors, sans potatoes and made in your slow cooker for another ready to go dinner recipe!
How Do You Make This Italian Sausage Recipe?
First of all, you can choose whether you want to use spicy or mild Italian sausage, or combination of both. Next it's onto the bell peppers, you can use an assortment of colors as we did here or pick your favorite pepper color!
Sweet yellow onions are perfect for caramelizing into this Italian sausage skillet dinner, they practically melt away leaving behind just their sweet, delicious flavor.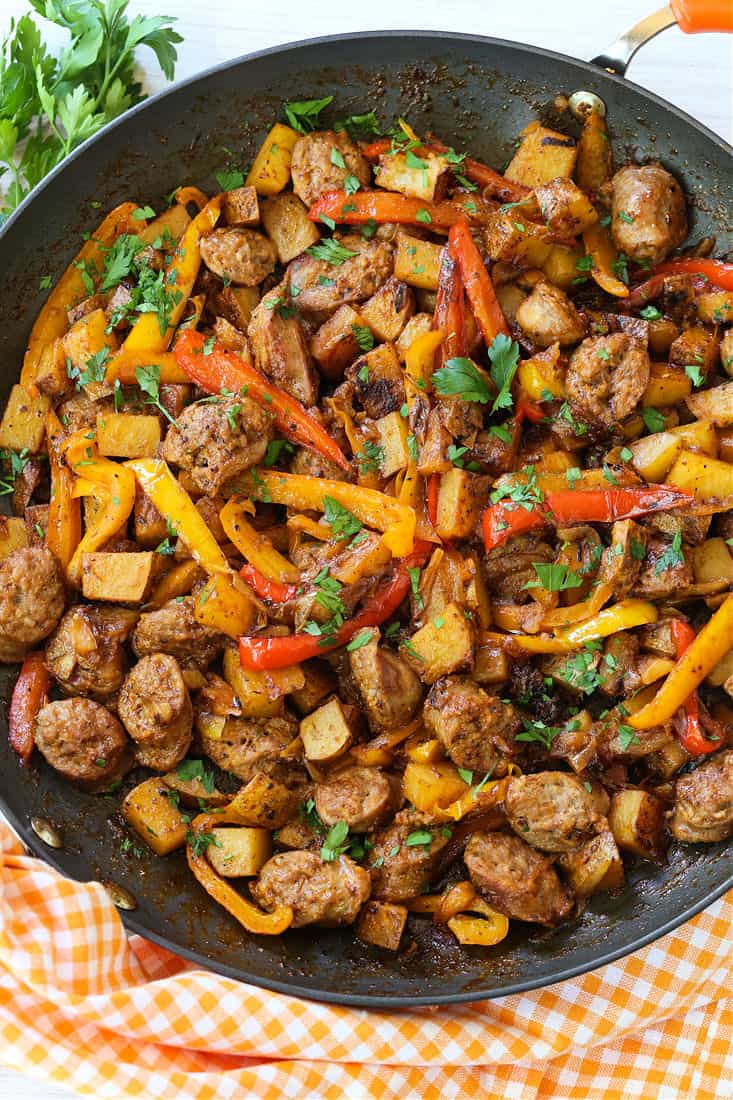 Start by browning the sausage on both sides in the skillet. This step won't cook the sausages all the way through, the rest of the cooking will be done in the skillet after you add the peppers, onions and potatoes.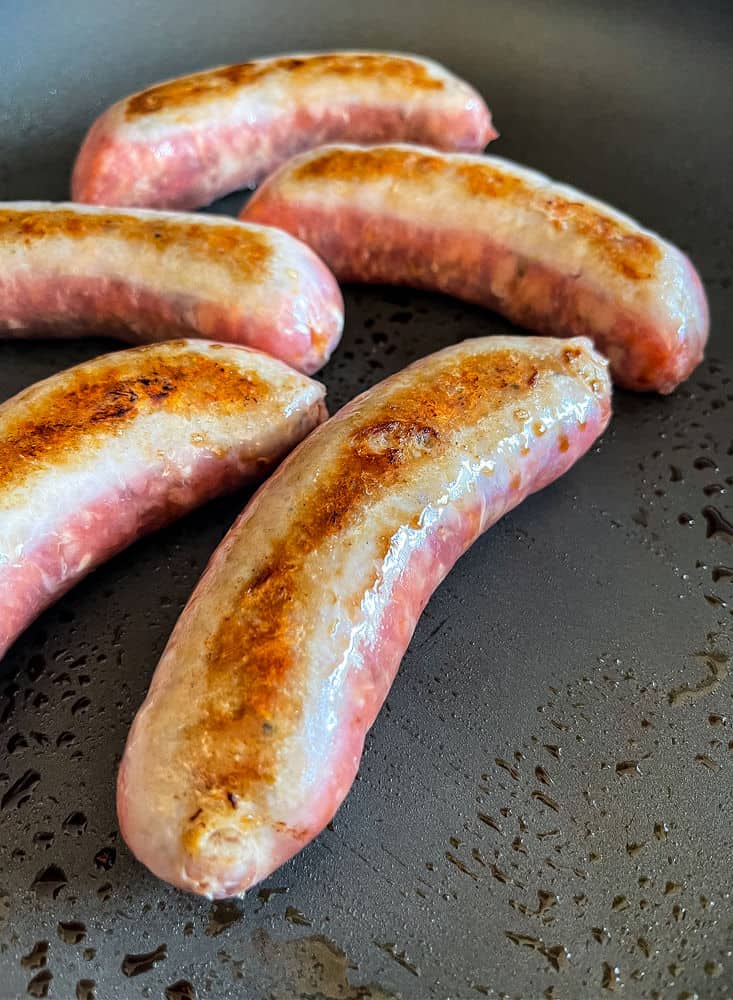 Once the sausages are browned, remove them to a plate and cover with foil.
Next add the sliced peppers, onions and diced potatoes to the skillet along with a few seasonings. Cook for a good 10 minutes, stirring often, until the peppers, onions and potatoes are softened.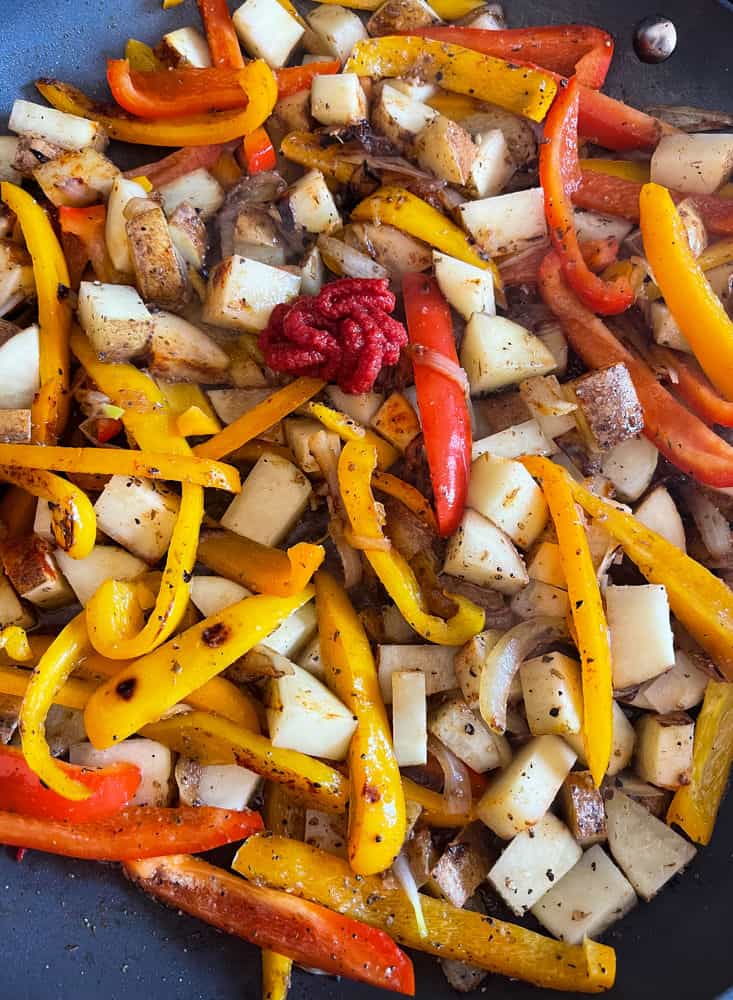 Pour in marsala wine to deglaze the pan, stir and then cover for 10 minutes. This will continue to soften the peppers and onions and finish cooking the potatoes through.
Slice the sausages into thick rounds and then add them back to the skillet. Toss to combine and check to see if the potatoes are cooked though. If the potatoes need more time, add another splash of marsala wine or broth and cover for another 5 minutes.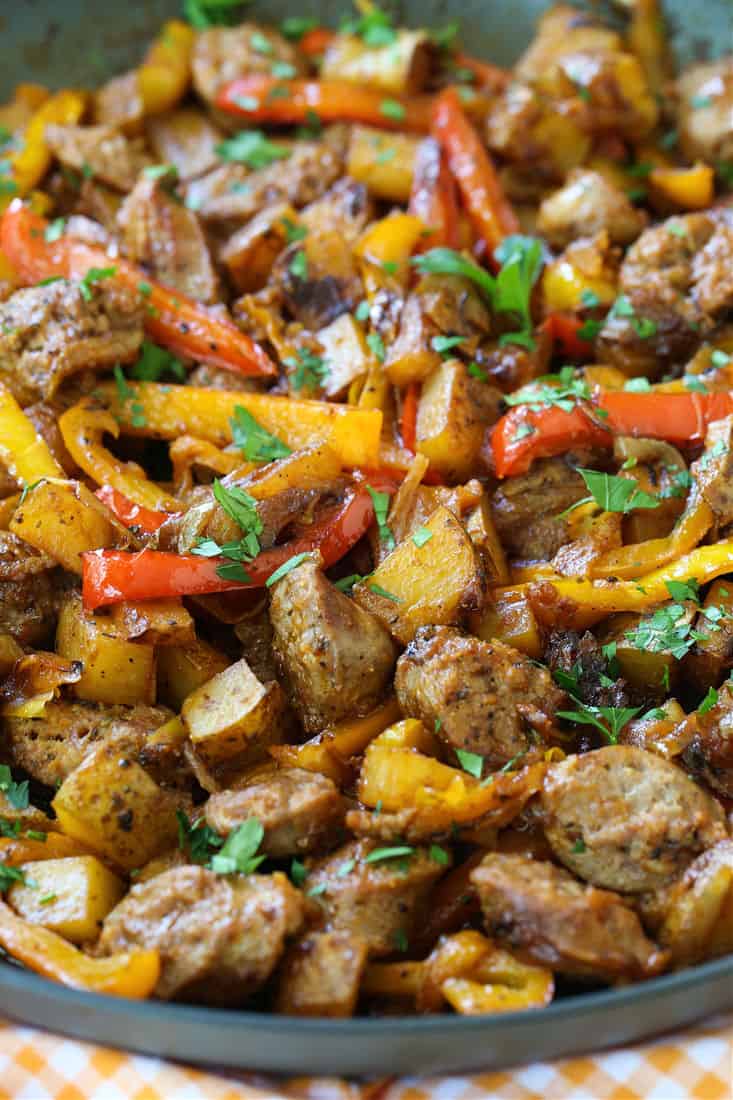 How Do You Serve Italian Sausage and Potatoes?
Our favorite way to serve this Italian sausage recipe is piled onto sub rolls, with or without cheese. I'm telling you, one bite of this Italian sub takes me right back to New York's San Gennaro feast, walking the streets with a drink in one hand and food in the other.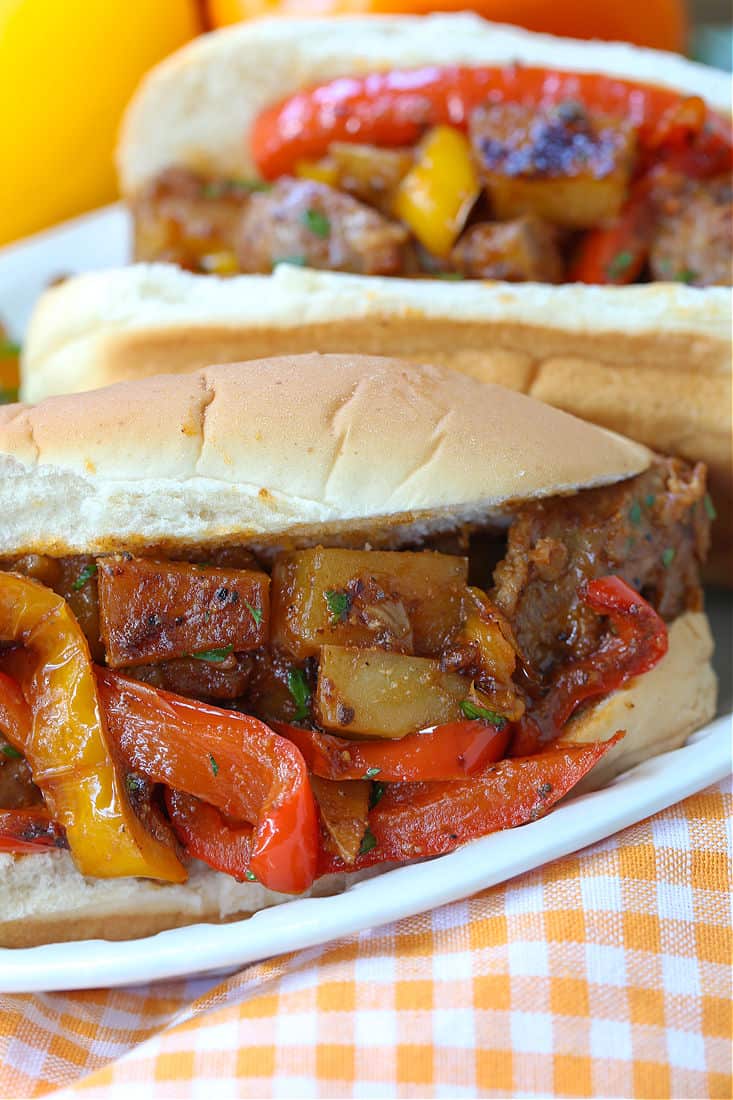 You can see those pieces of diced potato that have cooked in the skillet with the sausage, peppers and onions and sweet marsala wine. They literally soak up all the flavor of all the ingredients in the pan making them the most flavorful potatoes you'll ever bite into.
Another way to serve this Italian Sausage and Potato recipe is to spoon it over your favorite pasta. The sauce in this recipe is light, so if you do choose to serve over pasta and you like a little more sauce you can add more marsala wine to the skillet and a splash or tow of beef or chicken broth.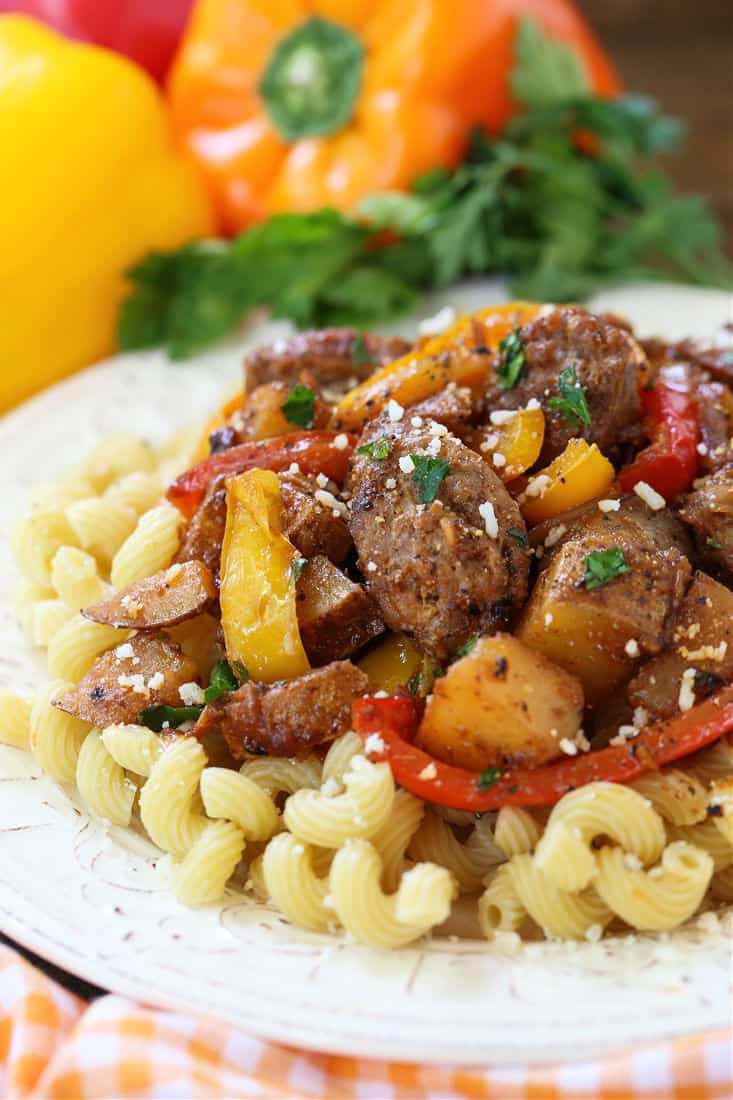 And because we know you're going to ask…potatoes AND pasta together? Yes, my friends. It's a carb festival going on here and we aren't mad about it. There are times to cut your carbs, I guess, but now is not the time.
Serve this Italian sausage and pasta with lots of good quality, grated parmesan cheese and a few grinds of fresh black pepper. Or you can add a pinch of crushed red pepper if you want to spice it up a bit!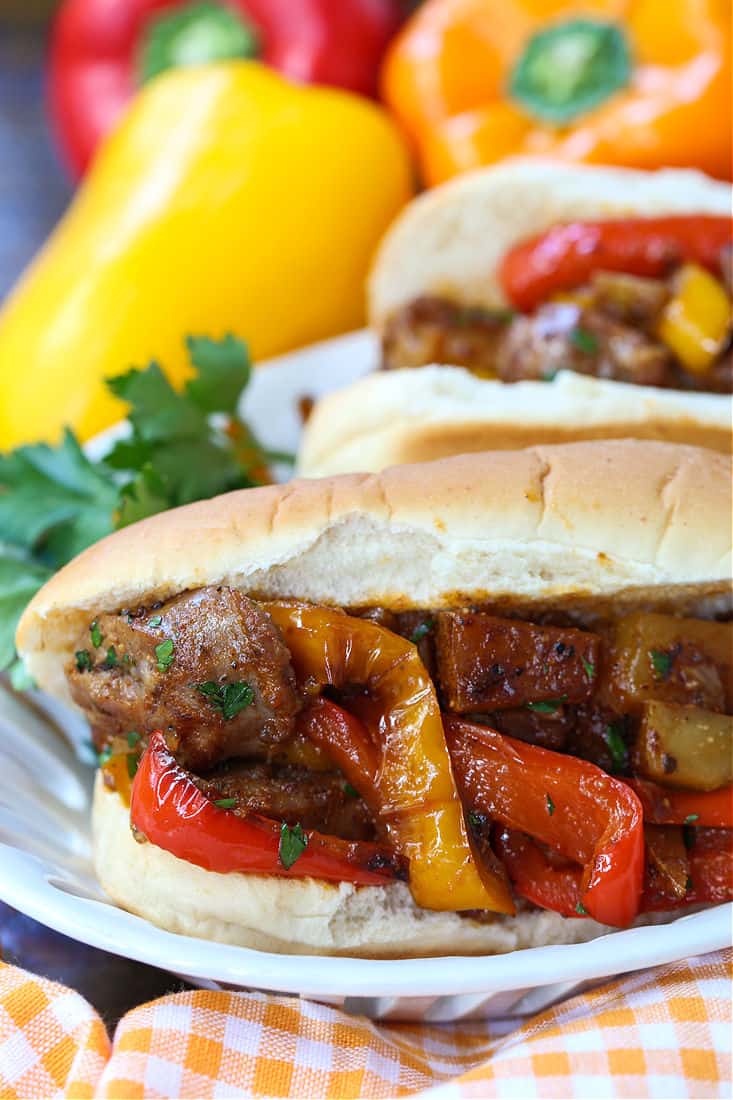 Looking For More Easy Dinner Recipes?
Print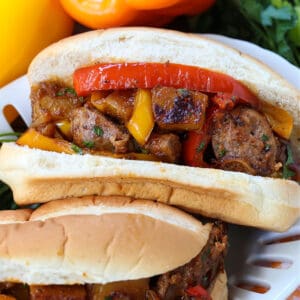 Italian Sausage and Potatoes
This Italian sausage & Potatoes recipe is made all in one skillet for an easy dinner with little to clean up! Serve this sausage and peppers recipe on sub rolls or over pasta!
Scale
Ingredients
2 tablespoons

olive oil, divided

1

pound Italian sausage, mild or spicy

1

large yellow onion, cut in half and thinly sliced

3

bell peppers, thinly sliced

2

pound russet potatoes, cut into a small 3/4 inch dice

1 teaspoon

kosher salt
Fresh black pepper to taste

1 teaspoon

garlic powder

1 teaspoon

dried oregano

1/2 teaspoon

smoked or regular paprika

1 tablespoon

tomato paste

1/2 cup

marsala wine

1/2 cup

beef broth
Instructions
Add 1 tablespoon of olive oil to a large skillet over medium heat. Add the sausages and brown on both sides, cooking through most of the way but not completely. Remove the sausages from the skillet to a plate and cover with foil.
Add the other tablespoon of olive oil to the skillet. Add the peppers, onions and diced potatoes and season with the salt, pepper, garlic powder, oregano and paprika. Cook for 10 minutes, stirring often.
Stir in the tomato paste and then pour in the marsala wine. Stir and then cover the skillet and cook for another 10 minutes until the potatoes have softened.
Slice the Italian sausage into thick rounds and then add them to the skillet along with any juices from the plate.
Remove the cover and add the sausages back to the skillet along with the beef broth. Cook, uncovered for another 7-8 minutes until the sausage and potatoes are cooked through.
Serve on sub rolls, with or without cheese or on top of your favorite pasta.