Game Day Food is what it's all about, right? Whether your team is winning or losing, these easy & delicious party food recipes will make it better!
Burgers, quesadillas, tacos, hot dogs, cheesy dips of all kind…This is Game Day food. We've got the beer, we've got the shots. Now it's about getting the right kind of food – and lots of it.
Let's get started with these French Dip Party Sliders
I'm telling you, you can NOT go wrong with these. You can make them ahead of time and just throw them in the oven when you're ready.
Layers of roast beef covered in caramelized onions and cheese and then, wait for it…a buttery gravy that gets poured over the tops of all the sliders so when they bake the gravy soaks right in. You've got to make these ASAP.
Next let's get some Chicken Sheet Pan Nachos going with all the toppings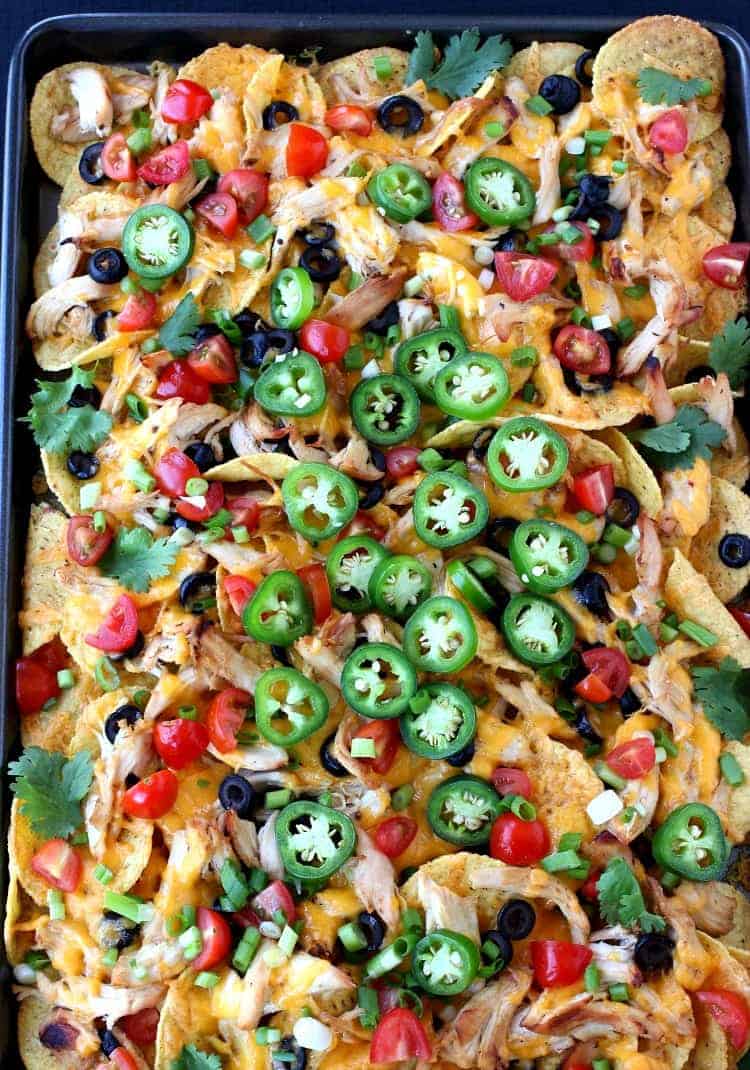 I mean look at these. No one is going to be angry at the last play when you put these nachos in front of them. You can even grab a rotisserie chicken from the grocery store to make these really easy to put together (we used a marinade for the chicken and baked it) but it's up to you. Add whatever toppings you want, the more the better, and get 'em in the oven.
While we're on the topic of nachos, let's talk for a second about these Nacho Chicken Wings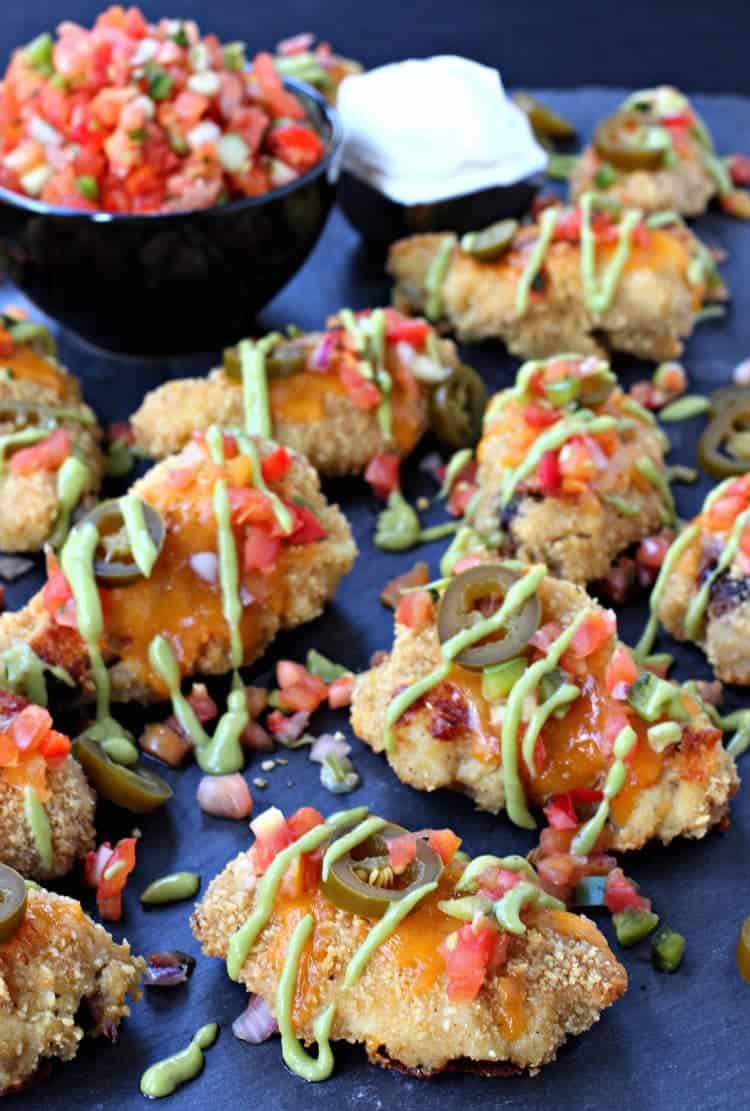 Actually, these might need more than a second to talk about. They're that good.
The wings are coated (and baked) in crushed up tortilla chips, then topped with cheese, pickled jalapeños and a guacamole cream sauce. Wings gone crazy.
But I've got plenty of other wing recipes here for you too, like these Salt and Vinegar Wings or my famous Whiskey Wings. You're not going to go wrong with any of them.
And you've got to have some sort of a bite sized meatball app like these Bacon and Pork Meatballs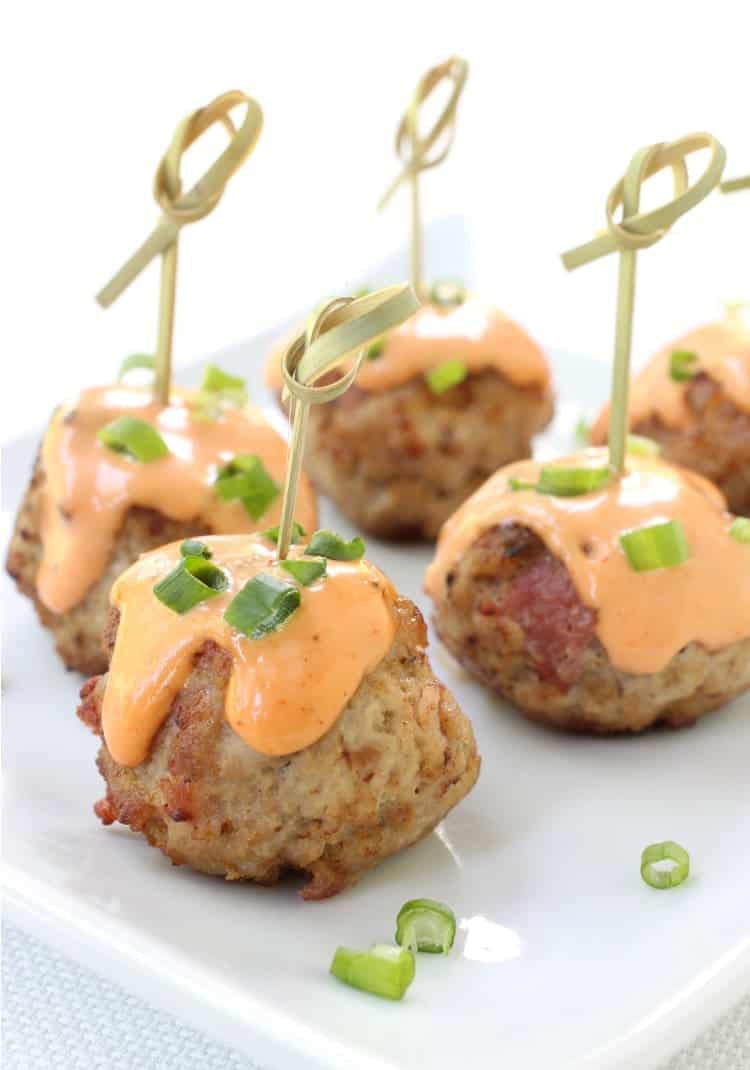 These are super juicy pork meatballs with bacon mixed right inside and topped with a sweet chili sauce.
Enough said, right?
Let's move on to the chips and dip! This Boozy Cowboy Caviar is one of our latest recipes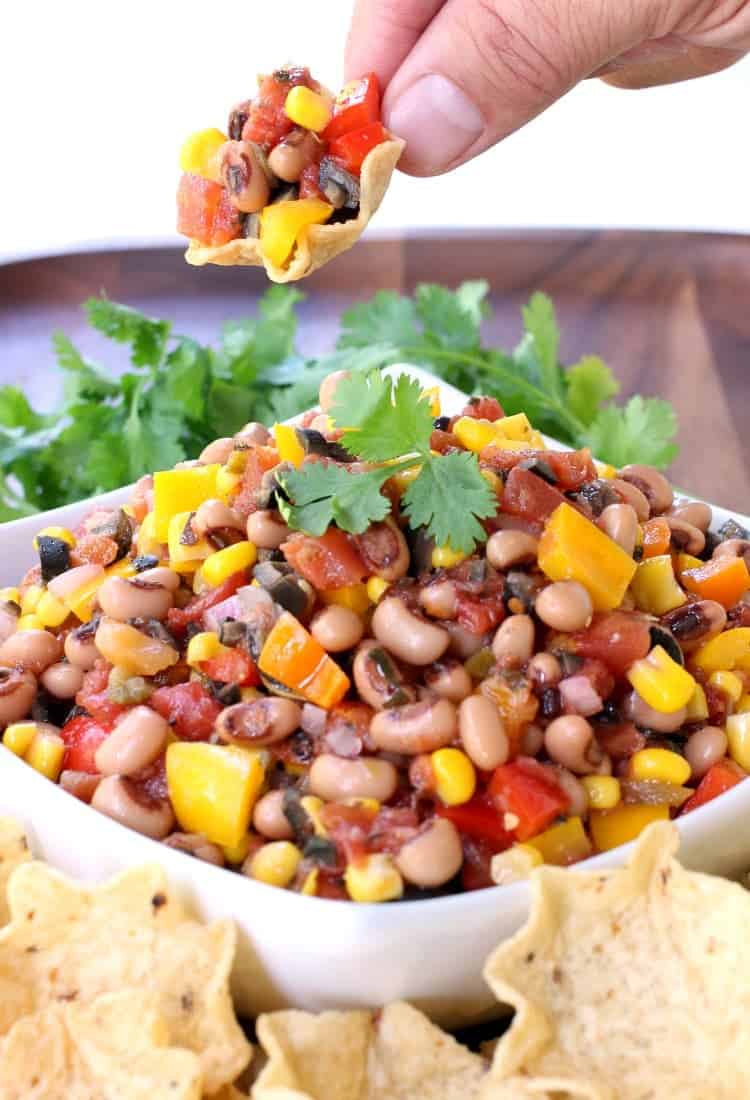 Dips are a staple appetizer for game day, or any day really. You can make so many different kinds like a Lobster Dip or an all vegetable dip like this Corn Dip, but this one is a cold appetizer, more like a salsa.
It's got black eyed peas, diced tomatoes, corn, olives – you name it – you can throw it in here. All mixed up with a simple dressing and a splash of tequila for good measure.
And don't you think that I forgot about dessert…I've got Coconut Rum Cookies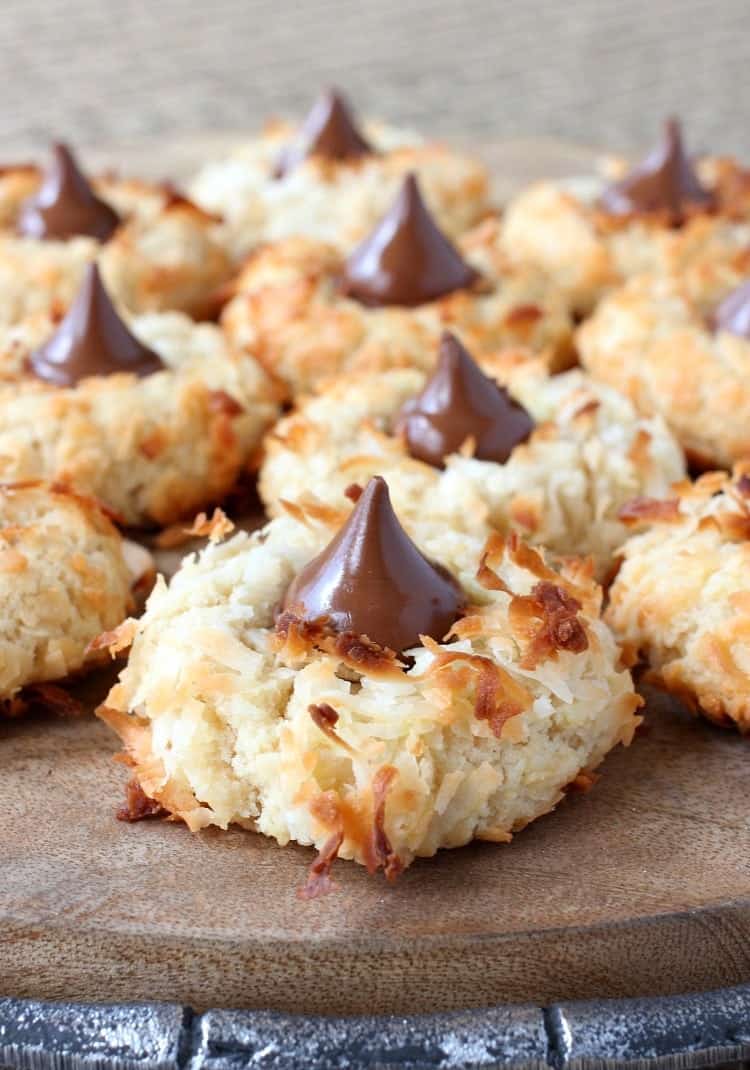 Because we've got to sneak a little booze in the dessert, too.
These are some of my favorite cookies – ever. Hands down. I love the coconut, chocolate and rum flavor all combined together…and so did everyone else I gave them to. No leftovers for the next day, better make a double batch!
Game on!