Champagne Jello Shots are going to be a hit for any occasion! These Jell-O shots can be customized for any holiday, birthday or party!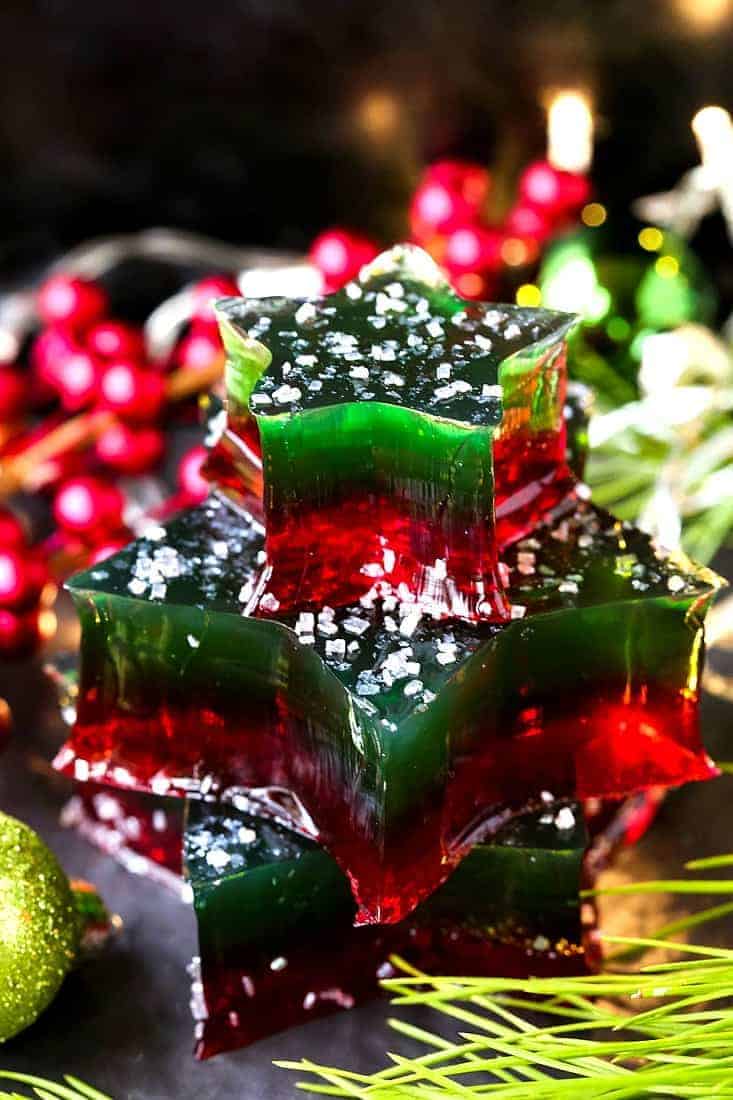 Champagne Infused Jello Shots!
Remember when jello shots were the coolest thing EVER at a party? I sure do. I mean, when someone came out with a tray of jello shots in little plastic dixie cups it was like the best thing in the world.
Now if you came out with a bunch of jello shots I might just look at you funny. Because we're not 20 anymore, but hey, some of you reading this right now might just be 20…so please, read on.
But come out with these Champagne Jello Shots at a Christmas party and I'm all in. They're fun to eat, fun to serve and even just fun to look at! best of all they are so easy to make, you'll be making these jello shots for every holiday!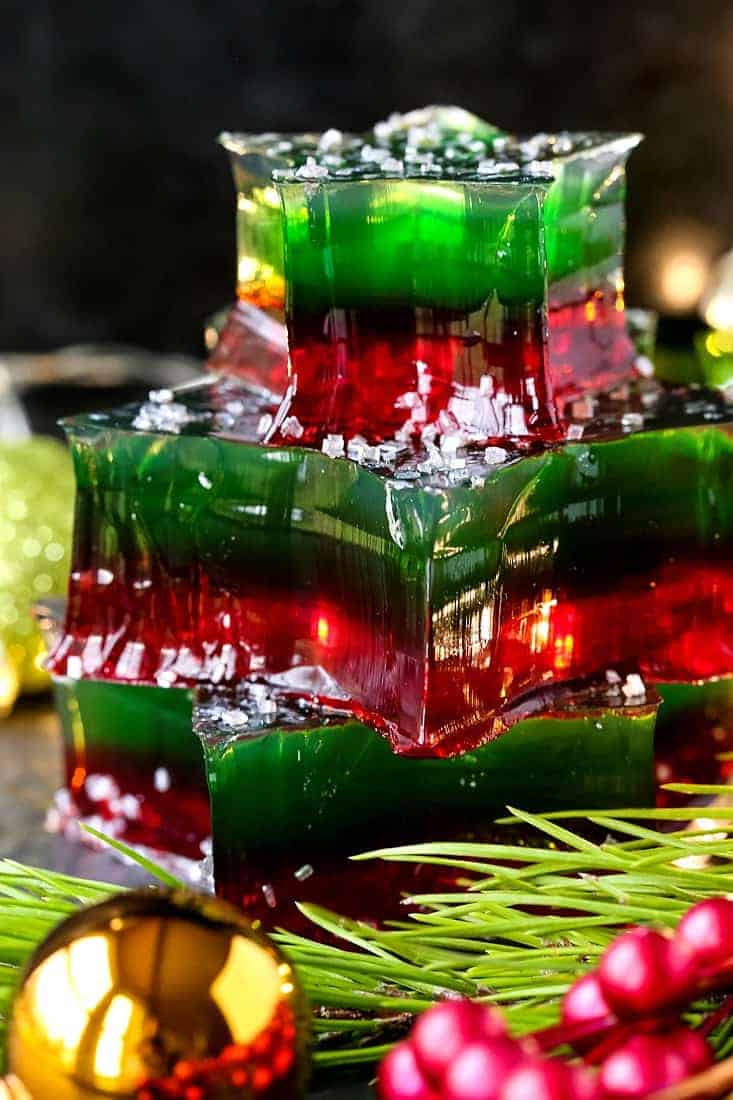 How Do You Make Jello Shots?
Basically what you're doing in following the jello jigglers recipe on the box so you end up with a firmer jell-o shot that holds together.
Then what you do is replace some (or all) of the water with your alcohol of choice. A lot of people use vodka to make jell-o shots, maybe even Fireball…But today we're using champagne…because it's the holidays and all…and these Christmas jello shots are right up my alley.
Depending on how boozy you want this jello shots recipe to be, you can actually add booze to each layer. Maybe Fireball whiskey for the red layer, vodka for the green layer and then champagne on top?
Moonshine would ALSO be great in a jello shot recipe! I can keep on going, but let's get back to these Champagne Jello Shots.
There are three layers in these, it's hard to see the top layer because the colors kind overtake the clear but if you look at the top you'll see a clear layer, which is the champagne layer.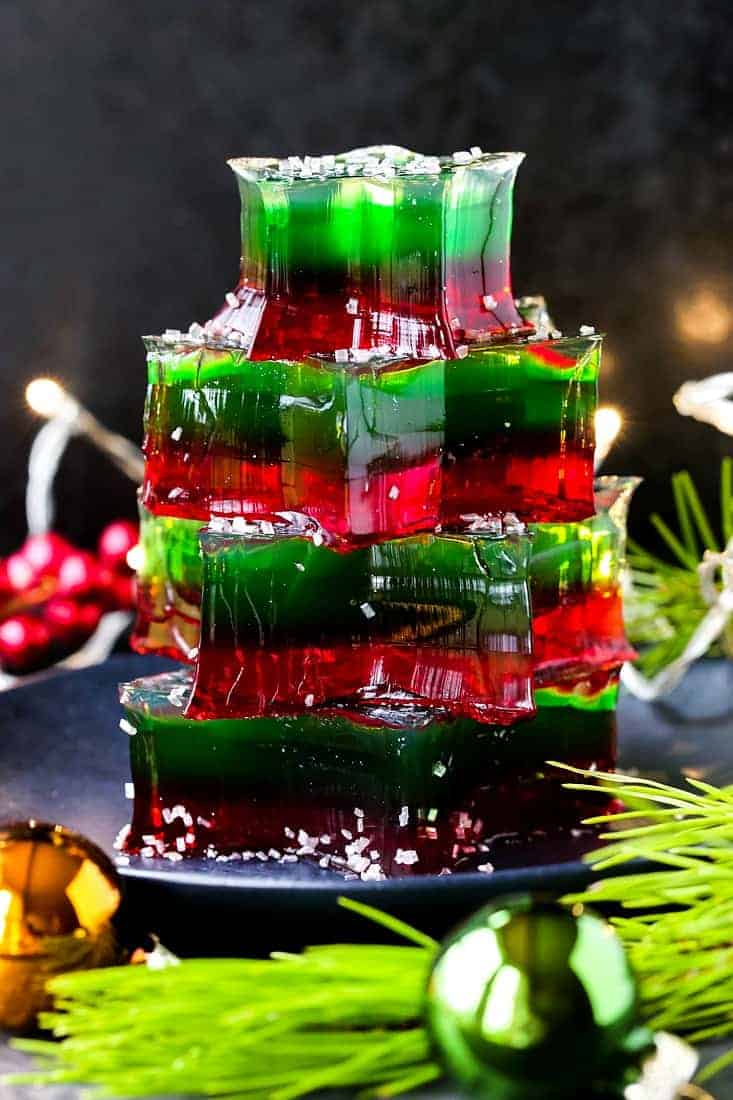 For that layer, I used clear gelatin and added champagne instead of water. You'll need a cup and a half for the recipe, I'm sure you'll drink the rest.. You can decorate your jello shots any way you like, or leave them plain. Mine have silver sprinkles that I thought would look like champagne bubbles.
But don't forget – you can can take this basic layered jello shot recipe and swap out the colors, the decorations, the booze – even the shape!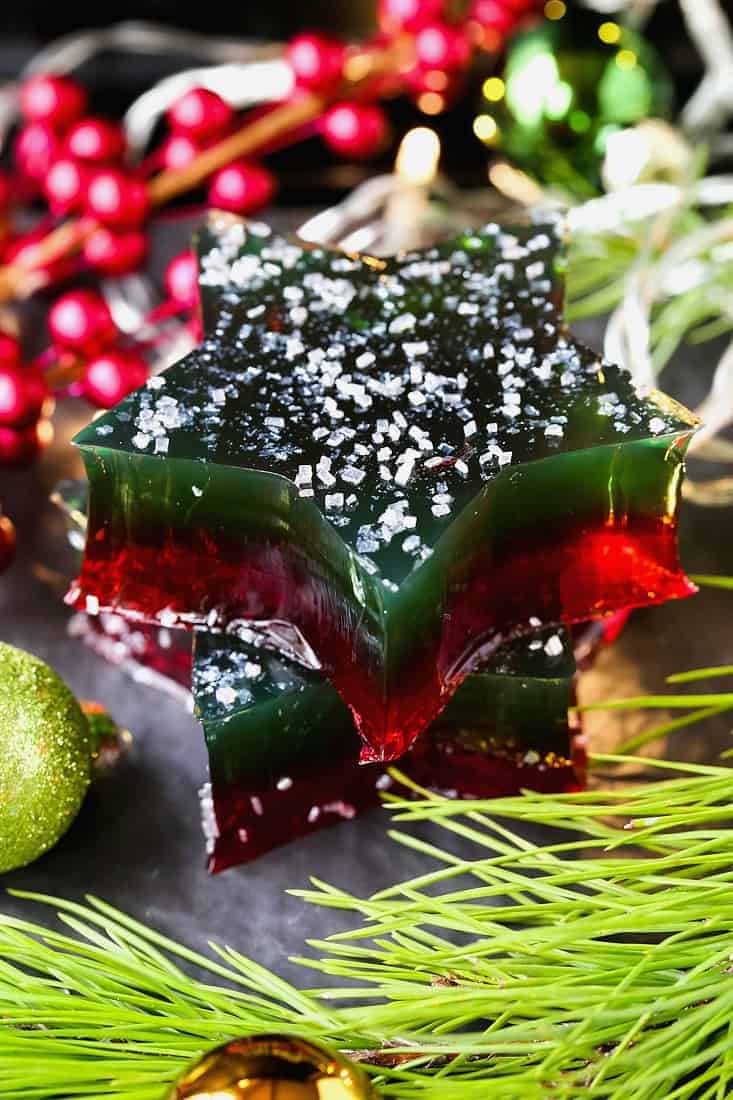 Can You Make These Jello Shots Ahead Of Time?
Definitely! But there's one trick to doing so. Don't add any of the sprinkles or decorations to the top of these jello shots if you're making them ahead of time. The sprinkles might melt slightly after a few hours and that's not very festive looking!
When you're ready to cut and serve, use water to very lightly wet the top of the jello and then add the sprinkles. The water will make the sprinkles stick to the jello so they don't go flying everywhere and they will still look picture perfect!
Serve these boozy jello shots right next to your delicious champagne cocktails! Because it's the holidays…the more champagne the better!
Looking For More Boozy Desserts?
Print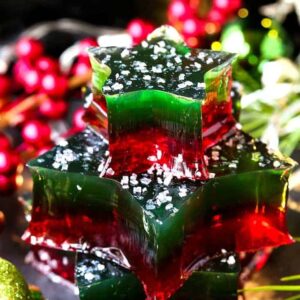 Champagne Jello Shots
Author:

Prep Time:

10 minutes

Cook Time:

4 hours

Total Time:

4 hours 10 minutes

Yield:

12

servings

1

x
These festive and fun jello shots can be customized for any occasion or holiday! Swap out the colors, swap out the booze, it's all up to you!
Scale
Ingredients
2

(3 ounce) boxes Jell-O strawberry gelatin

2

(3 ounce) boxes Jell-O lime gelatin

2

packages (1 ounce each) unflavored gelatin

1 1/2 cups

champagne or prosecco
Silver edible sprinkles
Instructions
Add the strawberry jello packets into a bowl along with 1 1/2 cups of boiling water. Stir until the gelatin is dissolved then pour into an 8″ x 8″ 2 quart dish.
Place the dish in the refrigerator and chill for 1 hour until the layer is set.
Add the lime jello packets to a bowl along with 1 1/2 cups of boiling water. Stir until the gelatin is dissolved and carefully pour onto the strawberry jello layer.
Return the dish to the refrigerator and chill for another hour.
Add the champagne to a saucepan and sprinkle the unflavored gelatin packets on top. Let the gelatin bloom (it will puff up slightly) for 2-3 minutes then turn the heat onto medium.
Whisk the gelatin into the champagne and bring to a simmer, not a boil. Let simmer gently for 5 minutes, then carefully pour onto the green layer of the jello.
Let the jello chill for at least 2 hours until completely set, or overnight.
Cut out the jello shots into desired shapes using a knife or a cookie cutter.
Add sprinkles to the top if desired.
Recipe Notes
You can use a 9″ x 13″ baking dish also, the layers will just be thinner.
You can also substitute sugar free jello in this jello shot recipe!
Category:

Dessert

Method:

Stovetop

Cuisine:

American
Keywords: jello shots, jello shot recipe, champagne jello shots, boozy desserts, dessert with alcohol, christmas desserts, holiday desserts, how to make jello shots