This Candy Corn Martini is WAY too delicious to save for Halloween! This layered martini tastes just like liquid boozy, candy corn!
We love our layered drinks! Also be sure and check out our Black & White Cookie Shot or for dessert try these Fireball Whiskey Cheesecake Shots!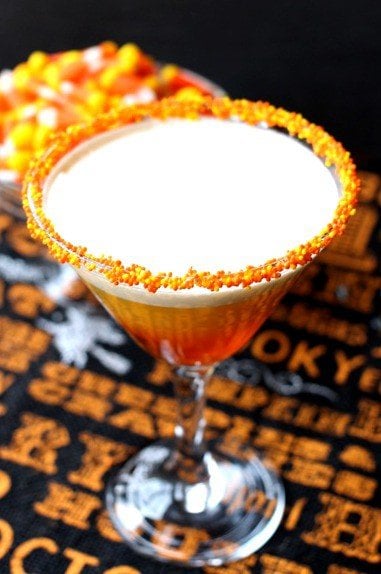 How To Layer A Drink With A Spoon
Don't get scared – you don't have to layer it. You know me I'm all about the presentation, but honestly, it's amazing if you just shake it up.
All you need to do is get yourself a small spoon, and carefully pour each layer over the back of the spoon. Slowly. That is the trick here, just take your time and pour the booze in slowly.
If you need a visual, check out our Duck Fart Shot recipe or our Layered Candy Cane shot! Just a 15 second video will show you how easy these layered drinks are to make!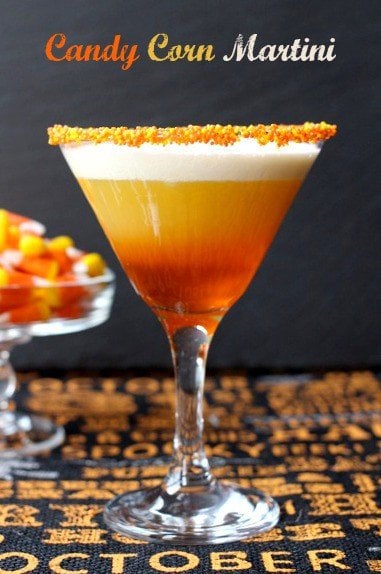 And this year along with my vampire tequila, I'll be busting out these candy corn martini's that I made for my friends over at Food Fanatic.
Come on – how good do these look? Make up a batch and be festive. Even if you don't feel festive about Halloween, these martini's will definitely get you in the party spirit!
Don't just save these candy corn drinks for Halloween…It's too good to leave for only once a year! Break it our whenever you need a sweet and creamy party cocktail!
Looking For More Fun Martini Recipes?
Need More Halloween Recipes?
Print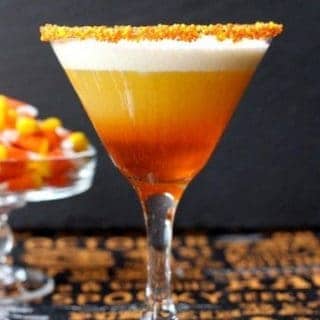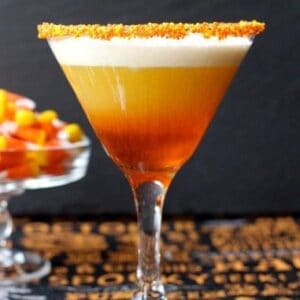 Candy Corn Martini
Author:

Prep Time:

6 hours

Total Time:

6 hours

Yield:

2 martinis
This festive, layered martini recipe tastes as good as it looks!
Ingredients
6 ounces Cake Vodka
1/4 cup candy corn
3/4 cup pineapple juice
3/4 cup heavy cream
For Garnish:
Sprinkles or nonpareils for the rim
Corn syrup
Instructions
Add the candy corn to the vodka in a covered jar or container and let the vodka sit for 6 hours or overnight.
Pour corn syrup in a single layer on a shallow plate. Add the sprinkles to another shallow plate. Dip the rim of a martini glass into the corn syrup and then into the sprinkles to coat the rim.
Strain the vodka, discarding the candy corn.
Pour the vodka into two martini glasses, dividing evenly.
Divide the pineapple juice in half, then pour the juice carefully over the back of a small spoon on top of the vodka layer in each glass.
divide the cream in half and use the same spoon technique to add the cream on the top layer of each martini.
Alternately, you can shake the vodka, pineapple juice and cream together in a shaker and pour into two martini glasses if you don't want to layer the martinis.
Recipe Notes
The candy corn has to soak in the vodka for at least 6 hours, but after that you only need about 5 minutes to make these drinks!
Category:

Cocktails

Method:

Layer

Cuisine:

American
Keywords: martini recipe, cocktail recipes, halloween cocktails, halloween recipes, drink recipes, layered drinks