We've got the BEST Leftover Corned Beef Recipes so you can use up all your leftovers! Transform your leftover corned beef into a whole new meal!
After you get done cooking your Corned Beef on St. Patrick's Day, you're bound to have some leftover corned beef. We've got some delicious, unique and tasty recipes to transform your leftover corned beef into a whole new meal!
BEST Leftover Corned Beef Recipes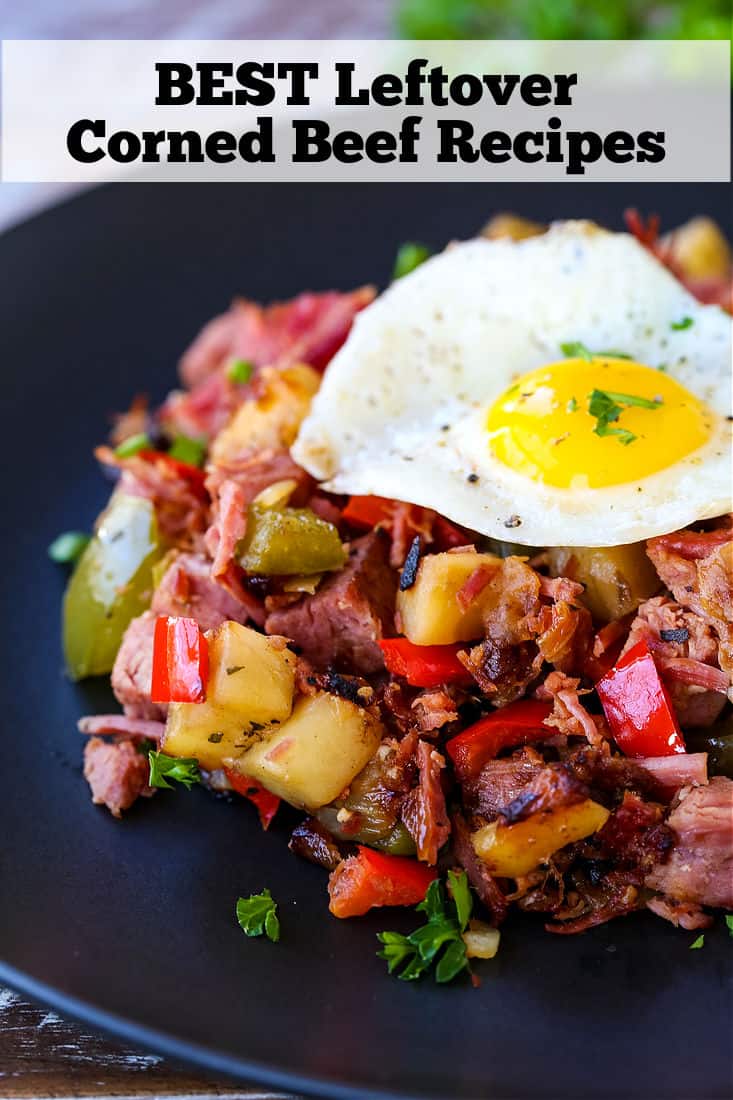 Whether you're looking for appetizers, breakfast or brunch to the main course, we've got you covered!
Creamy Potato and Corned Beef Chowder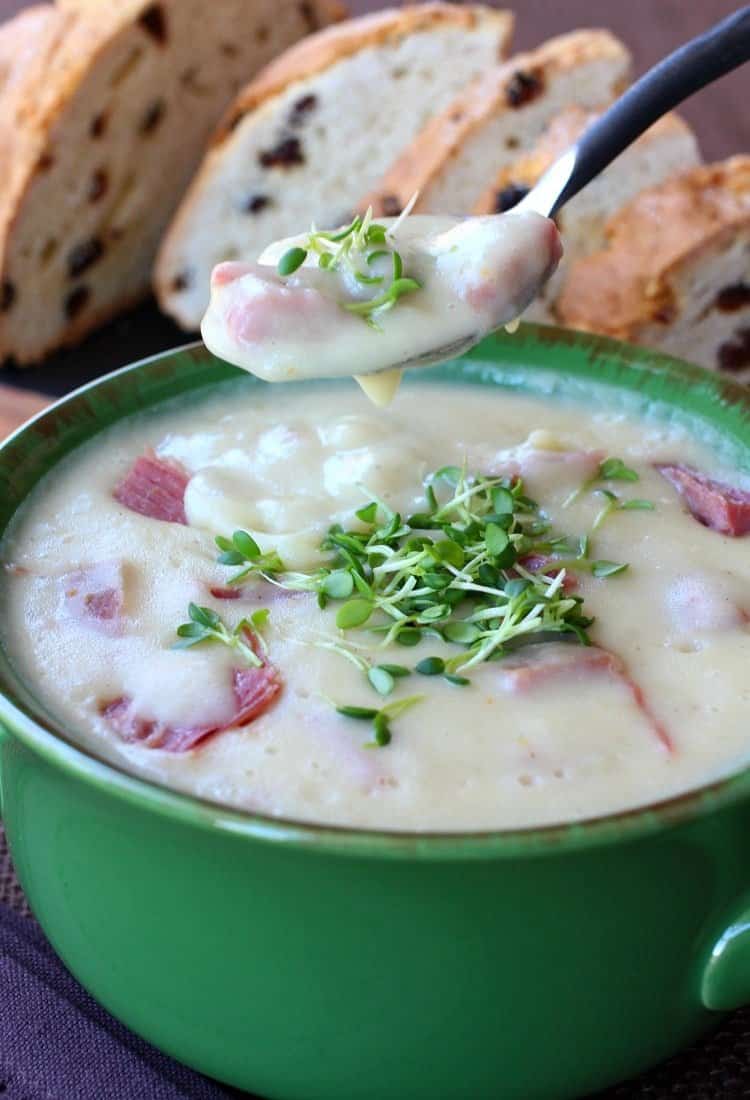 This creamy potato chowder is comfort food times 10. We added a fresh pop of flavor with these tasty micro greens but you can add chives, fresh thyme or parsley or just eat it as is.
Don't forget a nice big piece of Irish Soda Bread with butter on the side!
Corned Beef Hash with Fried Egg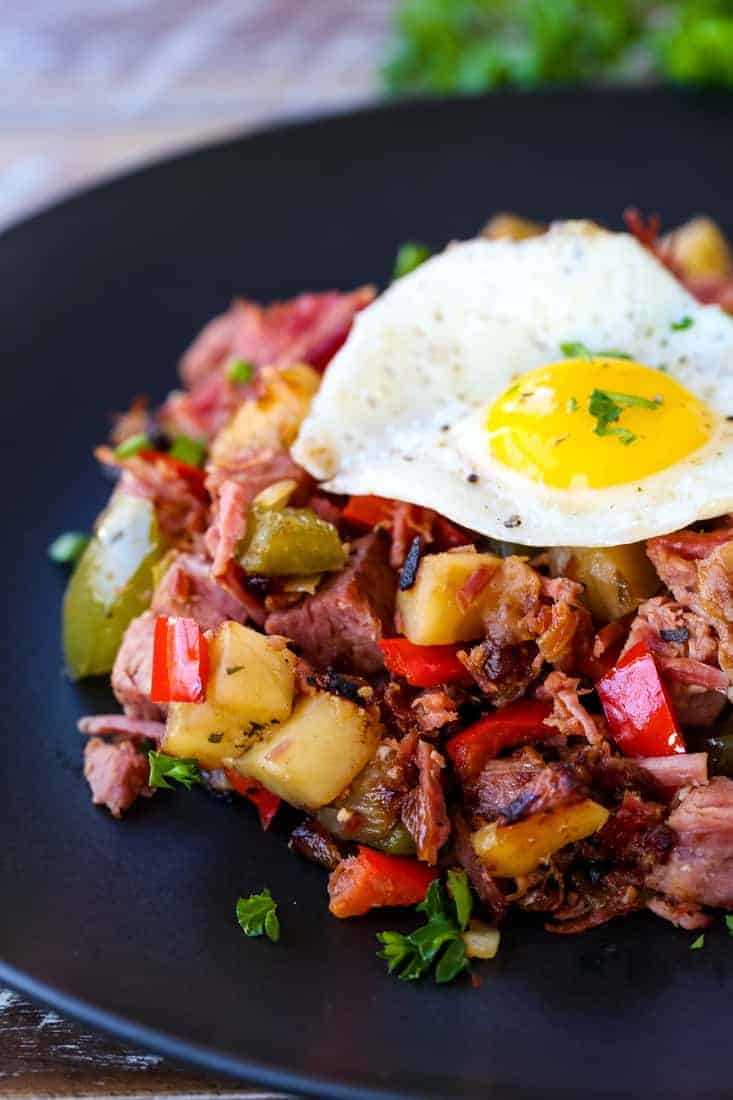 Man oh man, we love corned beef hash more that we can tell you. Add a runny fried egg on top and you've got a breakfast, brunch or dinner recipe that will blow everyone away.
Of course, hash is served for breakfast but also do try it for dinner with a crisp glass of white wine or a cold beer…it's delicious!
Corned Beef and Brussels Spaghetti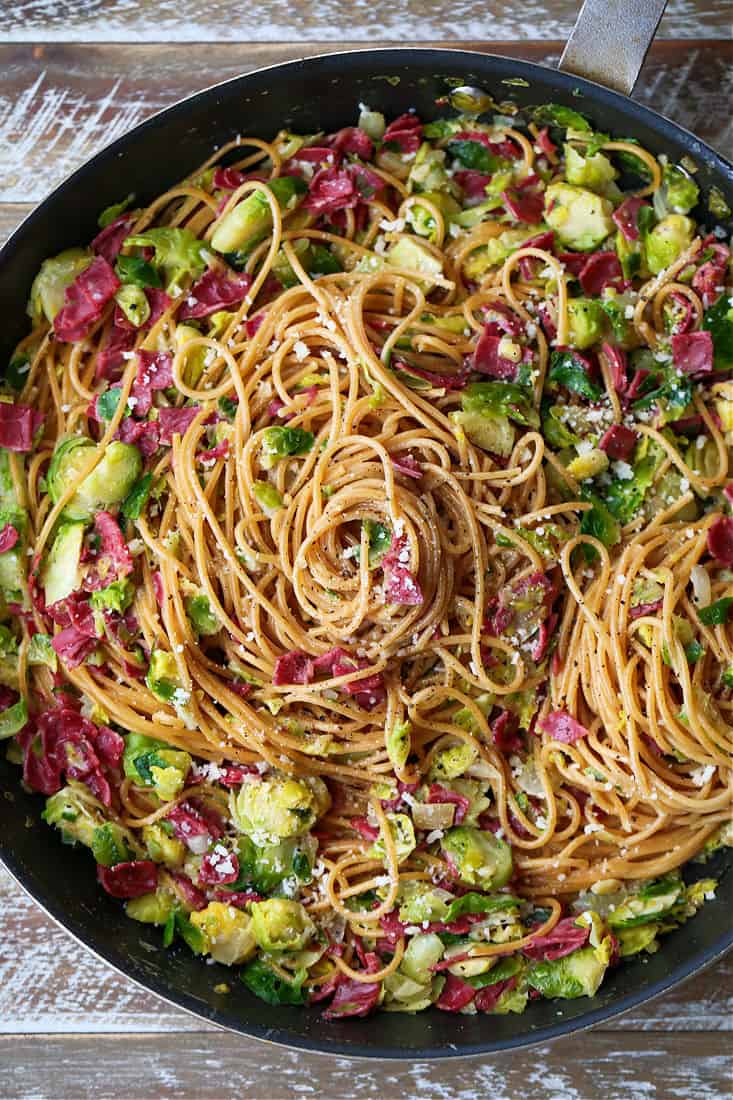 One of our new favorites, this pasta recipe has it all. A little bit healthy, a little bit indulgent and SO easy to make. This recipe uses whole wheat spaghetti tossed with shaved brussels sprouts and that leftover corned beef in a light parmesan cream sauce.
No leftover corned beef? Try using bacon or pancetta or leftover ham!
We're taking our BEST Leftover Corned Beef Recipes to whole new level here with the Irish Nachos! Irish Nachos actually use thin sliced, fried potato slices for the "chips" instead of tortilla chips and they are crazy, crazy good.
We used a nutty Swiss cheese for this nacho recipe but you can really use any cheese that you like. Gruyere, sharp Irish cheddar or a more mild Monterey Jack would all be great options.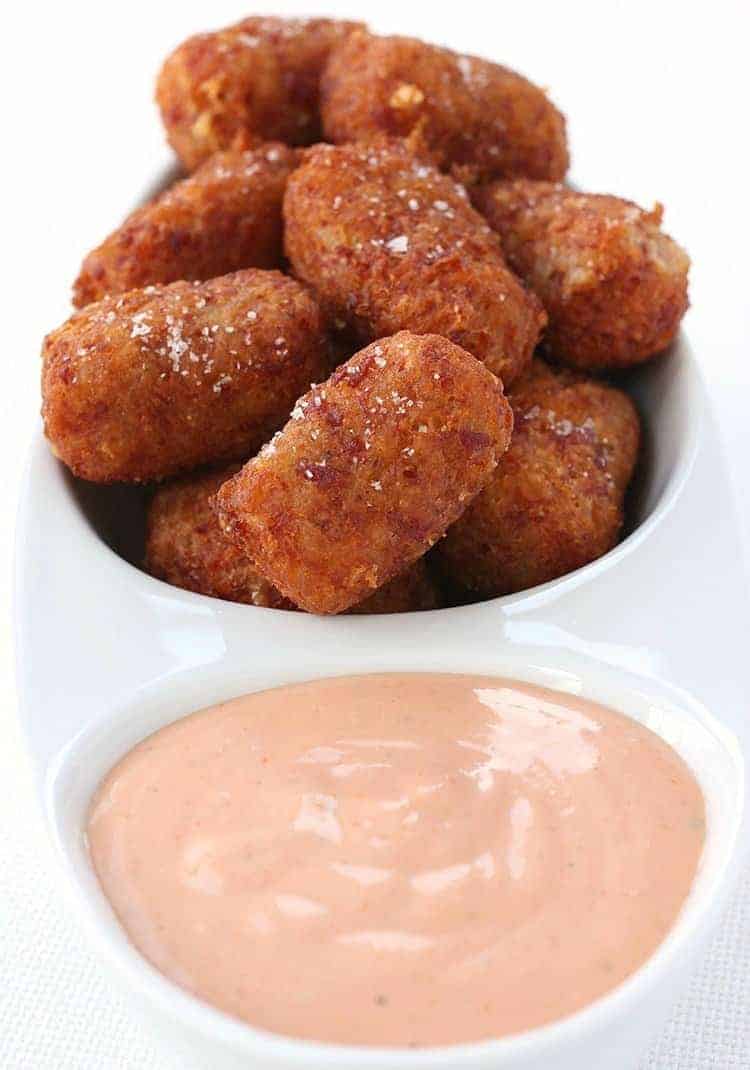 Let's talk about some super delicious leftover recipes here…these homemade tater tots are IT. Cheesy, fried tater tots with big pieces of leftover corned beef tucked inside, I'm telling you these are highly addicting.
Use a Russian or Thousand Island dressing for dipping, or try our popular Awesome Sauce, or just stick to regular ol' ketchup.
Corned Beef and Cabbage Fried Rice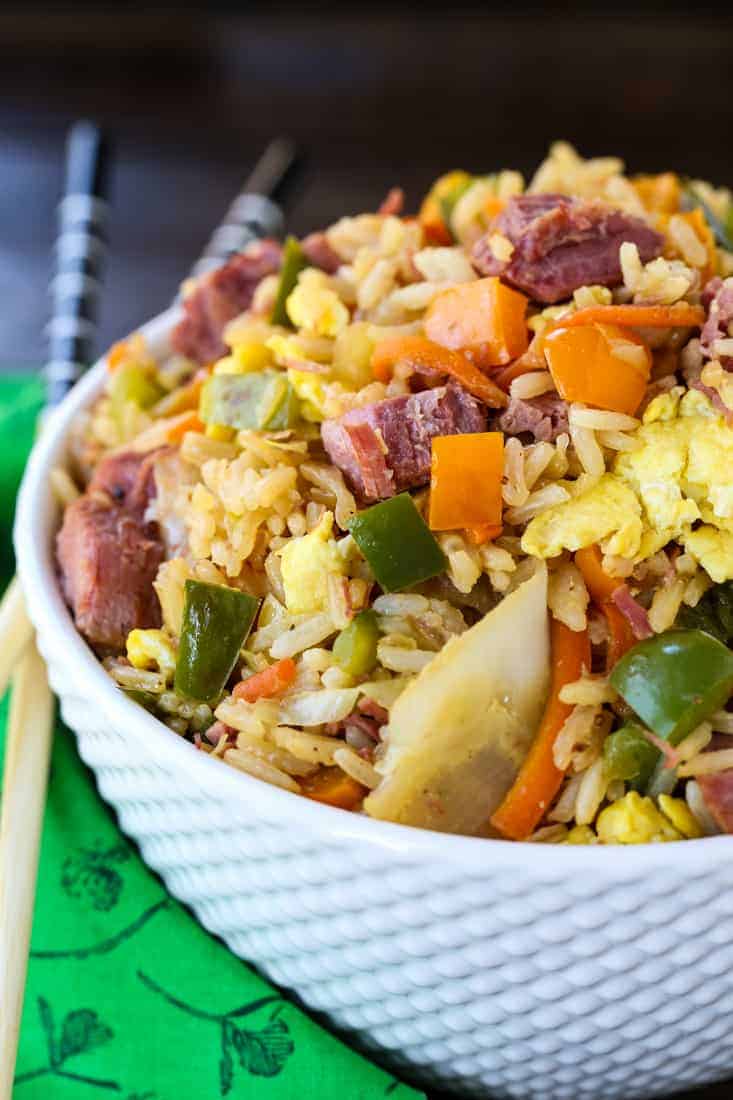 When all else fails, we turn to fried rice. There's usually not a week that goes by that we don't make Chicken Fried Rice or some sort of fried rice recipe. Fried rice is a great leftover recipe because you can really add almost anything to it.
This version uses leftover corned beef AND leftover cabbage so nothing has to go to waste.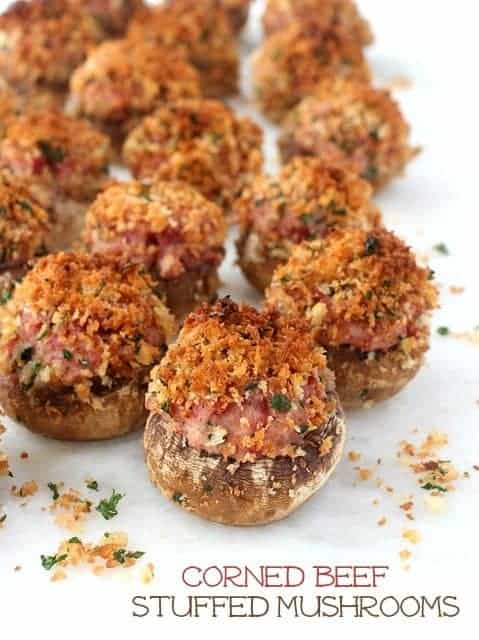 Kick up the appetizers with these cheesy corned beef stuffed mushrooms! We love this recipe so much that we make it pretty often. Just head to your deli counter if you don't have any leftover corned beef and they'll slice some up for you.
While these mushrooms are perfect for appetizers, they are filling enough to serve along with a nice salad on the side for a light dinner too!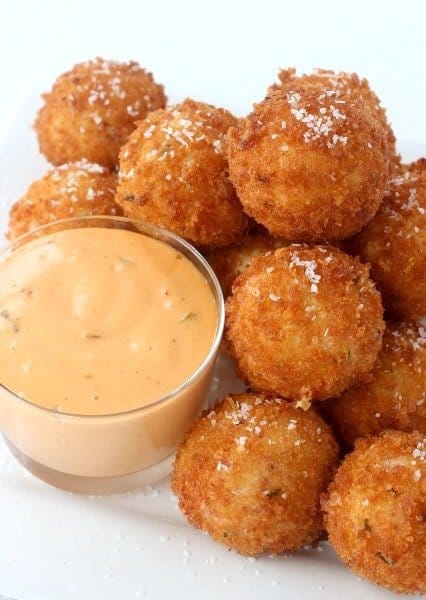 Last but not least on our BEST Leftover Corned Beef Recipes are these Reuben Fritters. Little deep fried balls of deliciousness, these babies are going to steal the show. Cream cheese, mozzarella cheese, sauerkraut and your leftover corned beef make up the filling.
Next, they get coated in panko bread crumbs and fried for the most tasty little bite. Dip into Russian or Thousand Island dressing for the perfect reuben flavor!
Recipes That COULD Use Corned Beef
Here's a few of our favorite recipe that use leftovers that aren't corned beef – but COULD use leftover corned beef. Just swap out the main protein and you're good to go!
Crustless Ham and Broccoli Quiche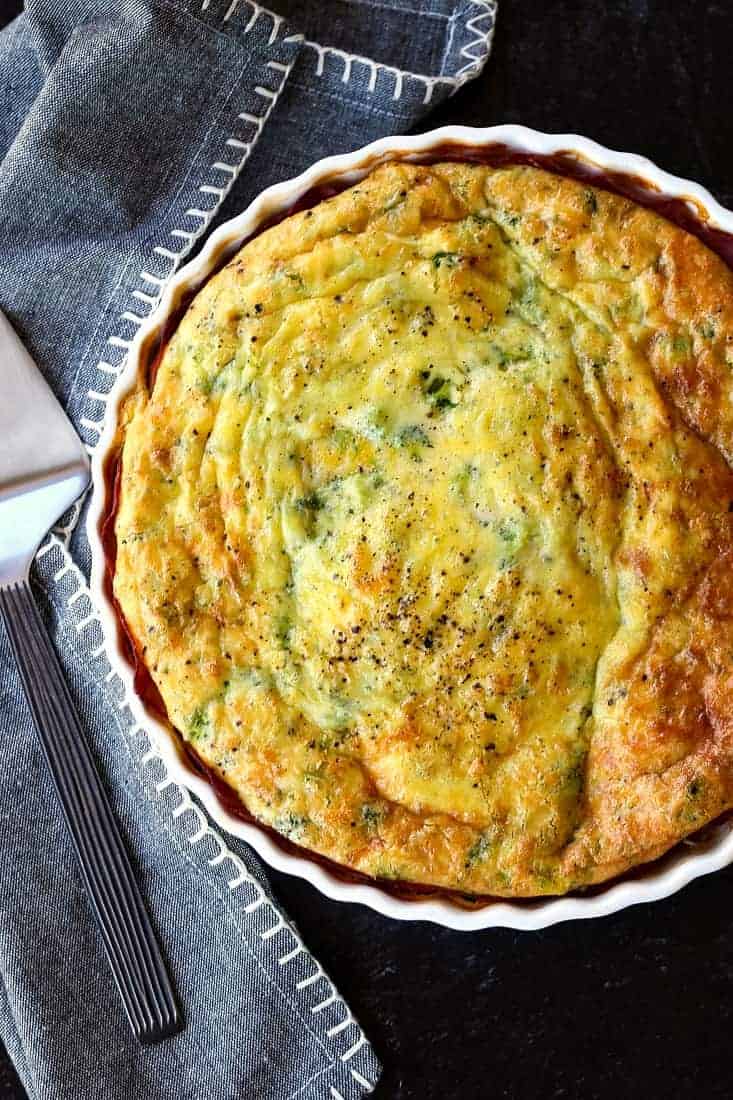 This crustless quiche recipe is so easy to make, we find ourselves making it pretty often. Our boys love it and it's the perfect way to use leftovers of all kinds.
Swap out the ham with your leftover corned beef or keep the ham and add them both!
Western Hash Brown Breakfast Casserole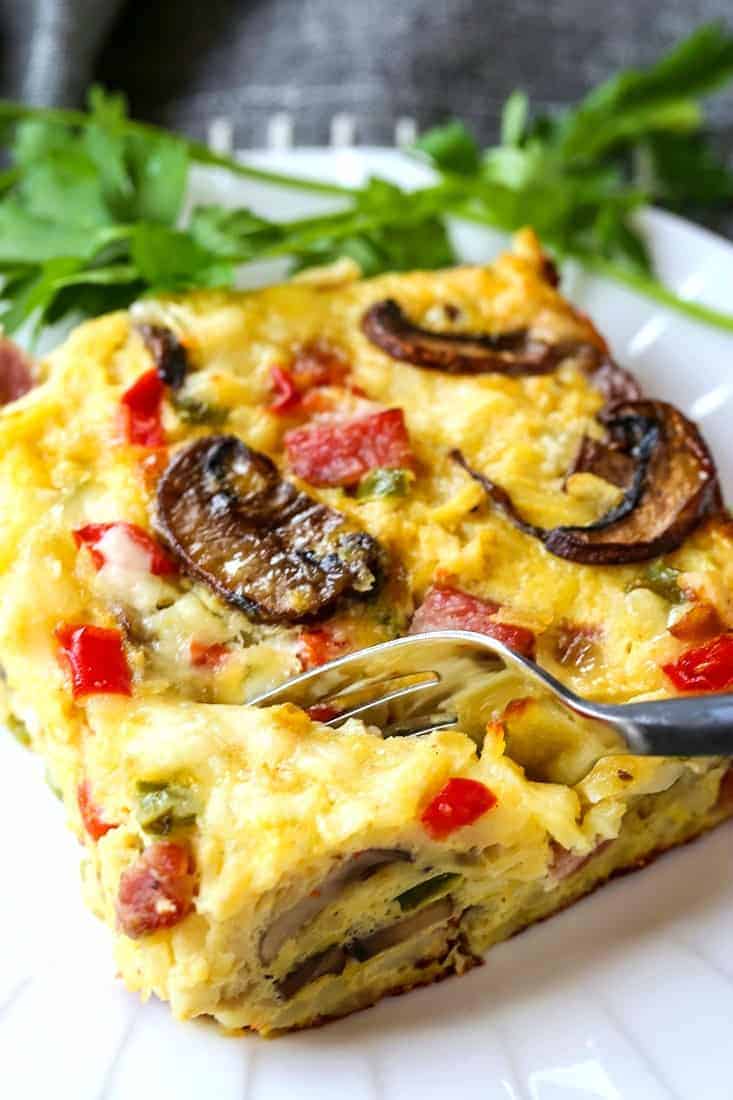 Swap out the ham in this quiche recipe for corned beef and you'll have the most delicious casserole recipe that's perfect for breakfast or dinner!
Most of the time that we serve this recipe, it's actually for dinner. We really love a nice slice of this breakfast casserole with a glass of wine and a salad on the side.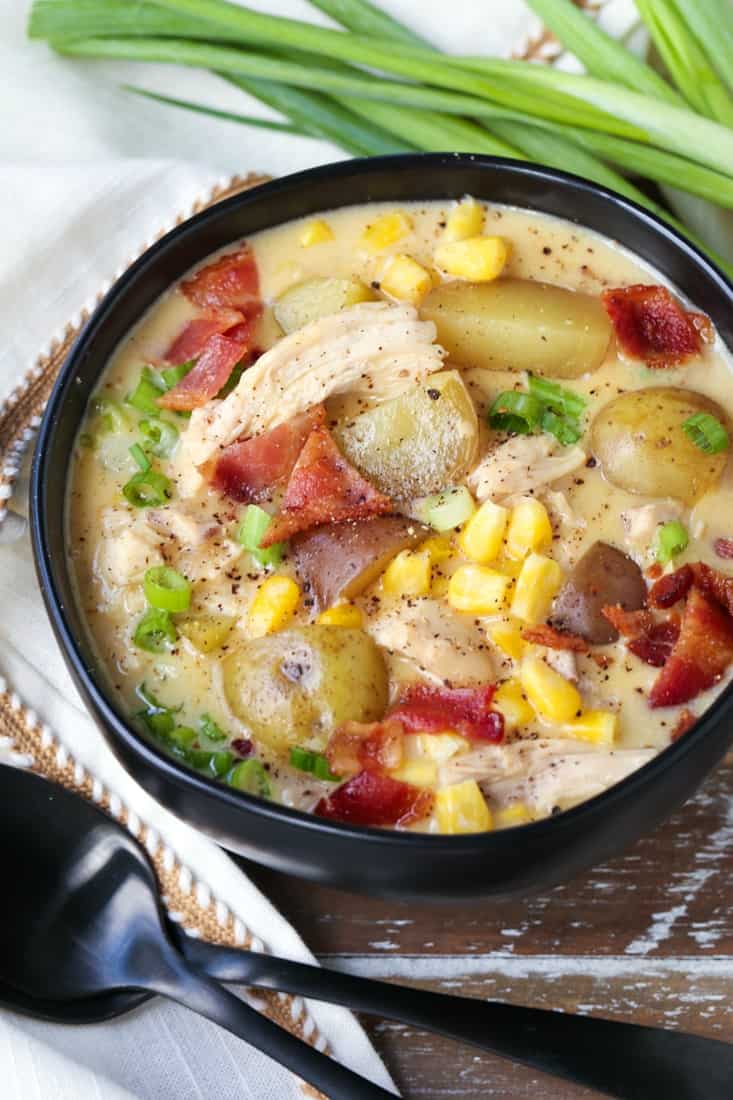 Instead of the bacon, add leftover corned beef to this creamy chicken chowder! Not that we would ever recommend leaving the bacon out of any recipe, but leftover corned beef would be a great substitute!
Gemelli with Sausage and Asparagus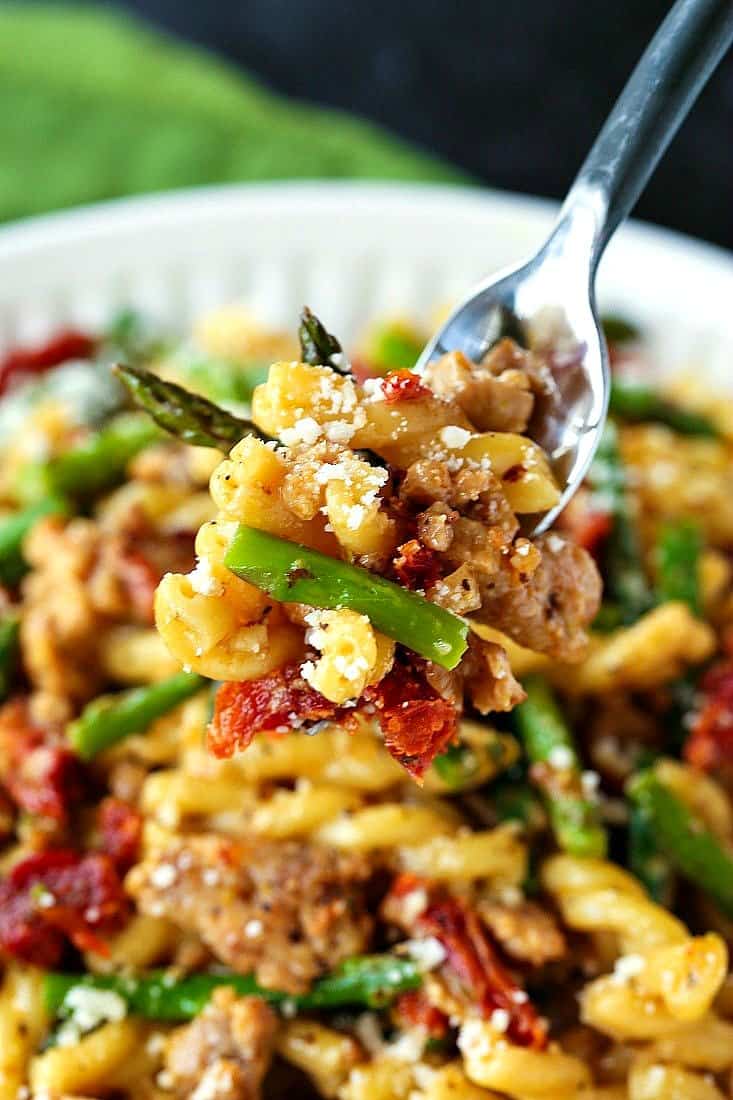 Swap out the Italian sausage in this pasta recipe for your leftover corned beef! However, do try this pasta recipe with Italian sausage too if you can, it's one of our favorites!
In conclusion – we think you guys get the idea now, right? Get creative and swap out the protein in your favorite recipes with your leftover corned beef.
There's no rules, just fun recipe experimenting and tons of delicious recipes to dig into.