Cheesy Corned Beef Tater Tots
are a tasty way to use leftover corned beef! These crispy homemade tater tots are perfect for appetizers or a fun dinner!
Make our Crock Pot Corned Beef and Oven Roasted Cabbage for your St. Patrick's Day dinner, then transform your corned beef leftovers into these cheesy, super crispy tater tots!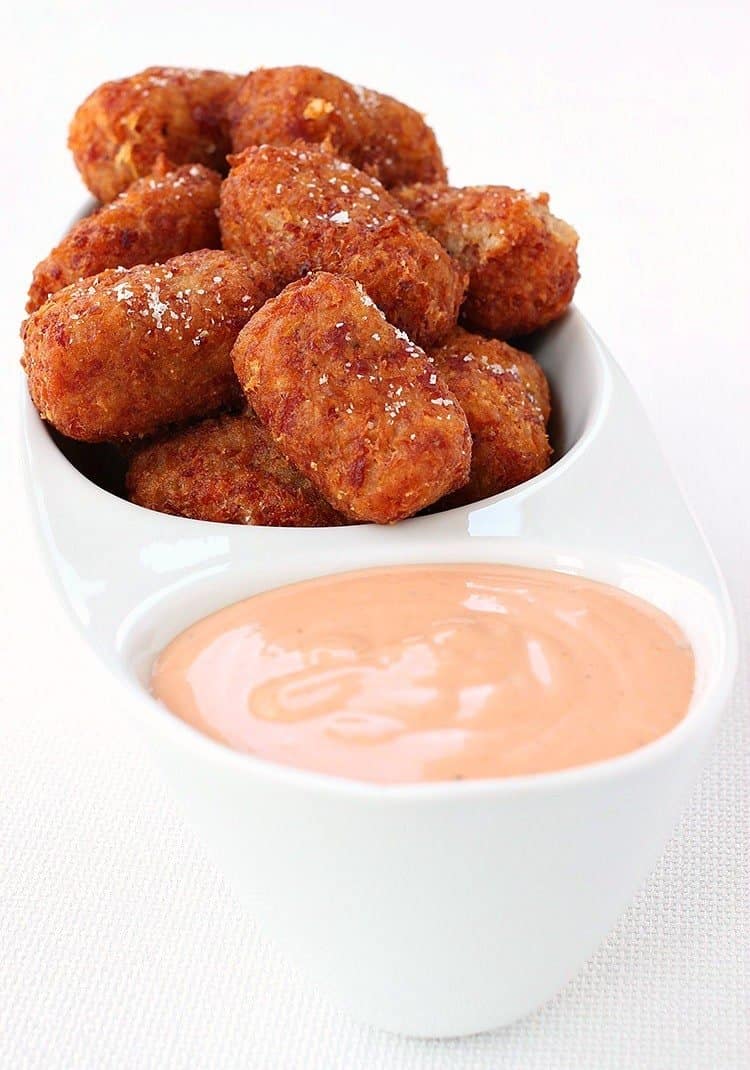 A Leftover Corned Beef Recipe
Even though we made these Cheesy Corned Beef Tater Tots with our leftover corned beef from St. Patrick's Day, you can still make these tater tots without leftover corned beef! Say your hungry family ate all your corned beef or you just didn't et around to making corned beef at all this year.
Head right to the deli counter at your grocery store! Most deli counters that I have come across have corned beef right there as a deli meat option. So you can make these super crispy, super addicting tots whether you have leftovers or not!
Ingredients You Need To Make These Cheesy Corned Beef Tater Tots
Leftover Mashed Potatoes (you can buy pre-made mashed potatoes at the store or make your own)
Leftover Corned Beef
Cheddar Cheese
Flour
Oil for Frying
Definitely use whatever cheese you have on hand. Mozzarella, Swiss, Gruyere, Pepper Jack or Monterey Jack are all good choices. You want a nice melting cheese that you enjoy the flavor of.
How To Make Homemade Tater Tots
I've been wanting to try homemade tater tots for a while because like most things, it just seems like they'd be so much better than the frozen version.
You start by pre-cooking the potatoes, if you have leftover mashed potatoes this would be a great way to use them up too! Boil, drain, and use a potato ricer
to get them super fine. If you don't want to buy a ricer, you can mash the potatoes up the way you normally do and this tater tot recipe will work just as well.
Mix the potatoes up with corned beef, cheese and some seasonings and form them into "tot" shapes! Then get ready for the deep fry…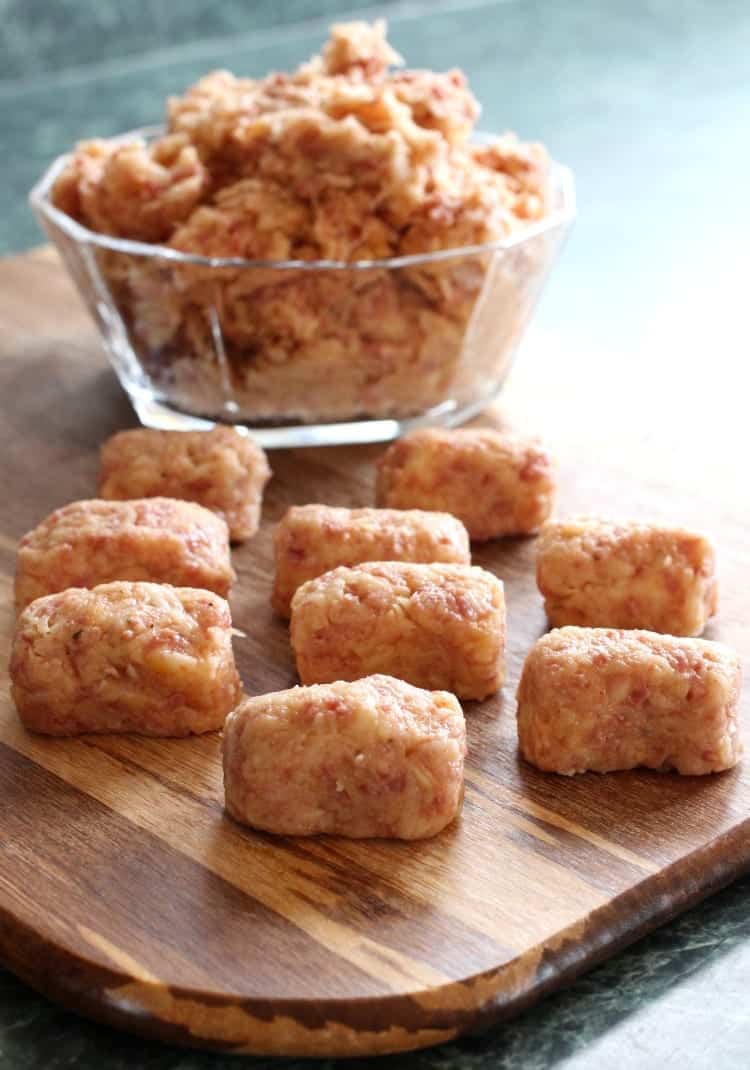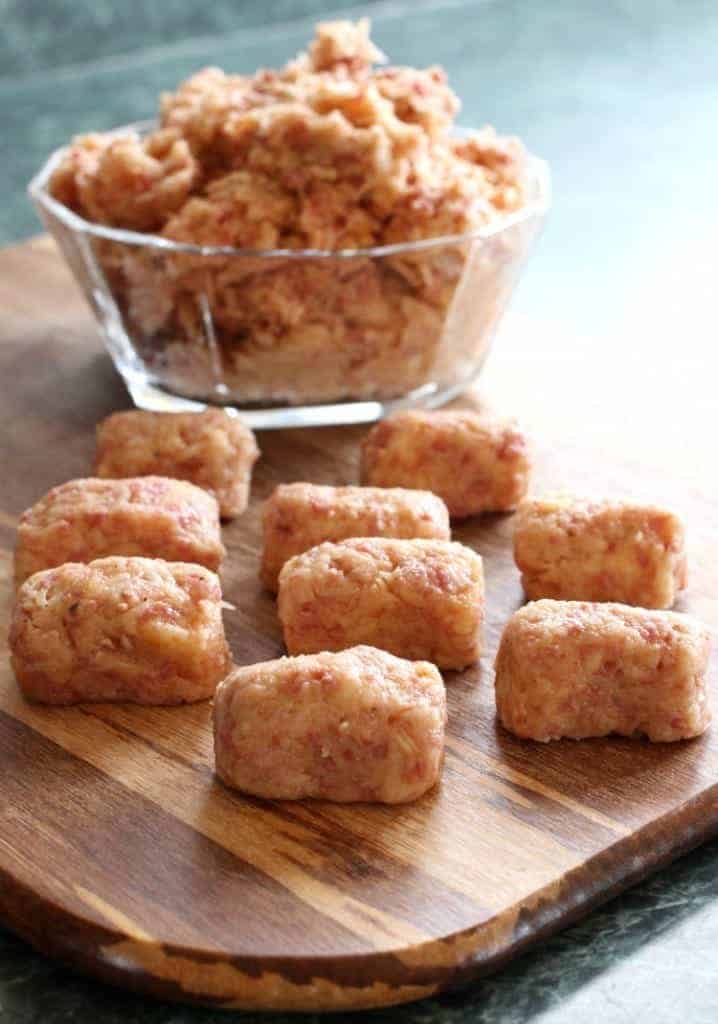 Do You Need A Deep Fryer To Make This Tater Tot Recipe?
No, you don't. Actually, I don't even own a deep fryer and I don't really see the need for one. All you need is a heavy bottomed, deep pot. But only fill your pot about 1/3 of the way full with oil so that it won't boil over, this is a mess that has happened to me.
Only once – because I never want to clean that up again.
A fry thermometer is a good tool to own, too. A fry thermometer usually clips on to your pot and helps to take the guesswork out of wondering how hot your oil is. They are pretty inexpensive, usually only a few bucks or so!
As far as the type of oil you should use for frying, we like vegetable or canola oil because they can stand up to the heat without smoking, resulting in the crispiest tots you've ever had.

Can I Make These Homemade Tater Tots In An Air Fryer?
You can! We tested these Cheesy Corned Beef Tater Tots in our air fryer, too. They came out really nice, crispy enough to get a crunch and to taste delicious. NOT as crispy and delicious as deep frying, but an option I would definitely try if you're looking to save some calories.
Leftover Corned Beef Recipes
Corned Beef Hash with Fried Eggs
Corned Beef and Potato Chowder
Corned Beef & Cabbage Fried Rice
Print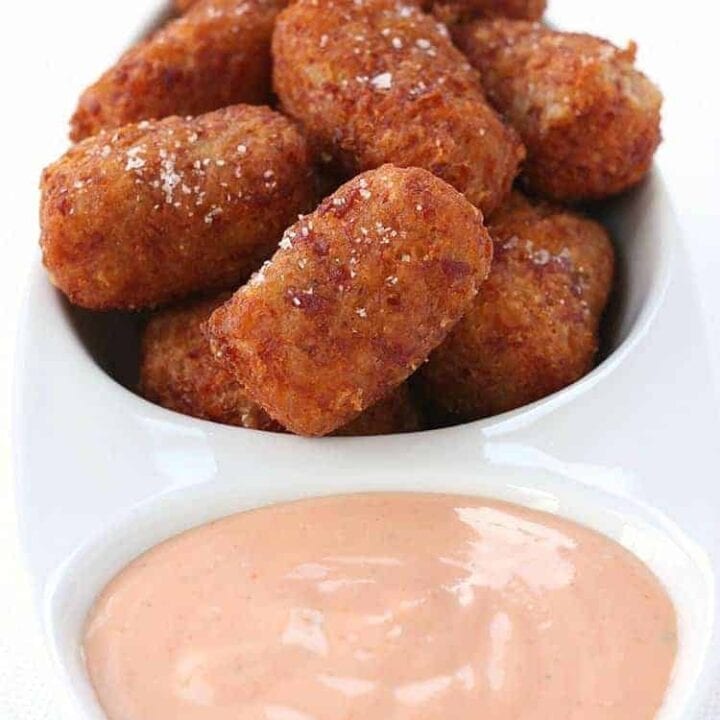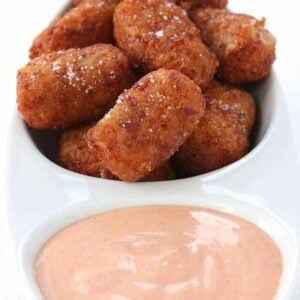 Cheesy Corned Beef Tater Tots
Author:

Prep Time:

20 minutes

Cook Time:

15 minutes

Total Time:

35 minutes

Yield:

about

30

tater tots

1

x
This homemade tater tot recipe are a perfect way to use your leftover corned beef from St. Patrick's Day! No leftovers? Head to your deli counter and grab some corned beef there!
Scale
Ingredients
3

lbs. russet potatoes, peeled and quartered (you'll need about

6 cups

of mashed potatoes if using leftovers)

8 oz

. corned beef, finely shredded or cut into a very small dice

1 1/2 cups

shredded cheddar cheese

2 teaspoons

garlic powder

1 teaspoon

paprika

2 teaspoons

salt

2 tablespoons

flour
canola or vegetable oil for frying
For the Remoulade Sauce
1/4 cup

ketchup

1/2 cup

mayonnaise

1 tablespoon

Worcestershire sauce
Instructions
Place the peeled potatoes in a large pot with water. Boil until tender and drain.
Rice the potatoes with a potato ricer or mash until smooth.
Add the potatoes to a large mixing bowl along with the corned beef, cheese, garlic powder, paprika salt and flour and stir well to combine.
Add the canola oil to a deep pot, filling a little less than halfway, over medium heat until the oil reaches 375 degrees.
While the oil is heating, form the potato mixture into "tots" about 2-3 inches big. You should have about 30 tater tots when you're done.
When the oil comes to temperature, add in the tater tots a few at a time (depending on the size of your pot, don't crowd them too much at once)
Fry for about 3-4 minutes until they get golden brown and crispy.
Drain on paper towels and season right away with coarse salt. Repeat with the remaining tater tots until all are fried.
To make the remoulade sauce
Add all the ingredients to a small bowl and stir to combine.
Category:

appetizers

Method:

stove top

Cuisine:

American
Keywords: deep fry, homemade tater tots, leftover corned beef, appetizer recipes, easy appetizers, fried food