Here's a meal that combines all of my favorite breakfast foods in one – Twice Baked Bacon & Egg Potatoes. These are going to be perfect for entertaining at brunch or just to keep in the fridge for yourself!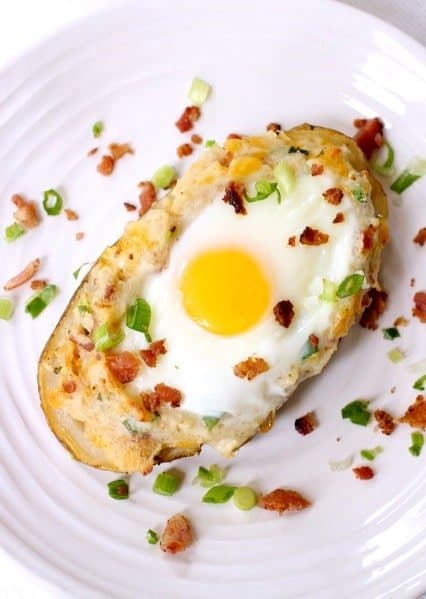 I'm sure you're all familiar with how to make a twice baked potato. Twice baked potatoes are always on the menu when we have family parties…you can make them ahead of time and just throw them in the oven 20 minutes before dinner.
These Twice Baked Bacon & Egg Potatoes aren't much more complicated than that. You can make them up to the point right before you crack and egg inside and twice bake them. Then the next day or whenever you're ready, just crack the egg and cook them up.
Start out by baking your potatoes. I used the largest Idaho russet potatoes I could find. Rub them with a little olive oil, salt and pepper then wrap them in foil and bake for 45 minutes to an hour.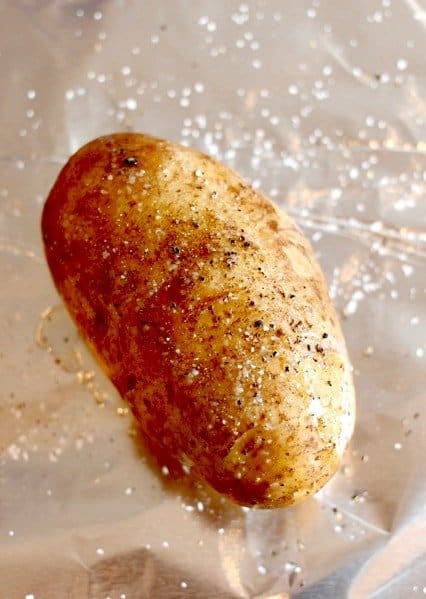 While the potatoes are cooking start your bacon. Cook it up in a pan until crisp then chop it up and have it ready for your filling. Don't forget to save some of that bacon fat – you're going to need it for the filling. The bacon fat is instead of throwing in all the butter…trust me, it's all good.
When the potatoes are done cut them in half lengthwise and then scoop out the insides leaving a half inch border around the edges.
You can mash the potatoes with a potato masher but I riced mine for a smooth filling. I blame it on the wife, she came home with a huge potato ricer from Williams Sonoma one day and since then the potato masher is out.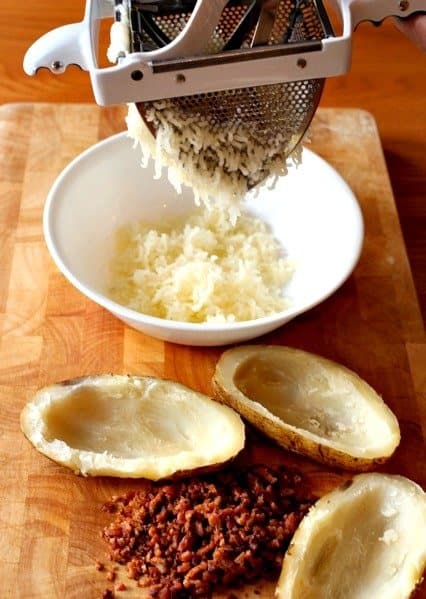 Chop up the bacon into small pieces then add it to the potatoes along with some milk, scallions, grated cheese, 2 T. of the bacon fat and some salt and pepper.
Salt and pepper the potato skins and then scoop in the filling equally into the 6 halves. Make a well in the filling, large enough to hold your eggs and then start cracking.
Carefully add an egg into the center of the potato filling, some might leak out but that's ok. Bake for 20-25 minutes and you have Bacon & Egg Twice Baked Potatoes. Genius.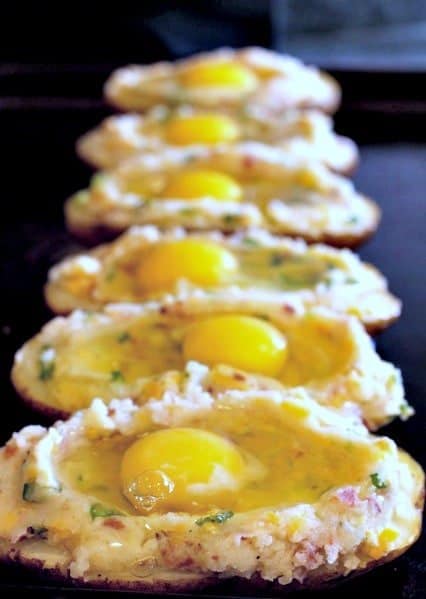 When they come out of the oven, you're going to want to serve them up right away. That way the yolk will be nice and runny when you cut into them. If that's not your thing…then let them sit a few minutes to let the yolk set.
For us, it's the runny yolks, but you decide.
These would work for breakfast, brunch or even dinner at my house!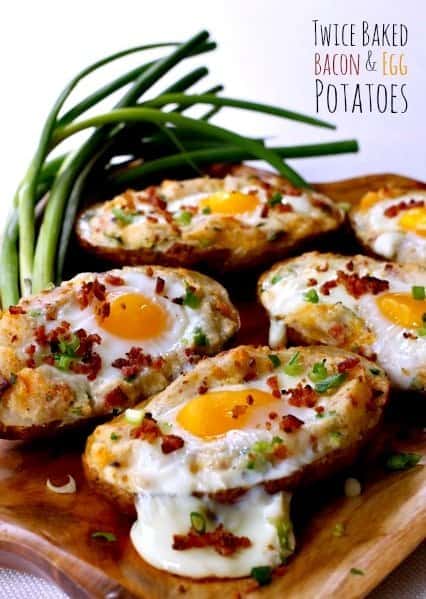 Print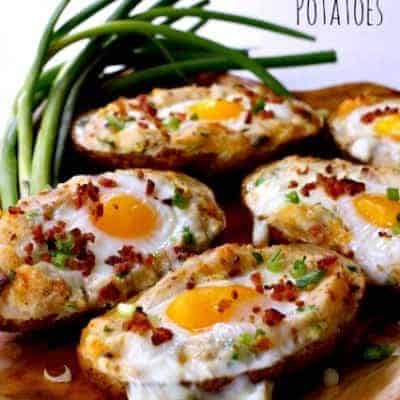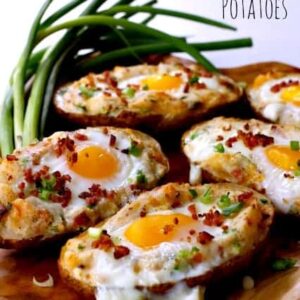 Twice Baked Bacon & Egg Potatoes
Scale
Ingredients
3

large Idaho russet potatoes

6

eggs

4

slices of bacon (reserving

2

T. of bacon fat from cooking)

4

scallions, chopped finely

1/2

c. cheddar cheese, grated

1/4

c. milk

1/4

t. salt

1/4

t. pepper
olive oil, salt and pepper for seasoning the potatoes
Instructions
Heat the oven to 400 degrees.
Wash the potatoes and season them with salt, pepper and just a small amount of olive oil.
Wrap the potatoes in foil and bake for 45 minutes to an hour until soft.
While the potatoes are cooking, place bacon into a large skillet and cook until crisp. Reserve 2 T. of the bacon fat before discarding. Let cool and chop into small pieces.
Carefully unwrap the potatoes, let cool a few minutes, then cut lengthwise in half.
Scoop out most of the potato, leaving a half inch border around the edges and place in a large bowl.
Season the potato skins with salt and pepper.
Mash with a potato masher or press through a ricer.
Add the reserved bacon fat, milk, cheese, scallions, chopped bacon and the 1/4 t. each of salt and pepper.
Mix well to combine, then divide the filling evenly into the 6 potato halves.
Make a well in the center of the filling with the back of a spoon, large enough to hold an egg.
Crack one egg into each well, don't worry if some spills over, and carefully place in the oven to bake.
Bake 20-25 minutes at 375 until the white of the egg is white and opaque.
Recipe Notes
If you like a runny yolk, serve these immediately. If you like a more firm yolk, you can let them sit for a few minutes or up to 15 at room temperature.