What can be more satisfying than a perfect Tuna Salad Sandwich Recipe? Add on the toppings that you like, piled on bread or a roll. Start off with our delicious tuna salad and you can't go wrong!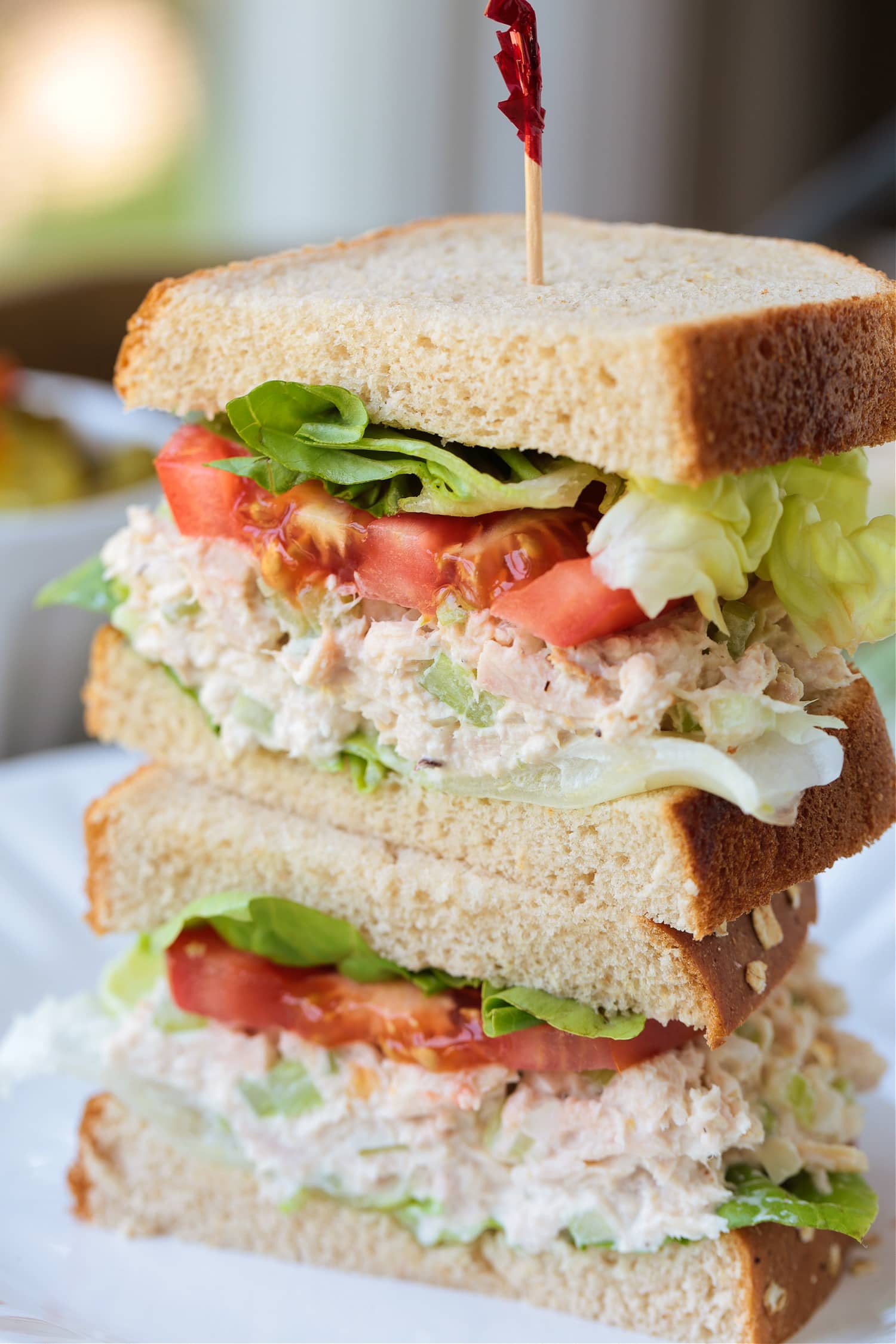 Perfect Tuna Salad Sandwich Recipe
When you don't feel like making a meal with a lot of steps for lunch or dinner, try this delicious Tuna Salad Sandwich Recipe instead!
I know a lot of you might wonder why you would need a recipe for making tuna salad. Don't you just mix tuna fish and mayonnaise together? You can, for sure. But when you add a few more flavorful ingredients to your tuna salad it takes the level up a few notches.
If you really want to take this sandwich to the next level, try making our quick, 5 minute Homemade Mayonnaise!
Tuna salad can be made ahead and kept in the refrigerator for an easy lunch and even a light dinner. Add a cup of soup on the side or a salad and you've got a delicious, comforting meal.
Ingredients For Tuna Salad
Canned Tuna Fish: Opt for a white albacore for a firmer texture and a less "fishy" flavor.
Onion: Red or white onion both work well in tuna fish. White or yellow onion will have a slightly more mild flavor.
Celery: Diced celery adds a nice crunch.
Mayonnaise: We like using regular, full fat mayo for the best flavor. Light mayonnaise works too but often has added sugar giving it a sweeter flavor.
Dijon Mustard: You'll never know it's in there but it adds a delicious, tangy flavor.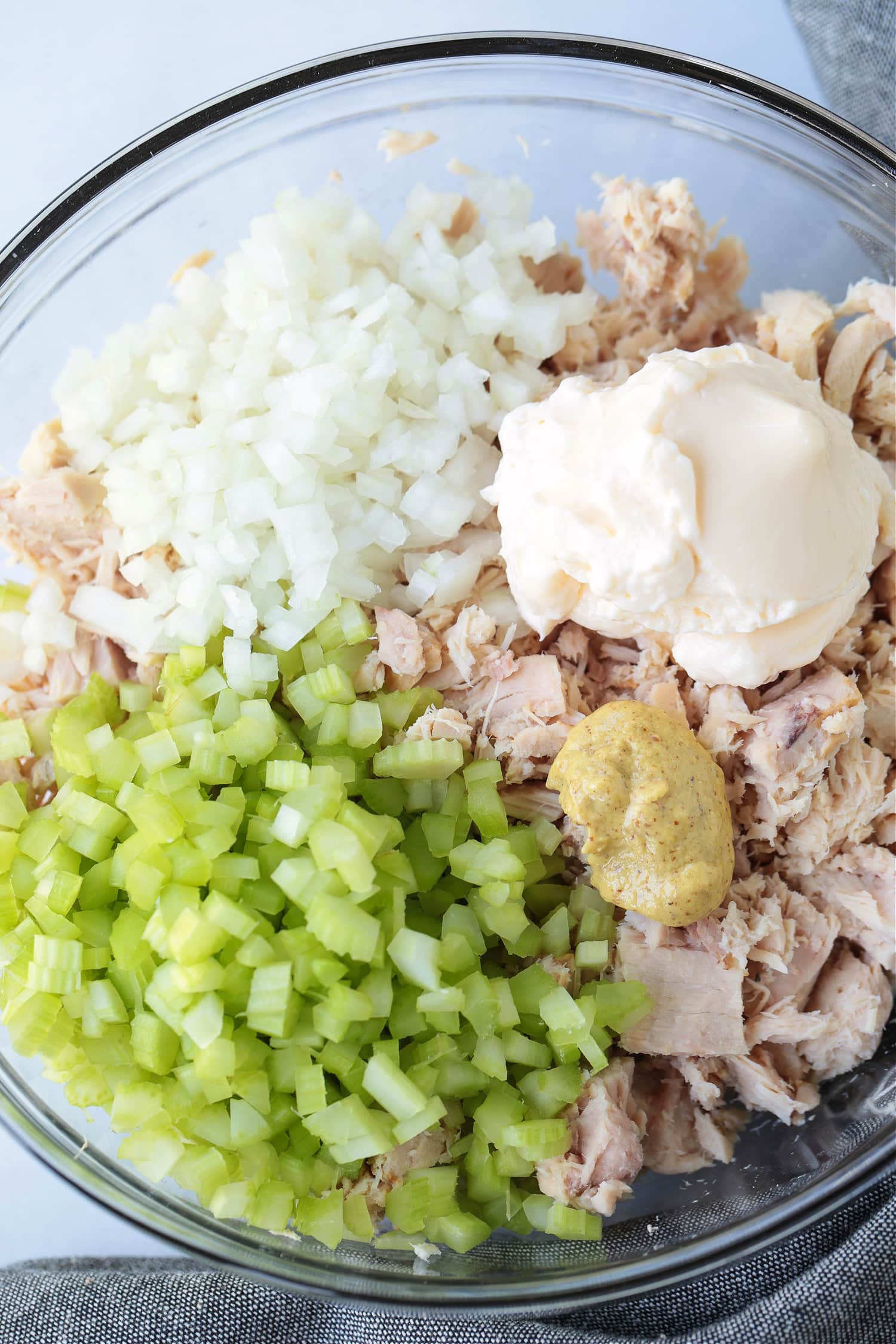 How To Assemble A Tuna Fish Sandwich
Once you have the tuna salad prepared, all you need to do is pick your favorite bread or roll, grab a few slices of tomato and lettuce for crunch. Of course, all of these toppings are optional, but we love the flavor and texture combinations going on in this sandwich recipe.
What Are Some Other Toppings For Tuna Salad?
If you're not partial to tomatoes, there's SO many other options for topping your tuna salad sandwich. Tuna fish has a fairly mild flavor, so a lot of toppings are going to work for this sandwich recipe.
Sliced raw onion or pickled red onion
Avocado
Sprouts like alfalfa or broccoli sprouts
Cheese (make a tuna melt!)
Pickles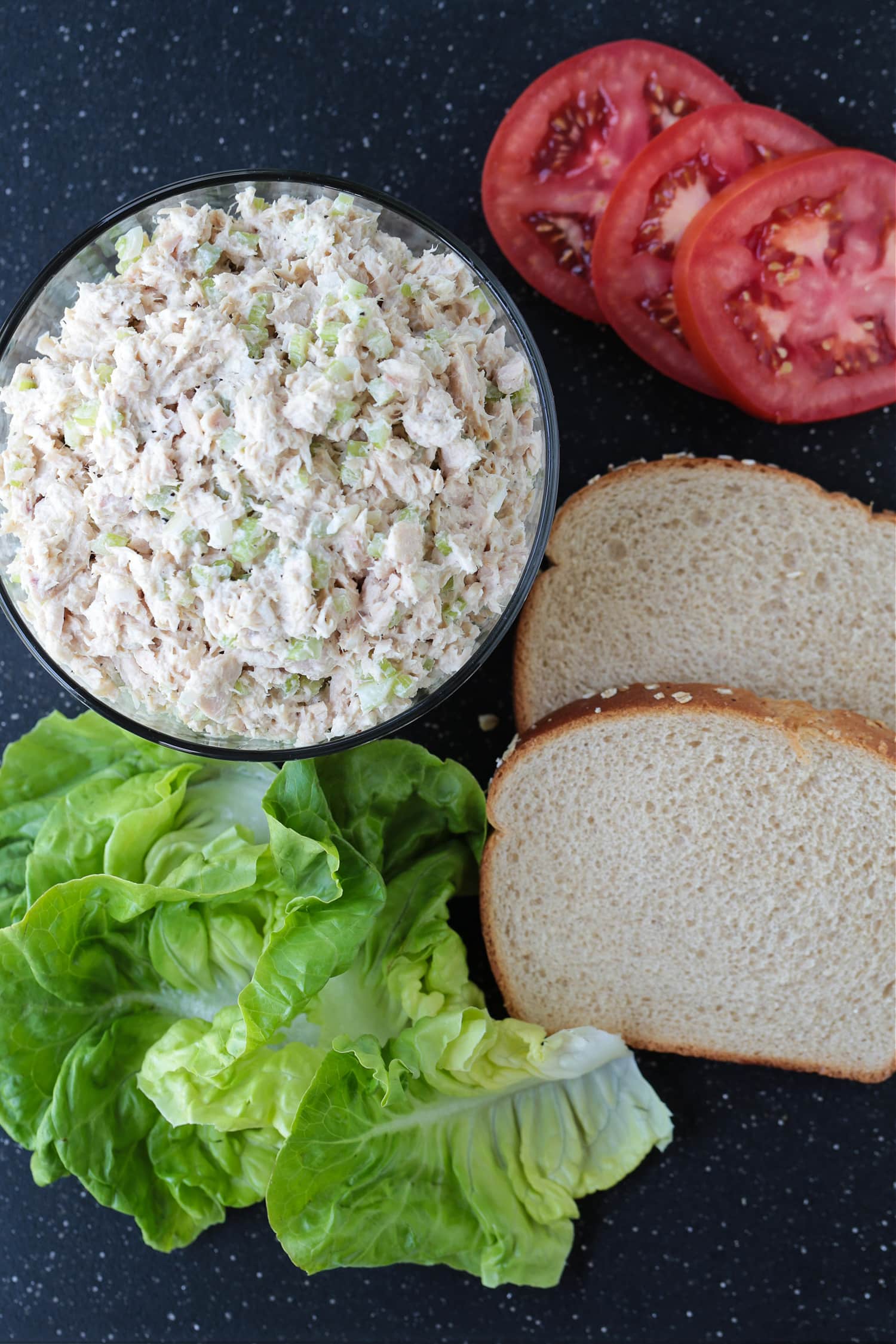 What Is The Best Tuna Fish For Making Tuna Salad?
Like we mentioned before, we like the texture and flavor of white albacore tuna. Albacore tuna has a firm texture and the flavor is very mild. There's also solid white albacore and chunk white albacore canned tuna.
Solid white albacore has larger pieces of fish where chunk white albacore has the same texture and flavor but with smaller pieces of tuna. Since we're flaking the tuna fish into a salad chunk white albacore works just fine!
Another variation you'll find in the canned tuna aisle is chunk light tuna fish. Chunk light tuna fish has a softer texture and a much stronger flavor than albacore tuna.
Also, for this Tuna Salad Sandwich Recipe, we like using tuna fish packed in water, not oil. Oil-based tuna fish is also very delicious, but we would use that in other recipes, not this tuna salad recipe with mayonnaise.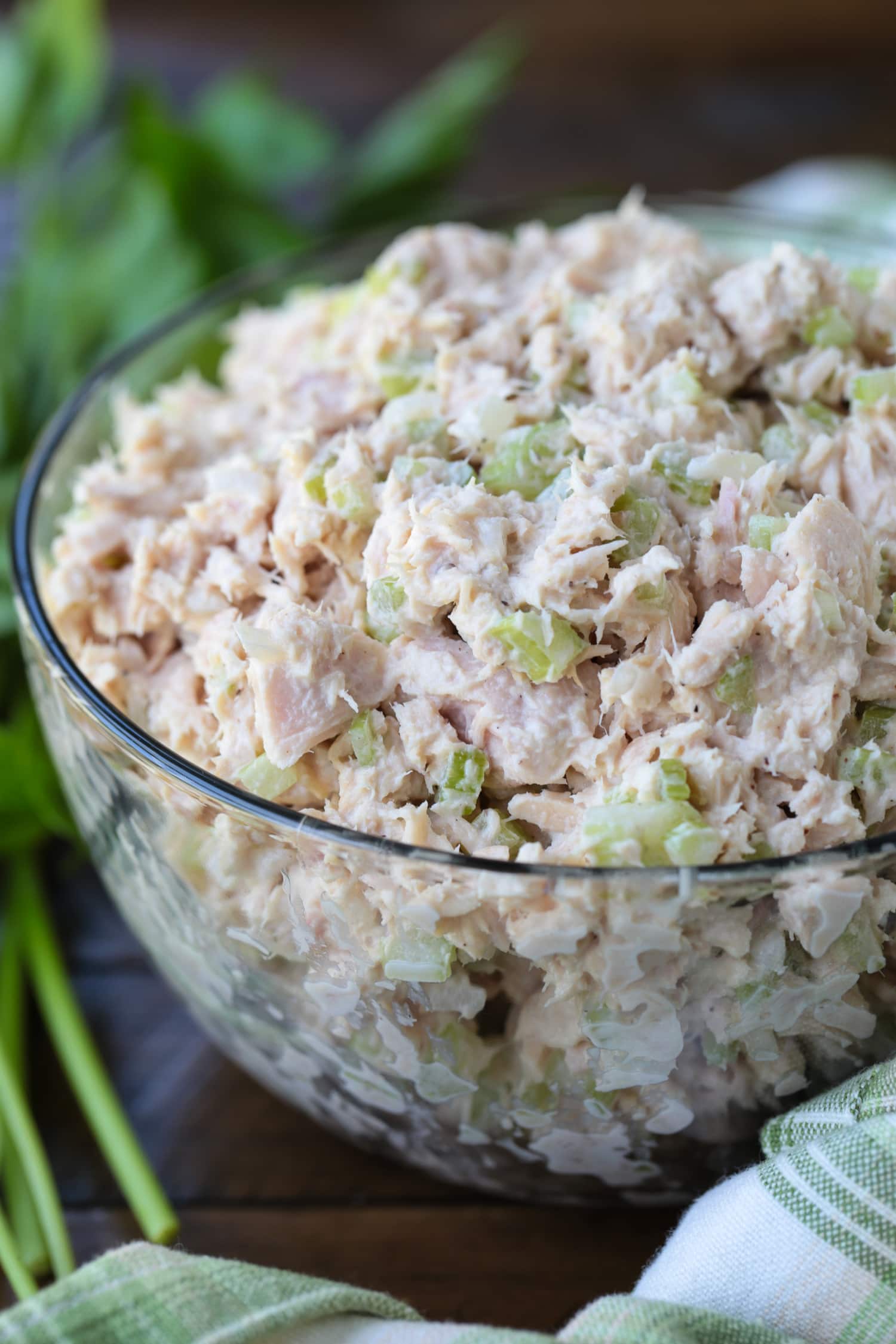 Can Tuna Salad Be Made Ahead Of Time?
Tuna salad will get even better as it sits for a few hours in the refrigerator. The flavors will mix and blend together as it's being refrigerated, resulting in a much more flavorful tuna salad recipe.
Of course, tuna salad will need to be used up in 3-4 days since it is fish. I really don't let tuna fish go longer than a couple of days in the fridge because I think the flavor gets a little too strong for my taste. But it will be just fine if properly stored for 3-4 days, even up to 5 according to the FDA.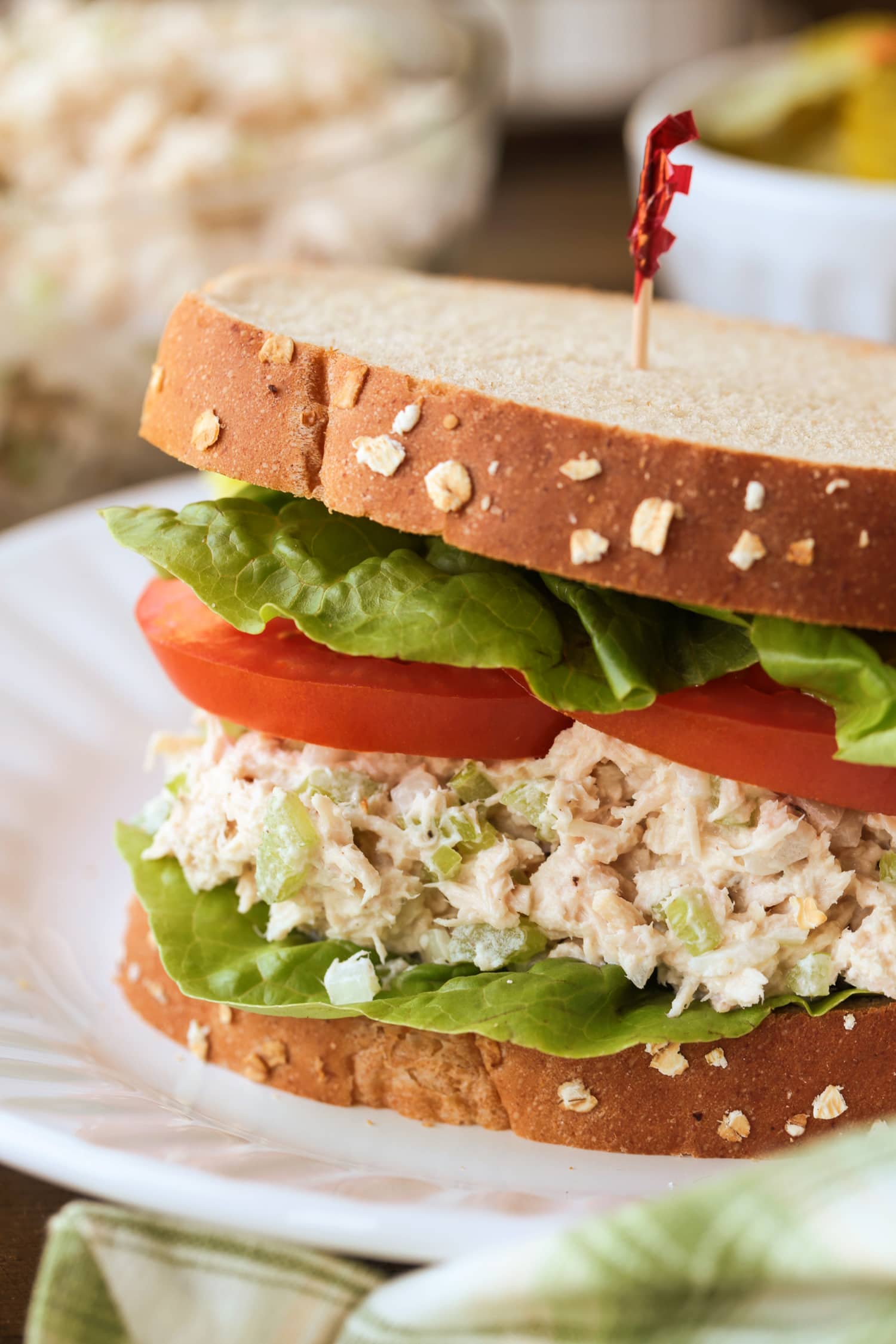 What Else Can I Add To Tuna Salad?
Our recipe for tuna salad is perfectly delicious as is. Not too crazy that the average person won't like it, but far above just mixing tuna fish with mayonnaise. Of course, to each his own, plain mayo will work just fine if that's the way you like it!
Fresh Herbs: Try using fresh herbs like parsley or dill to elevate the flavor of this tuna salad.
Peppers: Diced bell peppers will add crunch and sweetness.
Pickle Relish: Dill or sweet.
Banana Peppers: For a bit of spice and tang.
Scallions: Instead of white or yellow onion, or in addition to.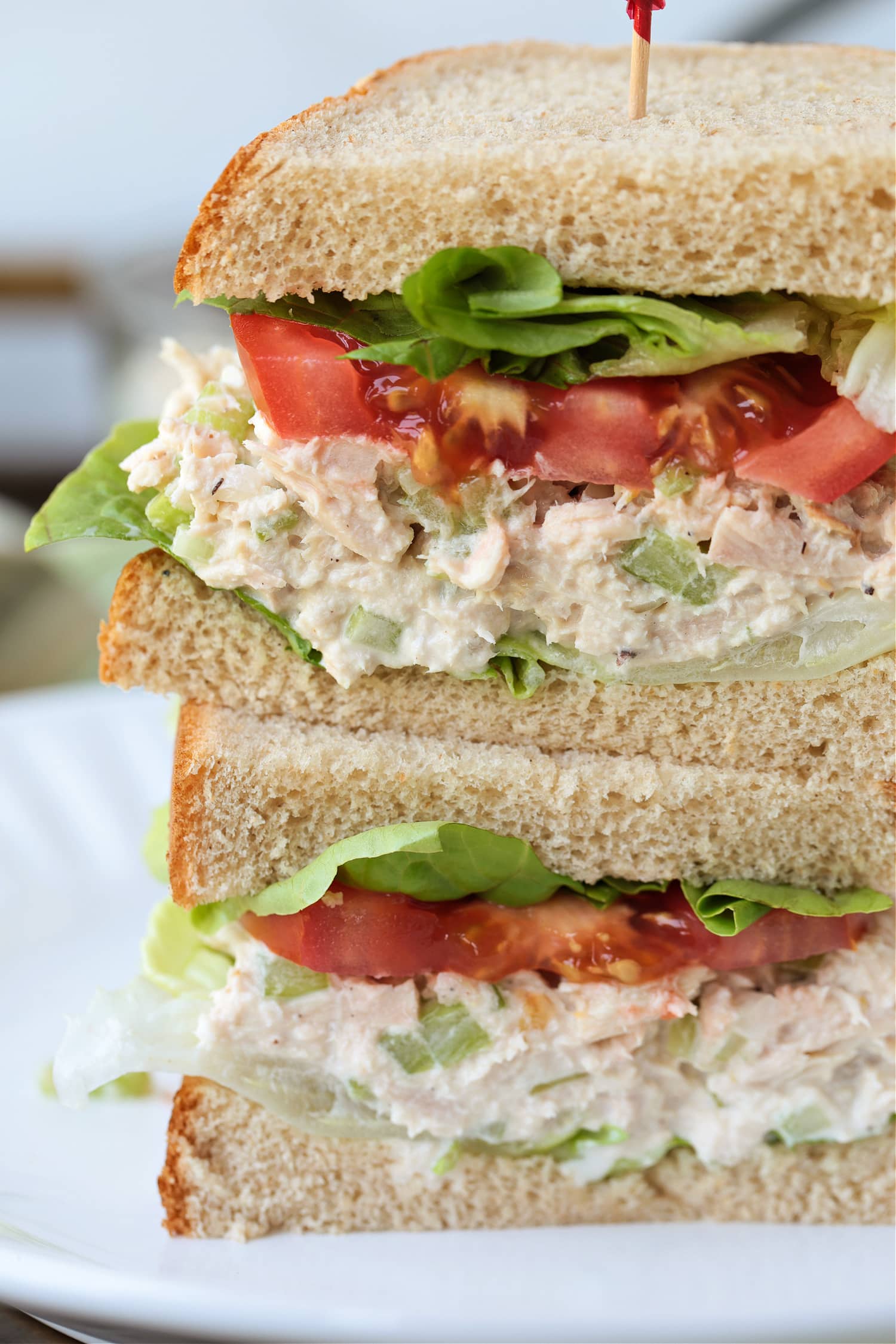 Lookin For More Recipes with Tuna Fish?
Print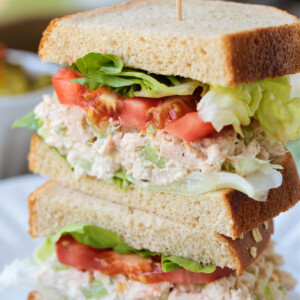 Tuna Salad Sandwich
Author:

Prep Time:

5 minutes

Cook Time:

0 minutes

Total Time:

5 minutes

Yield:

4

Servings

1

x
What can be more satisfying than a perfect Tuna Salad Sandwich Recipe? Add on the toppings that you like, piled on bread or a roll for lunch or a light dinner!
Scale
Ingredients
4

cans white albacore tuna fish, drained

1/4 cup

finely diced onion

1/2 cup

finely diced celery

1/2 cup

mayonnaise

1 teaspoon

dijon mustard

1/4

–

1/2

teaspoon kosher salt
Fresh black pepper to taste

2

slices bread of choice or roll

2

slices tomato
Lettuce
Instructions
Add the tuna fish to a bowl and flake with a fork. Add the onion, celery, mayonnaise, mustard, salt and pepper to the bowl and mix to combine with the tuna. Cover with plastic wrap and chill for 30 minutes. If you don't have time for this step, you can skip it but chilling the tuna salad will give it more flavor.
Assemble the sandwich by adding about 1/2 cup of the tuna salad to a slice of bread or a roll. Top with two slices of tomato and follow with lettuce. If desired, spread the top of the bun or the second piece of bread with an additional slather of mayonnaise before adding to the top of the sandwich.
Serve immediately.
Recipe Notes
Store: Store leftover tuna salad in a container or in a bowl covered tightly with plastic wrap. The tuna salad will keep in the refrigerator for up to 3-4 days. We prefer using tuna salad up with in the first 3 days for the best flavor.
Nutrition information below is for the tuna salad alone, not bread or toppings since those will vary.
Category:

Dinner

Method:

Stir

Cuisine:

American
Keywords: mantitlement, tuna fish, tuna salad recipe, sandwich recipe, seafood recipes, recipes with canned tuna, lunch recipes