These Homemade Fortune Cookies are definitely going to be a hit at your next party! You can make your own "fortunes" for any type of holiday or party!
Serve these fun, customizable cookies with our Fortune Cookie Shots! You can use this cinnamon sugar cookie recipe as a garnish for the drink or to serve alongside!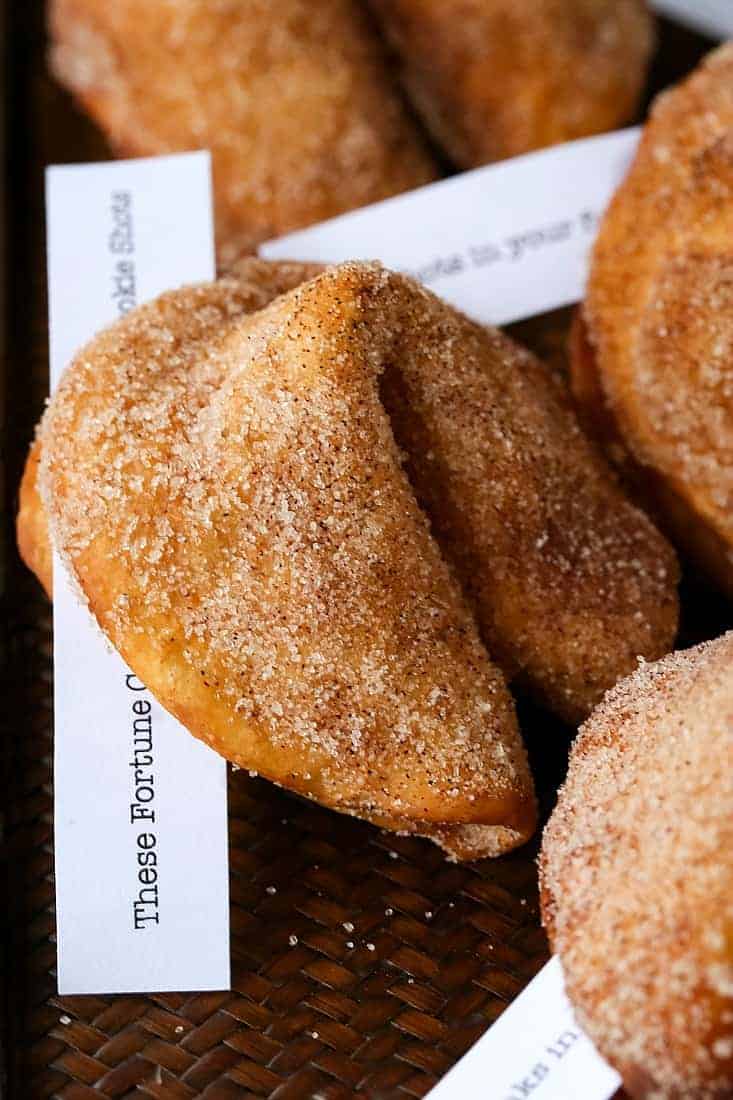 Easy, Homemade Fortune Cookies
This fortune cookie recipe is actually made from fried tortillas…I'm not really making fortune cookies. We're making the "shape" of fortune cookies in a much tastier way! These tortillas are fried, then coated with butter and cinnamon sugar to make the most crispy, delicious treat ever.
These Homemade Fortune Cookies are going to be such a hit for New Year's Eve or any party that you want a fun, customizable dessert recipe! You could add your own phrases or jokes, depending on who your crowd is.
50th birthdays, wedding anniversaries, sweet 16 parties…you name it. I'm going to go so far as to say that these cinnamon sugar cookies would be an awesome way to pop the question.
Maybe don't fry the ring inside, but you can ask the big question in a fun, tasty way!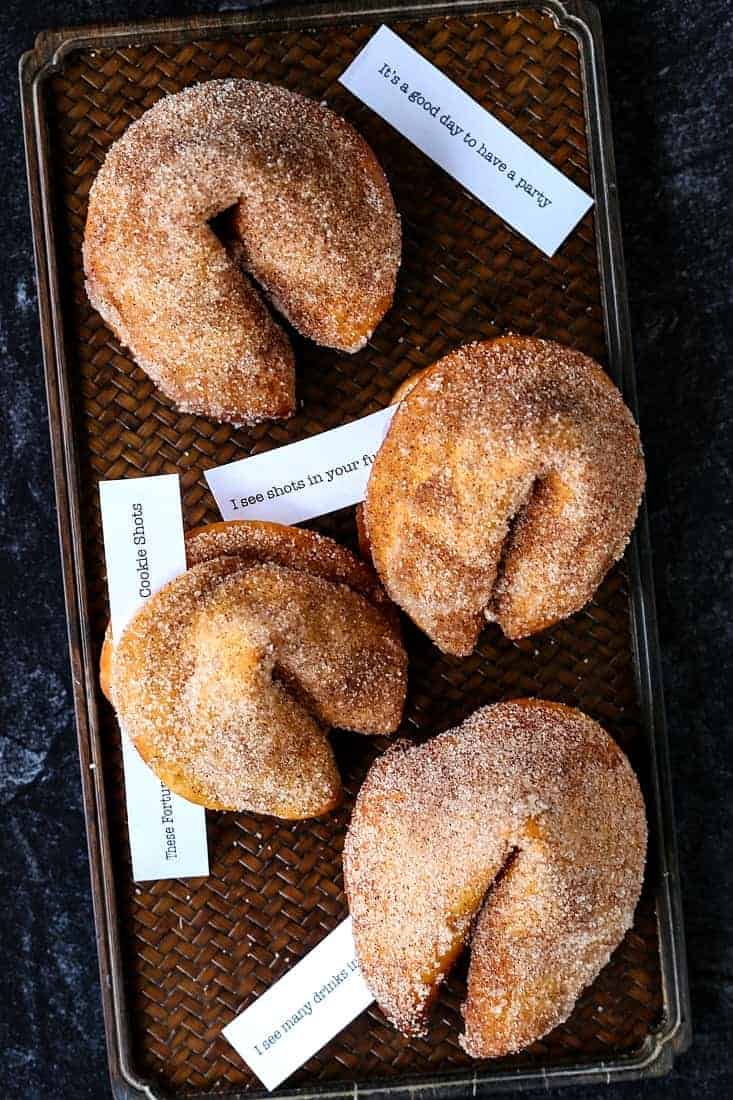 How to Make This Fortune Cookie Recipe
I'm going to give you some step by step pictures here because sometimes it's easier to see how things are done than to read about it. The process here is really simple, once you get the hang of how to do it you'll be folding fortune cookies like a boss.
Fold the tortilla gently in half and pinch the edges with your two fingers. Then take your other hand and push the tortilla (on the folded side) to meet your other thumb in the middle.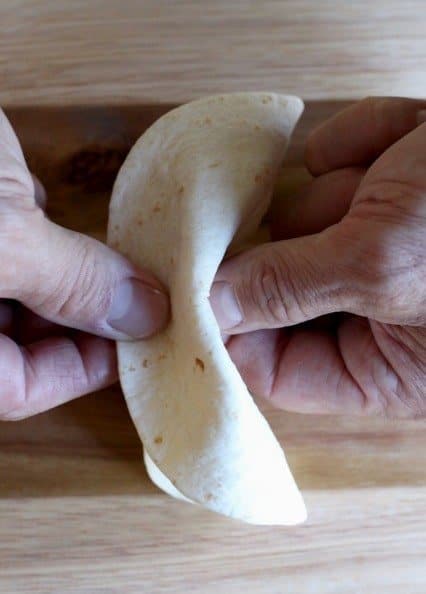 Now grab the ends of the tortilla and bring them together so that they touch. This is your fortune cookie shape! Secure the ends with a toothpick so they stay together, you can remove them after they are done frying.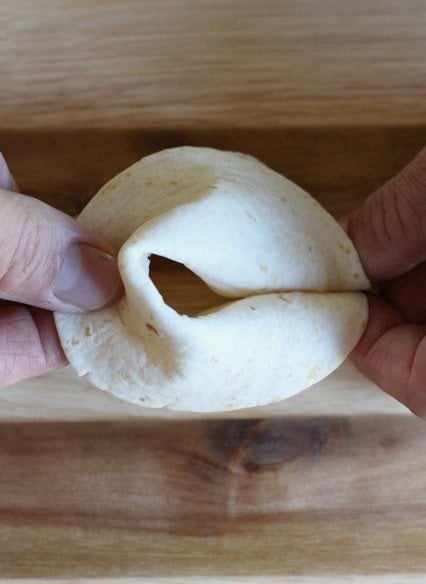 Repeat with the rest of your tortillas and set aside. Heat a heavy bottomed pot with oil, only filling halfway or a third of the way full. Heat the oil over medium heat until the temperature reaches 350 degrees.
Once the oil has come to temperature, add 2 or 3 of the folded tortillas to the oil. Fry 3-4 minutes until golden brown on both sides, you'll have to lip the tortilla over while its frying.
Using a tongs, carefully remove the tortillas from the oil tilting to the sides to drain the oil out. Place on a paper towel lined plate and repeat with the remaining tortillas.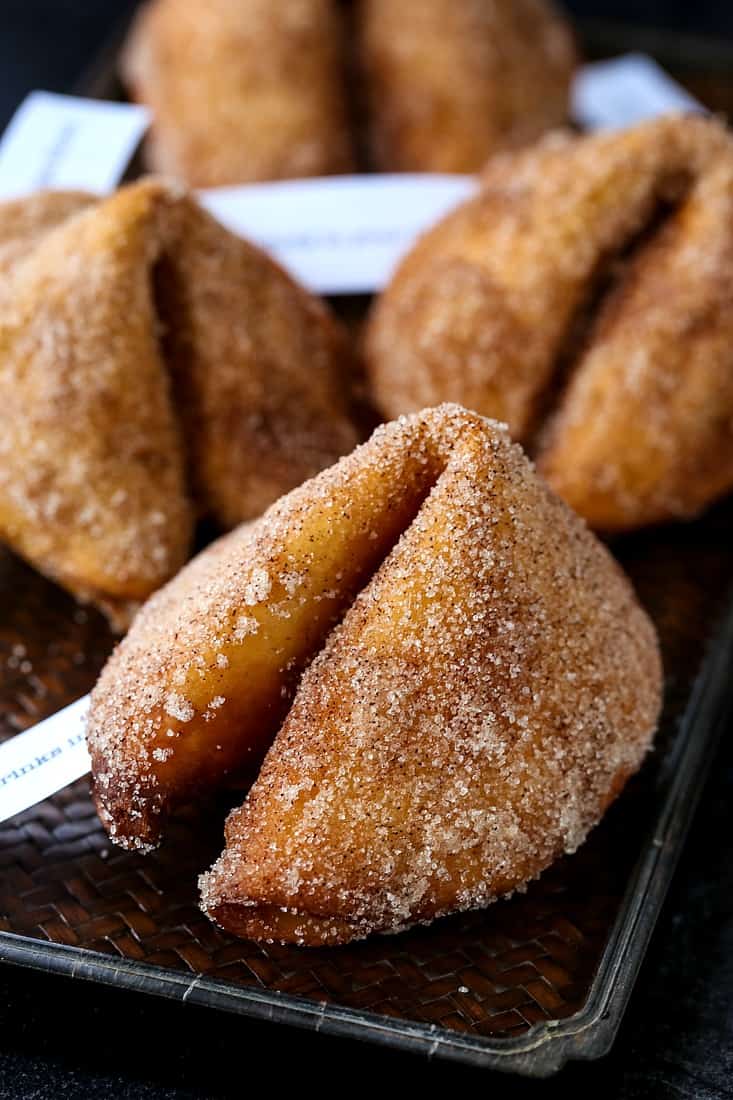 When you've fried all your Homemade Fortune Cookies, brush them with butter and coat them generously with cinnamon sugar.
If you're adding customizable fortunes you can insert them into the edges of the tortilla and have them sticking out like we did. Or you can fold them and place them on the inside so they aren't showing.
How Do I Make Customized Fortunes For These Cookies?
It's so easy to do, you guys won't believe it! Just type out your "fortunes", print them out and cut them into strips! It's as easy as that. The size of your font will depend on how big you're making your Homemade Fortune Cookies. For the size we used in this recipe we used an 8 point font.
PIN IT!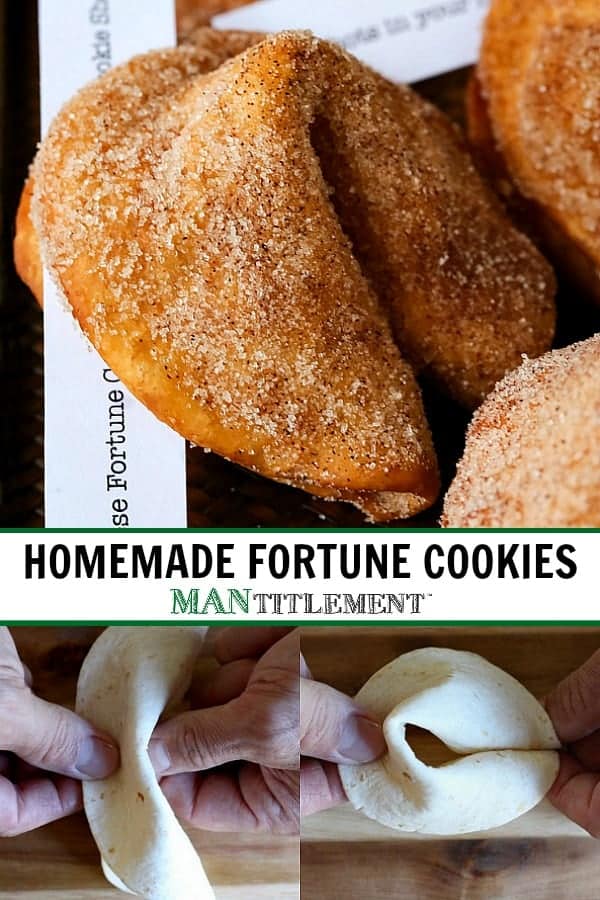 Looking For More Dessert Recipes?
Print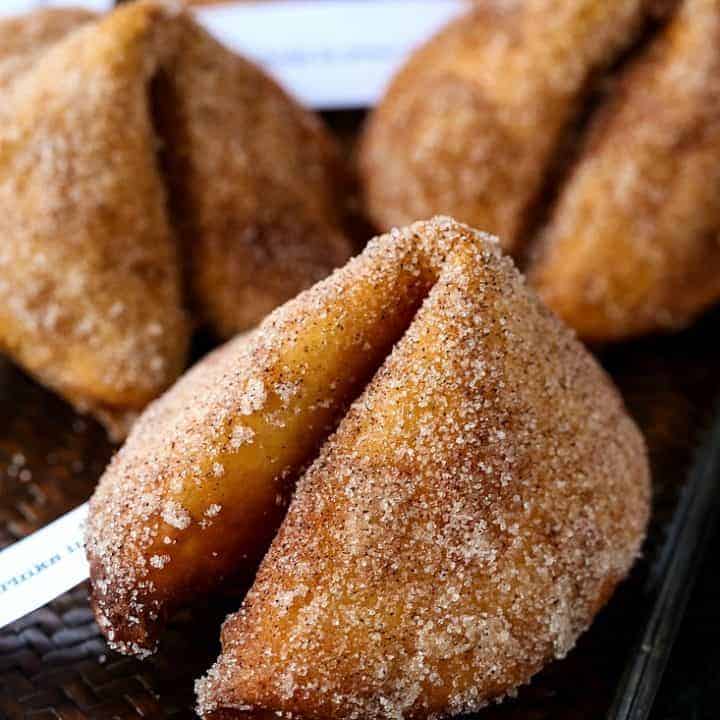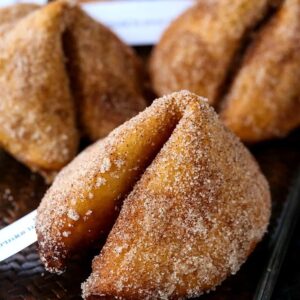 Homemade Fortune Cookies
Author:

Prep Time:

15 minutes

Cook Time:

4 minutes

Total Time:

19 minutes

Yield:

1

2

1

x
These Homemade Fortune Cookies are definitely going to be a hit at your next party! These cinnamon sugar fortune cookies are so easy to make and fun to customize for parties!
Scale
Ingredients
12

Street Taco sized flour tortillas (*See Note)

1

stick of butter

1 cup

sugar mixed with 3 tablespoons ground cinnamon
Toothpicks
Canola or vegetable oil for frying
Instructions
Fill a large, heavy bottomed pot with oil only halfway or a third full. You'll want enough oil to submerge the tortillas but don't fill the pot more than halfway full. Heat over medium heat until the oil reached 350 degrees.
Fold the tortillas in half (check out the pictures in the post for reference) and grab the tortilla in the middle of the arc of the circle side with two fingers. Push the folded side of the tortilla towards the pinched side with your thumb, then bring the ends together to make the shape of a fortune cookie. Secure the ends together with a toothpick.
Repeat with the rest of the tortillas.
Once the oil has come to temperature, carefully add 2 or 3 tortillas to the oil. Fry the tortillas, turning over at least once during cooking, until golden brown on both sides about 3-4 minutes.
Using a metal tongs, lift the tortilla from the oil and drain the oil out from the inside. Be sure to do this well, or you'll have soggy fortune cookies! Place the fried tortillas on a plate lined with paper towels and repeat with the remaining tortillas.
Once all the tortillas are fried, melt the butter and brush on the tops of the tortillas, then coat generously with the cinnamon and sugar mixture.
Once the tortillas have cooled, yo can gently remove the toothpicks. Serve immediately or keep on a loosely covered plate until ready to serve, but these homemade fortune cookies are best served freshly made.
Recipe Notes
You can make and fry the tortillas ahead of time and then coat them with the cinnamon sugar mixture right before serving!
We found that the "street size" tortillas were best for this recipe, but you can use whatever size you want! A giant fortune cookie would be super fun!
Category:

Dessert

Method:

Stove Top

Cuisine:

American
Keywords: homemade fortune cookies, easy fortune cookie recipe, how to make fortune cookies, cinnamon sugar tortillas