These Taco Egg Rolls with Avocado Cream Sauce are always a hit at parties! These crispy, taco flavored, homemade egg rolls are epic appetizers!
We love tao flavored everything! Check out our low carb Naked Sheet Pan Tacos for taco night, or these Pan Fried Beef Tacos that are super crispy on the outside!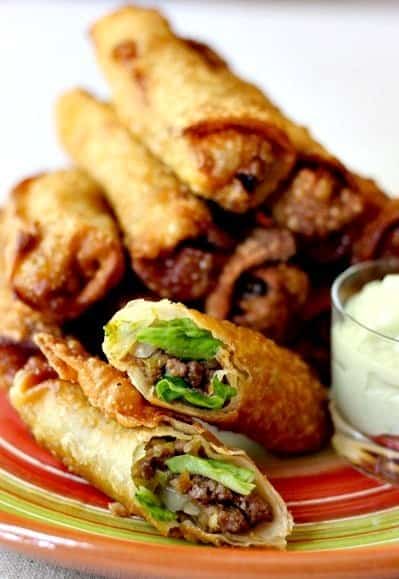 An Epic Appetizer Or Dinner Recipe!
Taco Egg Rolls? Why not. Tacos seem to be everywhere, taco lasagna, taco pizza, taco soup…so let's make some Taco Egg Rolls with Avocado Cream Sauce!
Yes, these have a few steps to them…and yes, they are fried. But they're worth the effort if you're up to the challenge. This beef filled, taco seasoned egg roll recipe is sure to become one of your family favorites. Serve these egg rolls instead of tacos on taco Tuesday, or for appetizers at your next party!
How To Make These Taco Egg Rolls
Start by making the avocado cream sauce. Add an avocado, lime juice, garlic powder, salt and pepper and a little cream to a blender and blend until smooth.
Next get a large skillet and start browning up the ground beef, onions, garlic and a jalapeño. Then add in a few seasonings and stir in some Pepper jack or Monterey jack cheese, depending on how spicy you want the filling to be.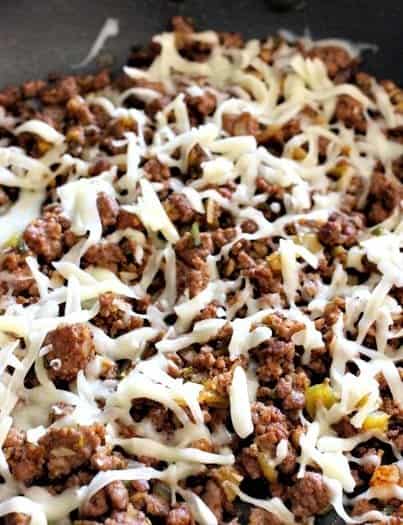 Get out some egg roll wrappers and place a some of the beef filling onto the long side of the wrapper. Add shredded lettuce on top and get ready to roll…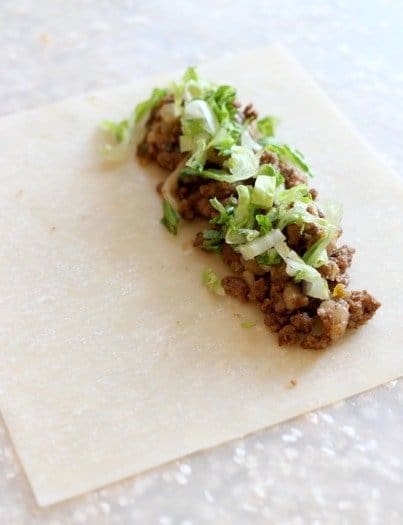 Follow the photo here for tips on rolling the egg rolls. Roll a few times to seal in the filling, then tuck in the sides to keep the filling inside and keep rolling.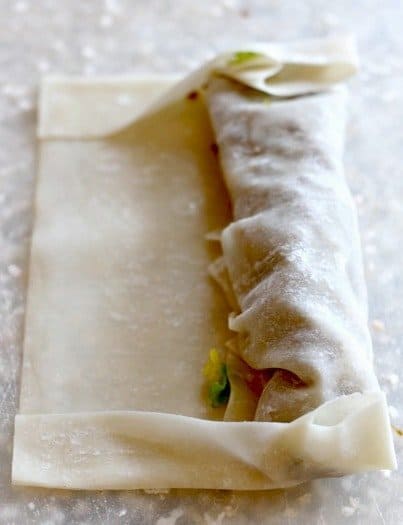 Now it's time for the deep fry! Fry these egg rolls in a pot filled halfway with oil (so the oil doesn't boil over) for about 3-4 minutes until crispy. You can fry the egg rolls a few at a time depending on how big your pot is.
You can also make these Taco Egg Rolls in an air fryer if you have one. We just recently purchased an air fryer and we've been testing all kinds of recipes, they work out pretty well and save a ton of calories.
These egg rolls only take a couple of minutes to fry up to a nice golden brown. When they're done, drain them onto a paper towel lined baking sheet to cool.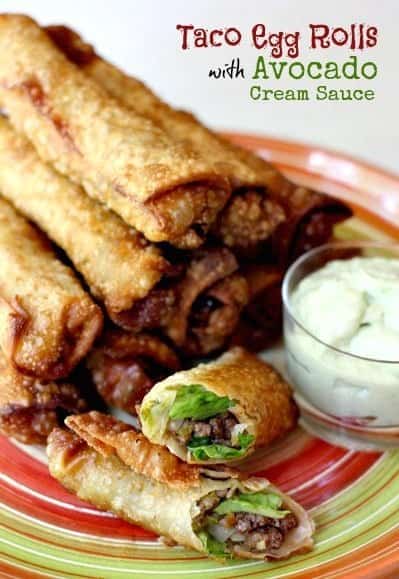 You could serve these up for an appetizer or a fun dinner with the kids. So, what do you think? Are these Taco Egg Rolls Chinese food or Mexican food? I say who cares…either way they'll go great with a nice, cold beer served alongside!
Print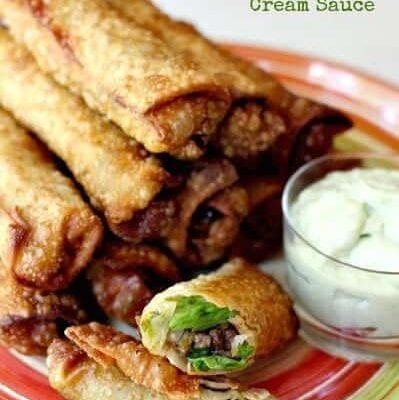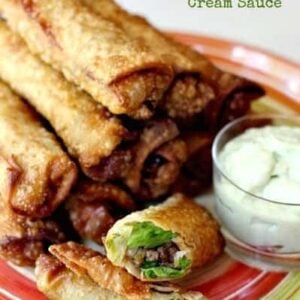 Taco Egg Rolls with Avocado Cream Sauce
Author:

Prep Time:

20 minutes

Cook Time:

15 minutes

Total Time:

35 minutes

Yield:

1

2

1

x
These Taco Egg Rolls with Avocado Cream Sauce are going to be the hit at your next party! These crispy homemade egg rolls are the perfect party food appetizer.
Scale
Ingredients
Avocado Cream Sauce:
1

large, ripe avocado

2 tablespoons

lime juice

1/4 teaspoon

salt

1/8 teaspoon

pepper

1 teaspoon

garlic powder

1/4 cup

cream
For the Egg Rolls:
1

package egg roll wrappers

1

pound ground beef

2 tablespoons

olive oil

1/2 teaspoon

salt

1/2 teaspoon

fresh black pepper

1/3 cup

diced onion

2 teaspoons

chopped garlic

1/2

jalapeño pepper, diced fine

2 tablespoons

taco seasoning

3/4 cup

shredded Monterey Jack cheese (or Pepper Jack)

2 cups

shredded lettuce
Canola or vegetable oil for frying
Instructions
Start by making the avocado cream sauce. Place all the ingredients in a blende and blend until smooth. Taste for seasonings, then cover and place in the refrigerator until ready to use.
Add the olive oil to a skillet and brown the beef, breaking up into small pieces as it cooks. Season with salt and pepper and taco seasoning and then let cook for 8-10 minutes until all the pink is gone. Drain any liquid that is left in the pan.
Next add the onion, garlic and jalapeño to the meat and cook for 4-5 minutes until the onions are softened. Stir in the cheese and set aside.
Fill a large pot half-way with oil and place over medium-high heat until it reaches 350 degrees. While the oil is heating up, you can wrap the egg rolls.
Take an egg roll wrapper and place it on a cutting board. Put about 3 tablespoons of the meat filling in a strip on one side of the wrapper. Add some shredded lettuce to cover the meat, then roll up the egg roll, folding in the edges. Seal with egg wash and repeat with the remaining egg rolls. Check out the pictures in the post for reference.
When the oil comes to temperature, add in 3-4 egg rolls at a time, depending on the size of your pot. Fry the egg rolls for about 3 minutes until golden brown. Remove to a paper towel lined baking sheet and repeat with remaining egg rolls.
Serve with the avocado cream sauce for dipping.
Category:

Appetizer

Method:

Frying

Cuisine:

American
Keywords: homemade egg rolls, taco egg rolls, how to make egg rolls, appetizer recipe, ground beef recipes