Strawberry Compote is one of the easiest and most delicious desserts ever! Fresh strawberries simmered with just two ingredients turn into a thick, sweet, unbelievably addicting sauce that can be spooned over ice cream and so much more!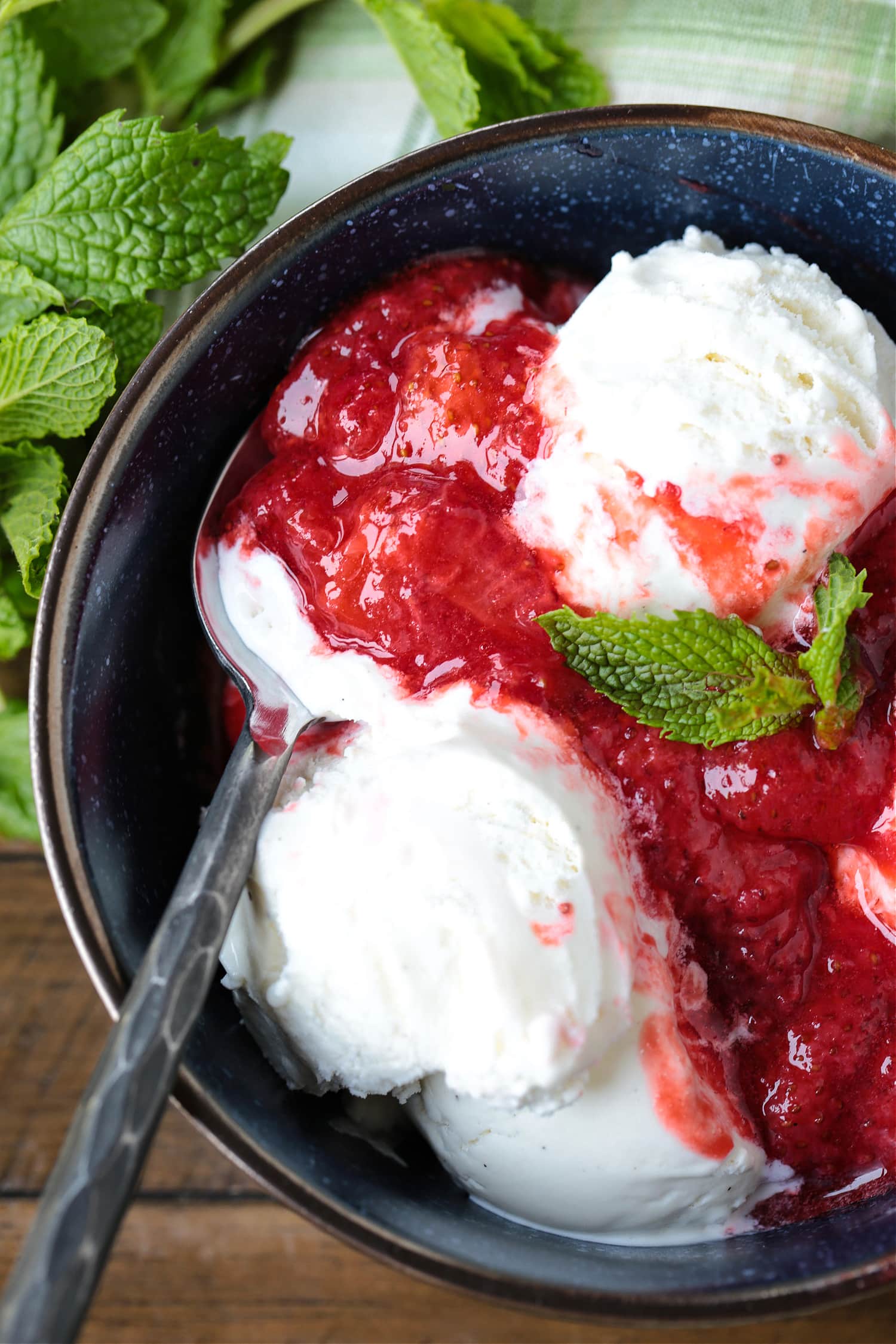 Strawberry Compote Recipe
Strawberry Compote is a nostalgic dessert that brings me right back to my childhood. My mom used to make all kinds of fruit compotes with whatever berries she had on hand. The word "compote" is French for mixture, so in essence it's fruit mixed with sugar that's cooked down into a sauce.
Besides just eating the fruit compote right from the pot, we'd spoon it over ice cream or stir it into oatmeal. Compote can also be used in savory ways, but we'll get into that a little bit later.
The best thing about this strawberry compote – besides how wonderful it tastes – is that it just requires three ingredients. Three ingredients and about 10 minutes and dessert is on the way!
Ingredients For Strawberry Compote
Like we mentioned above, all you need is 3 simple ingredients to make this or any fruit compote recipe!
Fresh Strawberries: You'll need about 1 pound for this recipe, but of course it can easily be doubled or tripled as needed.
Sugar: White, granulated sugar. You might need a little more than 3 tablespoons depending on how sweet the strawberries that you're using are, but 3 tablespoons for 1 pound of berries is a good place to start.
Lemon juice: Just a teaspoon of fresh lemon juice. It won't make the compote taste "lemony", it just adds a fresh, bright flavor to the compote and help to macerate the strawberries.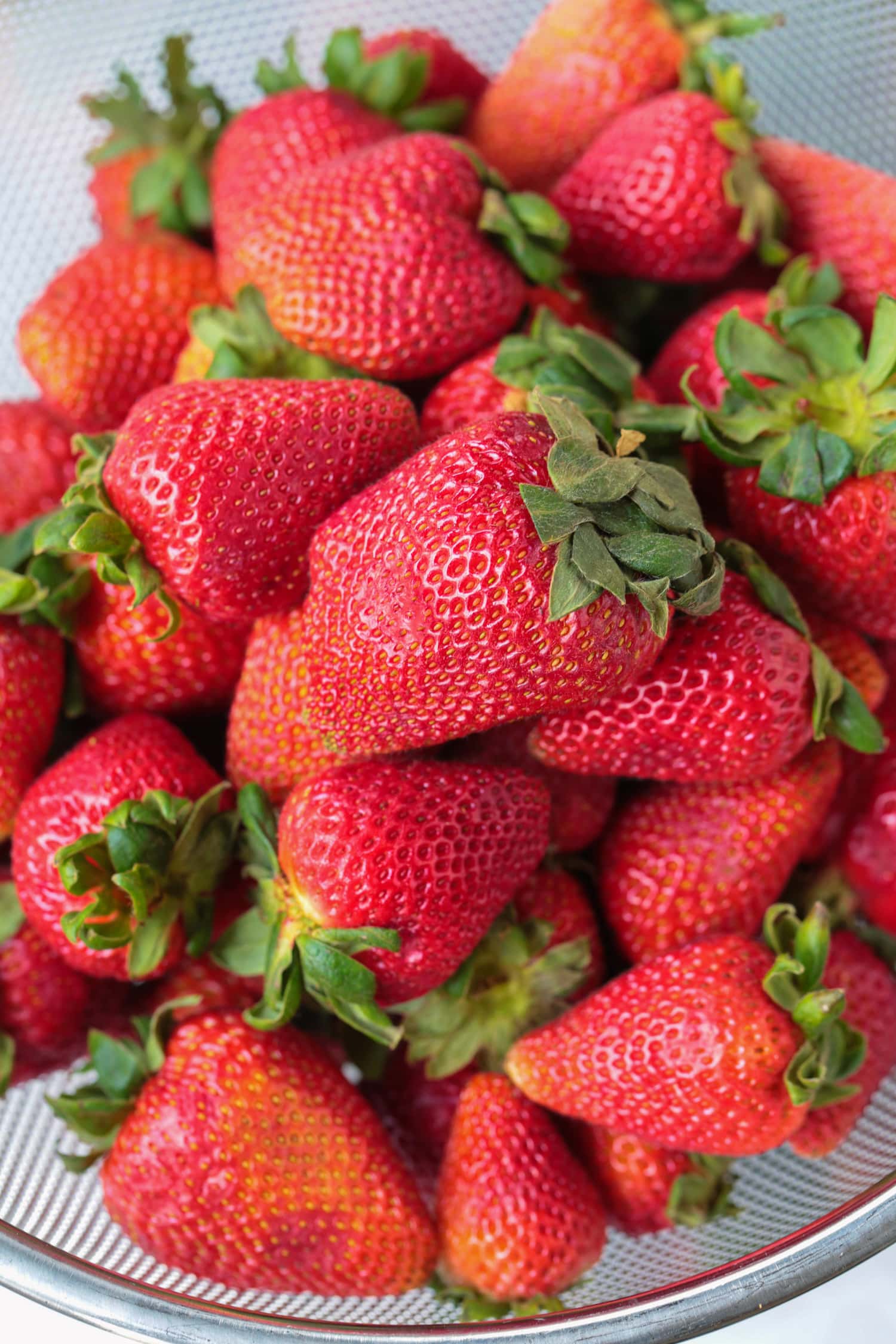 How To Make Compote
Wash and hull the strawberries. Cut into halves or fourths depending on how large your strawberries are.
Place the strawberries into a medium pot along with sugar and lemon juice.
Heat over medium heat, while stirring, for 10-15 minutes until the strawberries have macerated and have turned into a sauce.
Taste the compote to see if more sugar is needed and then let cool slightly. The compote will thick more as it sits.
Spoon over ice cream or use as desired.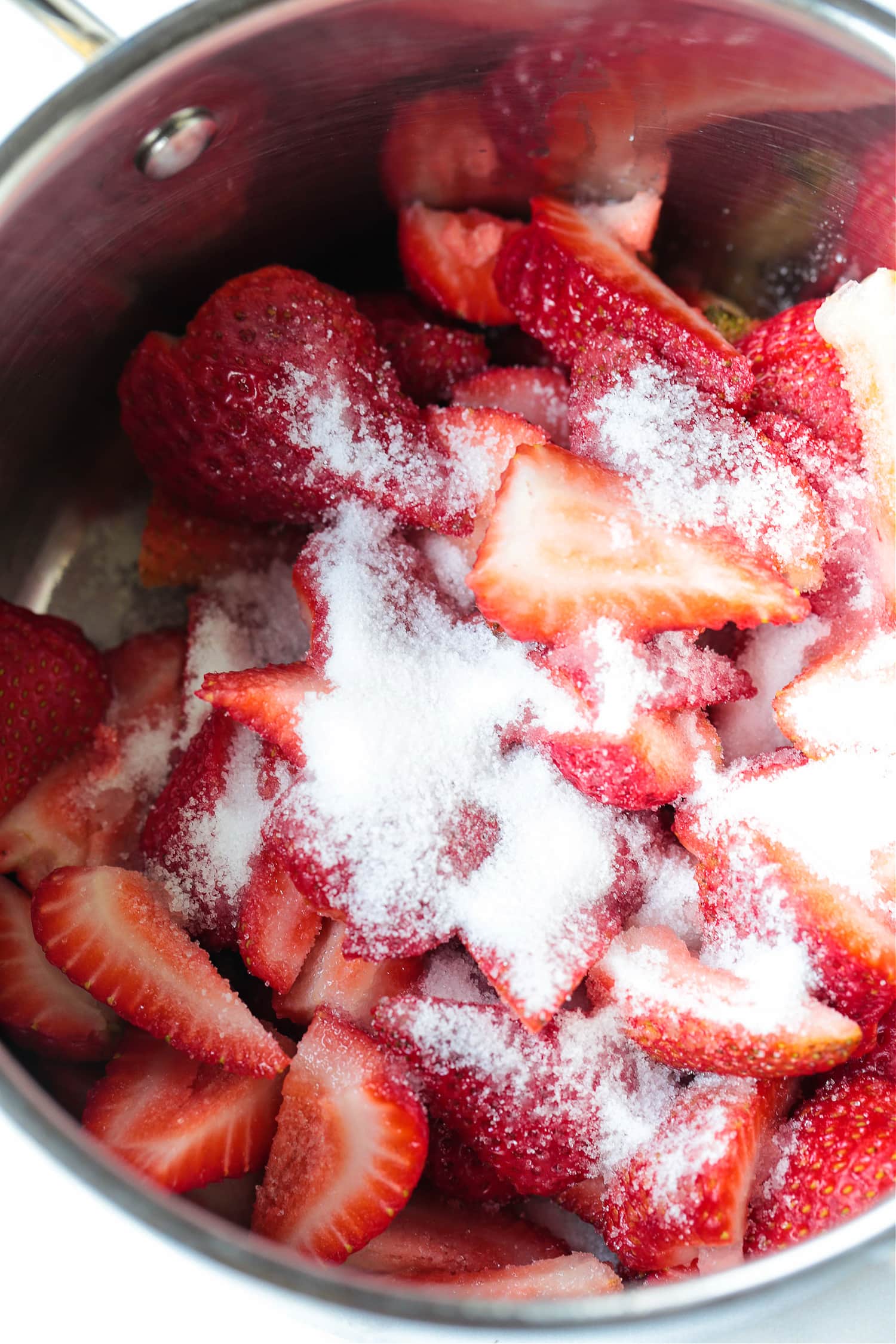 How Is Compote Used?
Spooning warm compote over vanilla ice cream is absolutely our favorite way to enjoy strawberry compote. Of course, you can use any flavor ice cream that you like, too, so don't stop at just vanilla.
But there are also many different ways to use compote! In addition to desserts, compote can be used in savory applications as well!
Add a spoonful or two to your oatmeal with brown sugar and nuts.
Use it as a topping for cheesecake.
Swirl in into yogurt.
Spoon over warm French toast and sprinkle with powdered sugar.
A topping for custard desserts like Creme Brulee.
Spoon over meats like lamb or pork, especially delicious with an apple compote!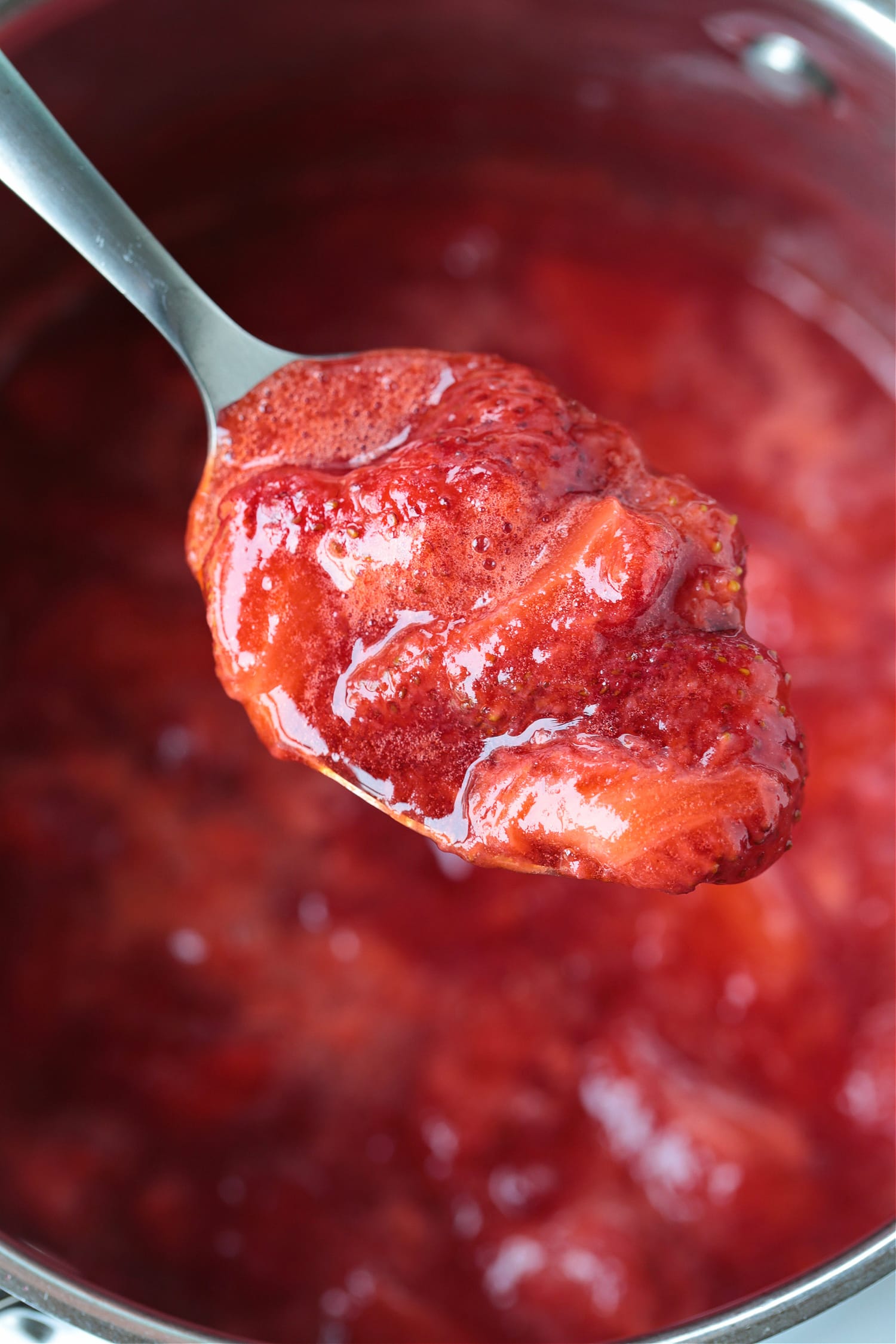 How Long Does Compote Last In The Fridge?
Store fruit compote in an air tight container or a mason jar in the refrigerator for up to two weeks. Because compote lasts so long in the fridge, we often make a double batch.
You can also freeze strawberry compote, or any fruit compote. Freeze in individual portions in the freezer for up to 3 months. Defrost in the refrigerator and then use as desired.
Compote can be easily warmed up in the microwave or on the stove top.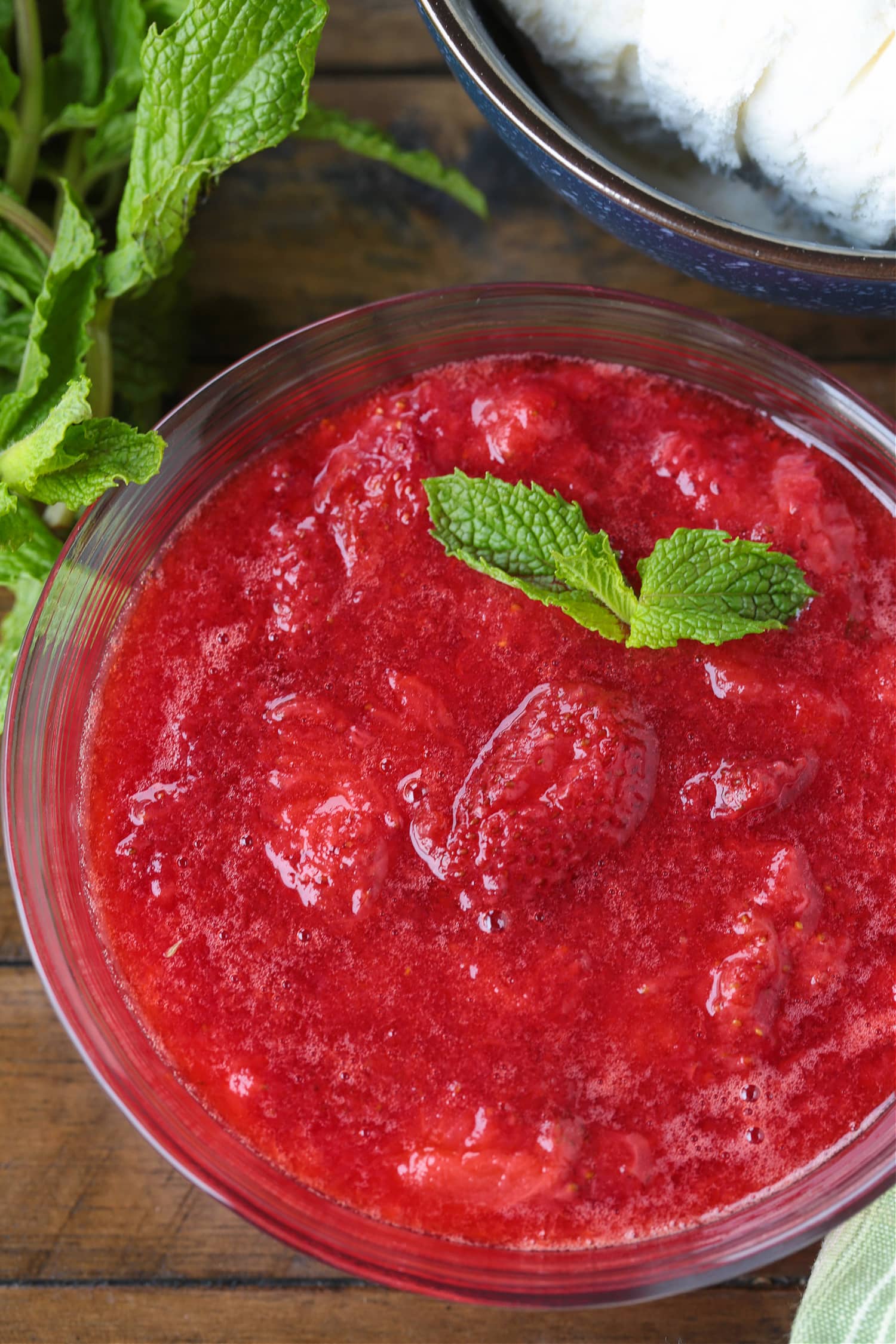 Other Versions Of Fruit Compote
The possibilities are vast. You can make compote with just about any berry and most fruits that you can imagine. Even frozen fruit can be used to make compote!
If you're starting with frozen fruit, you can either defrost the fruit or berries first or just add some extra cooking time.
Other ideas for making compote can include:
Blueberries
Blackberries
Raspberries
Diced, peeled apples
Pineapple
Mangos
Peaches
Rhubarb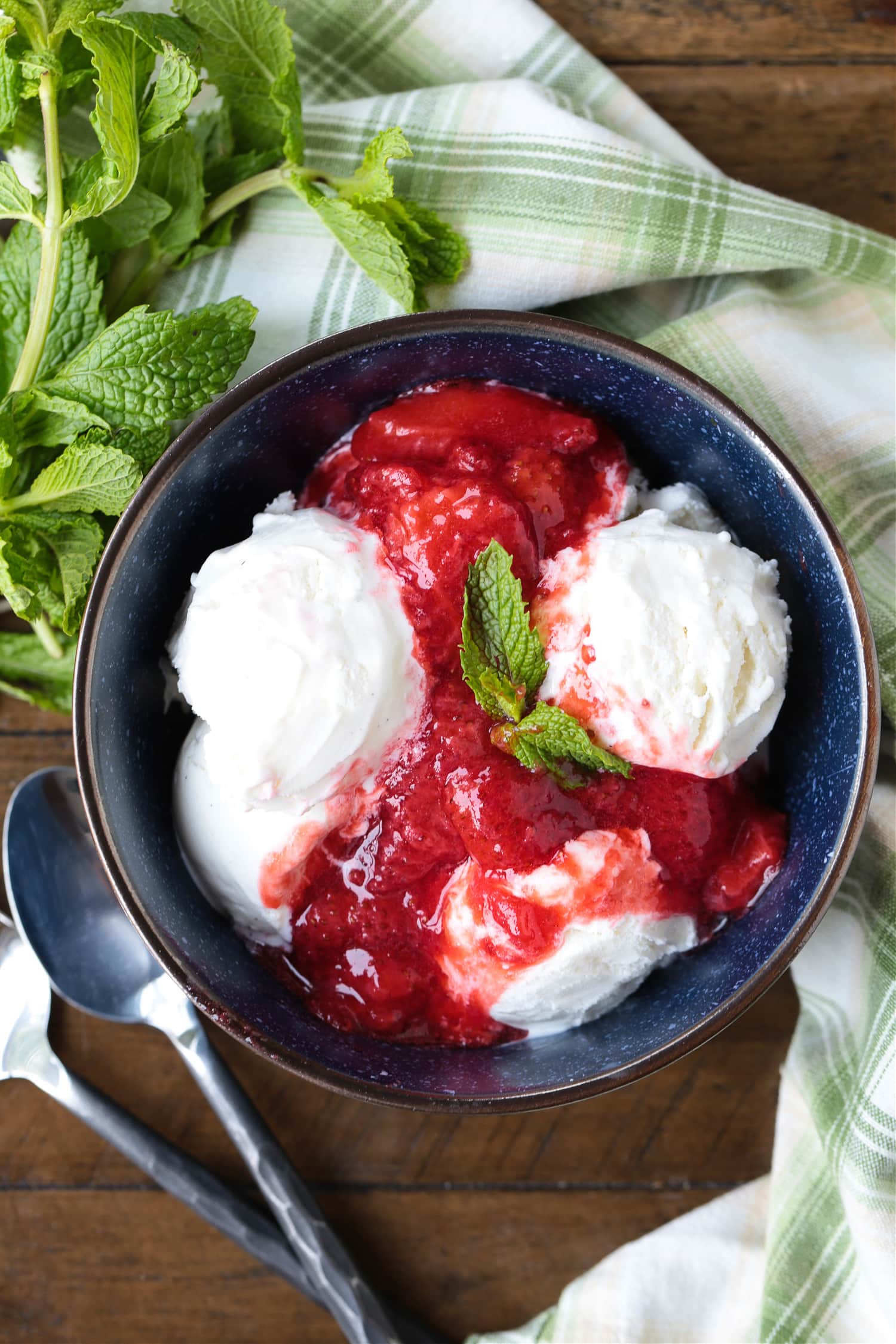 Why We Love This Strawberry Compote Recipe
Some recipes for strawberry compote call for adding different ingredients like orange juice, lemon zest and a cornstarch slurry to thicken the compote.
We like our fruit compote in the purest form to let the strawberry flavor shine through, so we don't use orange juice or any other fruit juice to help it along.
If you don't add other juices to your compote, you really shouldn't need a thickener like cornstarch, either. When the berries cook down they release their natural juices, which combined with the sugar will result in a thick, delicious sauce.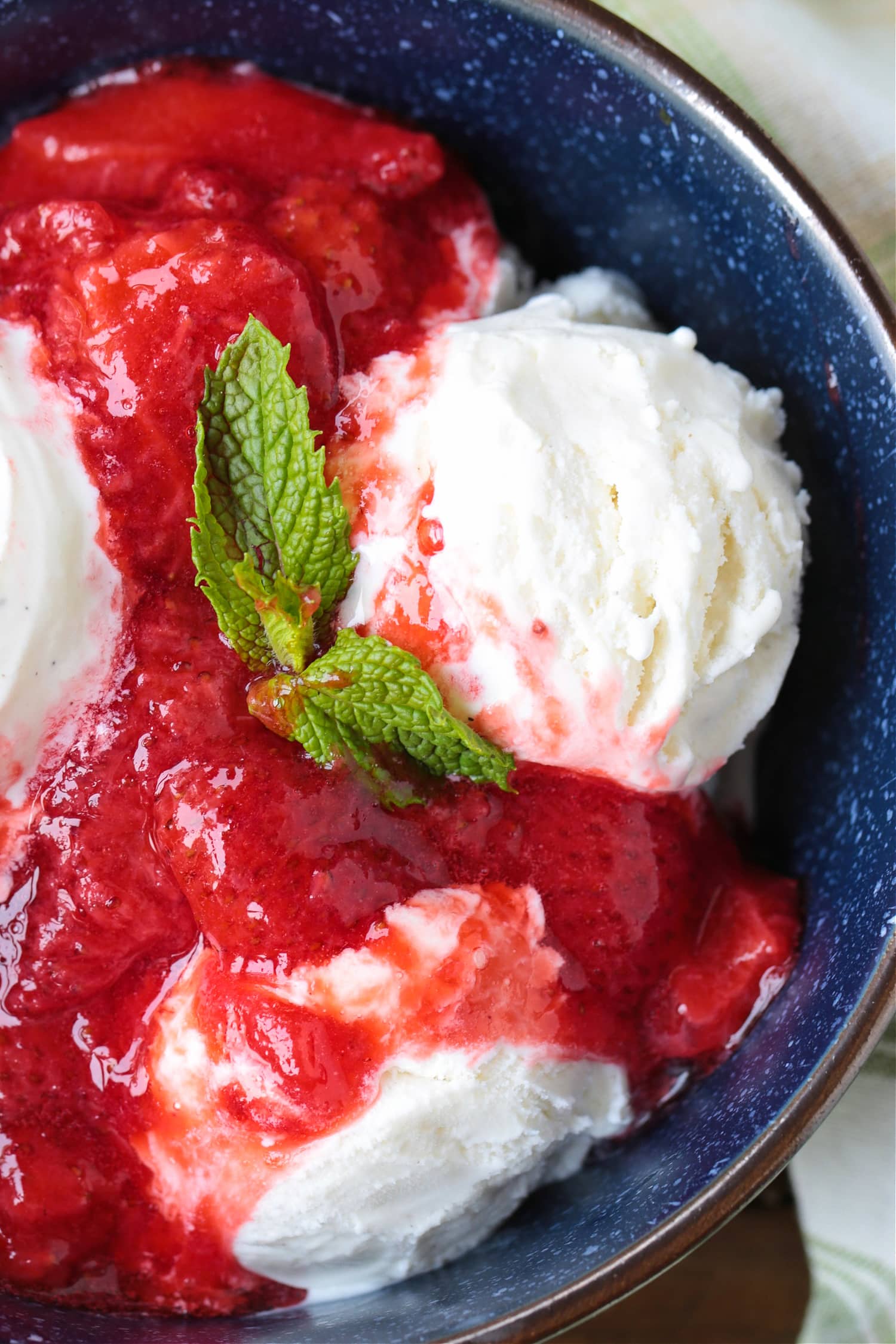 Looking For More Easy Dessert Recipes?
Print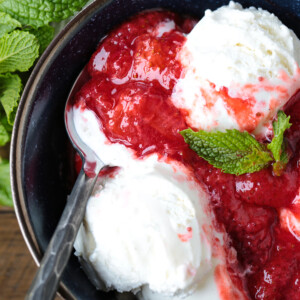 Strawberry Compote
Author:

Prep Time:

5 minutes

Cook Time:

10 minutes

Total Time:

15 minutes

Yield:

4

servings

1

x
This unbelievably easy Strawberry Compote was a favorite of mine growing up! Simmer fresh strawberries for just 10 minutes and they turn into the most delicious, thick sauce that you can spoon over ice cream and so much more!
Scale
Ingredients
1

pound strawberries

3 tablespoons

sugar (maybe a little more depending on how sweet the berries are)

1 teaspoon

lemon juice
Instructions
Hull the strawberries and cut them into halves or fourths depending on how big the berries are and how chunky you want the compote to be.
Add the strawberries to a medium pot with the sugar and lemon juice and stir.
Cook over medium heat, stirring occasionally for 10-15 minutes until the fruit has broken down into a sauce. Taste to see if any more sugar needs to be added and then remove from the heat to cool slightly. The compote will thicken more as it sits.
Recipe Notes
Store: Let the compote cool completely and then store in an air tight container or a mason jar in the refrigerator for up to two weeks.
Freeze: Freeze compote in freezer bags with the air pushed out for up to three months. Defrost in the refrigerator and serve chilled or warm in the microwave before serving.
Category:

Dessert

Method:

Stove Top

Cuisine:

American
Keywords: mantitlement, fruit compote, strawberry compote, easy recipes, easy desserts, strawberry sauce, ice cream topping