These Spicy Dan Dan Noodles are one of my favorite ways to make take out at home! The bonus is that the kids love it too!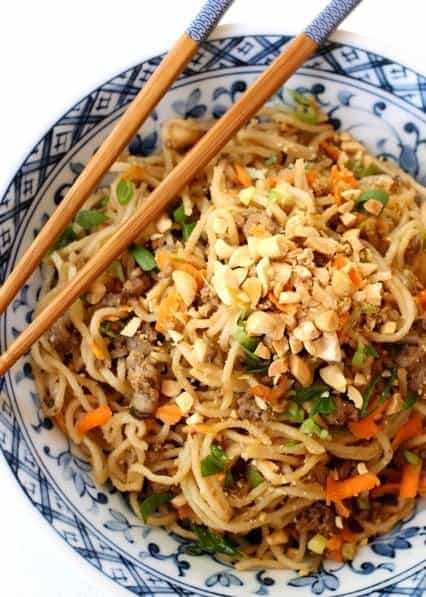 Dan Dan Noodles are actually the real name of a dish, just in case you hadn't heard of them before. Spicy Dan Dan Noodles are the name of my recipe, because I put my own spin on them and made them extra spicy. I'll have to admit that I'm starting to like things with some heat to it.
With the exception of a buffalo wing, I used to stay far away from anything with too much spice to it.
It's just never been something I liked – until now.
Like a lot of other foods I've talked about spicy foods are a new type of food that I started experimenting with.
First a little heat, then a little more, then a little more.
Until finally I inhaled a bowl of these noodles and realized that my mouth was on fire – and then I washed it down with a beer. And then I had some more.
I'm finding out that some recipes just call for a little heat and these Spicy Dan Dan Noodles are one of them.
You can use regular spaghetti if you don't have chinese noodles, whatever you have on hand.
Make up the peanut sauce in your blender or food processor and set it aside until you're ready.
Then just brown up your meat and vegetables, add the cooked noodles and peanut sauce…toss together and let fry a little in your pan and your ready to eat.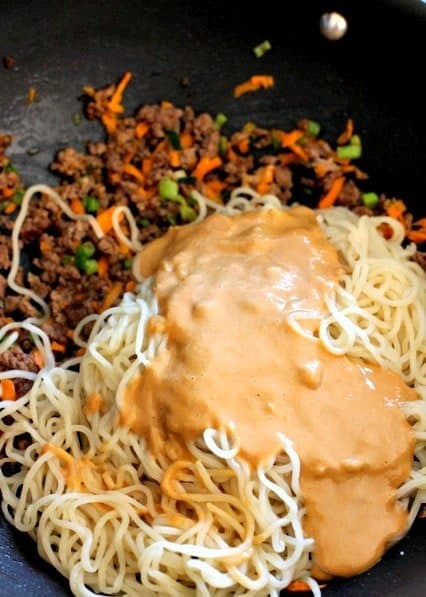 You can totally customize these Spicy Dan Dan Noodles according to what you have in your fridge or the level of heat you like. You can leave out the chili flakes altogether if you really want to. I don't recommend that but if your feeding the kids then maybe…and you can add the spice to your own plate.
This recipe is a great way to use up what you have – don't run out to the store to get ingredients, just use whatever meat is in your freezer…chicken, pork beef, or leave it vegetarian…and if you have broccoli, throw it in. Pea pods, throw them in. You get it – now go and make it!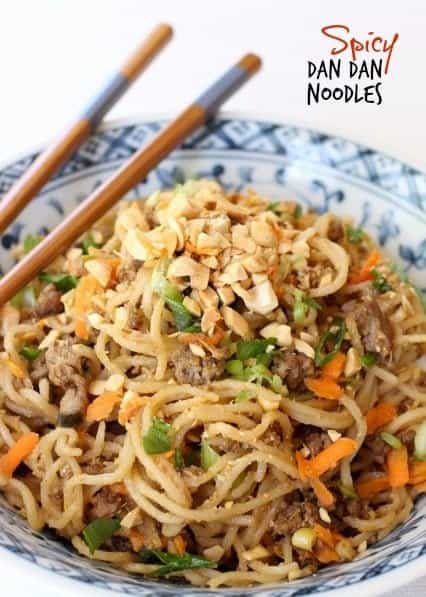 Print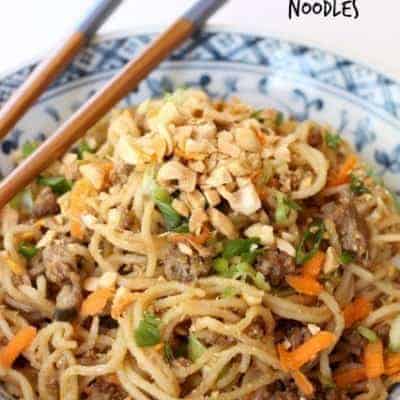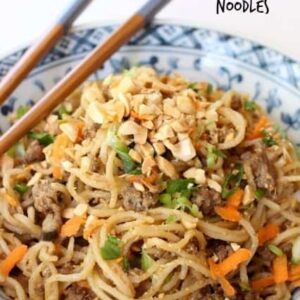 Spicy Dan Dan Noodles
Scale
Ingredients
12 oz

. chinese noodles or spaghetti

1/2

lb. ground beef

1

T. canola or vegetable oil

1/3

c. peanut butter

3

garlic cloves, minced

2

T. fresh grated ginger

2

T. soy sauce

1

T. brown sugar

1

T. sesame oil

1/4 cup

chicken stock

1

T. rice wine vinegar

4

scallions chopped

1

carrot, peeled and grated

1/4

c. chopped peanuts

1 1/2

t. hot chili sauce with garlic

1

t. crushed red pepper flakes
Instructions
Start a large pot of water to boil over high heat.
Once it comes to a boil, add in a small handful of kosher salt and then add your noodles.
Cook 1 minute less than the package instructions, you want them just slightly undercooked.
Drain and set aside.
Add the peanut butter, ginger, garlic, soy sauce, brown sugar, sesame oil, rice wine vinegar, chicken broth and chili sauce to a blender or a food processor and blend until smooth.
Set the sauce aside.
Add the oil to a wok or a large skillet over medium-high heat.
Add in the ground beef and brown, breaking up into small pieces.
Add in the scallions, reserving 2 T. for garnish, and the grated carrots and cook for 2 minutes.
Add your drained noodles and the peanut sauce to the wok and toss together with tongs until well combined.
Let fry for 2 minutes and then transfer to a large platter.
Top with chopped peanuts and reserved scallions.
Recipe Notes
You can substitute ground pork, chicken or turkey instead of the beef, or leave the meat out. Any vegetables would work such as broccoli, snow peas, edamame, bean sprouts, etc.