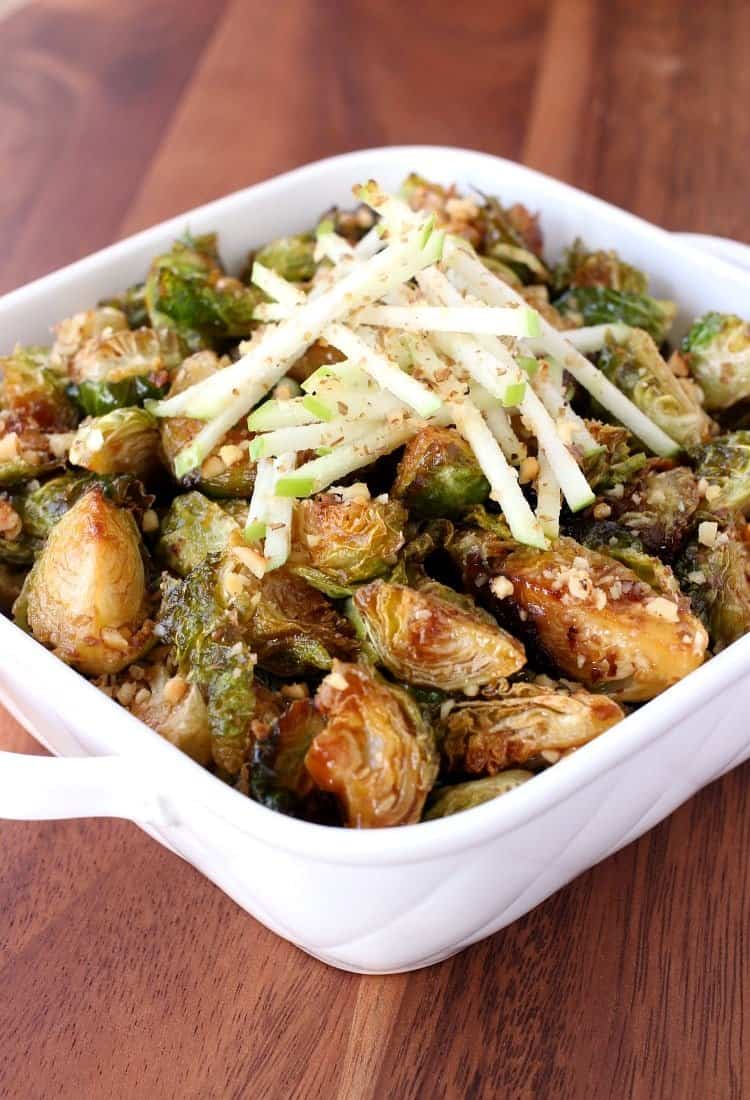 Fried Whiskey Glazed Brussels Sprouts
Fried Whiskey Glazed Brussels Sprouts are what my kind of side dish at Thanksgiving is all about! Sort of healthy…but NOT!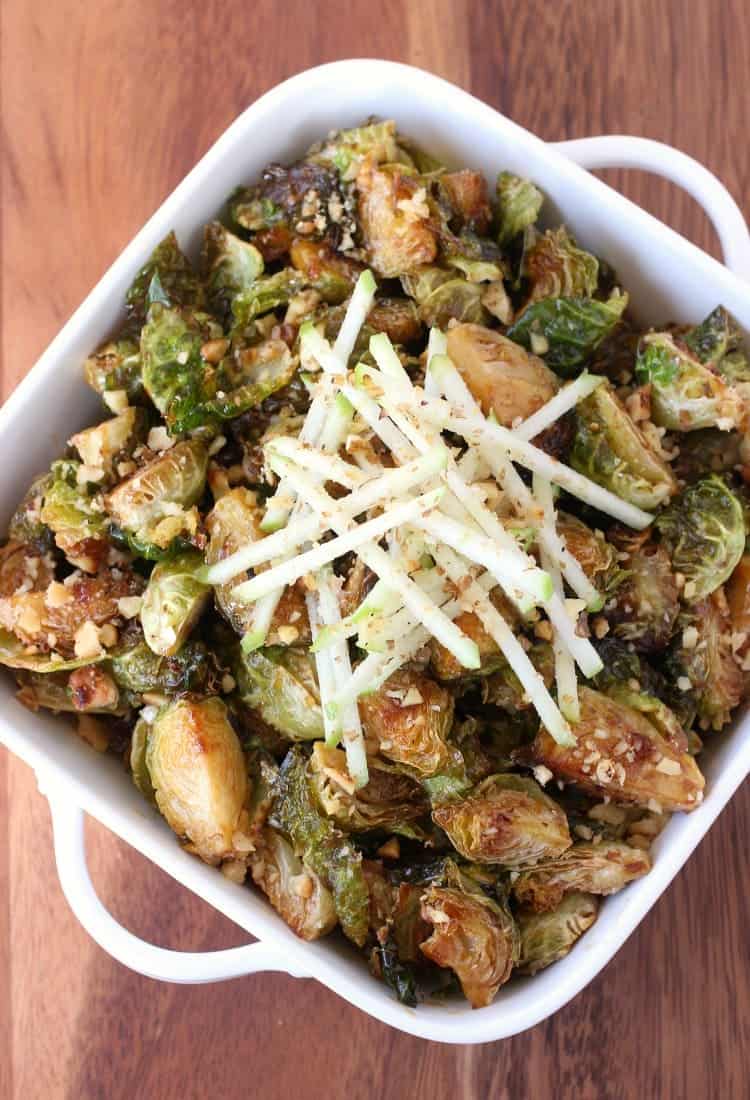 We're not really looking for Thanksgiving to be a healthy meal around my house. We try and eat healthy-ish the rest of the year, the holidays are for splurging.
When I tell you that you have to make these Fried Whiskey Glazed Brussels Sprouts – I'm not kidding. You HAVE to make these brussels.
Throw away any idea that you don't like brussels sprouts. I was a hater too – believe me a few years ago if you told me I'd be cooking and eating brussels sprouts recipes I would have called you a liar.
But it's true. I like them. I like them a lot.
When they're made the right way that is. You can throw them in a stir-fry, I'm good with that. Because really in a stir-fry, it's about the sauce.
Or you can take a brussels sprout recipe and turn it into something that you don't normally see like these buffalo sprouts, I'm also good with most things covered in buffalo sauce.
But if you just roast them naked, no fun stuff on them…I'm probably NOT good with that.
My point is, you gotta make 'em fun.
And I can promise you, these Fried Whiskey Glazed Brussels Sprouts are fun.
The whiskey glaze is what makes this recipe, I'll tell you, you could coat pretty much anything in this whiskey glaze and it'll come out awesome. This time I used Crown Royal Apple instead of regular Crown Royal and it turned out really, really good.
But it's also the fact that these brussels are fried – cause everything tastes better fried – and there's a crunchy thing going on with the walnuts and slivered apples.
Amazingly tasty.
OK here we go…
Start out by heating up the oil in a deep pot.
While the oil is heating up you can throw together the whiskey glaze. It's a few ingredients but it's a dump and cook recipe, it comes together fast.
Now start to chop up those brussels and get them ready to fry. Don't crowd the pot or they won't crisp up right, just take your time here.
Fry them for 3-4 minutes until crispy and browned, them onto a paper towel lined plate to drain.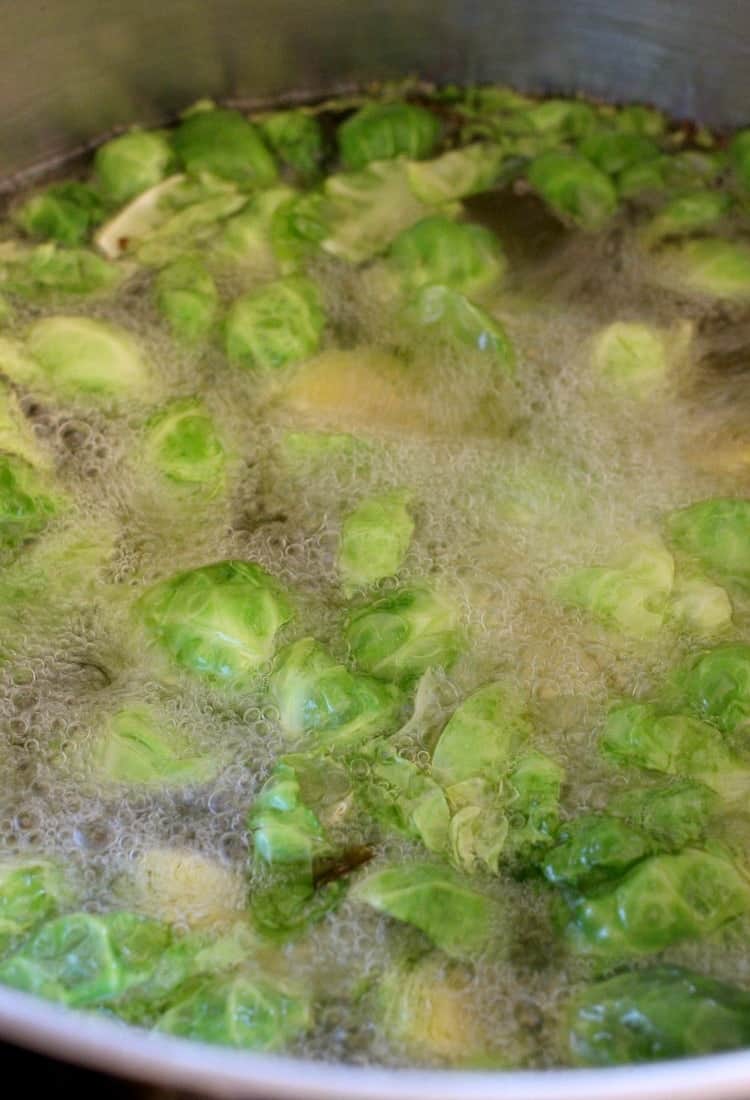 Once you're done frying all the brussels, put them into a large bowl and toss them with the whiskey glaze. You might not need all of the glaze that the recipe makes, so add it a little at a time and stir it together.
Get them on a serving platter and top with chopped walnuts and slivered apples.
And prepare for a round of applause.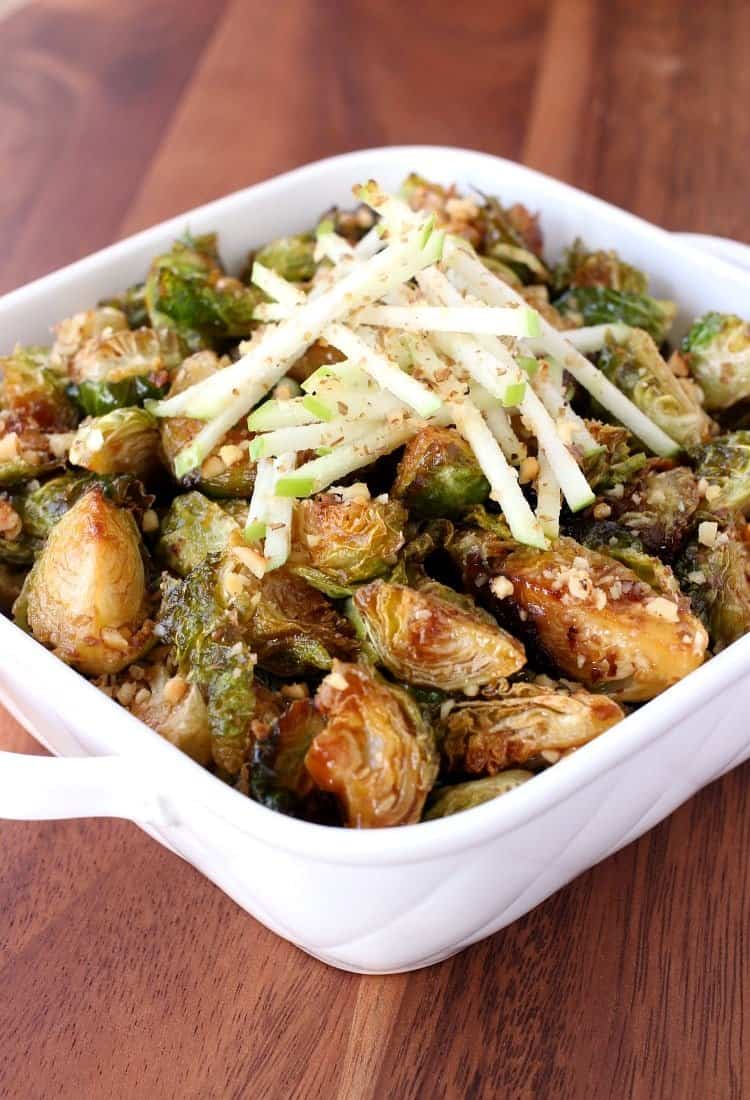 So because I'm thinking you might want to serve this at Thanksgiving, although you definitely don't need to wait for a holiday to make these…I'm going to go over some holiday cooking tips.
This is a recipe that's best served right away. So if it's the one thing that you have to do at the last minute, that's ok. It'll be worth it, your turkey will be done, all your casseroles will be cooking in the oven…there's not much last minute to do at Thanksgiving besides the gravy. So don't let that turn you off making these, somethings are just worth it!
Print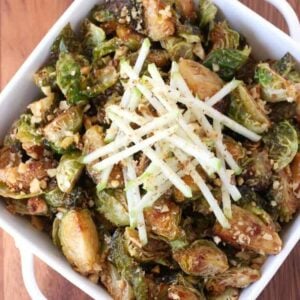 Fried Whiskey Glazed Brussels Sprouts
Author:

Yield:

6

1

x
---
Ingredients
2

lbs. brussels sprouts
vegetable oil for frying

1

granny smith apple, peeled and sliced into thin strips

1 cup

walnuts, chopped
For the Whiskey Glaze
6

cloves of garlic, grated with a hand grater or chopped very fine

1

T. canola oil

1/2

c. water

3/4

c. pineapple juice

3/4

c. brown sugar

1/2

c. teriyaki sauce

1/2

c. Crown Royal Apple Whiskey

1/2

–

1

t. cayenne pepper (depending on how spicy you like the glaze)

1 1/2

T. cornstarch mixed with 1 1/2 T. of water
---
Instructions
Heat a large pot halfway full with oil. You'll want the temperature right around 350, you can use a thermometer or after 15 minutes you can throw in a brussels sprout leaf and see if it bubbles right away.
While the oil is heating up, make the whiskey glaze.
Heat the oil in a small pot then add the chopped garlic.
Cook for a minute then ad the rest of the ingredients for the glaze.
Stir together and bring to a boil.
Once boiling, add the cornstarch mixture and bring back to a boil.
Boil for a minute to let the glaze thicken and the cover and remove from the heat.
Fry the brussels in batches, not overcrowding your pot for about 5 minutes until they are browned and crispy.
Remove to a paper towel lined plate to drain and repeat with the remaining brussels sprouts.
Transfer the sprouts to a large bowl and toss with about a 1/4 cup of the whiskey glaze. You won't need all the glaze so don't dump the whole batch in! You'll have soggy sprouts.
Pour out the glazed sprouts onto a serving platter and top with the apples and walnuts.