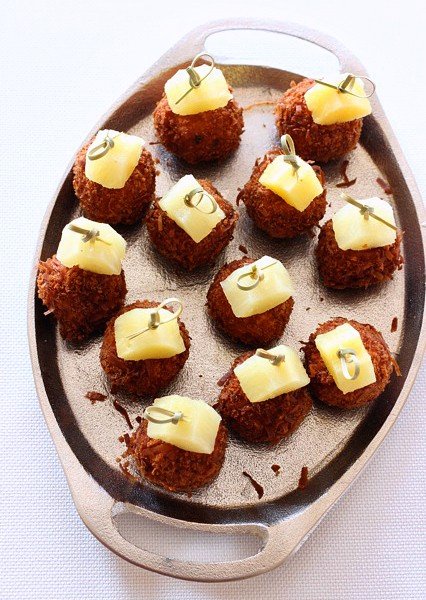 Coconut Chicken Meatballs
These Coconut Chicken Meatballs are crispy and perfectly fried. These juicy chicken meatballs with pineapple can't be beat!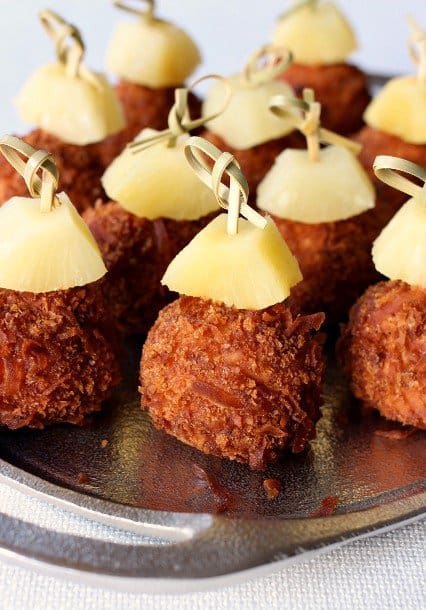 The first thing about fried food is that it needs to be crispy.
Soggy fried food is bad.
One of the things I've learned since cooking in the last year is how to fry something the right way. I had no idea before that there was a right way and a wrong way to fry, but I guess there's a right and wrong way to do just about anything.
Here's how it goes…
Start heating up your pot with oil over medium heat. If you have a thermometer that clips on the side of your pot it's ideal for this recipe. These meatballs fry at a lower temperature than most deep fry recipes. You want the chicken to cook through (obviously) but not burn the coconut in the breading.
Mix up the filling for the meatballs and let the mixture sit in the fridge for a couple of hours to let the flavors all come together.
I used a 1 1/2 tablespoon scoop to and I ended up with about 24 meatballs. I emptied the scoop right into my coconut/breadcrumb mixture and tossed it around before I picked it up. A lot less messier meatball rolling that way.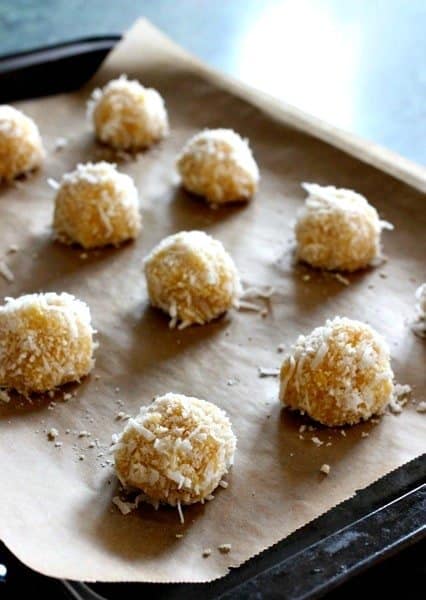 Once the oil gets to about 325 degrees add in your first batch of meatballs. Usually you would fry at a little higher temperature but you don't want the coconut to burn so I knocked the heat down just a little.
Give them 5 minutes, turning them around about halfway through.
Drain the fried meatballs on paper towel lined plates and start your next batch. You might have to wait until your oil comes to temperature again to start frying…just be patient.
You have that whole batch you just cooked to snack on while you're waiting.
Try out these Coconut Chicken meatballs for dinner or you next party – don't be afraid of the deep fry, just deep fry right.
There's even a healthy slice of pineapple on top for you.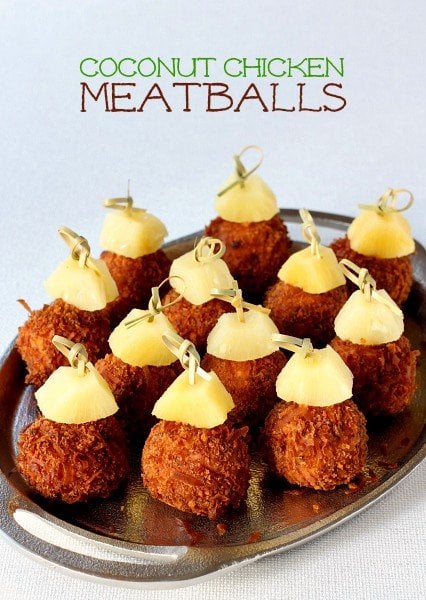 Print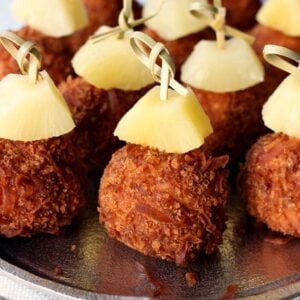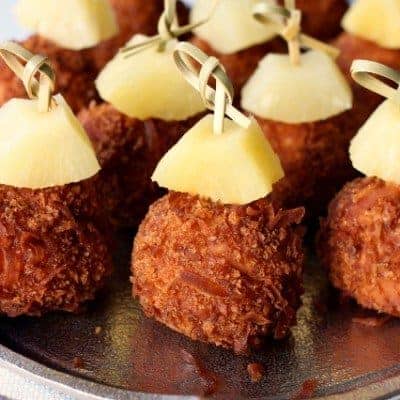 Coconut Chicken Meatballs
---
Description
Makes about 24 meatballs
---
Ingredients
1

lb. ground chicken

2

eggs

1/4

c. crushed pineapple, drained (reserving juice from can)

3/4

c. regular breadcrumbs

1/2

t. garlic powder

1/2

t. onion powder

3/4

t. salt

2

T. reserved pineapple juice

1/2

c. flour

1

c. panko breadcrumbs

1

c. coconut flakes (sweetened)

1

t. coconut extract
vegetable or canola oil for frying
---
Instructions
Mix the ground chicken, 1 egg, crushed pineapple, breadcrumbs, garlic and onion powders, salt and the pineapple juice together in a bowl.
Chill for 2 hours or overnight.
Set a large pot filled halfway with oil to heat over medium heat.
While the oil is heating start scooping out the meatballs.
Set out 3 bowls for coating the meatballs.
One with the other egg mixed with the coconut extract and 1 T. of water.
Another with the flour and another with the panko breadcrumbs and coconut flakes combined together.
Using a 1 1/2 T. scoop, portion out a meatball and dip it first in the flour, shaking off any excess, then in the egg and then in the panko/coconut mixture.
Place on a sheet tray or a board and repeat with the remaining mixture.
Once the oil comes to 325 degrees carefully place in your first batch of meatballs.
How many meatballs per fry will depend on the size pot your using, just be sure not to overcrowd your pot of oil.
Fry the meatballs for 5 minutes, then remove one and cut into it to make sure the mixture is coked through. If it's not, give them another minute and check again.
Place the meatballs on a plate lined with paper towels and repeat until all the meatballs are fried.
Serve with toothpicks and a piece of pineapple for appetizers or serve for dinner with fries or rice.
---
Notes
You can keep these meatballs in the oven at 250º for up to an hour.