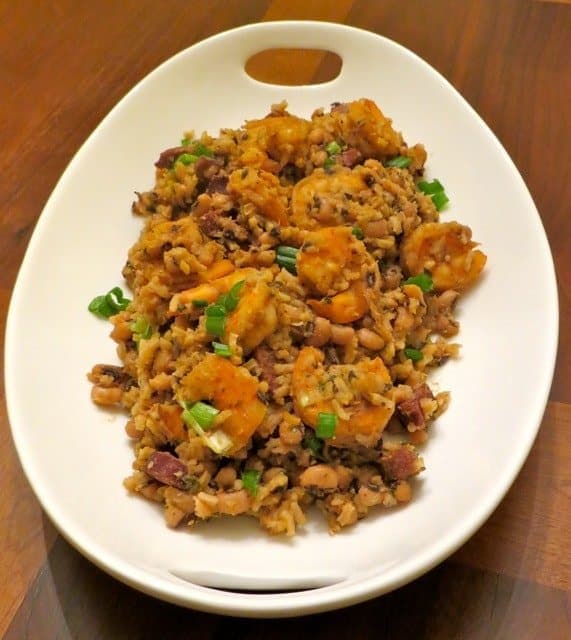 Happy New Years! If you're looking for something to make today, try this Black-Eyed Pea Jambalaya for good luck!
I wanted to post this a little early in case you got the urge to make it for your New Years Day get together. Maybe you might over-indulge a little on New Years Eve? Maybe…if you do, you'll definitely want to make this. It's comfort food with a some spice and a little greasy sausage that I think is exactly what you might need. This recipe for black-eyed pea jambalaya is the perfect thing to make for your New Years Day crowd.
I just recently learned of the whole story behind eating black-eyed peas on New Years Day, how it's supposed to bring you good fortune? Sign me up.
I started looking at recipes right away. There's a really good black-eyed pea salsa that we've made often but that seemed more of a summertime recipe to me…then I found this jambalaya that looked like it might fit the bill.
Usually New Years Day is about nachos and chili for us (and football of course) but after hearing about the black eyed pea tradition, I thought I'd switch things up a bit and go New Orleans style.
I have to admit, I've never made jambalaya before, so this was a first for me! I really liked how it turned out though. A family style dish that you can just dig into. I also thought I was going to get a lot more resistance from my little guys but I didn't! They loved it too. The spice between the little bit of cayenne and the spicy chorizo was perfect. Not too much, not too little. If my five year old can take it…
Get your ingredients together…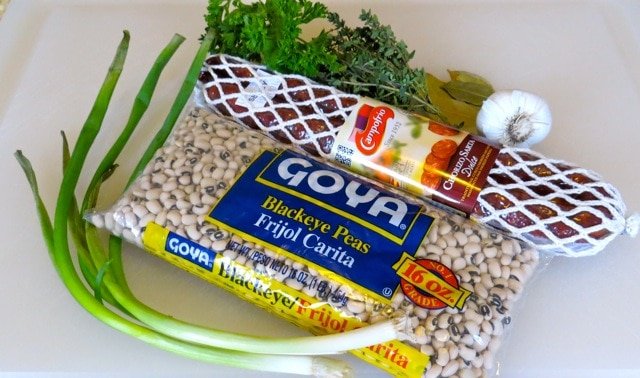 Chop up your onions, garlic, sausage and herbs and let it all simmer with the black-eyed peas for an hour.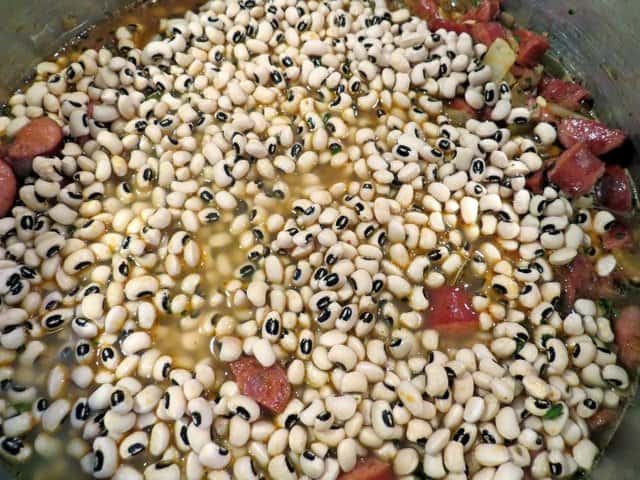 add in your shrimp and rice and just another half an hour 'til your done!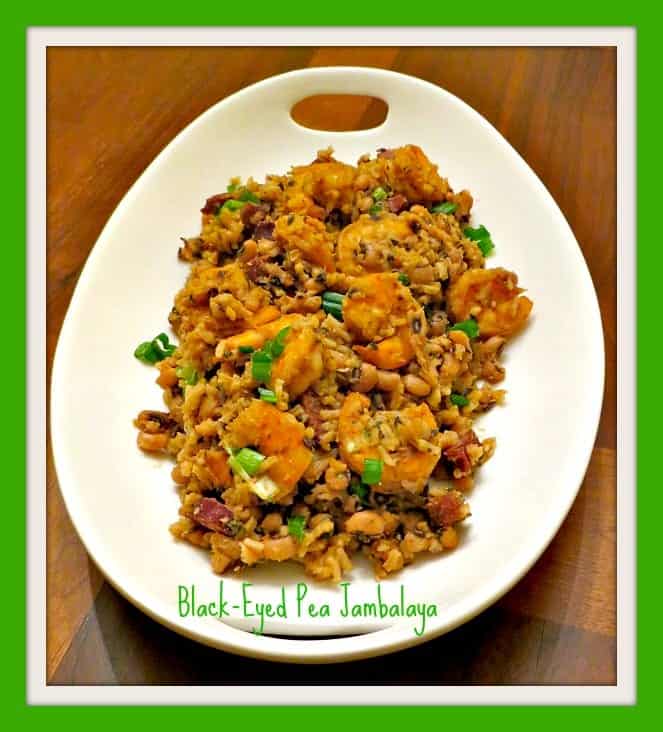 Pretty easy and pretty delicious!
Happy New Year!
Print
Black-Eyed Pea Jambalaya
---
Ingredients
3

T. Olive oil

1/3

lb. Chorizo sausage, cut into

1/2

" pieces

1/3

lb. Smoked Sausage, cut into

1/2

" pieces

1 cup

chopped onion

1/2

t. salt

1/4

t. cayenne pepper

4

cloves garlic, chopped fine

4

bay leaves

5

sprigs of fresh thyme

3

t. finely chopped parsley

12 cup

s chicken stock

1

lb. black-eyed peas

1/2

lb. long grain rice

3/4

lb. medium shrimp, peeled and deveined

1/4 cup

chopped scallions
---
Instructions
Heat the olive oil in a large pot over medium heat. Add your sausages and cook for 5 minutes. Next add in your onions, salt, cayenne, garlic, bay leaves, thyme and parsley. Saute for another 5 minutes until the onions are cooked down. Stir in your chicken stock, black-eyed peas and garlic. Bring to a simmer and cook uncovered for an hour.
After an hour, add in the shrimp and rice.
Cook another 30 minutes until the rice is tender.
Stir in the scallions and serve.
---