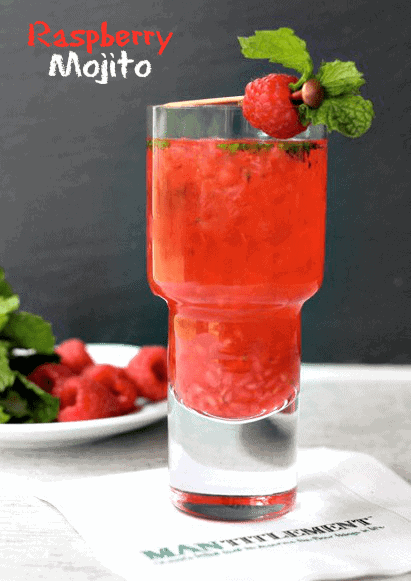 Make yourself a Raspberry Mojito tonight – it's the perfect summertime drink, but really, I'd make these in any season! They're so full of flavor, it's the perfect drink to serve at parties!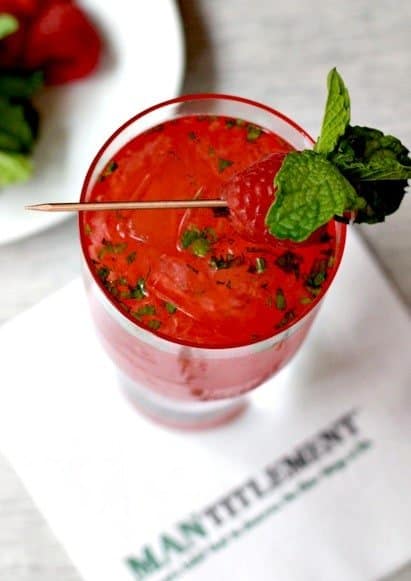 I'm hating that summer is ending. I mean really hating it.
I never feel like we've done enough or spent enough time outside enjoying the warm weather.
But I know that we do enjoy our time during the summer, we're always going somewhere and doing something I guess the whole problem is that it needs to just be longer.
So I figured I'd do one last summer drink before I start getting into the hard cider and the bourbon cocktails…also can't wait for those…but one more summer drink is needed.
We have wild raspberry bushes that pretty much line the whole perimeter of our yard. It's awesome when they're ready for picking and we gets bowls and bowls at at time. You have to literally make a job out of it, if you don't go out and pick them every day the birds and deer (and I'm sure the couple of bear we have running around) have a feast. And you'll get none.
The fresh raspberries are awesome for desserts and ice cream, but even better for making cocktails!
We're always drinking mojitos in the summer when the mint is growing out of control, so one night when we started making up a pitcher I threw in a couple of raspberries with the mint.
Well, it was pretty good. So I made a few more. And a few more after that.
The flavor of the raspberries with the rum and the mint is like summer in a glass to me. Then to make it taste even more like summer, I switched out the regular rum for a coconut rum.
Definitely the right move. Coconut and raspberries, it doesn't get more summery than that.
I'm hanging on the my summer nights with these Raspberry Mojitos…so far it's working!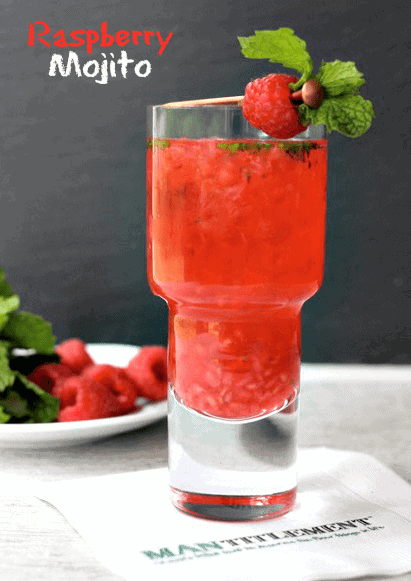 Print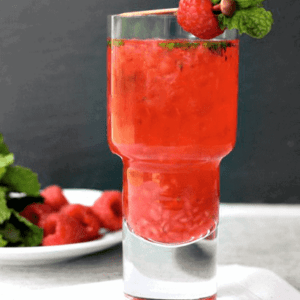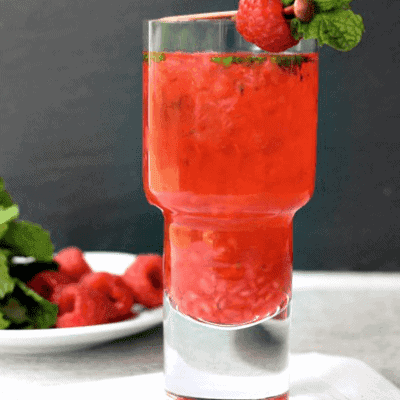 Raspberry Mojito
Yield:

1

1

x
---
Ingredients
1/2 oz

. Raspberry Pucker

2 oz

. Coconut Rum

4

fresh mint leaves

6

raspberries
seltzer for topping
---
Instructions
In the bottom of a cocktail shaker, add the mint leaves and the raspberries and break them up with a wooden spoon.
Add in some ice, coconut rum and the raspberry pucker liquor.
Shake well and pour over ice.
---