This post has been brought to you by Hormel Foods. Thank you for continuing to support the brands that keep me cooking! #TacoGoals #WorkWithHormelFoods #ad
These Oven Baked Korean Beef Tacos are going to be gone in seconds at the dinner table tonight!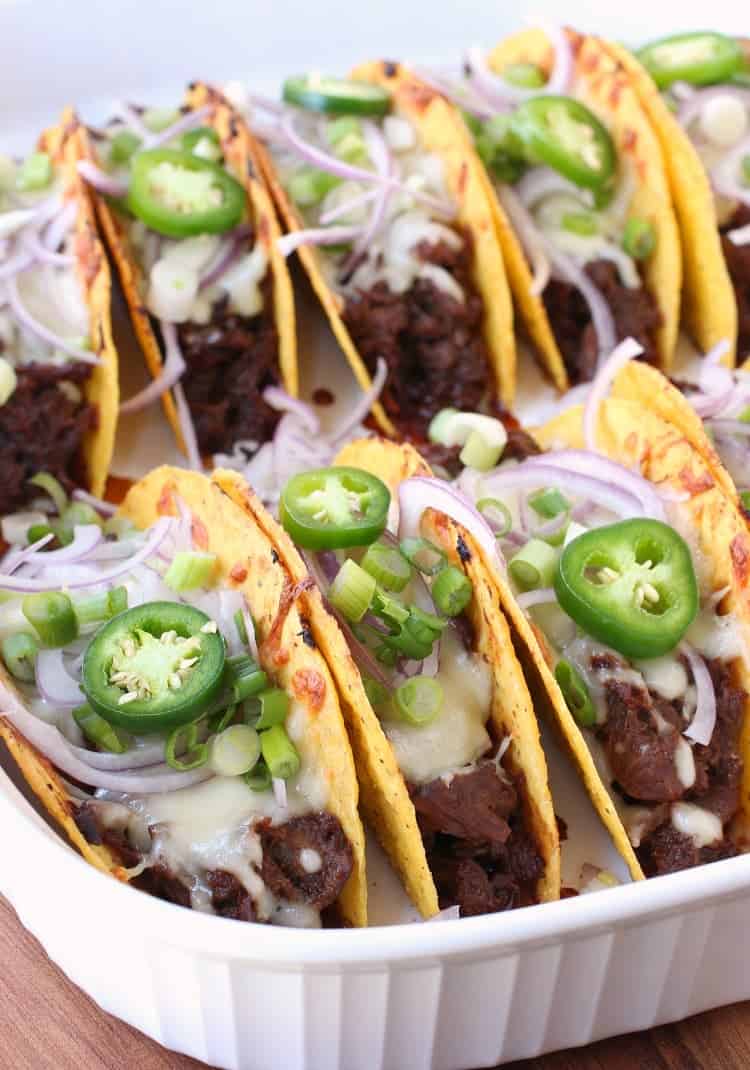 We're not talking just any old tacos here. We're talking Korean Beef tacos. So you've got that sweet and spicy flavor thing happening plus all the cheese…it's a darn good combination
So you might look at this recipe and think, OK that looks great but who's got time to make that??
You do.
You have time even on a weeknight to make these Oven-Baked Korean Beef Tacos. And you're family will thank you, trust me.
The key to making these tacos so tasty and so easy is starting with new HORMEL® Taco Meats. These pre-cooked, already seasoned 100% natural meats come in a variety of flavors, shredded beef, shredded chicken, shredded pork and beef crumbles. I say all of the above would work perfectly for these tacos, but today we're going with the shredded beef.
Now, as I said, this taco meat already comes seasoned. You don't have to do a thing to it – just heat it up in the oven or the microwave and you're good to go. But today we're going to use that product to help us get to a totally kicked up taco with very little effort.
These few ingredients are literally all you'll need to get this killer taco dinner on the table…and really, the limes are optional so if you don't have them don't run out to the store and get them, you'll be fine.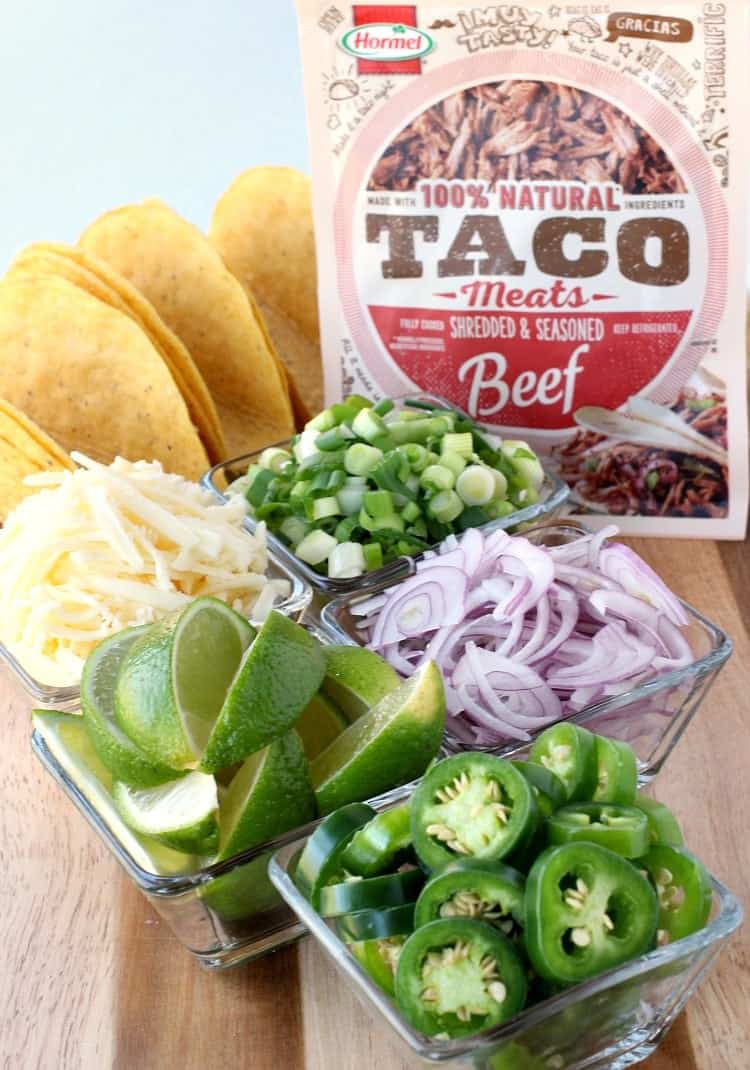 Start by making a simple sauce to pour over the beef….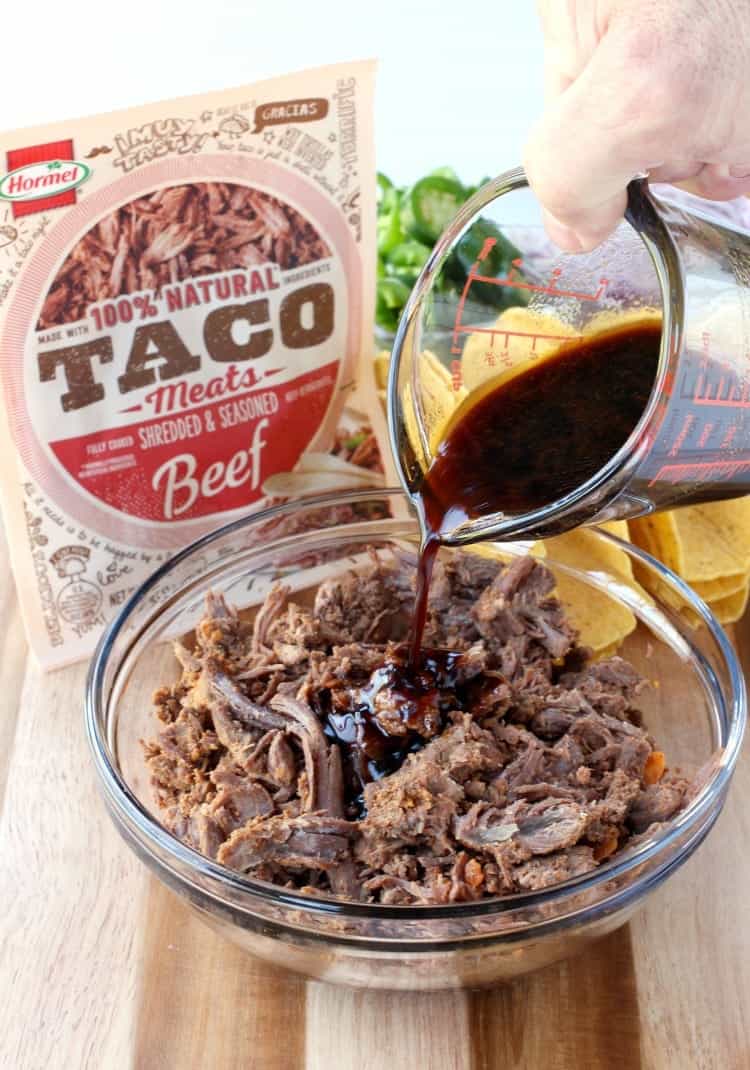 Soy sauce, fresh ginger, sesame oil and brown sugar. Whisk it together and pour it all over the meat.
And that's your taco filling all ready to go. You don't need to do anything else to it – we're making oven baked tacos today so it'll heat up as the tacos cook.
Pretty genius, right? And just wait until you try them.
Fill up your taco shells about 3/4 full with the meat. I want a full taco shell here, I'm not going to skimp on the meat at all.
Top each taco with monterey jack cheese and get it in the oven.
These tacos only need to bake for about 12 minutes since all you're really doing is heating up the beef, melting the cheese and toasting the taco shells. If you've never tried and oven baked taco before, I suggest you do just for that reason – the crispy, toasted taco shells. It really makes a huge difference in the flavor of the taco.
When these tacos come out of the oven get ready to top them with chopped scallions, thinly sliced red onion and a few jalapeños.
Perfectly seasoned, oven-baked #TacoGoals perfection – all in less than 20 minutes!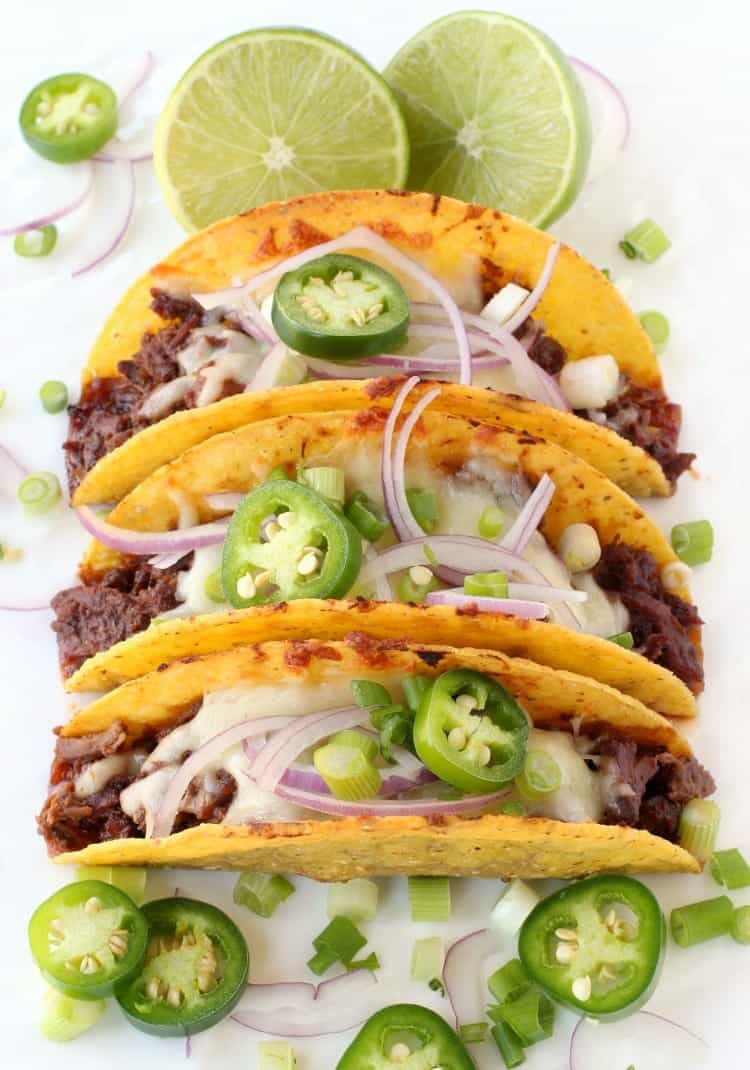 Not that this recipe isn't enough to get you to run out and get some HORMEL® Taco Meats, but they're also having a giveaway! The prize includes:
(2) packages HORMEL Taco Meats
(2) Taco Truck Taco Holders
(4) Mini-Toppings Bowls
A custom #TacoGoals table runner
#TacoGoals stickers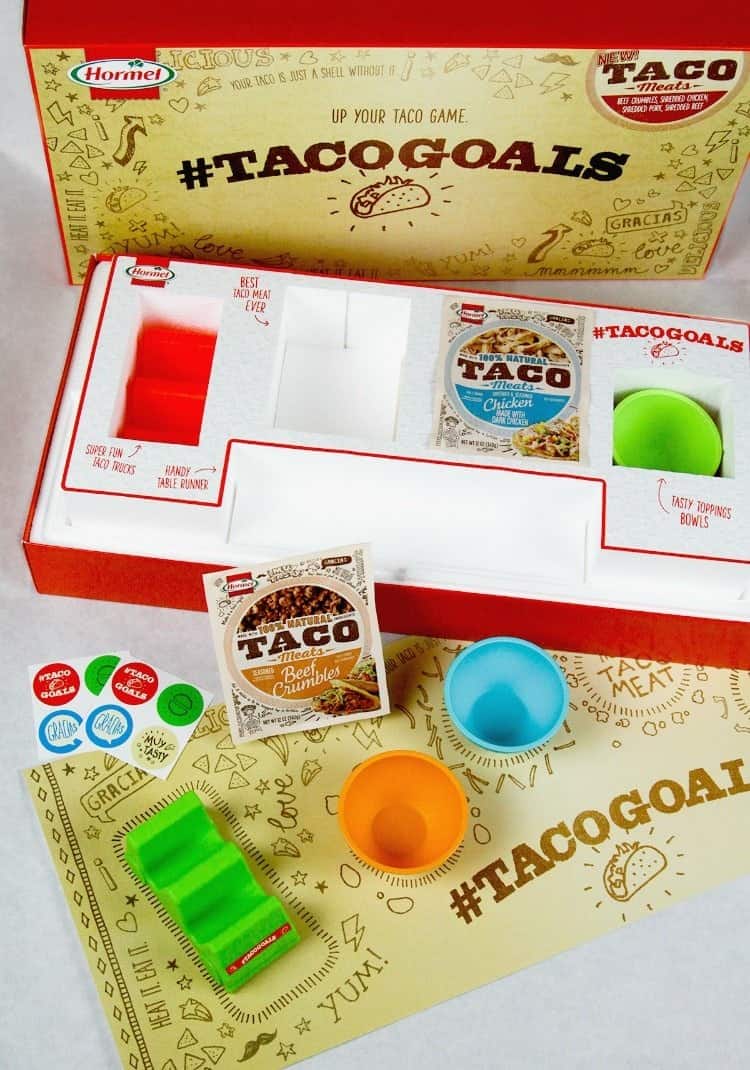 All you have to do to enter is leave a comment below! Tell me anything – how much you love this recipe:), what variety of Taco Meats your going to try first, or what your creative recipe idea is!
Print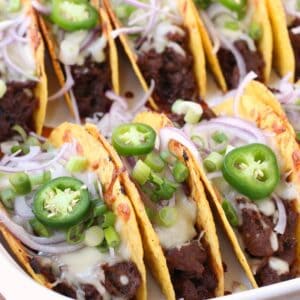 Oven Baked Korean Beef Tacos
Scale
Ingredients
2

packages HORMEL® Taco Meats Shredded Beef

1

(10 count) package taco shells

4 cups

shredded monterey jack cheese
For the sauce
3/4 cup

soy sauce

1/4 cup

brown sugar

1/2 teaspoon

cayenne

1 tablespoon

fresh ginger

1 1/2 tablespoons

sesame oil
For garnish
2

bunches scallions, chopped

1

large red onion, thinly sliced

4

jalapeños, sliced
Instructions
Preheat the oven to 400 degrees.
Place the shredded beef into a large bowl.
Mix the sauce ingredients together and pour over the beef, toss to combine.
In a 9″ x 13″ baking dish, add 10 taco shells in two rows.
Fill 3/4 full with the beef and then top each taco with cheese.
Bake for 12 minutes until the cheese is melted and the beef is warmed through.
Top each taco with scallions, onion and a couple jalapeño slices.