These Fish Tacos with Tomato Salsa and Fresh Watercress Sauce are loaded with flavor and fresh, healthy ingredients for a dinner you'll feel good about!
This post has been brought to you by Watercress Life®, thank you for supporting the brands that keep these recipes coming!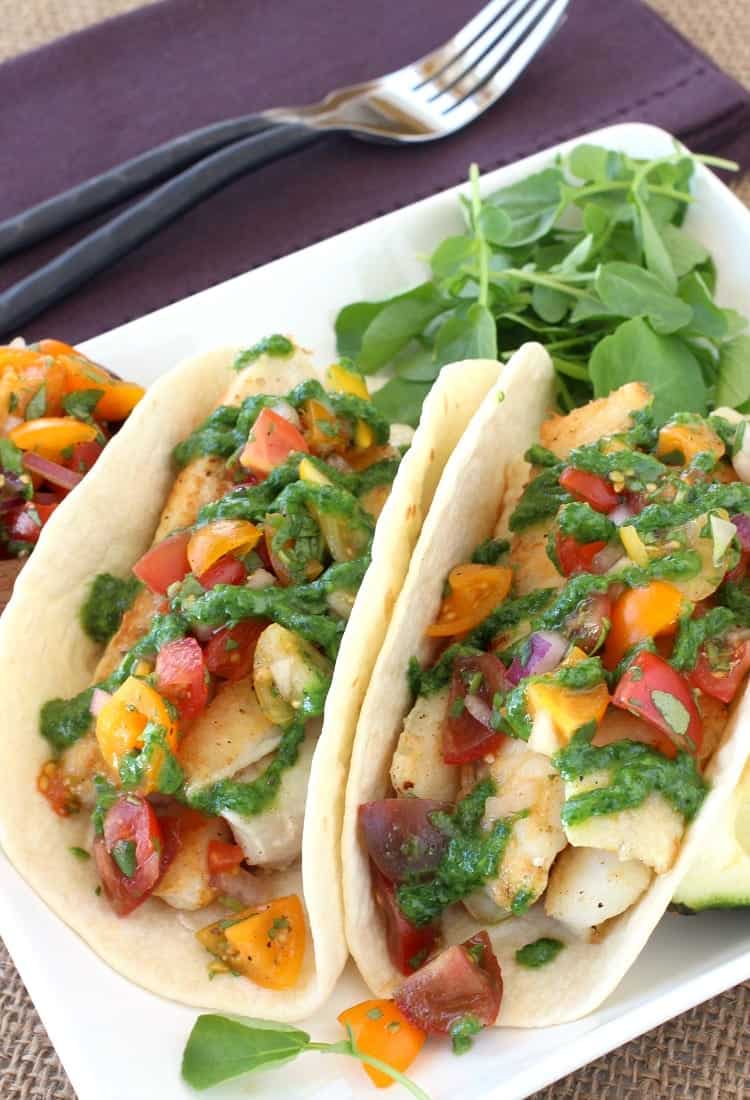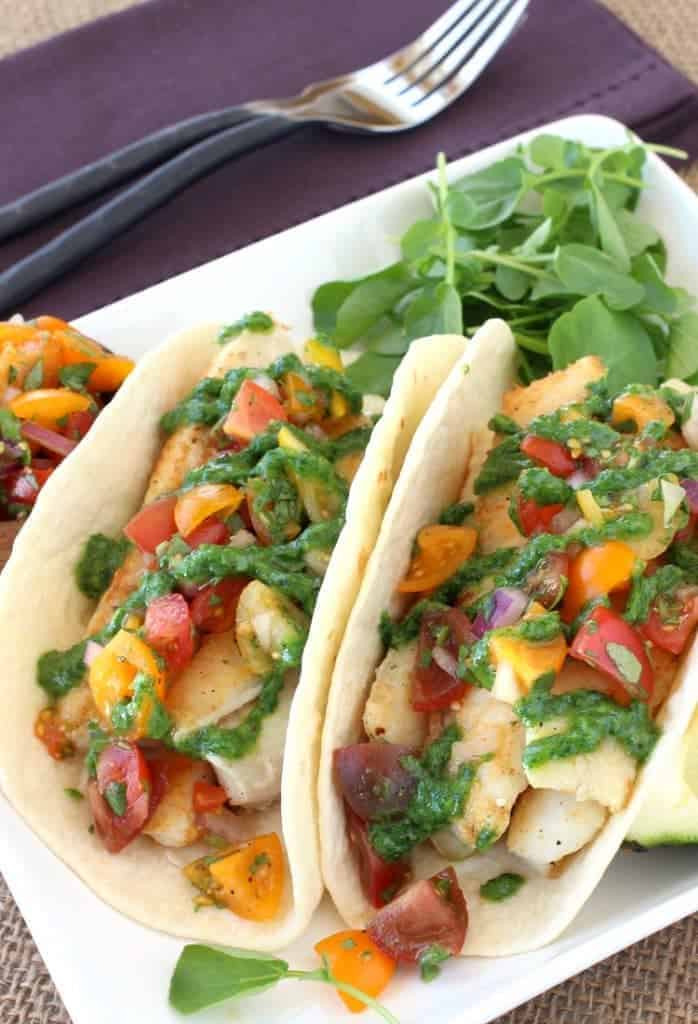 Fish Tacos
We took a trip back in November to St. John in the Virgin Islands and we ate fish tacos almost every night. I'm not kidding you, either – I'd say 5 nights out of 7 I ate a fish taco.
They were so fresh and simple and I have to tell you, after a hot day on the beach and a few cold beers in my hand, those fish tacos were the best thing ever.
We all missed them so much we've been making a lot of fish tacos since we've been home…then I thought it was time to put my own twist on our favorite tacos from vacation, so I came up with this delicious fish taco recipe.
It's got your protein, plenty of vegetables and some carbs from the tortilla. It's a complete meal that you can hold in your hand and even eat on the go which we do a lot around my house.
But this dinner proves that eating on the go doesn't have to mean a slice of pizza or mac and cheese from a box. And in addition to it being healthy and delicious…they're also easy to make.
How Do You Make Fish Tacos?
You can use a variety of fish for these fish tacos, any mild white fish will do. Even salmon will work if that looks good at the fish counter. You could also swap out corn tortillas or a crispy taco shell, totally up to you.
What you do have to make is the tomato salsa and the fresh watercress sauce. That's what takes these tacos to the next level.
When I was looking for ingredients for this taco recipe, I came across watercress in the produce aisle. Watercress is a peppery, leafy green and it's loaded with tons of health benefits.
It's an excellent source of vitamins A, K and C, one of the most nutrient dense vegetables actually. All packed away in that little leaf.
And it's really, really tasty.
On sandwiches, in salads, on pizza…on these tacos…we've found tons of new ways to use watercress and we're loving it.
Just grab a bag of B&W Watercress and a few other fresh ingredients from the store.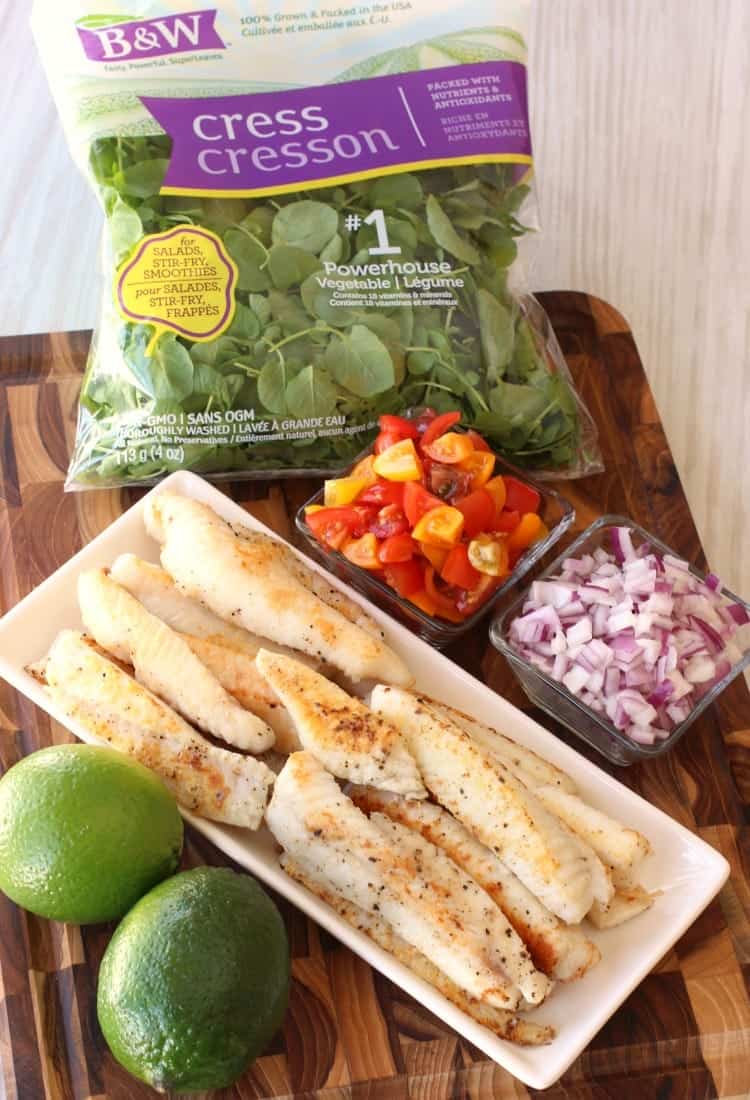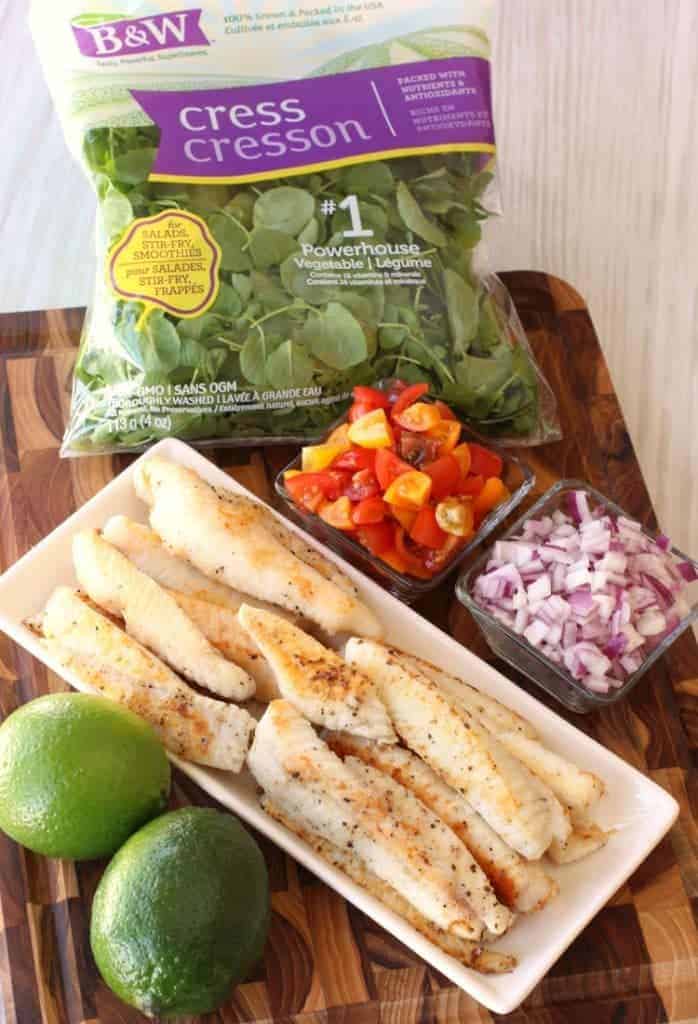 The sauce gets made really quickly in a blender – just a few ingredients in addition to the watercress and you're on your way. Because this sauce is mostly watercress, it's loaded with vitamins so you're going to want to put in on everything.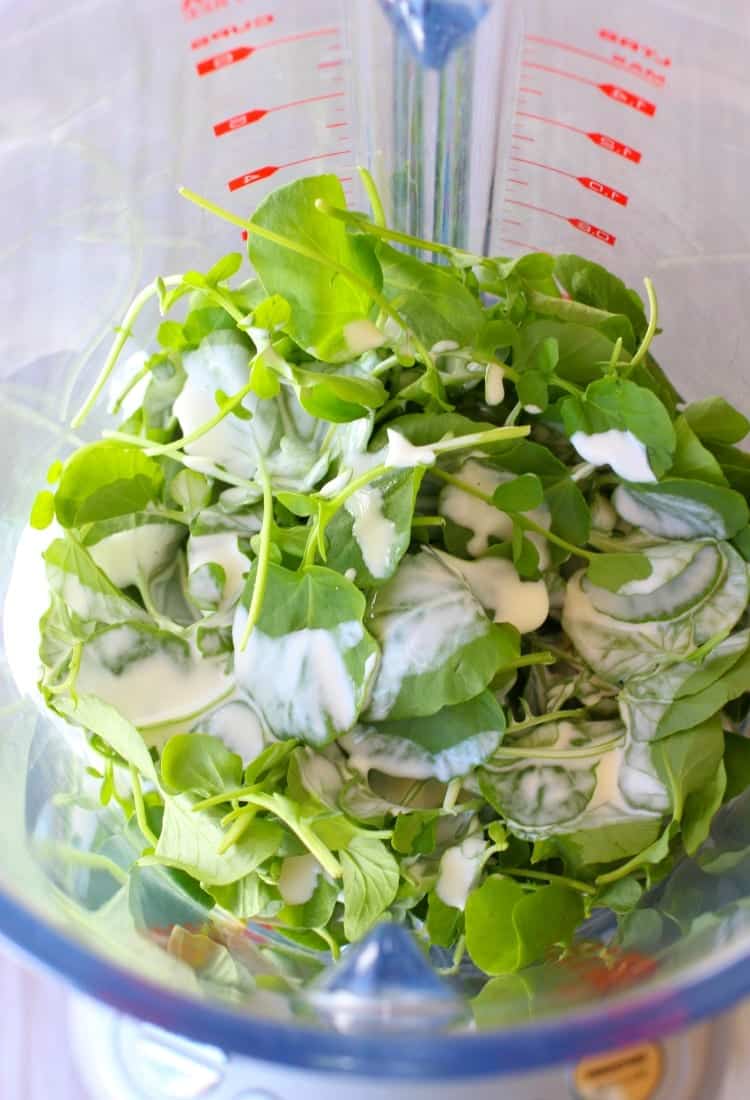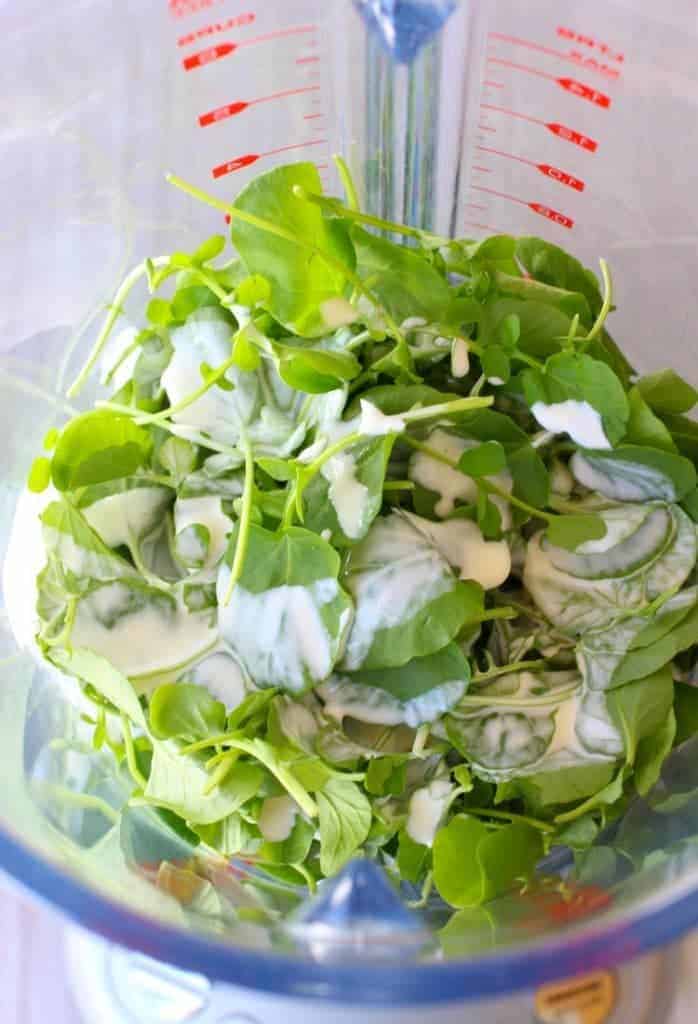 Once the sauce is done you can move on to making the tomato salsa, I've got to tell you my little guy LOVED this salsa so much we ended up making a double batch because he was eating it on everything!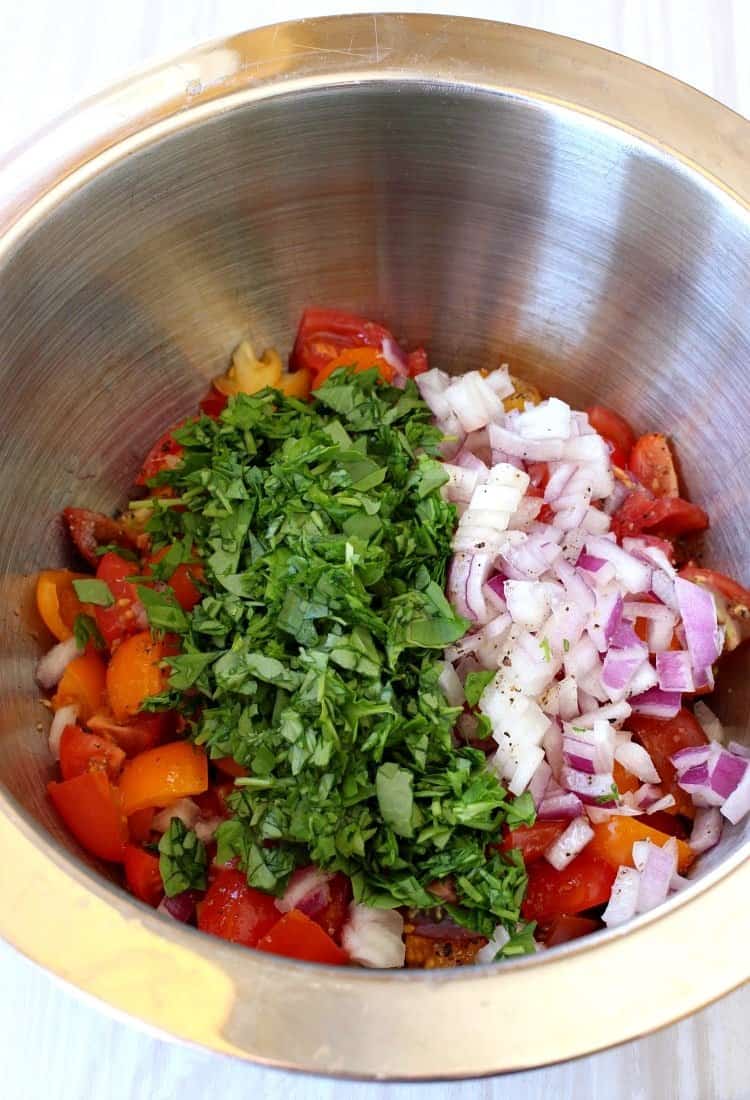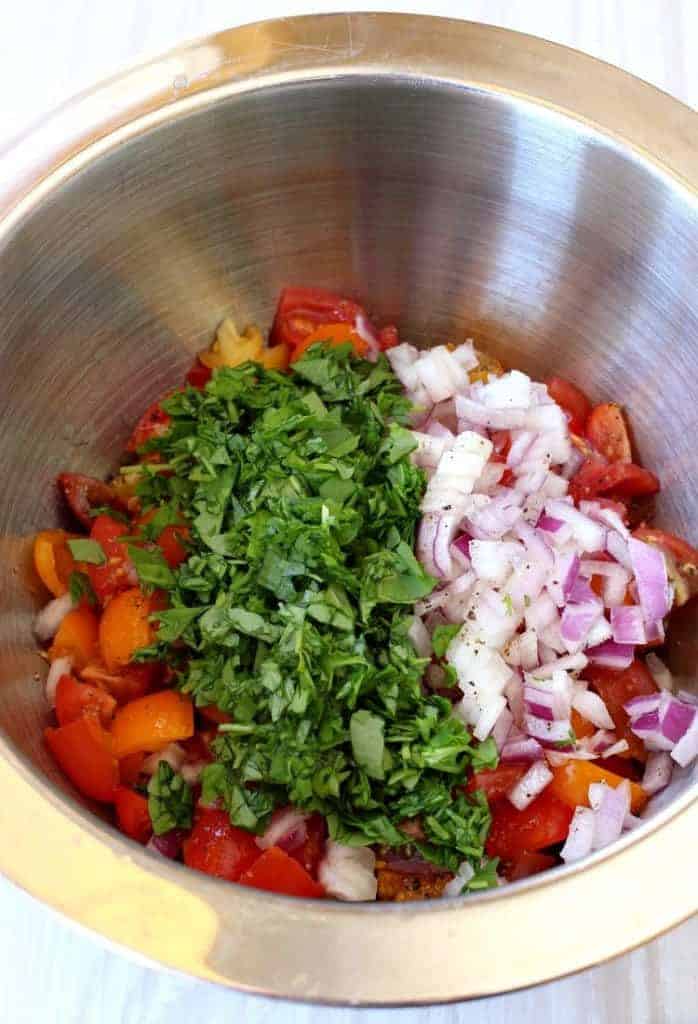 They're both good eaters, we're lucky for that but I do think tit's all about how you teach them to eat at a young age. The more foods you introduce them too the better, take it from me, I know. I used to be a lot more limited in what I ate but now I'll pretty much eat anything.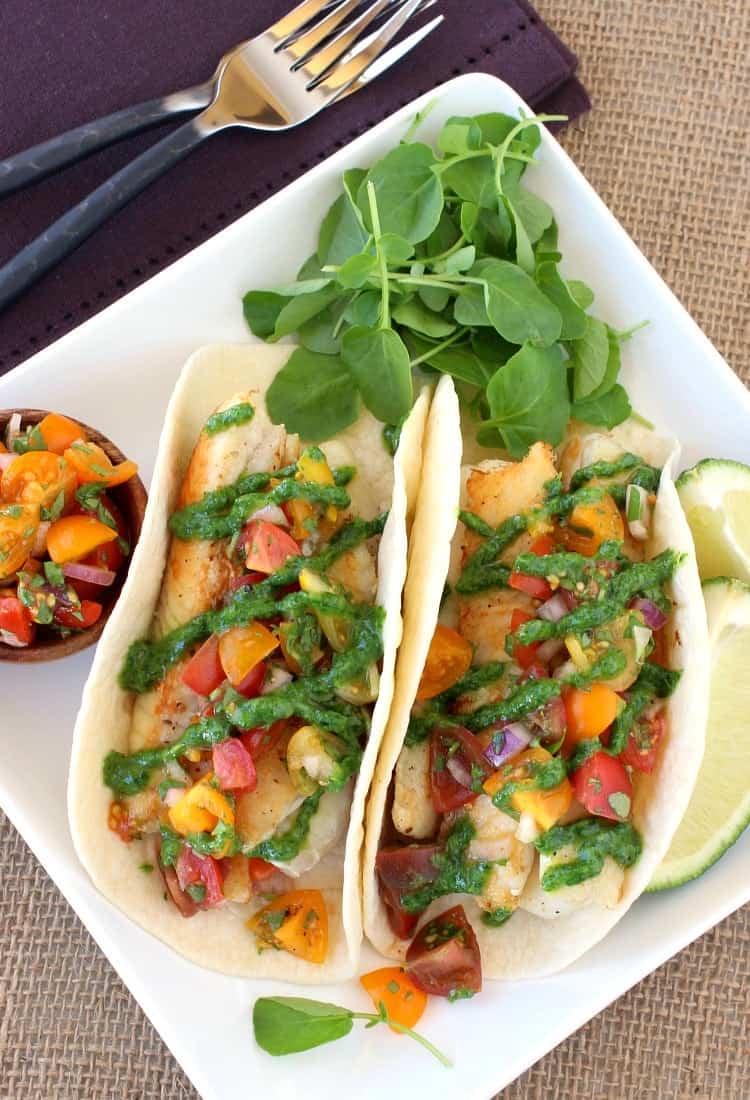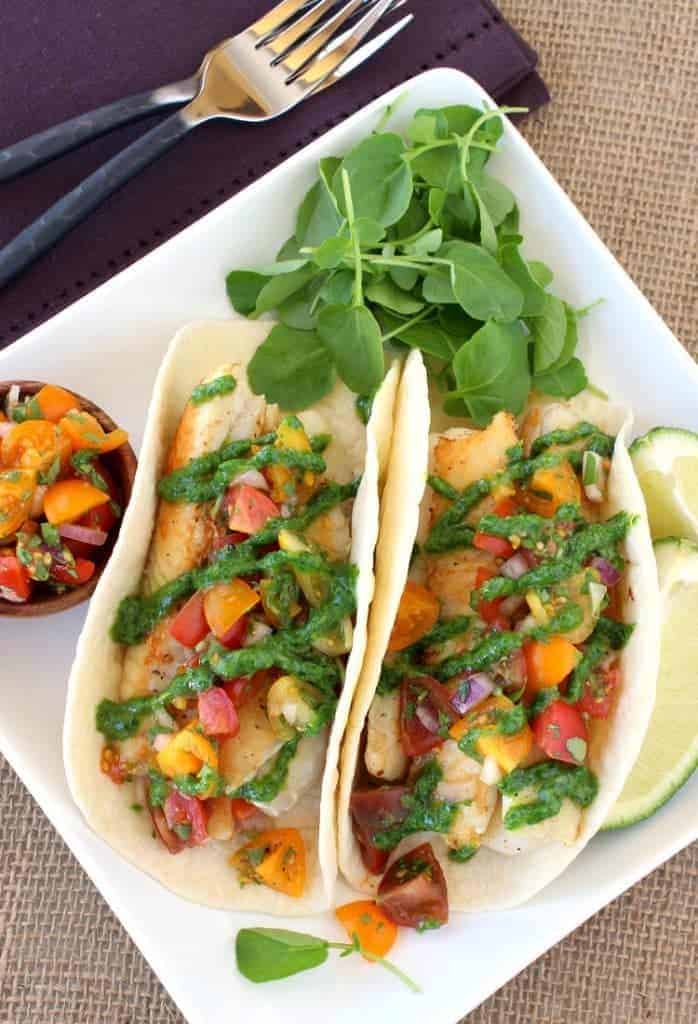 I mean who's not going to love getting a plate of these Fish Tacos with Tomato Salsa and Fresh Watercress Sauce served up to them for dinner? These would be great for served for party food too – Cinco de Mayo is coming up in a couple of days…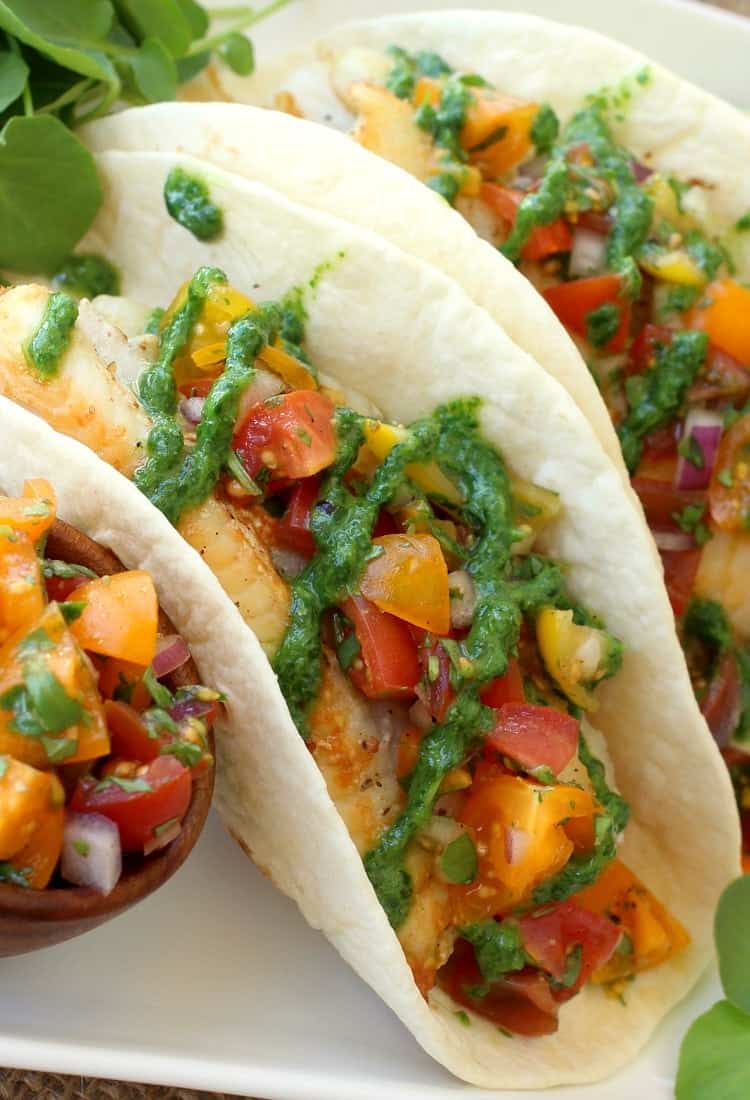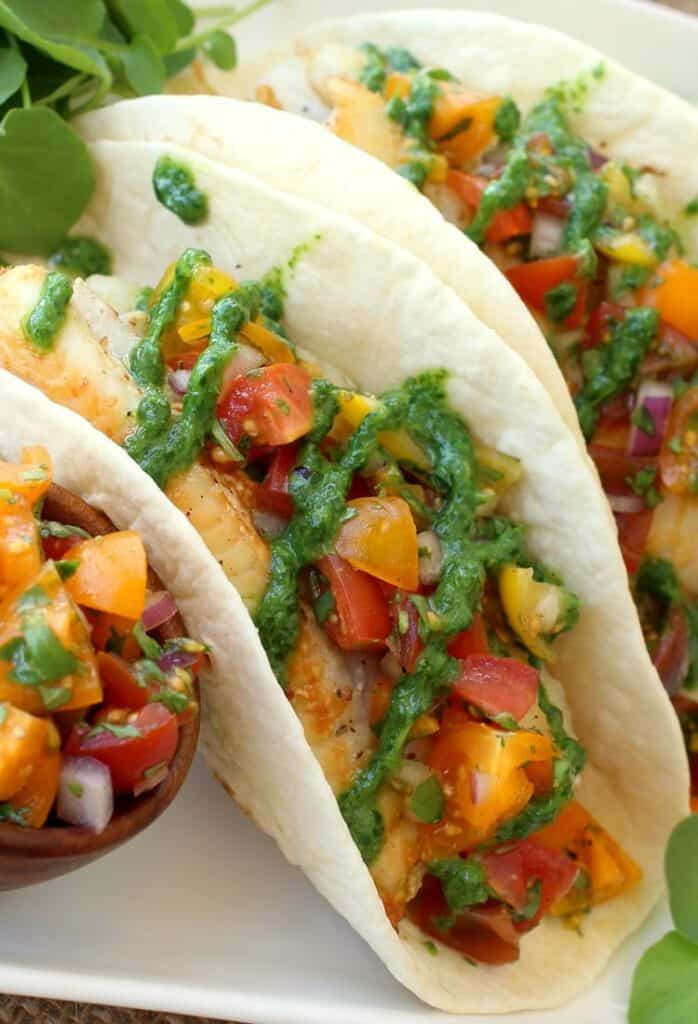 You can definitely serve these taco with more watercress on the top for garnish and an extra crunch!
Head over to the B&W Quality Growers site where you can find this Fish Taco Recipe and tons of other delicious dinner ideas! Enter below to win a gift card so you can go out and grab tons of ingredients to make these fish tacos!