However you want to serve this, as an appetizer or just for dinner, this Cheesy Artichoke Bread is going to be a hit at the dinner table!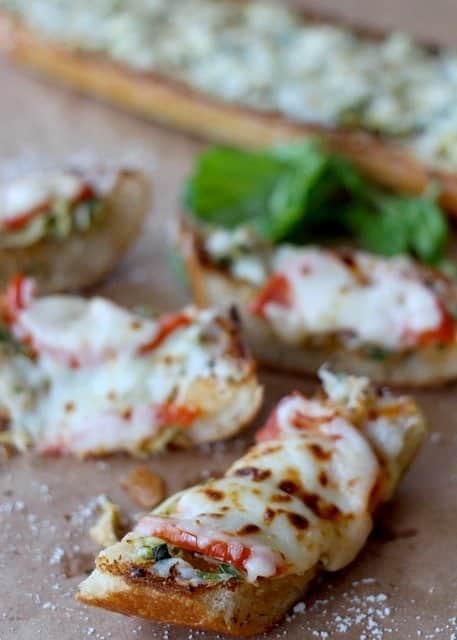 Artichokes are way up there on the list of foods I love. I love them steamed or stuffed, most of all fried, (hard to believe I know) But I'll eat them any pretty much any way I can get them.
So why not marinated artichoke hearts on a loaf of ciabatta bread covered in cheese? Yep. I'm in.
The wife and I were going back and forth on this, if we should make it a "dinner" recipe or an "appetizer recipe. Then we decided not to care and let you guys decide.
Then I suggested that we could make this bread as a "Meatless Monday" option! 'Cause if I'm not getting meat for dinner, then I definitely want something covered in cheese.
Quick, easy, and tasty. Here's what I did…
First, I put some olive oil, salt, pepper and garlic powder on each half and stuck it under the broiler for a couple of minutes to crisp it up so the bread doesn't get soggy after you add the ingredients on top.
Then I chopped up the fresh herbs and mixed them together in a bowl with the chopped up marinated artichoke hearts. Layered the artichoke mixture onto each half of the ciabatta bread, covering it all up good.
And a little parmesan cheese never hurts…
Then put on some sliced tomato and top it all with shredded mozzarella cheese. We used Cabot shredded mozzarella for our Cheesy Artichoke Bread, it melts really well and I like the flavor the better than a lot of other shredded cheese.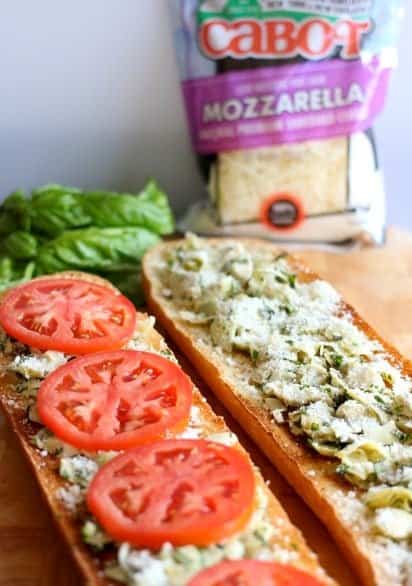 Now just throw it under your broiler or bake it in the oven for a few minutes and you've got a delicious, cheesy bread dinner.
Or an app. Your call.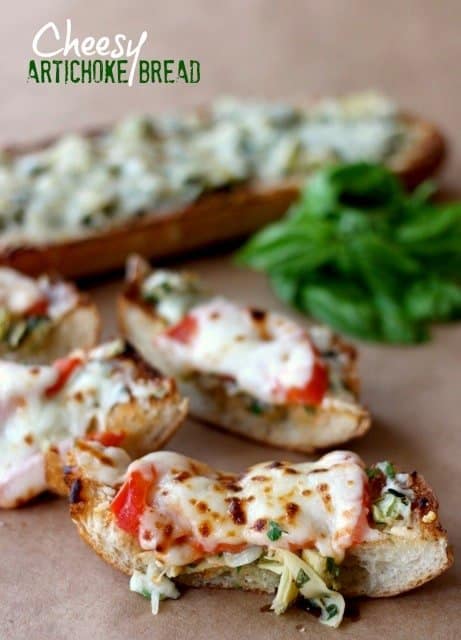 Print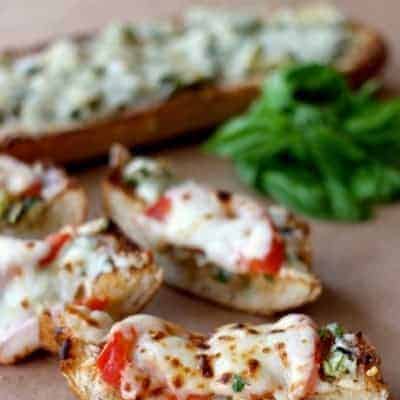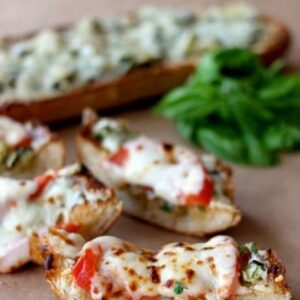 Cheesy Artichoke Bread
Author:

Prep Time:

10 mins

Cook Time:

7 mins

Total Time:

17 mins
Scale
Ingredients
1 1/2

c. marinated artichoke hearts, drained and chopped

2

T. fresh basil, chopped

2

T. fresh parsley, chopped

4

T. grated parmesan cheese

1/4

t. garlic powder

2

c. shredded mozzarella cheese

1

large tomato, sliced thin
olive oil
salt and pepper

1

large loaf of ciabatta bread
Instructions
Preheat your broiler.
Cut the loaf of ciabatta in half lengthwise and place the two halves cut side up on a baking sheet.
Drizzle the bread with a little olive oil and season with salt, pepper and garlic powder.
Place under the broiler for 2 minutes, just until the bread gets crispy.
Take out and let cool.
Add the basil, parsley and artichokes to a small bowl and mix.
Divide the artichoke mixture in half and spread onto each half of the bread.
Add 2 T. of parmesan cheese to each half, total of 4 T.
Layer the sliced tomato onto each half of the bread.
Top with the mozzarella cheese.
Place back under the broiler for 3-4 minutes, or bake in a pre-heated oven at 450 degrees for 5 minutes.
Let cool slightly and slice.