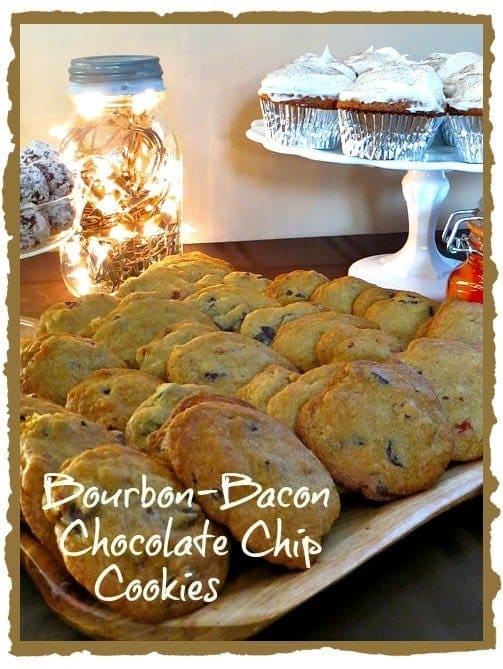 I had said that I wouldn't throw too many desserts in here and I meant it. There's plenty of people out there that are the professionals.
I am definitely not a baker -maybe you're not either -but I promise you, you'll want to make these Bourbon-Bacon Chocolate Chip Cookies.
But like I said in my post about the Bourbon Tasting Party– I needed to give the guys something after all that booze that was going on. There were plenty of great appetizers and sandwiches (you totally need to overfeed the people when having a bourbon tasting) I know at least that much. I just felt like there needed to be that one last course…dessert.
So what did I do? I made desserts filled with bourbon. That's the kind of friend I am.
I made these Bourbon-Bacon Chocolate Chip Cookies and also Whiskey Spiced Cupcakes. The cookies seemed to be the winner of the dessert round, so I will post the recipe for you in case you want to make them for your Bourbon Tasting party.
Baking is definitely not my thing so I enlisted the help of my wife for this one. I did cook the bacon though…3/4 of a pound of bacon goes into these cookies! It was a little alarming at first so I almost didn't put in the whole amount but if you do make them, make sure that you do put it all in because they turned out awesome.
Did I mention that these cookies actually use the bacon fat IN the cookie…
They always say that you need the grease to soak up the booze right? So these cookies are the perfect Bourbon Tasting Party dessert.
Bourbon-Bacon Chocolate Chip Cookies
Scale
Ingredients
4

T. Bourbon

3/4

lb. bacon, cut into

1

" dice

2 1/2

c. flour

1/4

t. baking powder

1

t. baking soda

1

t. salt

1/2

c. unsalted butter, room temperature

1/2

c. reserved bacon fat

3/4

c. granulated sugar

1/2

c. packed light brown sugar

1/4

c. packed dark brown sugar

1

t. vanilla extract

2

eggs

8 oz

. dark chocolate chips
Instructions
In a large saute pan, cook the diced bacon until crisp. Strain the fat through a fine mesh strainer and chill in the until fat turns partially solid and is set.
Preheat oven to 375°F. Combine the flour, baking podwer, baking soda and salt in a small bowl.
Beat together the butter, chilled bacon fat, granulated sugar light and dark brown sugars, vanilla and bourbon in a large bowl. Beat for 5 minutes.
Add in the eggs one at a time then add in the flour mixture in small batches.
Stir in the bacon pieces by hand and then add the chocolate.
Drop by large Tablespoon onto a parchment lined baking sheet and cook for 10-11 minutes.