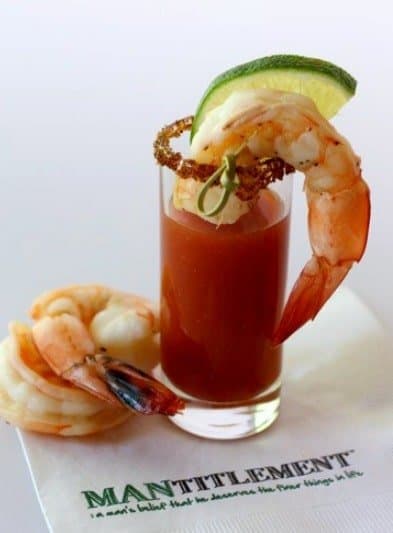 Is it an appetizer? Is it a cocktail? It's really a little bit of both…but whatever you want to call these Shrimp Shooters – you're going to love them!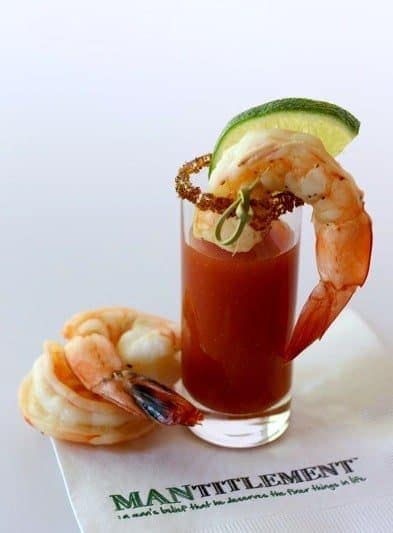 The cocktail part of these Shrimp Shooters is similar to a bloody mary, but a little lighter and not as spicy. Just some vodka, tomato juice and spices mixed together to make a tasty shot for dipping your shrimp in.
No boiled shrimp here, either. I like them roasted. It's easier, tastes better and you can get more flavor on the shrimp instead of just a boiling them in water. The recipe for these Shrimp Shooters can also be doubled or tripled and made in a pitcher for a larger crowd, or if you just want a bigger drink than a shot. As long as you get that roasted shrimp on the glass for garnish, it's all good.
Start by seasoning the shrimp with salt, pepper and garlic powder. No measurements here, just go ahead and give them a light coating and then toss together with a couple of tablespoons of olive oil. Place them in a 400 degree oven and roast for 8 minutes until the shrimp are pink, then take them out to cool.
Mix together the ingredients for the shooter in a large measuring cup or any small pitcher with a spout for pouring. Make sure you taste for seasonings, you can add more cayenne if you like it spicier, or less if you don't. Then pour out your shooter mix into tall shot glasses and garnish with a big roasted shrimp and a lime wedge. That's it! Shrimp Shooters.
My technique for these shooters? I like to take the shrimp, dip it in the shooter mix…eat and repeat. When the shrimp is gone, drink the rest.
Set these out on a tray for appetizers, or make a "build your own" bar for guests so they can make theirs spicier or milder. Just make sure you have a least one shrimp per shooter!
Print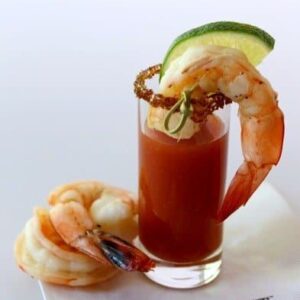 Shrimp Shooters
Yield:

6
---
Ingredients
6 shrimp, peeled and deveined
salt
pepper
garlic powder
3 T. olive oil
For the Shooters
3 oz. vodka
5 oz. tomato juice
1/8 t. cumin
1/8 t. garlic powder
1/8 t. onion powder
1/8 t. paprika
1/4 t. celery seed
4 dashes worcestershire sauce
1 lime, juiced
pinch or two of cayenne pepper
salt and pepper to taste
For the Dry Rub
1 T. brown sugar
1/2 t. paprika
1/8 t. cayenne pepper
Limes wedges for garnish
---
Instructions
Preheat the oven to 400 degrees. Season the shrimp with salt, pepper and garlic powder then toss with the olive oil. Place on a baking sheet and roast for 7-8 minutes.
Add all the ingredients for the shooters together into a small pitcher.
Mix together the pieces for the dry rub in a small dish.
Take one shot glass and dip wet the rim with water, then dip into the dry rub. Repeat with your remaining 5 shot glasses.
Add 1 t. dry rub to the shooters in the pitcher, then stir to combine.
Divide the shooter mix into the 6 shot glasses. Garnish with a roasted shrimp and a lime wedge.
---