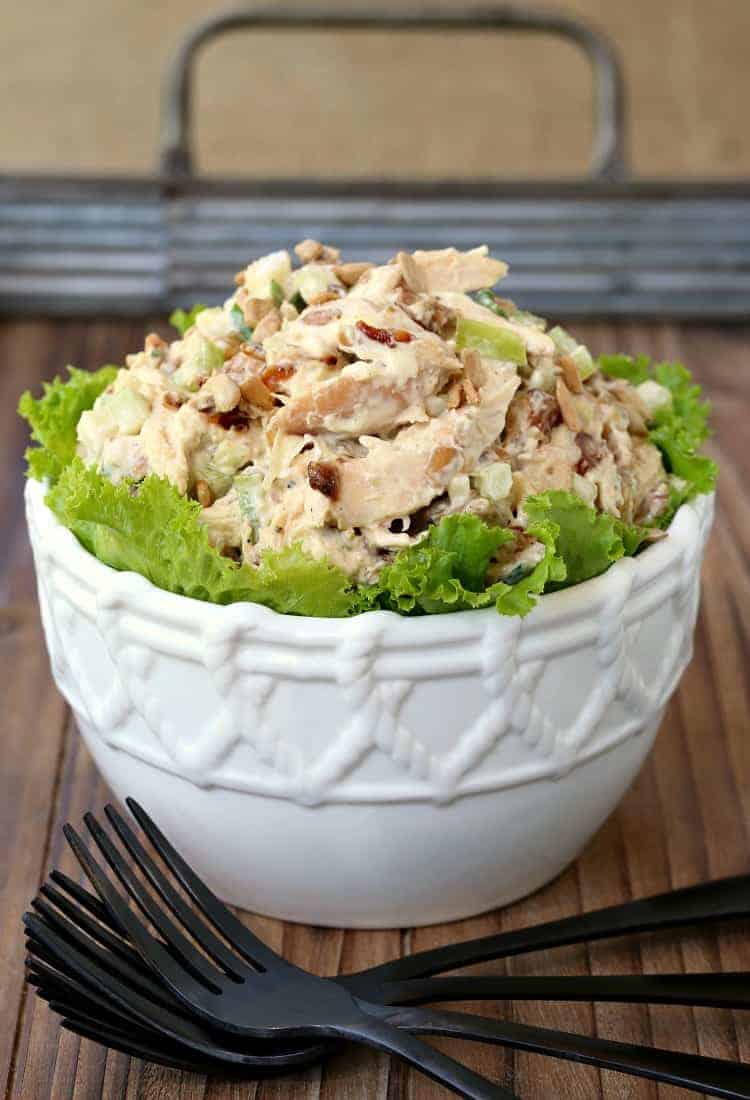 Caramelized Onion Chicken Salad
This Caramelized Onion Chicken Salad is full of flavor! The sweetness from the onions and the crunch from the sunflower seeds makes this one a winner!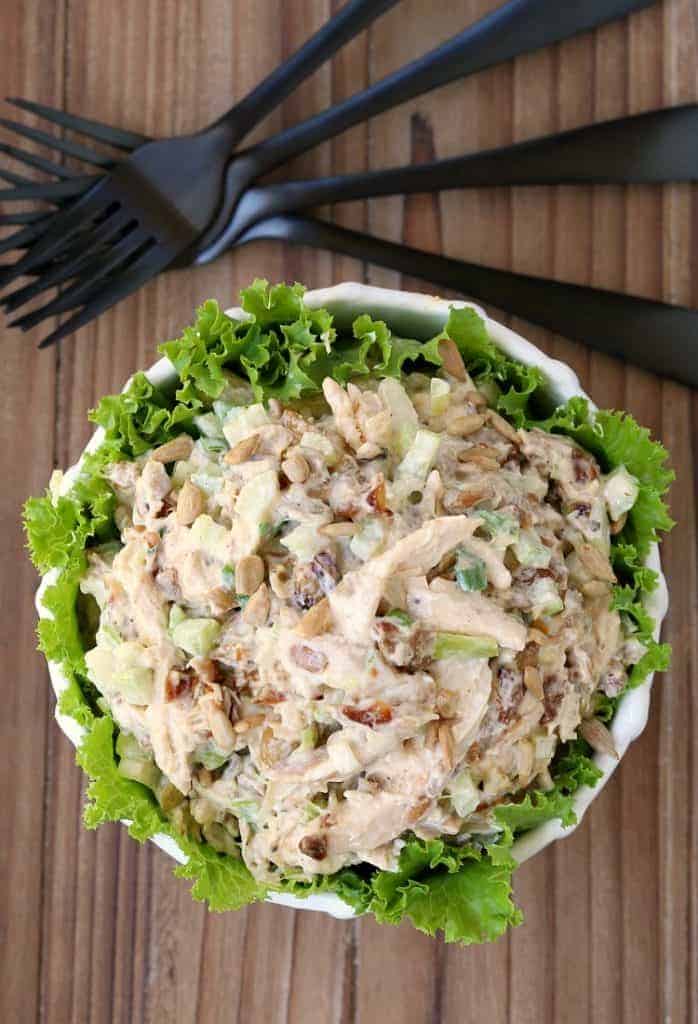 I think I've explained to you guys before that we typically keep tons of prepared food in our fridge at all times for our boys. There's nothing worse than cooking all day and then having to cook all night for the constant hunger these kids have.
So chicken carnitas, easy chili recipes and bowls of rice and pasta pretty much always in there – ready for the taking.
Now we'll be adding this Caramelized Onion Chicken Salad to the list because it is definitely the best chicken salad I've ever tasted and I think you're going to agree with me once you try it.
Chicken salad is always great for having a clean the fridge out day or adding different flavors like this Southwestern Chicken Salad recipe, but for some reason we always seem to make chicken salad with leftover chicken or a rotisserie chicken – I mean we never cook chicken just to make chicken salad. It's always a leftover recipe for us.
Not anymore.
I'm going to be grabbing rotisserie chickens and baking chicken in the oven all the time now just to make this chicken salad. It's that addictive.
Start out by caramelizing the onions until they get nice and brown. You'll start with what you feel like is going to be too many onions –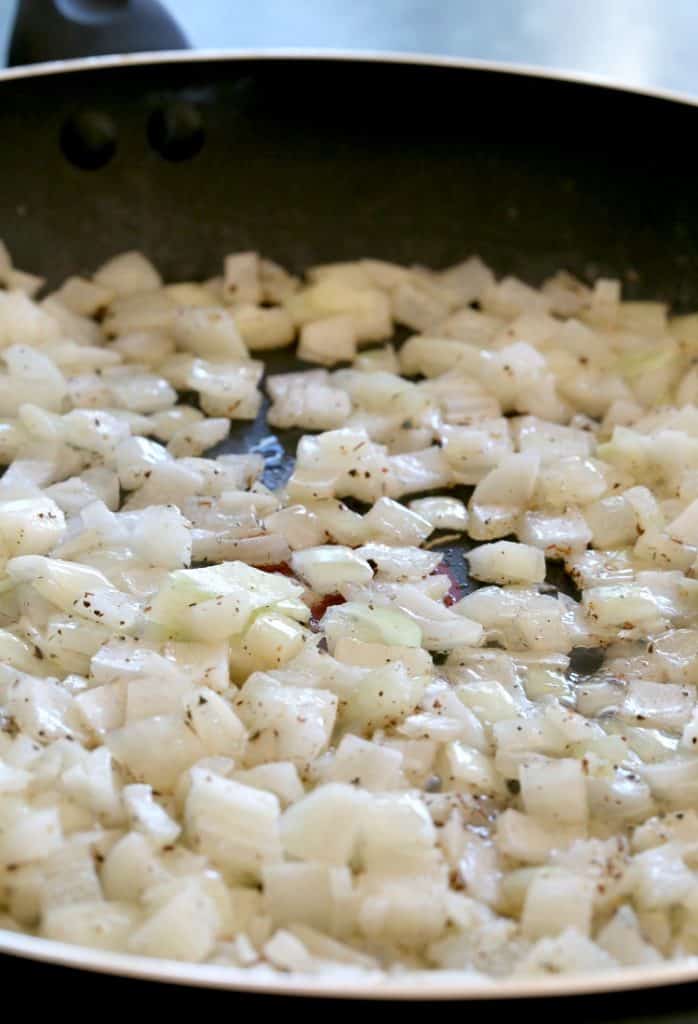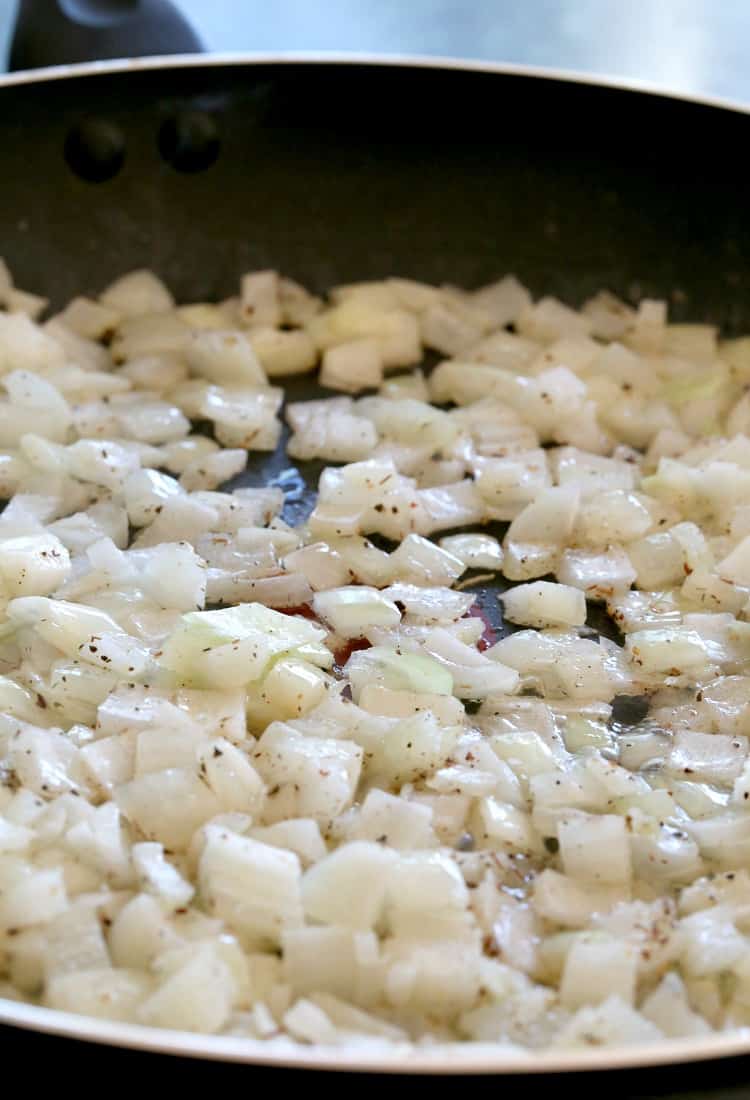 And then you'll end up with this.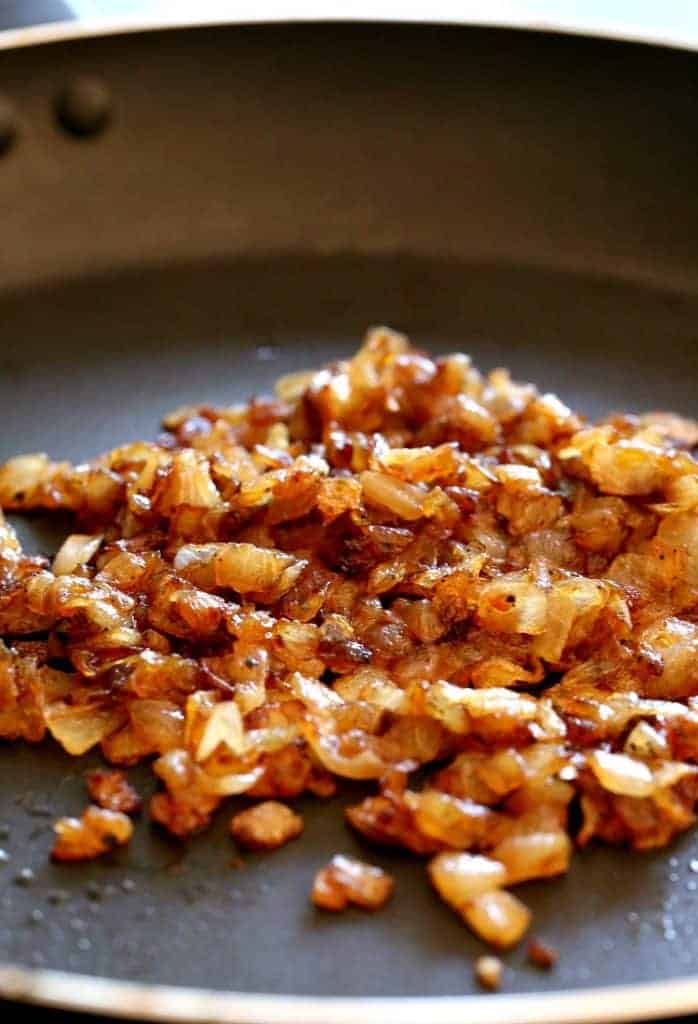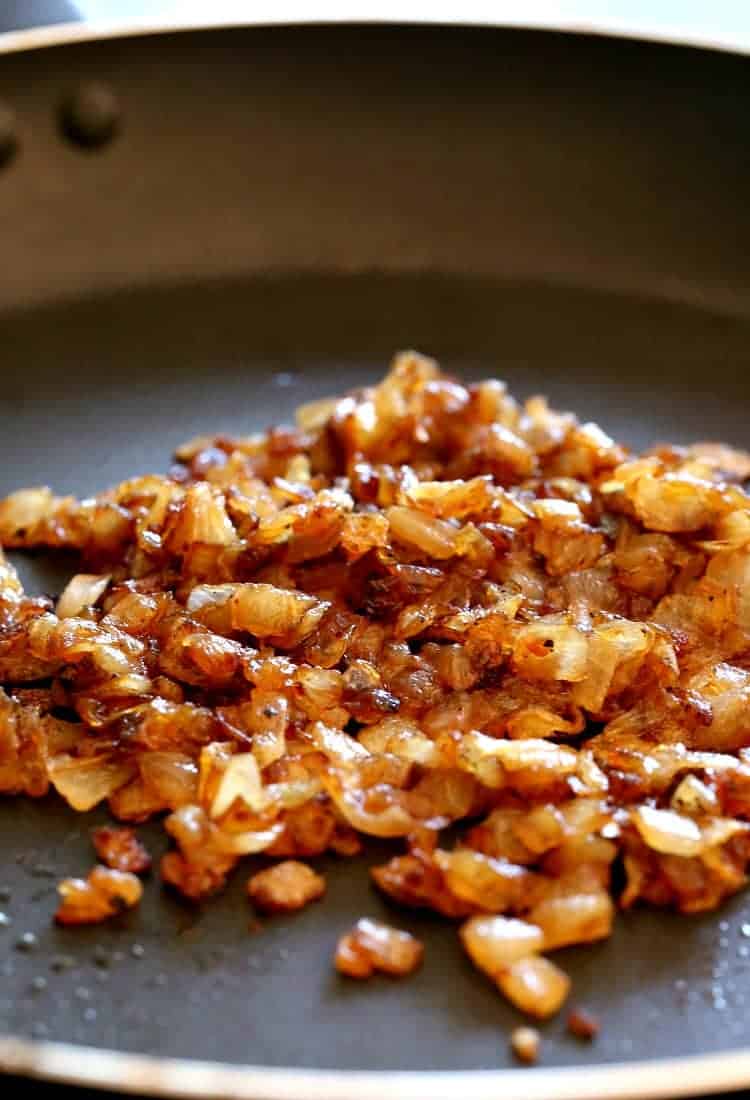 They cook down a LOT.
Once they cool, toss them in a large bowl along with the rest of the ingredients. Chicken, scallions, sunflower seeds, mayo and mustard.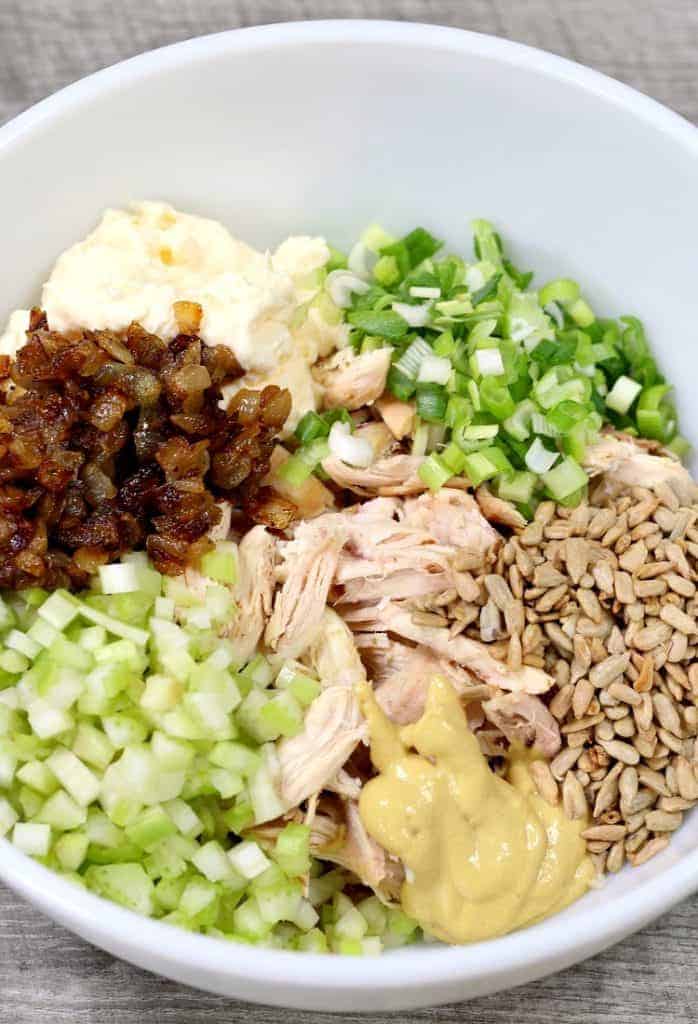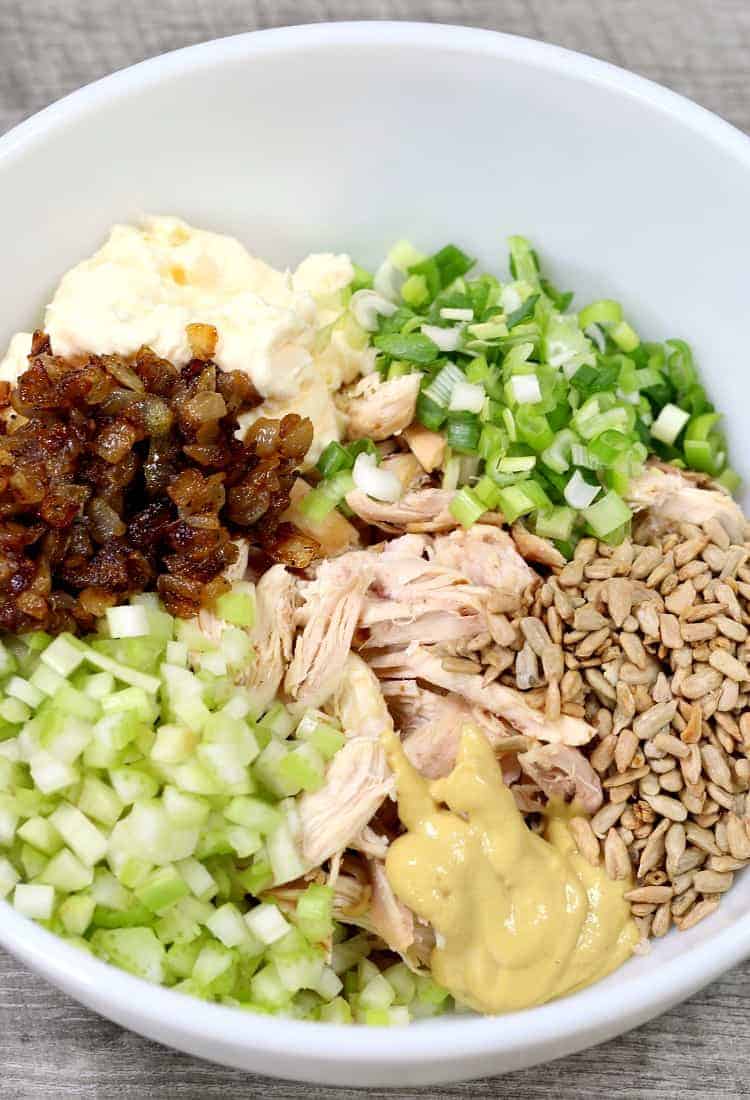 Mix it all together and let it chill in the fridge for at least an hour. Honestly, don't skip this step. Not only will the flavors come together better but there's nothing worse than room temperature chicken salad. Here's a video for you to watch while you're waiting…
Let it chill.
Give it one more stir before serving and dig in.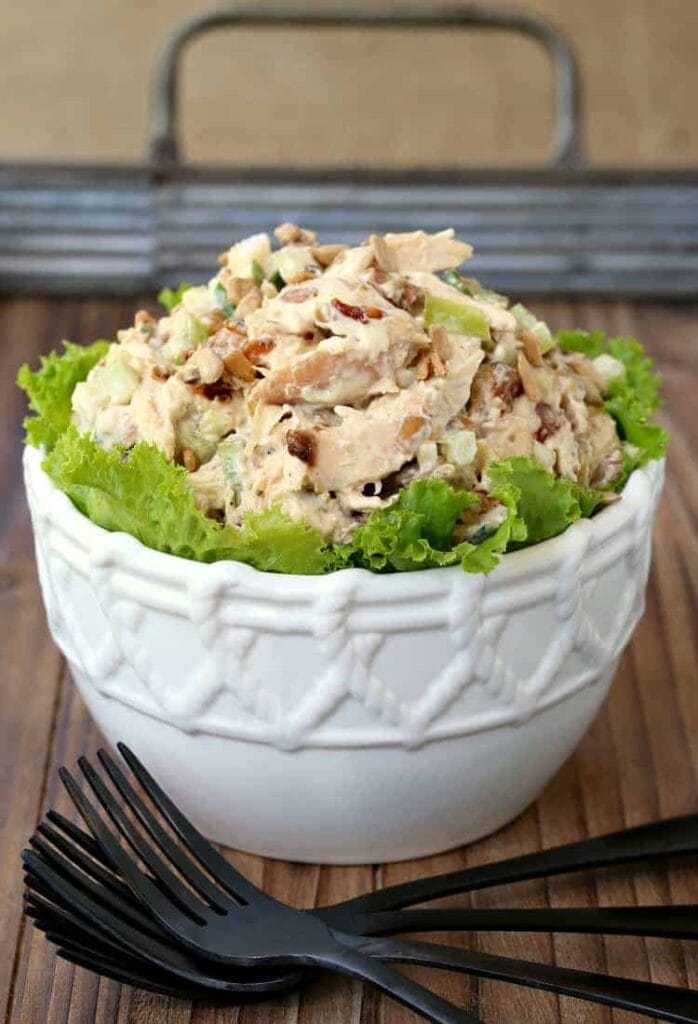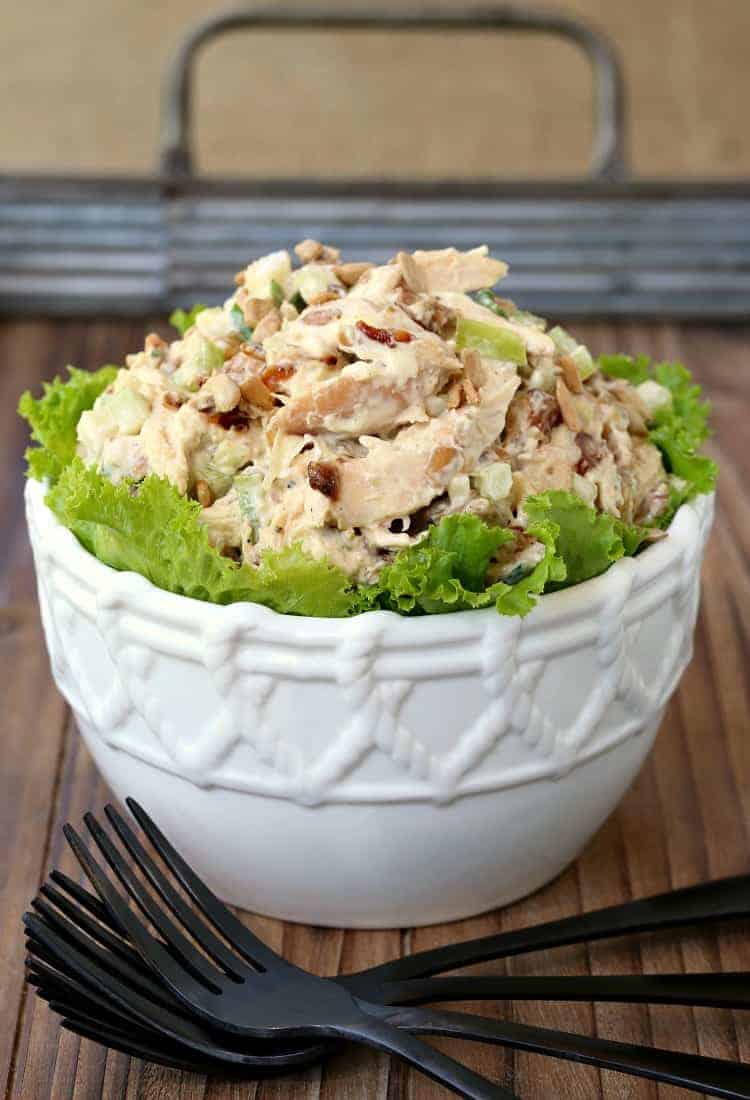 Crunchy, sweet, creamy – all the best words that you can describe food are in this Caramelized Onion Chicken Salad. I bet it's going to be in your fridge a lot too!
Print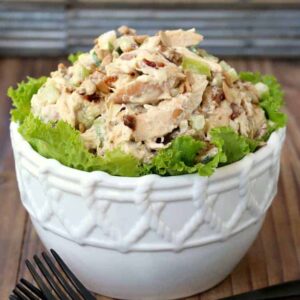 Caramelized Onion Chicken Salad
Author:

Yield:

4
---
Ingredients
4 cups cooked, shredded chicken (about the amount from a rotisserie chicken if you're using one)
1 cup diced celery
1/2 cup chopped scallions
1/2 cup sunflower seeds
3/4 to 1 cup mayonnaise
2 tablespoons dijon mustard
1 teaspoon salt
1/2 teaspoon cumin
1/2 teaspoon garlic powder
1/2 teaspoon black pepper
For the caramelized onions
3 cups diced onions
2 tablespoons olive oil
1 tablespoon butter
1/2 teaspoon salt
1/2 teaspoon black pepper
1/4 teaspoon dried thyme
---
Instructions
Start by making the caramelized onions. Add the oil and butter to a skillet over medium-low heat. Add the onions, salt, pepper and thyme then stir and cook for 20 minutes until browned. Stir often so the onions don't burn.
Remove the onions from the skillet to cool.
In a large bowl, add the chicken, celery, scallions, sunflower seeds, mayonnaise, mustard, salt cumin, garlic powder and pepper.
Stir ro combine, then add the caramelized onions that have cooled. Stir in the onions and let chill in the refrigerator covered for an hour.
Stir again before serving.
---
Notes
I like to start out with 3/4 cup of mayonnaise and work my way up to a cup if I think the chicken salad needs it.