This time of year, everyone is looking for more zucchini recipes! We've put together a Zucchini Recipe Round Up to give you tons of ideas to use up that garden zucchini!
I'm not sure where the summer goes every year but it's coming to an end in a couple of weeks. But the cocktails are still flowing and the grilling is still going, and there's also still tons of zucchini hanging out in the garden.
There's definitely something on this list for everyone, try a few or try them all to see which ones are your favorite! We'd love for you to let us know in the comments!
Our Favorite Zucchini Recipes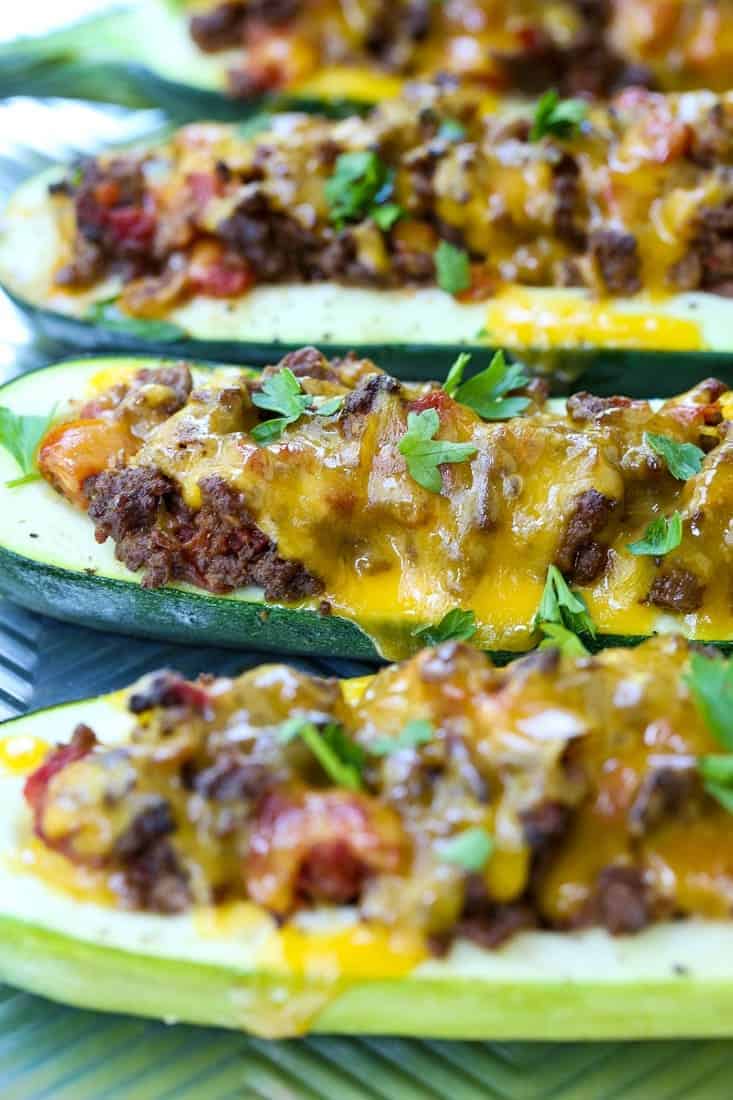 We love making these zucchini boats! Cheesy, filled with all your favorite taco flavors and loaded with beef. Our kids actually love these for dinner, when they were younger we would just cut it all up so that they wouldn't leave the zucchini boat behind!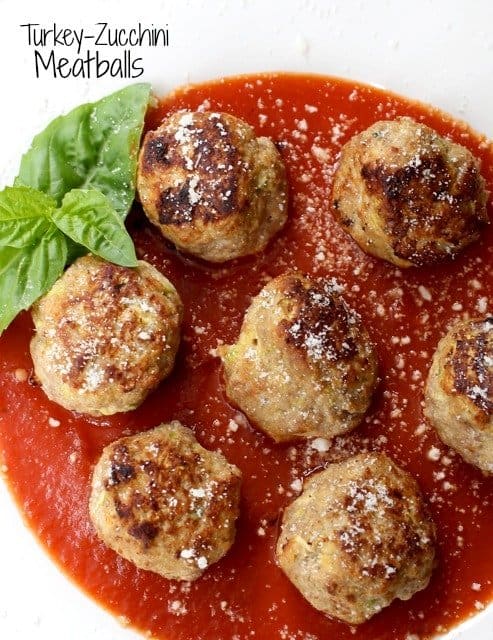 If you're trying to get more vegetables into your diet, these zucchini meatballs are a good way to do it! You can ever serve these over some fun zucchini noodles instead of pasta!
The zucchini inside these turkey meatballs keeps the meatballs tender and juicy, not dried out. Zucchini also adds tons of flavor and nutrients!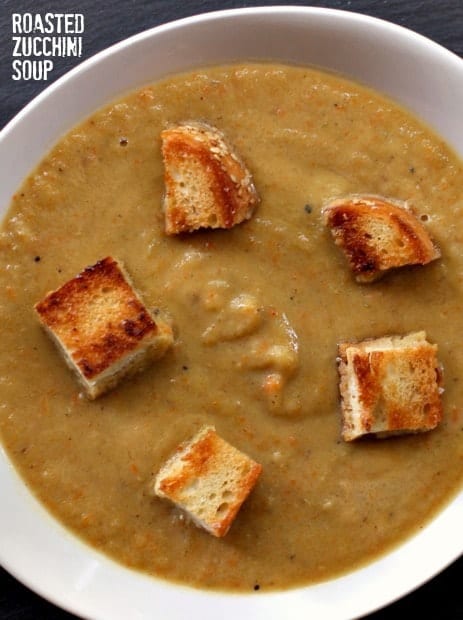 For when you really have just tons of zucchini and you don't know what to do with it…cut it up, roast it and make this soup. This zucchini soup also has lots of other vegetables going on, along with a little bit of spice from a jalapeño pepper. Not too much, just a little background heat to balance out the rich flavor of this soup.
This soup is great for meal prepping during the week or freezing for a later meal!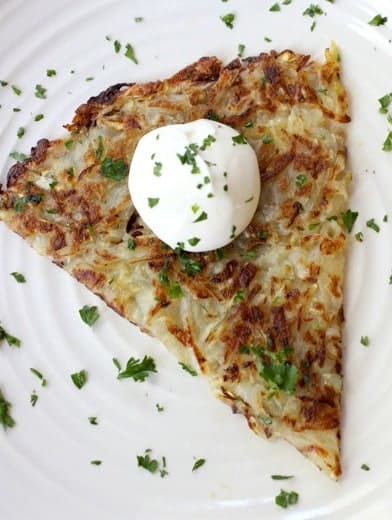 Hash brown are a breakfast staple at out house, but we love making these zucchini hash browns as a side to dinner as well! You've got your vegetables and starch all in one recipe here. These hash browns go just as good with your eggs as they do with your chicken or steak dinner!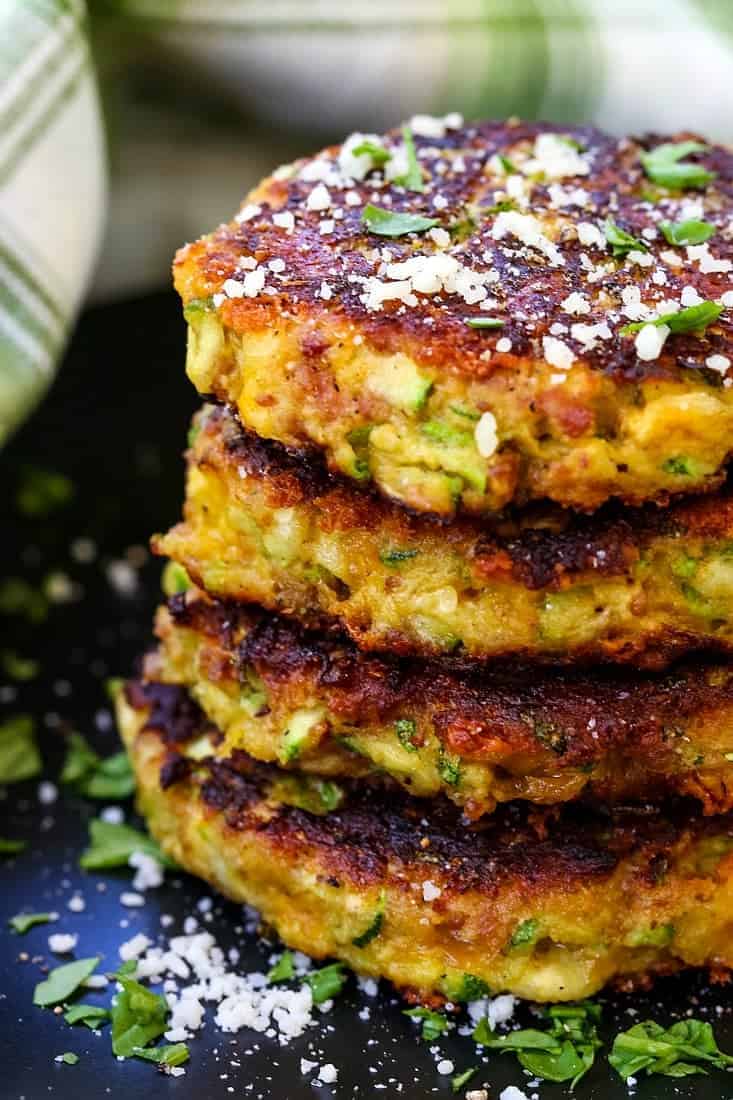 These zucchini cakes are loaded up with bacon and cheddar cheese, just to make them even more addicting! An addicting zucchini recipe you say? Yep, just give these a try and I promise there won't be a bite left.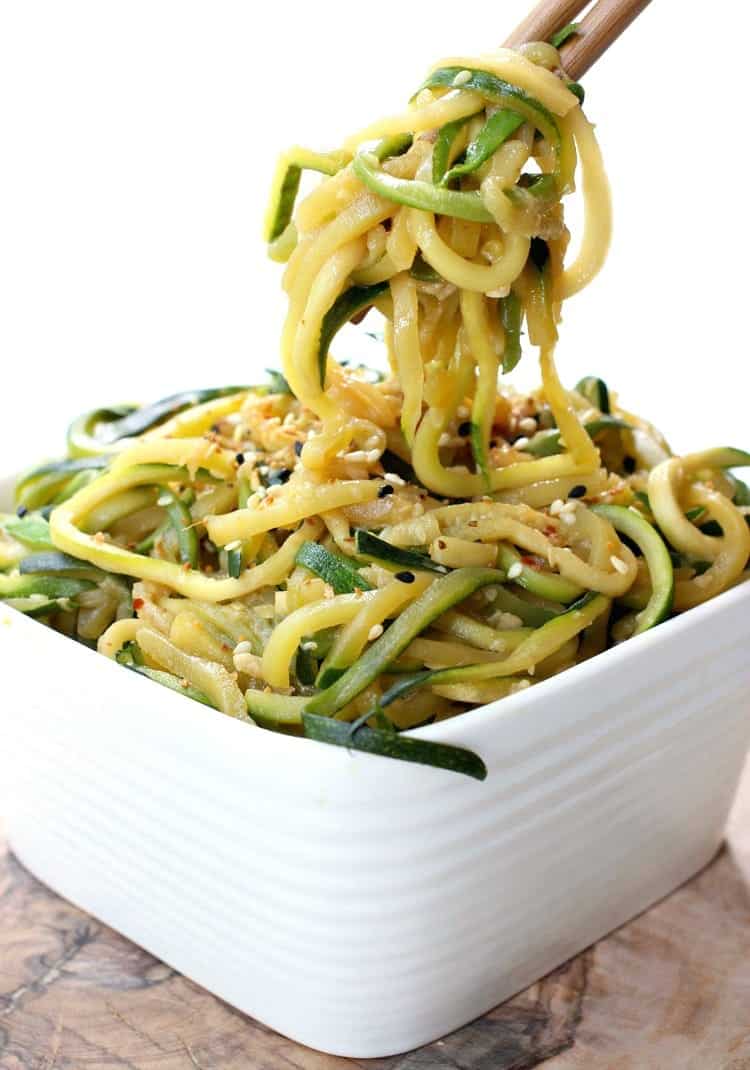 AKA, Zoodles! Our boys actually LOVE eating these flavorful zucchini noodles. Don't have a spiralizer? No worries, most grocery stores have zucchini noodles already prepped and ready to go for you! All you need to do is warm them up and add some flavor!
Chicken Stuffed Zucchini Enchiladas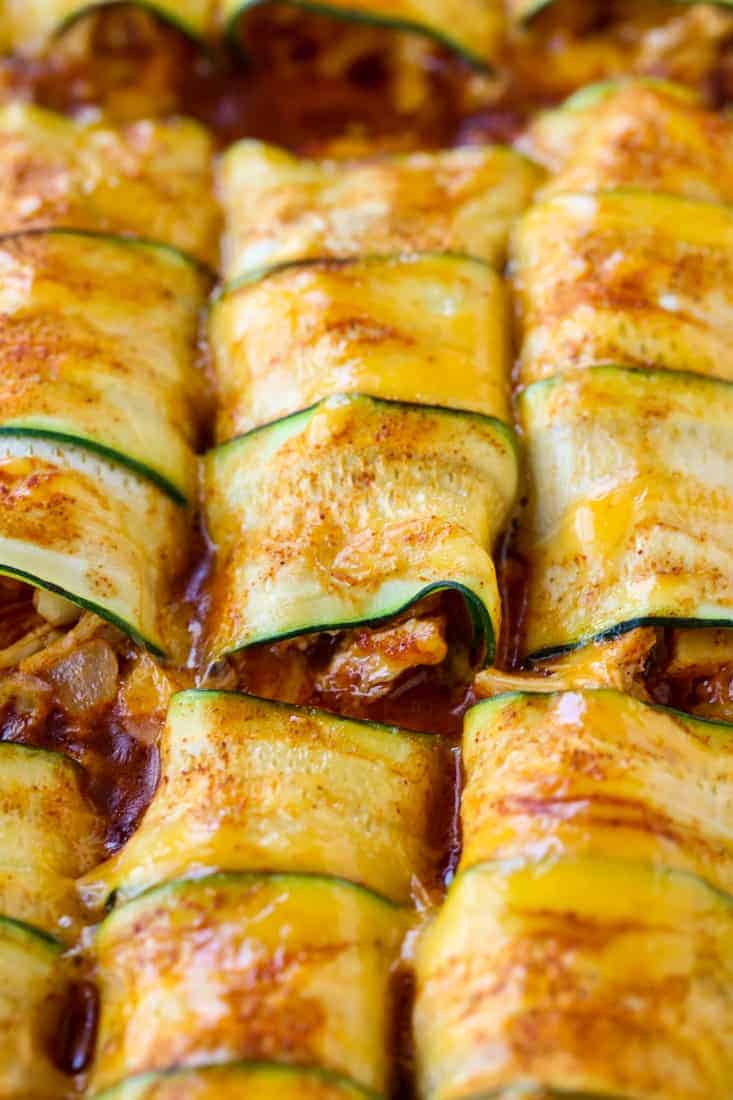 If you're trying to keep the carbs down, these zucchini enchiladas are a super tasty, low carb dinner for the whole family! I have to admit, we were surprised at how much we loved this recipe, we've made it pretty often since posting it!
Italian Meatball Soup with Zoodles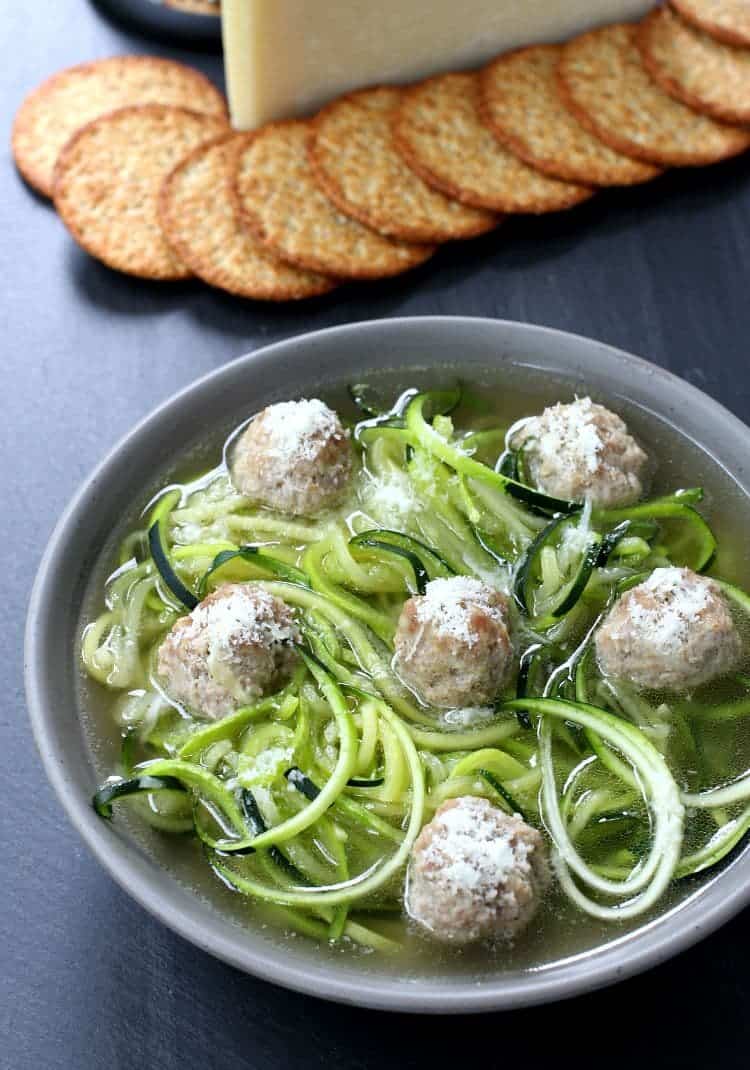 Not only is this a super fun low carb soup recipe, but the zucchini actually adds tons of flavor to the soup! Just the broth alone is worth the make here, but let's not forget about the best part – the meatballs!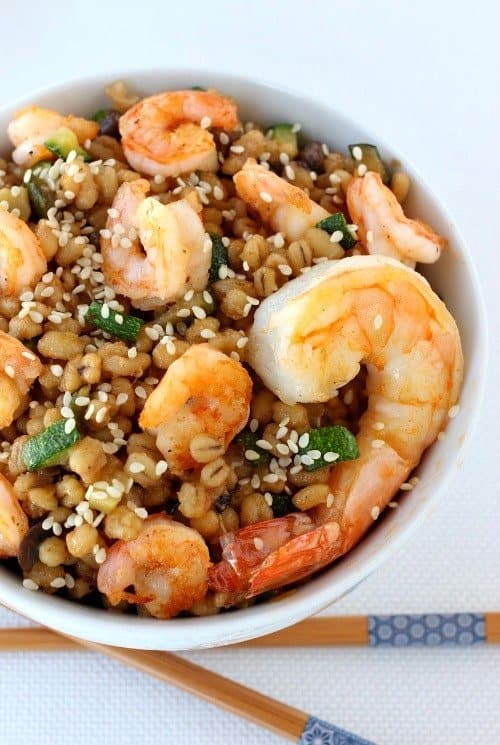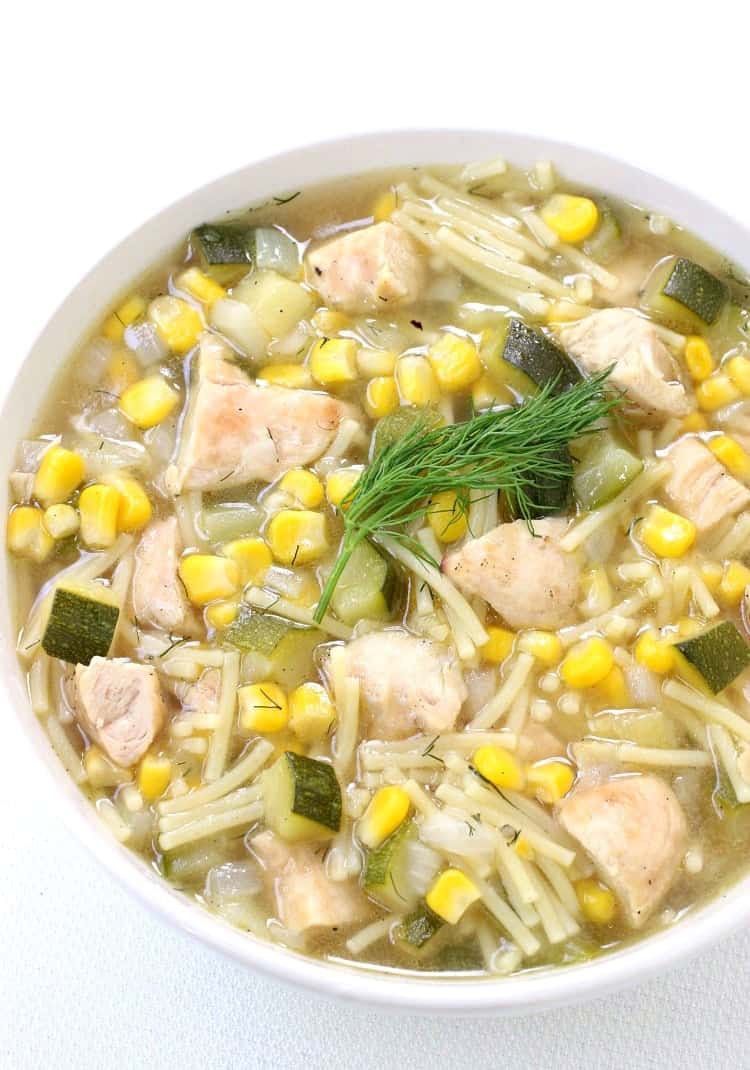 Do you guys eat soup all year long like we do? Doesn't seem to be a season for soup at our house, we enjoy it all the time! This fresh and light soup recipe uses grilled chicken, fresh vegetables and just a little pasta. Use up your leftover grilled chicken to a make this soup or throw some extra on the grill at dinner time!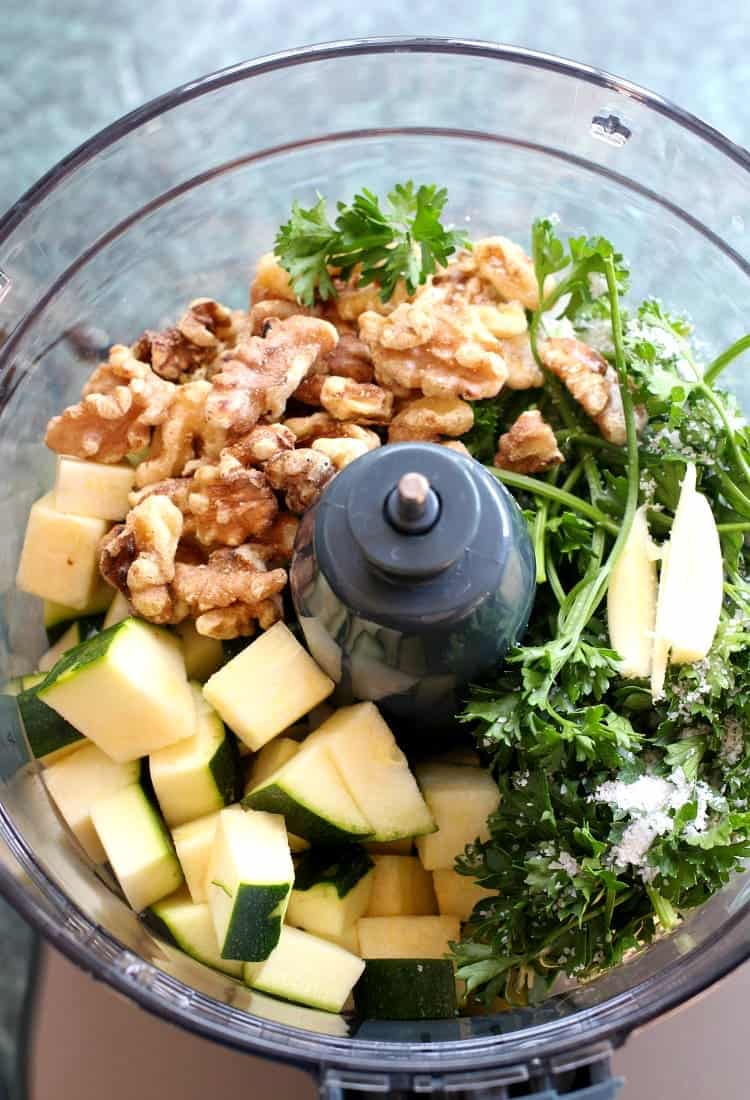 This zucchini pesto recipe was actually for a sponsored post that we did for a frozen chicken brand, but we actually love it so much we use it all the time! It's perfect tossed on pasta or spooned over grilled chicken or steak!
All these recipes made with zucchini almost makes me want to finally start that garden we always talk about…almost. But I really do think the world has enough zucchini – I'll do my part and just keep cooking up what the neighbors give to me from their overflow!