Wine Tasting in Napa with an amazing friend, amazing scenery and amazing wine? What could be a better getaway than that? Not too much if you ask me.
This is us. My friend Shelly and me. And we were ready to taste some wine.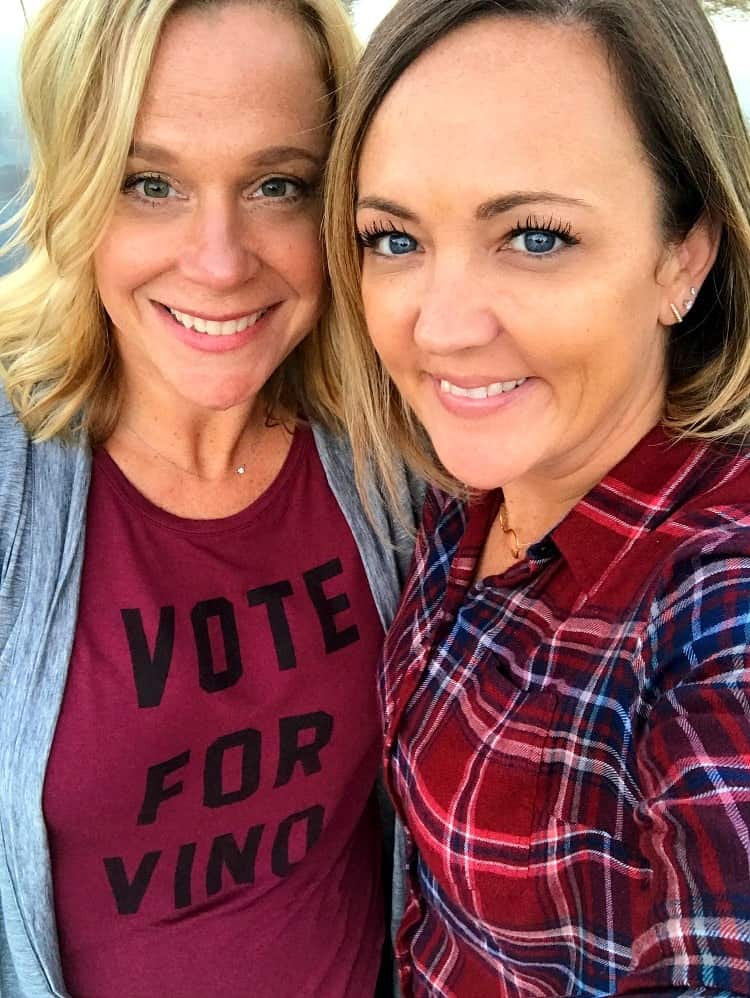 It was our first time in Napa and it definitely will not be our last.
The real reason behind the trip was Panasonic launching their new countertop induction oven (CIO) so not only did I get to learn about and see demos of the oven, but I got to go to the CIA in Napa and watch it all happen.
The wine tasting was optional – on your own time – and the people at Panasonic gave us plenty of time to do that.
The first night we got there we were definitely tired. It's a long trip from here in Jersey, thankfully I got to sleep most of the time so it passed pretty quickly…but even though you sleep on a plane it still leaves you really tired, right? I'm not sure why that is.
So the first night for us was all about heading downtown and hitting some good restaurants. We took an Uber everywhere we went, pretty convenient those Ubers are, huh? No need to worry about money exchanging, just order up your ride, hop in and hop out.
So the first night we went to a tapas restaurant called Zuzu and it as SO good. We literally sat down and ordered a bottle of rosé and the quickest dishes they could bring out.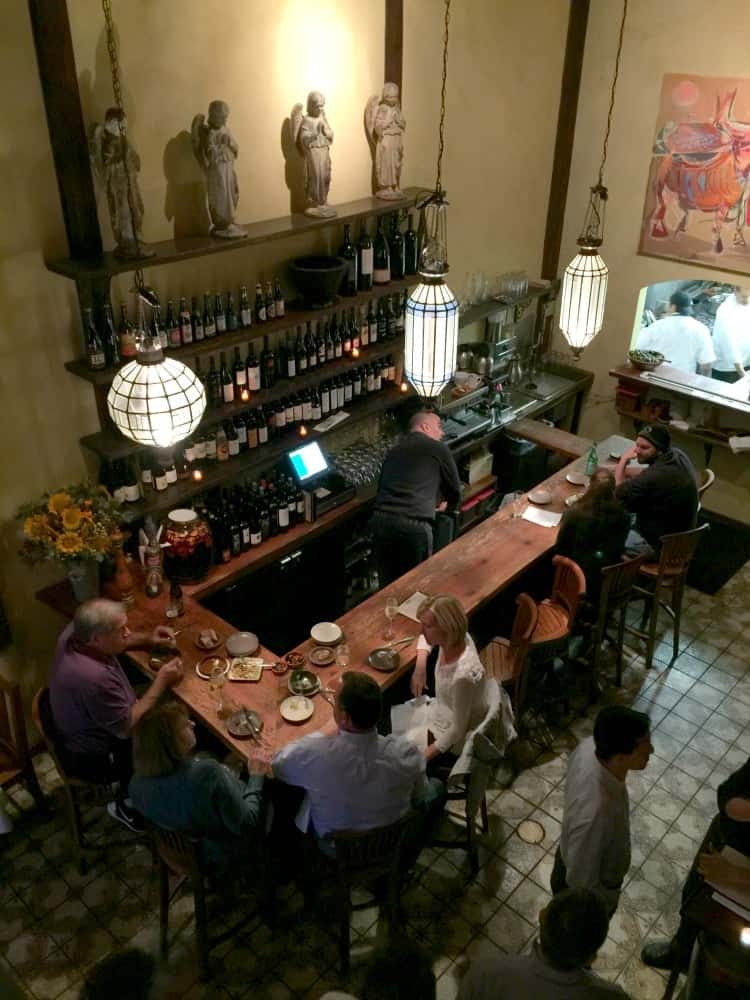 Our waitress recommended the flounder ceviche for starters and it was amazing. The vinegary fish with the crisp rosé were like a match made in heaven – literally.
Next up was this flat iron steak with a jalapeño chimichurri. Again, the rich steak paired with the rosé – you guessed it. Perfection. I'm thinking that in Napa everything tastes amazing with wine.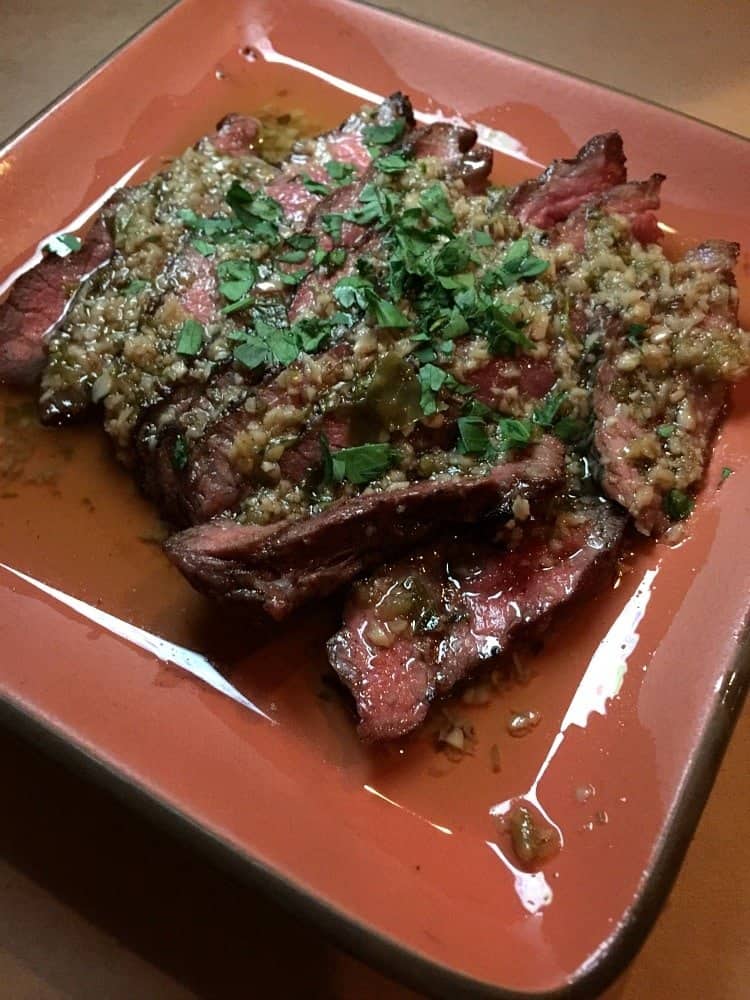 We finished our dinner (there were a few more plates in between) with this chocolate pot de creme. I'm the one that pushed dessert this time, and guess what? The chocolate went just perfectly with our rosé.
Just like everything else we ate.
The next day we got to visit the Culinary Institute of America at Napa. What a gorgeous place this was!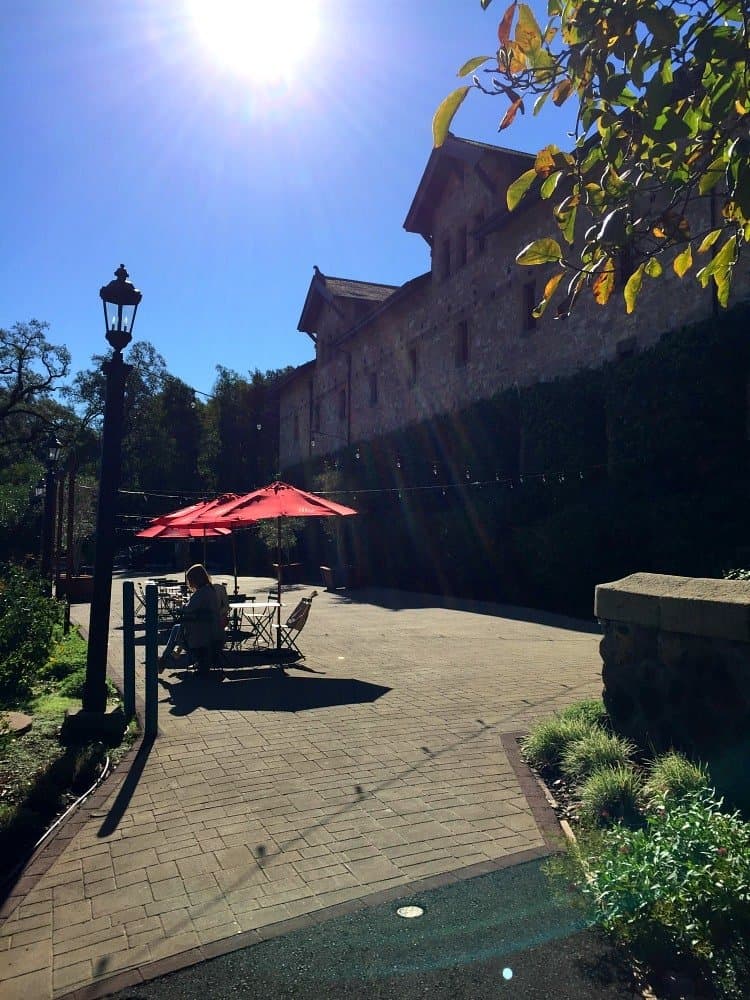 And as you can see the weather was perfect. The perfect temperature and the sun was shining, just the way I picture California to be.
We had a tour of the building first, and then were shown into the Vintners Hall of Fame Barrel Room for lunch.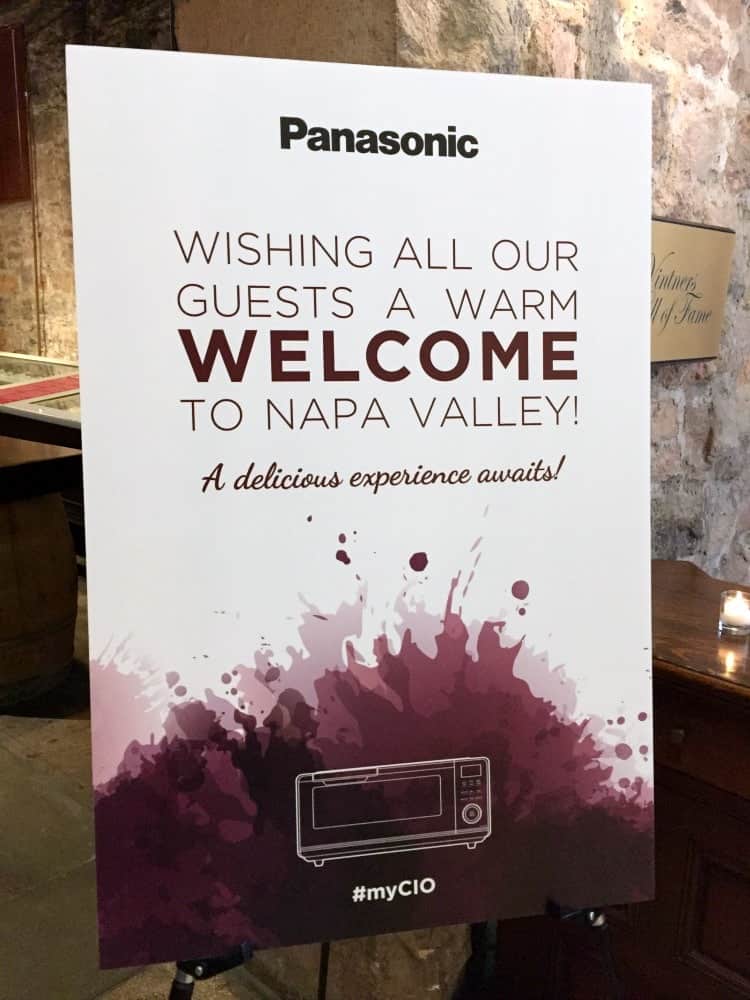 I was getting pretty excited at the delicious experience they had in store for us, but first we got to take a look at all the wine barrels surrounding the room with "Hall of Fame" wine makers hanging on the front of each barrel.
I was starting to get thirsty.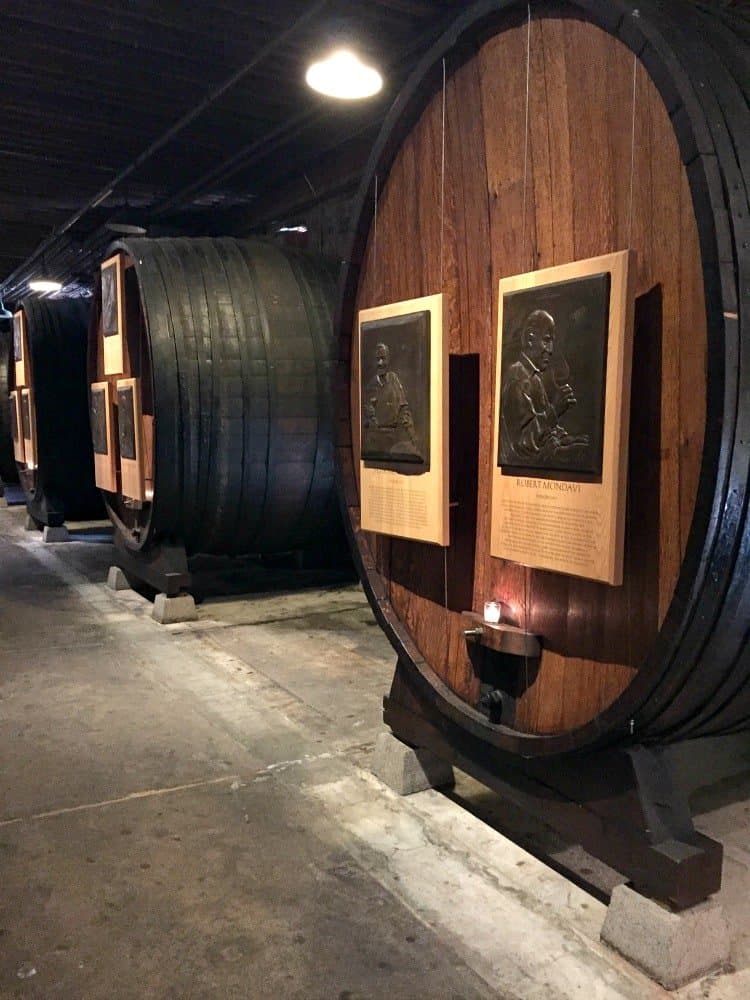 We sat down to a beautiful table with this menu on each spot.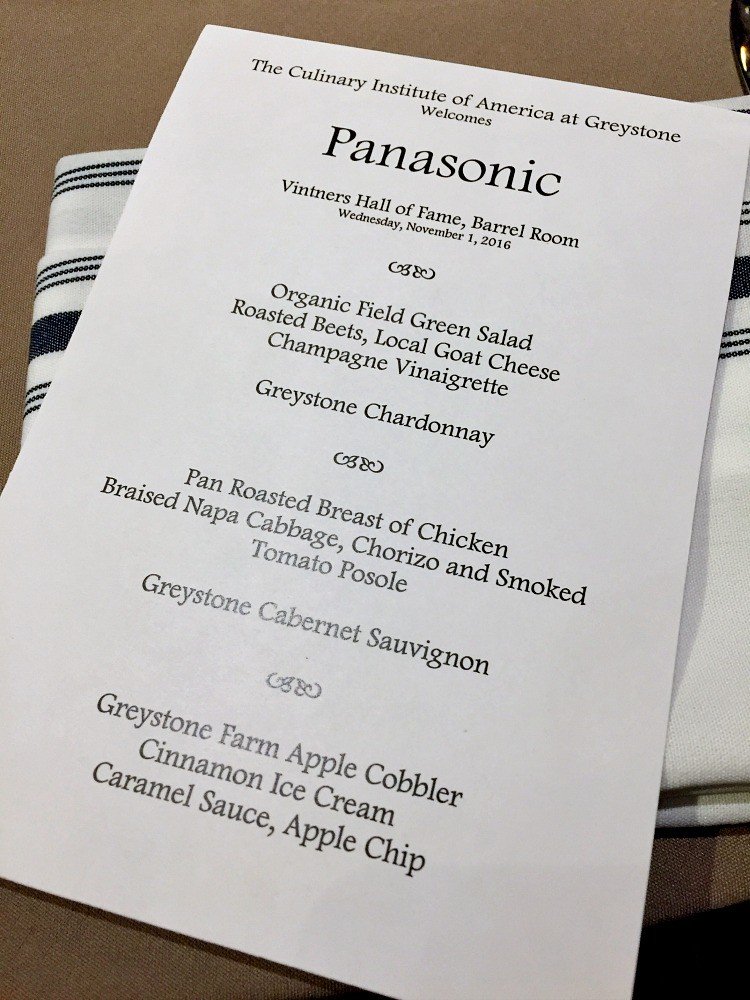 Now I was not only thirsty, but really hungry too. W were pretty lucky to be having a lunch prepared by the chefs at the CIA…and the wine was flowing constantly. No exaggeration here, as much delicious wine as we wanted.
It might have been heaven…
After the salad we were served the chicken, I literally ate everything on my plate. I wouldn't even think of leaving anything behind.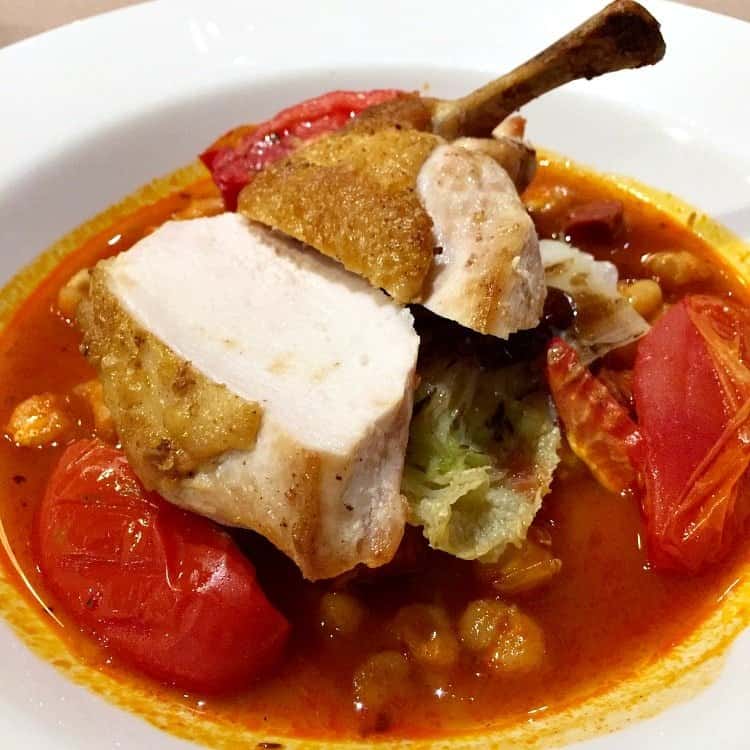 And of course there's always room for dessert! This adorable apple cobbler was no exception. I ate it all.
Homemade apple chip and everything.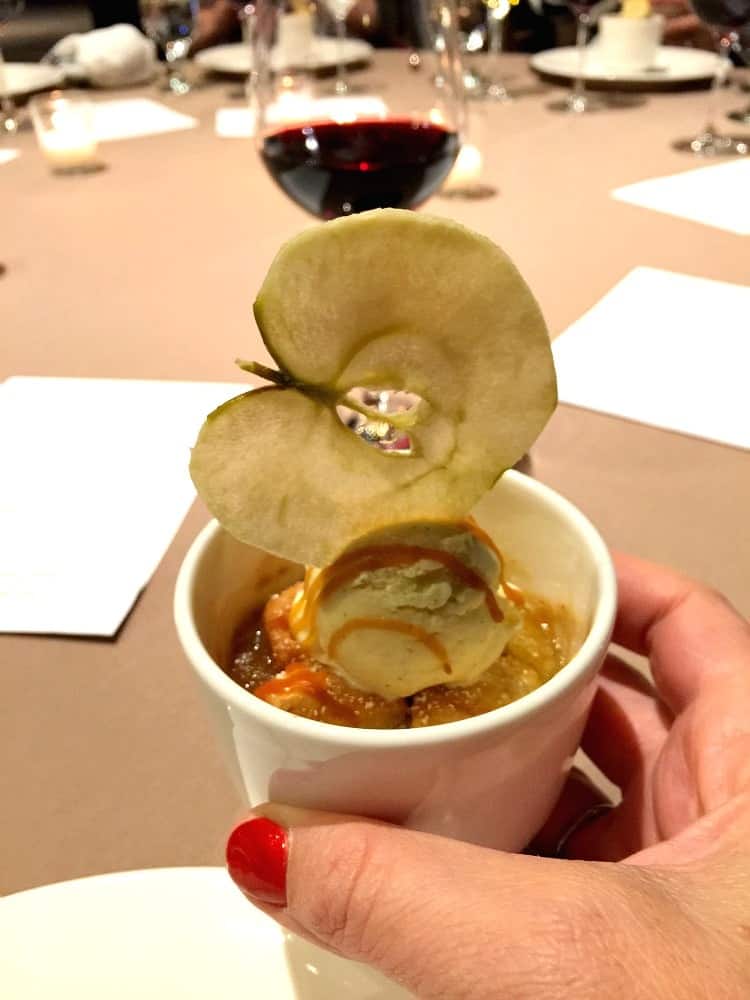 After lunch we got to see a cooking demo lead by Chef Gabe Kennedy and Chef David Kamen. They showed us what the CIO could do – and no it's not an oversized toaster oven. This thing can make meals that look like they came put of a professional oven.
Like this whole roasted cauliflower…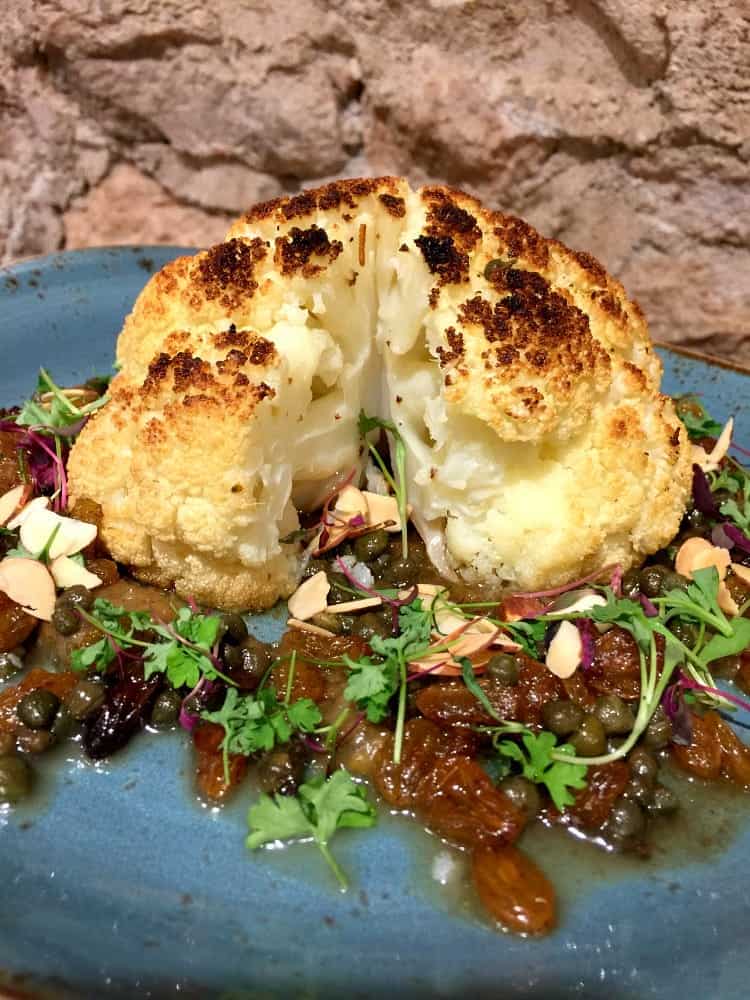 Even an entire fish!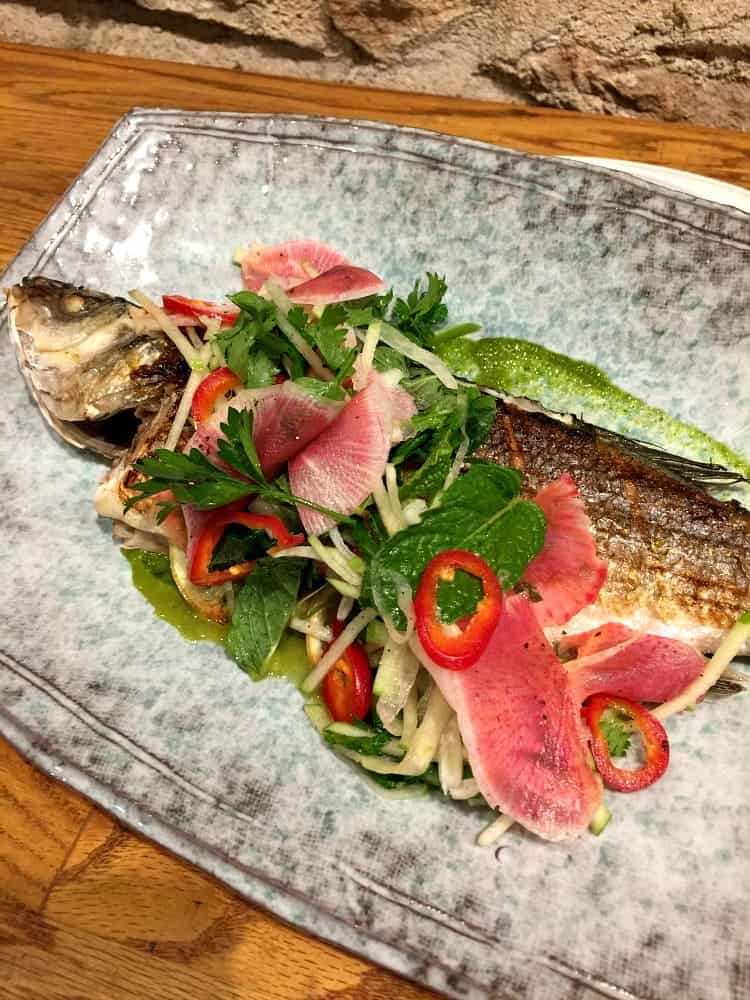 The demo was really fun and it gave us some time to digest all that good food and wine.
Back at the hotel that night we stayed in the hotel for a light dinner right at the hotel to watch the Cubs win the World Series, being a former Chicago girl – this was a big deal for me. Thank god I was on West coast time so I actually got to stay up for the win!
The next day was WINE DAY! The part of the trip I was really waiting for…we only got to visit two this trip, but we got a good idea of what we need to come back and see next time…
This is a picture outside the car window…just amazing scenery everywhere you look.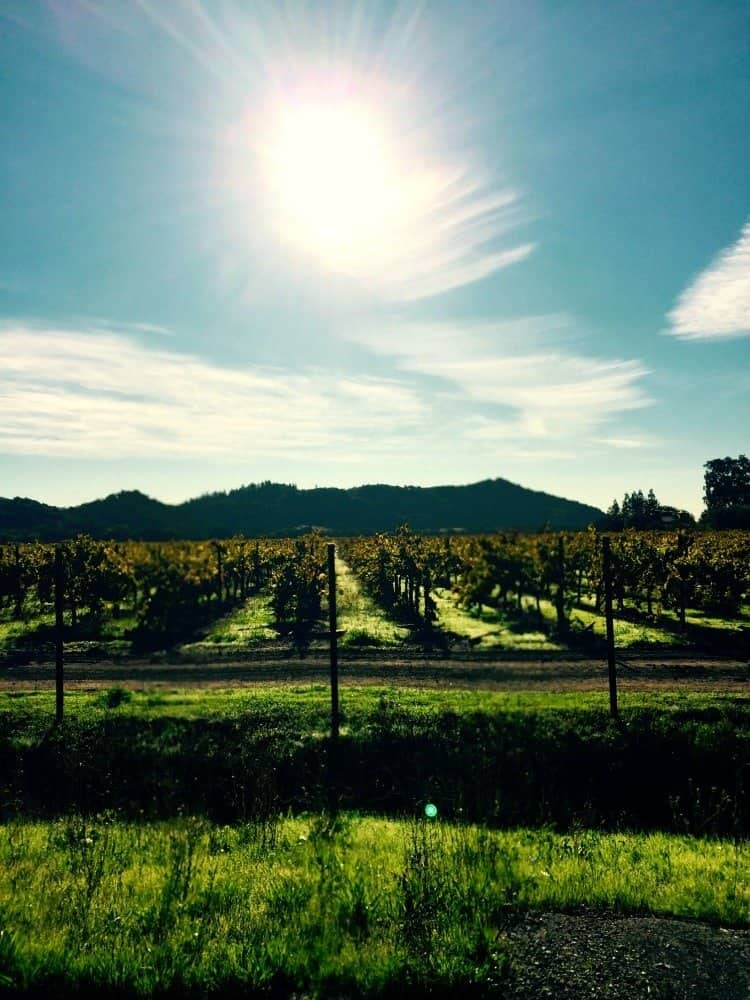 Our first stop was Cliff Lede Winery.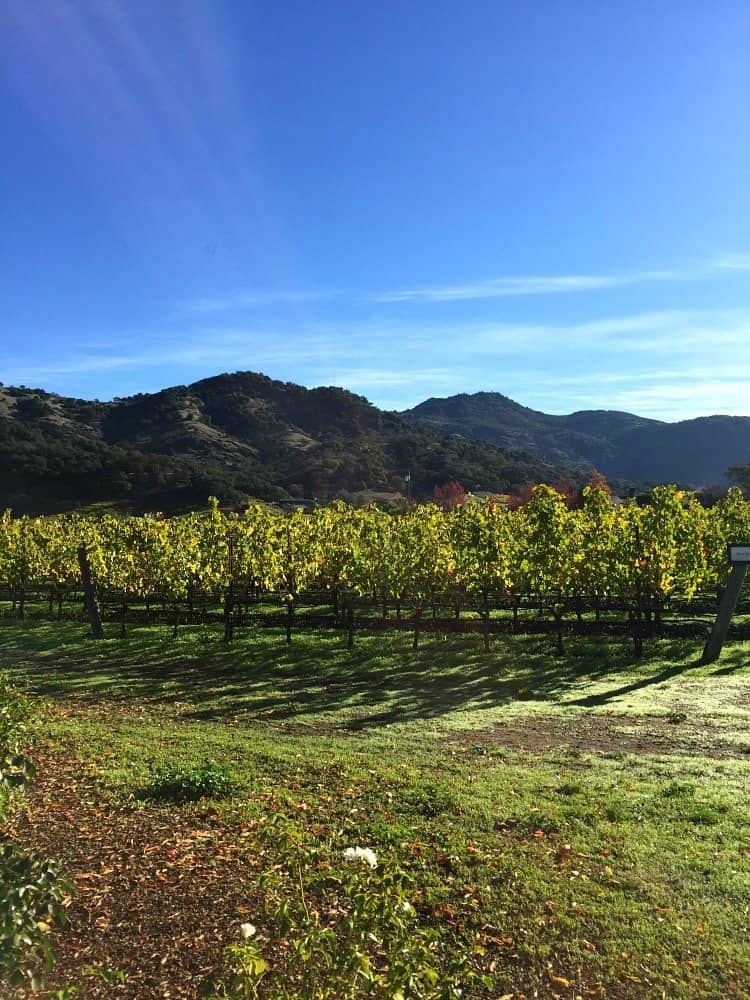 This is a picture from their back patio where you sit and have your wine tasting. This view is exactly what I pictured when I picture Napa Valley. Just completely stunning.
We had our wine brought to a table, 3 tastings of white and 3 tastings of red. Very generous with their pours…not too much at first but always willing to come back with a little bit more.
Honestly, I could have stayed here all day.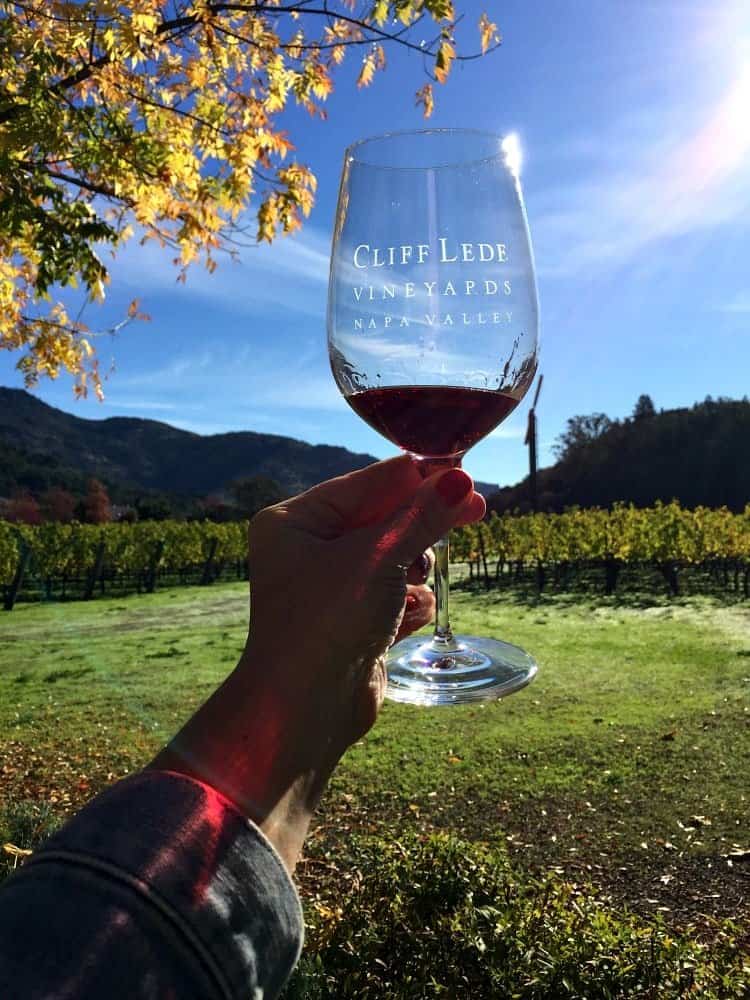 But we had one more to hit, Cakebread Cellars.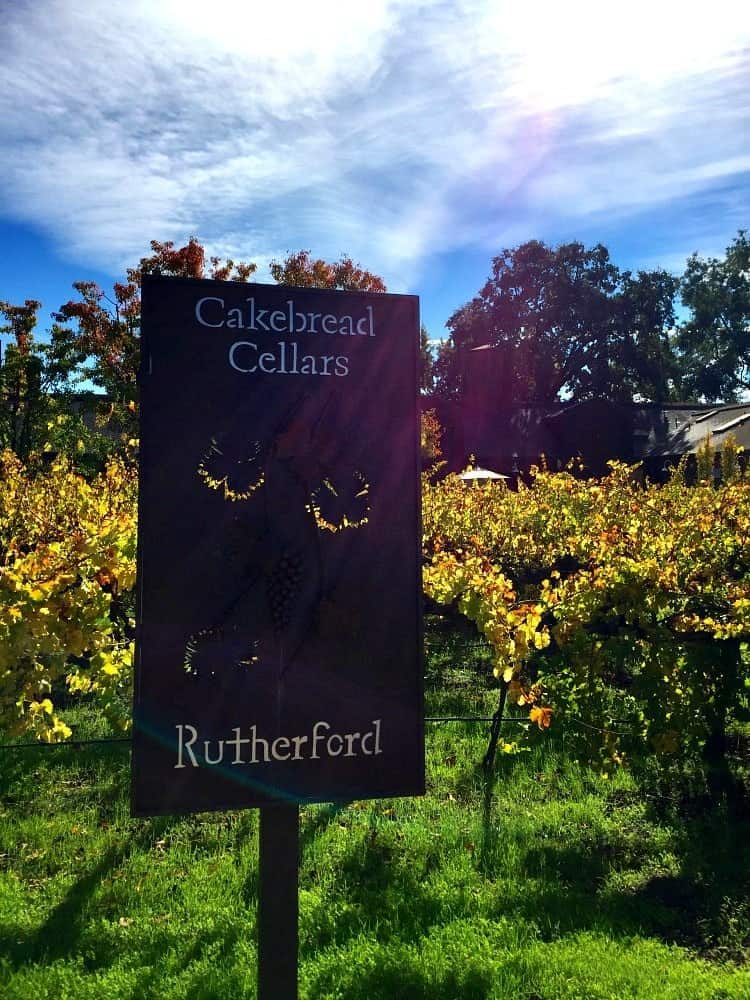 More delicious wine, more beautiful scenery. The wine tasting here was more like hanging out around the gardens instead of sitting at a table.
From there we decided that we had enough wine for the moment and took another Uber into town. We needed some sweets for dessert!
We started out at Sift, which is a pretty well known bakery – and for good reason. We got these sparkly macarons…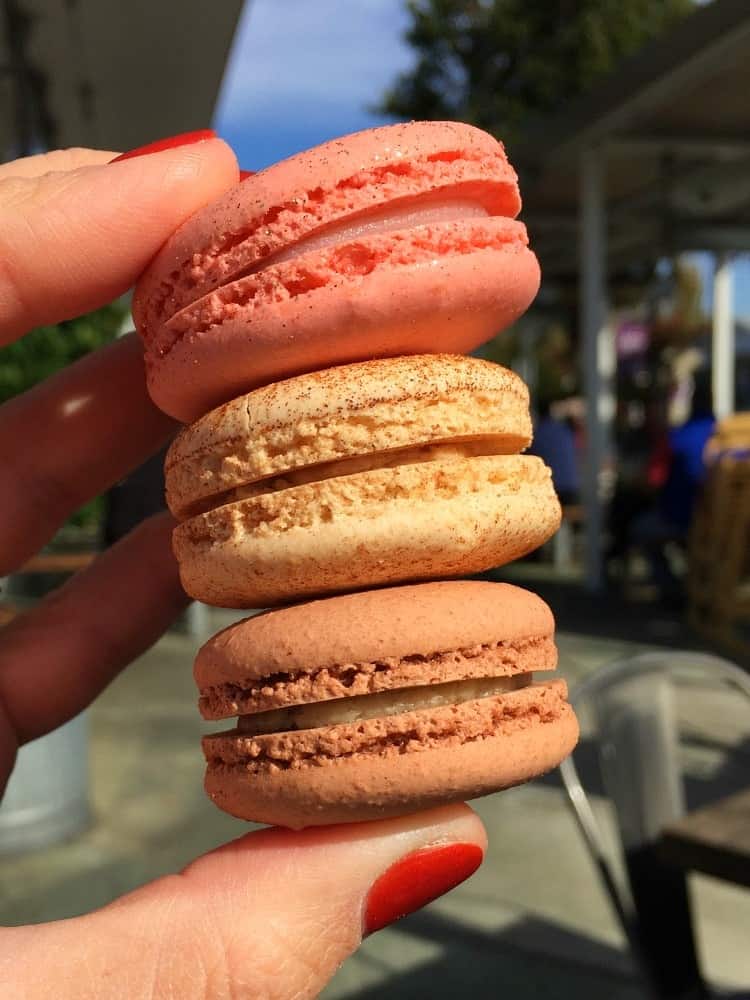 And some really fun cake pops.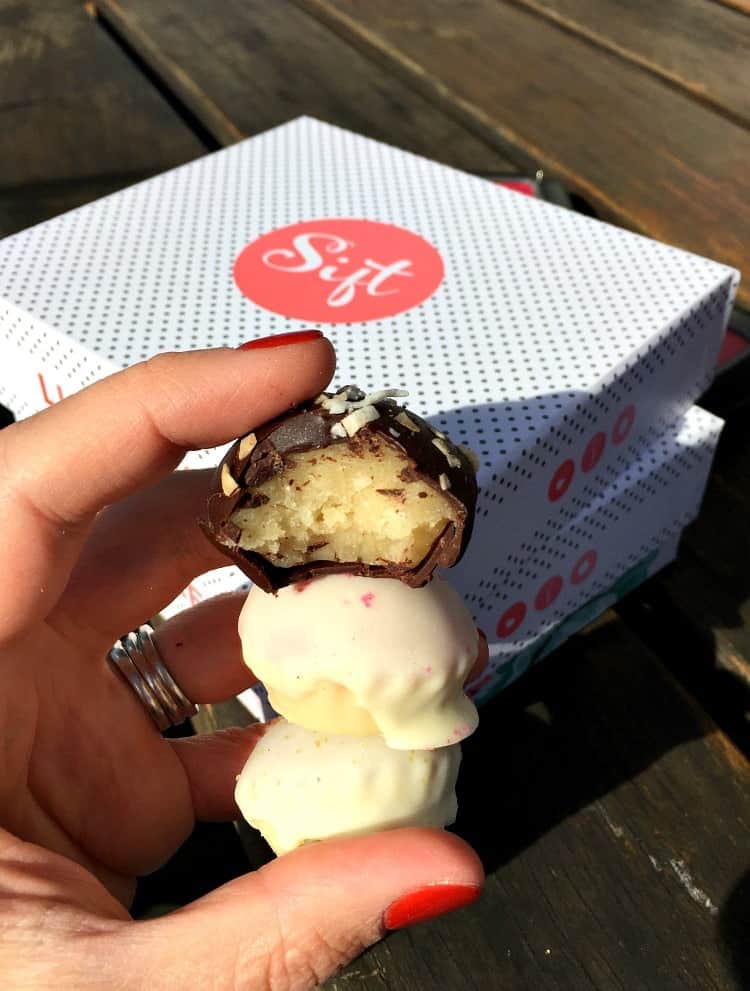 And then we were running out of time to make it back to our last event, so it was another Uber back to the hotel, quick change into nice clothes and on to the next meal!
The last dinner was at another property in Napa that was owned in conjunction with the CIA, it's a space that is being renovated and I can't wait to see it when it's done because even the in progress was super cool.
They had tons of cheese plates and appetizers set out for us to start to nibble on, and of course, lots of wine to be had.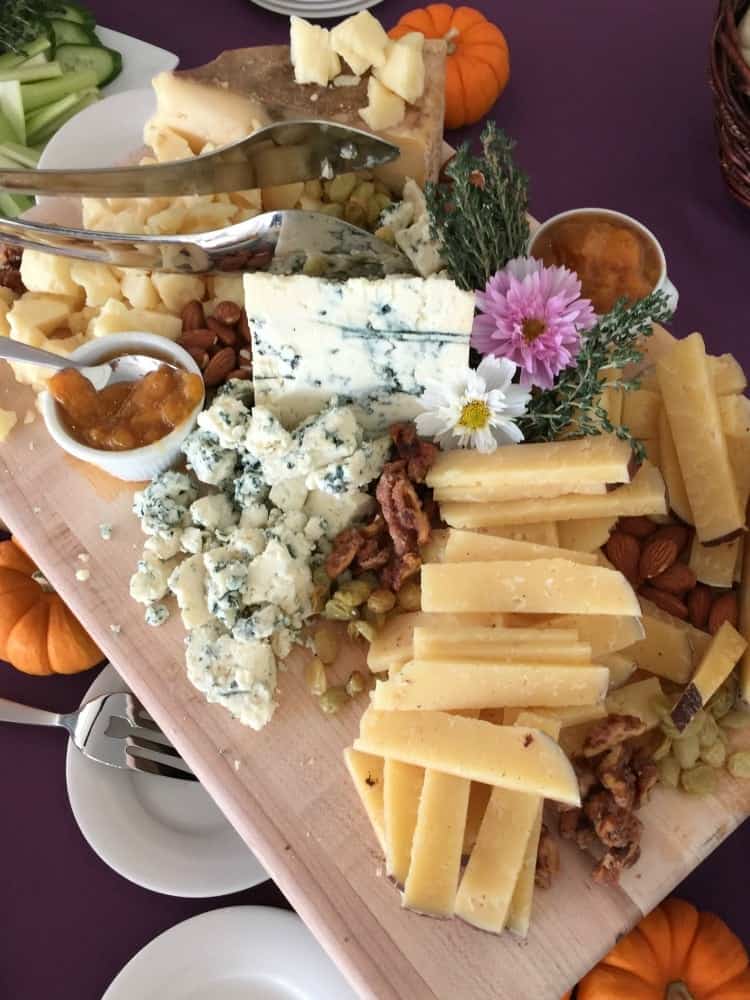 Look at this vegetable platter – it's so pretty! I've never been able to get mine to look this nice, so I took pictures for reference:)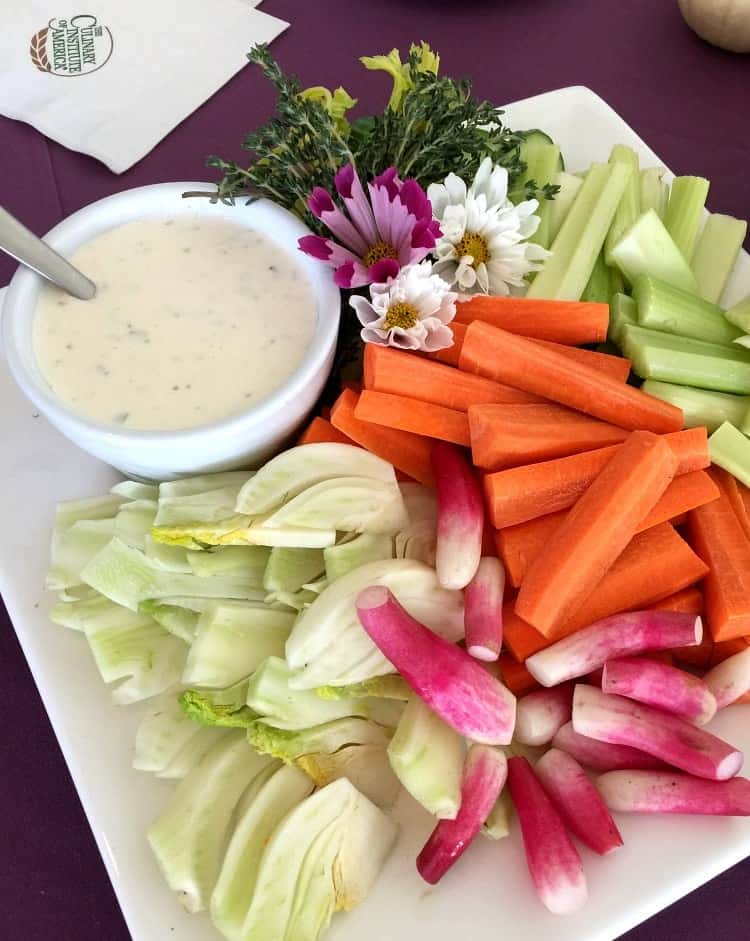 Plus they used vegetables that I wouldn't normally think to use like sliced fennel and those delicious radishes!
All the food that was prepared that night was made in the Panasonic CIO ovens. So we got to eat some more, drink some more and play a game. They handed out all these tags to make a dish up and take pictures with!
I made this one…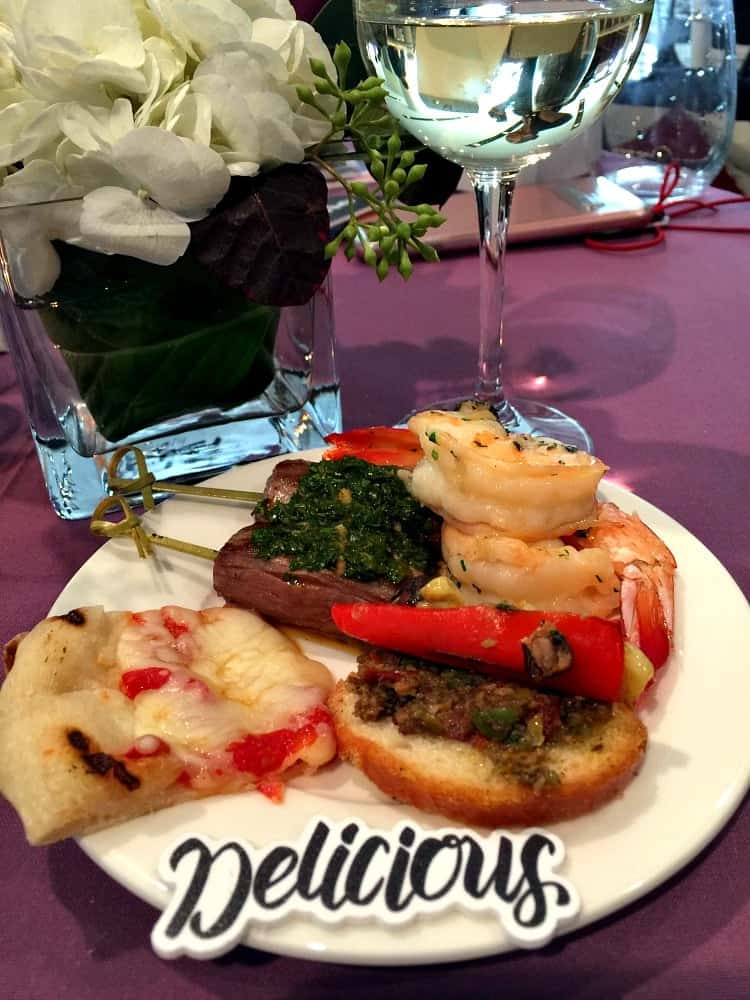 But then I needed to dive in and eat so I ended up with this one –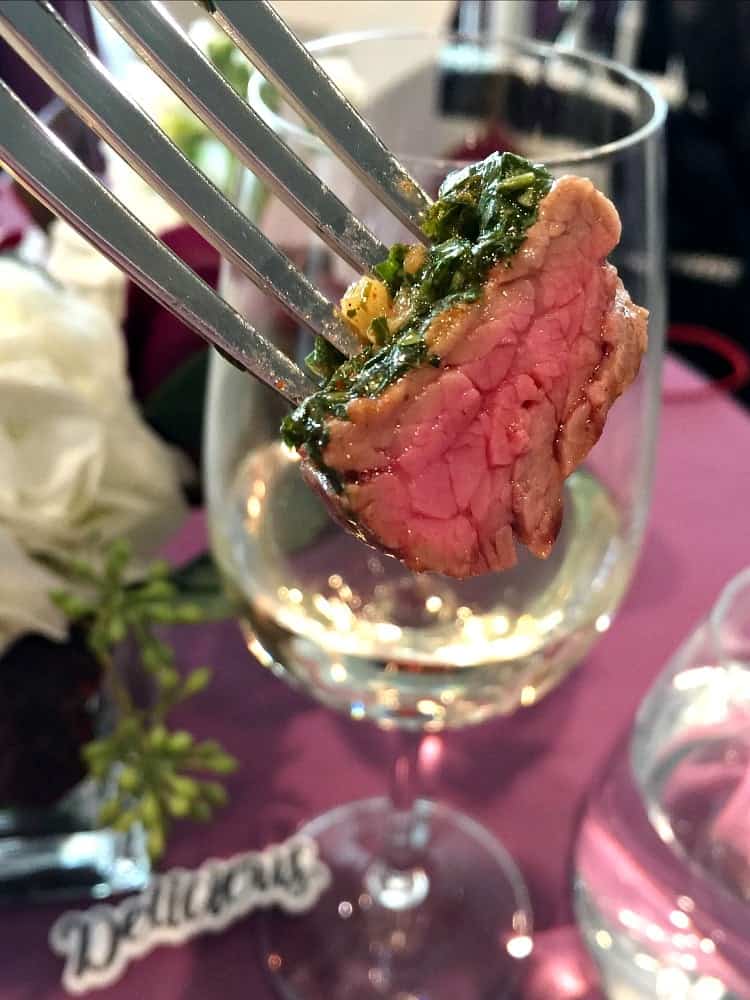 Perfectly cooked steak from a counter top oven. Pretty amazing if you ask me!
Wine Tasting in Napa was even better than I expected it to be. For some reason I imagined lots of walking, which isn't the best thing for me, but it wasn't really any walking at all. A car will take you right up to the door of the winery and drop you off. I mention this for anyone who thinks they can't do Napa because of any type of disability or trouble walking for any reason.
You can do it – and you should.
By the way, all the pictures in this post were taken with my iphone 7, perfect for traveling!