How to host a Bourbon Tasting Party! We have some tips for making a super fun bourbon tasting party, with lots of food to go along with it!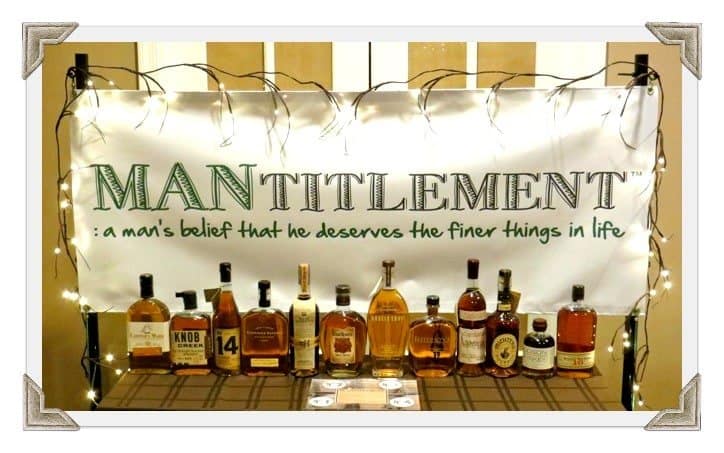 The Bourbon Tasting Party is how we like to do a bourbon tasting! Use these tips to help you host your own tasting party!
I know it the Super Bowl was on Sunday, but the highlight of the weekend for me was The Mantitlement Bourbon Tasting Party!
I want to thank everyone that came to participate in the event. I know it might have been a little more "work" than anticipated…
but I wanted it to be as true to a Bourbon Tasting as I could make it.
I ended up with 12 bottles of Bourbon/Whiskey to use in the tasting. I divided them into three flights, pairing them with appetizers, dinner and dessert.
I made my Bacon and Pork Meatballs, and a crazy-good Shredded Ham recipe for sliders that has quickly become a favorite recipe of ours.
I was also lucky enough to have Chris from Cooking in my Yard bring his awesome pulled pork. Nice picture, too.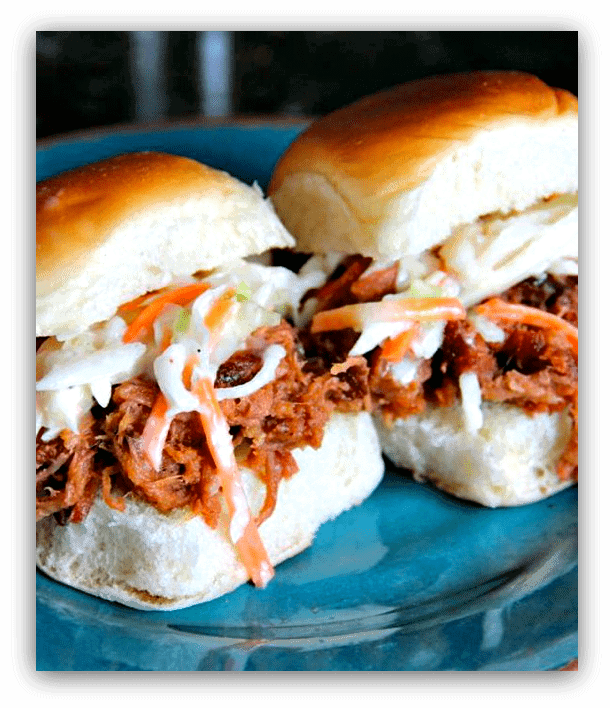 For dessert I made Bourbon-Bacon Chocolate chip cookies, Bourbon Truffles and Hudson Whiskey Spiced cupcakes. You won't find a lot of desserts here at Mantitlement™, but I had to give the guys something after three flights of Bourbon. More on those recipes to come…
And then I threw together this Bourbon-infused fruit cocktail. I used the Elijah Craig in here, skewered some fruit and threw it in a jar to marinate.
Because why not have more Bourbon?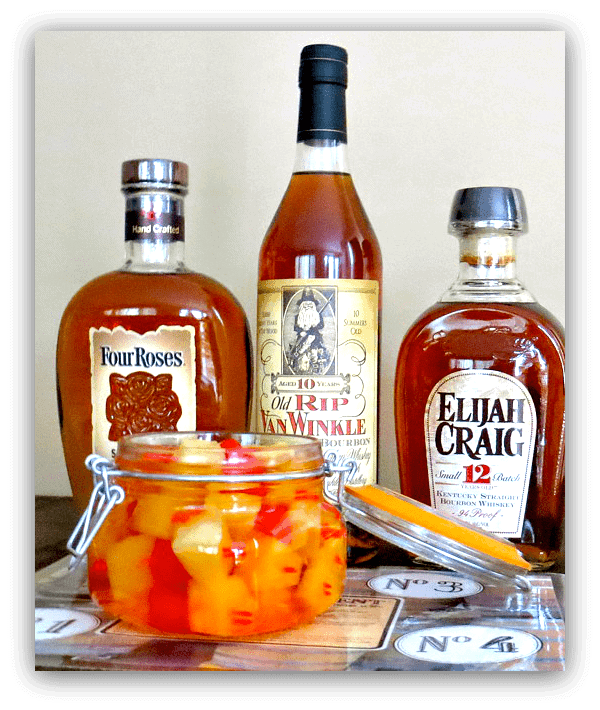 I made up my own tasting place mats from a photo I took when I visited Hudson Whiskey, then I set the place mats with four different tasting stations and provided a section in the middle of the place mat with some bourbon tasting guidelines. Doing all my research on bourbon tasting, one thing I found really interesting is that a drop or two of water will help bring out the notes in the Bourbon…
So everyone got a dropper bottle filled with water.
And there was also a "cheat sheet" that was provided with the tasting notes of each of the Bourbon/Whiskeys that were being sampled.
I think I thought of everything.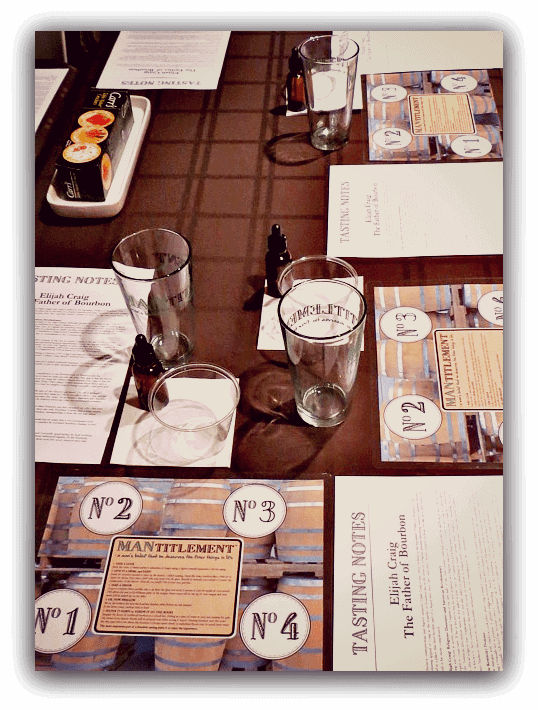 After each flight, everyone's card was graded and the results were read out loud which I think helped to bring out the competitive nature of the evening. I will admit that I had another person as a back up who was checking the results, as I may have had one or two bourbons myself along the way…
Angel's Envy seemed to be the overall favorite of the night and the Bourbon that was guessed most correctly out of all 12. The notes seemed to be more distinctive and had a nice, smooth finish.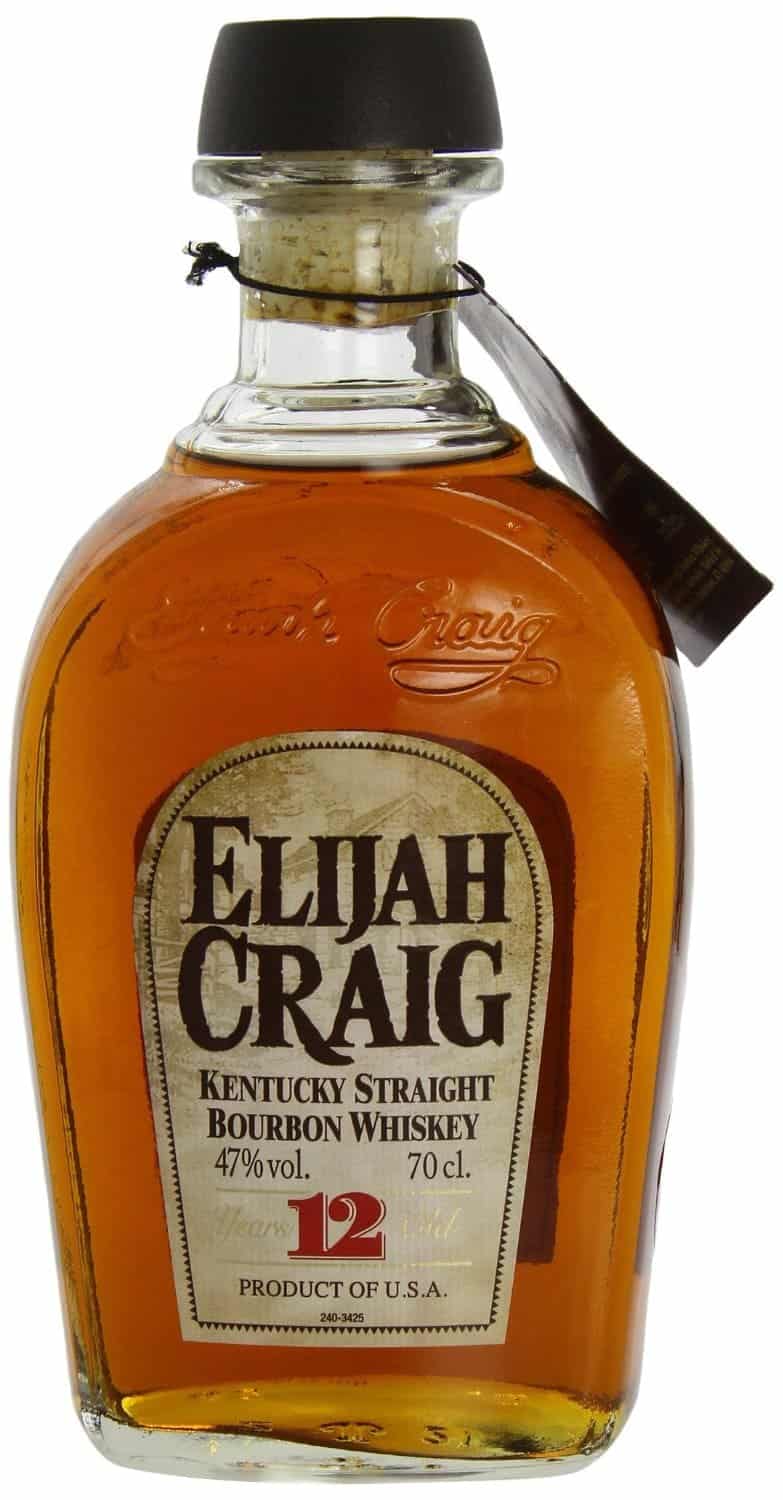 To the winner of the tasting, I gave away a bottle of Elijah Craig. Elijah Craig Bourbon is said to be considered the "Father of Bourbon". I displayed a story about Elijah Craig's life to give a little background as to why I chose it. Here's a link to the story, it's pretty interesting.
The night was overall a success- and I think a lot of fun too. I feel very lucky to have a great group of friends and family that would come and participate in this Bourbon Tasting with me.
I know there were a few of you that couldn't make it, so I hope we can all keep up this tradition and do it again soon…maybe next time we can kick it up a notch with a Tequila Tasting?