Make up a whole tray of these Red White and Blue Shooters for your Memorial Day party this weekend! You can make them up ahead of time and have them ready when you are!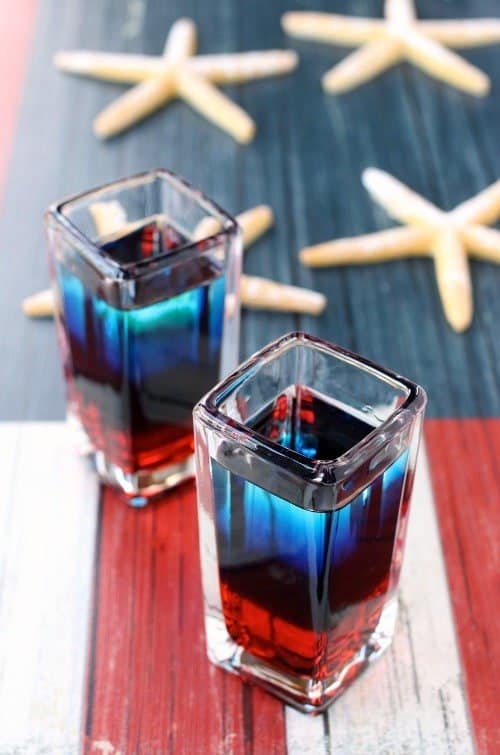 You all know how much I like to make shots, especially when it's a layered shot.
Nothing says "party" more than walking into a room with a tray of shots. For some reason it always gets people excited, even people who say they don't do shots. Those are my favorite kind to try and convert.
You don't need to make shots that are going to knock people on the floor after a few – you do want your friends to actually enjoy themselves. Not wake up the next morning cursing you out. Although I can't say that's never happened…
But these Red White and Blue Shooters are more on the tamer side. Tam-er that is, not completely harmless but not to potent either.
Start by pouring a bottom layer of grenadine into the bottom of your shot glasses.
Then slowly pour in a layer of Blue Curacao over the back of a spoon, as slowly as you can so it doesn't mix in with the grenadine.
The top layer is vodka, you can use a flavored vodka or just the plain kind. As long as it's white it'll work out fine. You could even use a white tequila or rum, pick your favorite.
Yes, there is a little bit of work to make these shooters – but here's the part you'll like. You can make up a whole bunch of these ahead of time and keep them chilled in your fridge until it's time.
If you need appetizer recipes for you party you can check out this one, or this one is a favorite of mine too. Main courses can always be hamburgers or hot dogs but if you're looking for something a little extra you can try my Whiskey Burger recipe. A hamburger patty quick-soaked in a little whiskey goes a long way…
Have a fun and festive Memorial Day Weekend – and while your celebrating let's remember why we're actually partying in the first place. To all of our service men and women, present and past, these Red White and Blue Shooters are for you!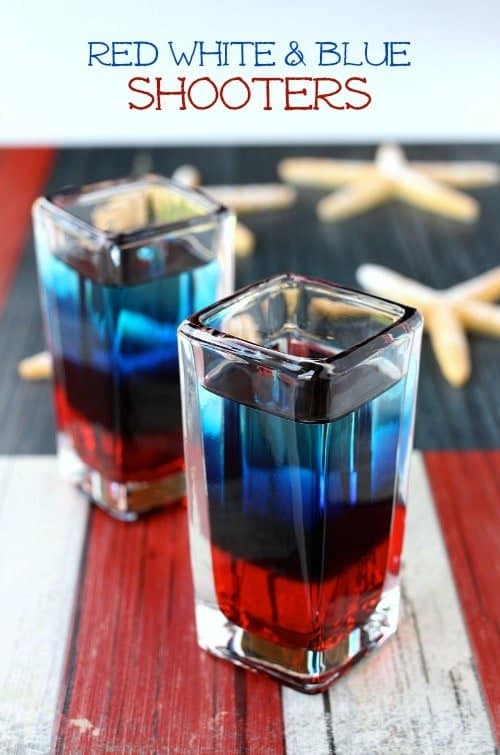 Print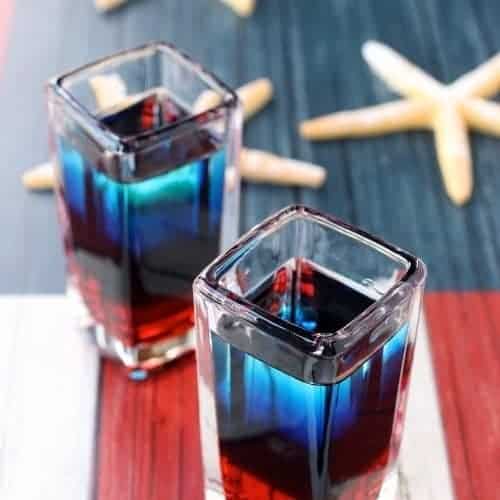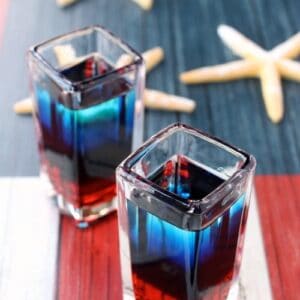 Red White and Blue Shooters
Scale
Ingredients
1/2 oz

. Blue Curacao

1/2 oz

. grenadine

1/2 oz

. vodka
Instructions
Start by pouring the grenadine into the bottom of a shot glass.
Over the back of a spoon, slowly pour the Blue Curacao into the shot glass to make the second layer.
Pour the vodka into the shot glass in the same way, over a spoon so the layers don't mix together.
Recipe Notes
Repeat with as many shots as you'd like to make. You can make these up ahead of time and carefully place them in your refrigerator until you're ready.