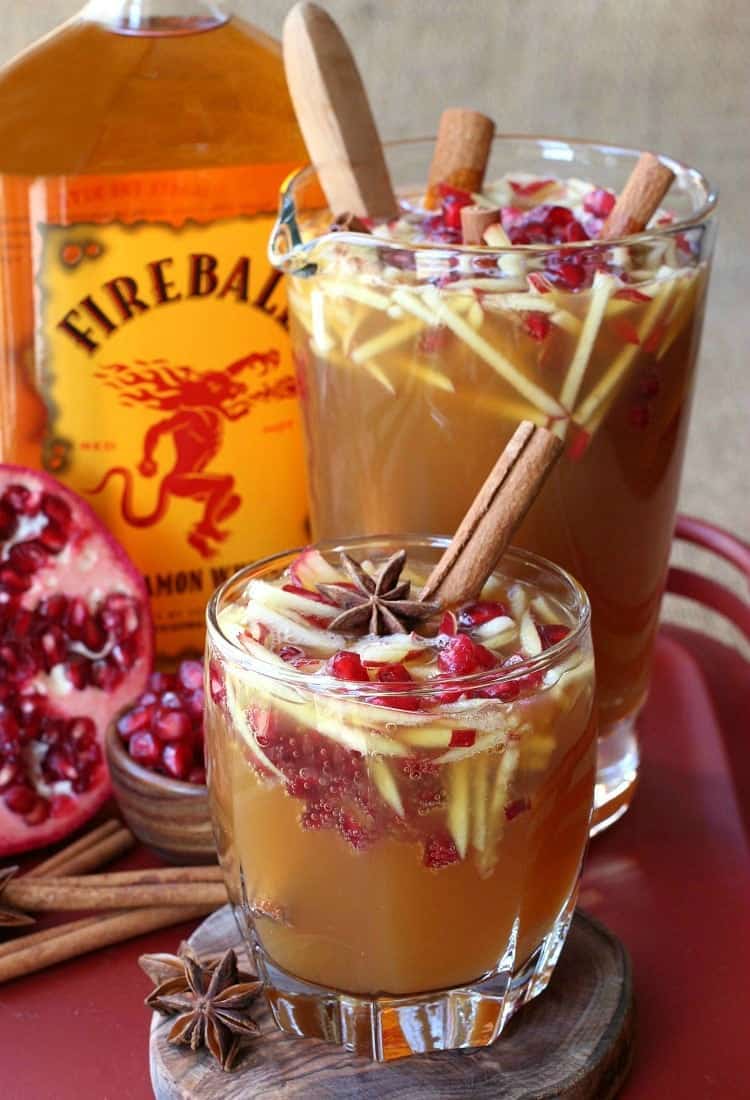 Sparkling Fireball Apple Sangria
Sparkling Fireball Apple Sangria has tons of cold weather flavors like apple cider, fresh apple, pomegranate seeds and definitely the booze!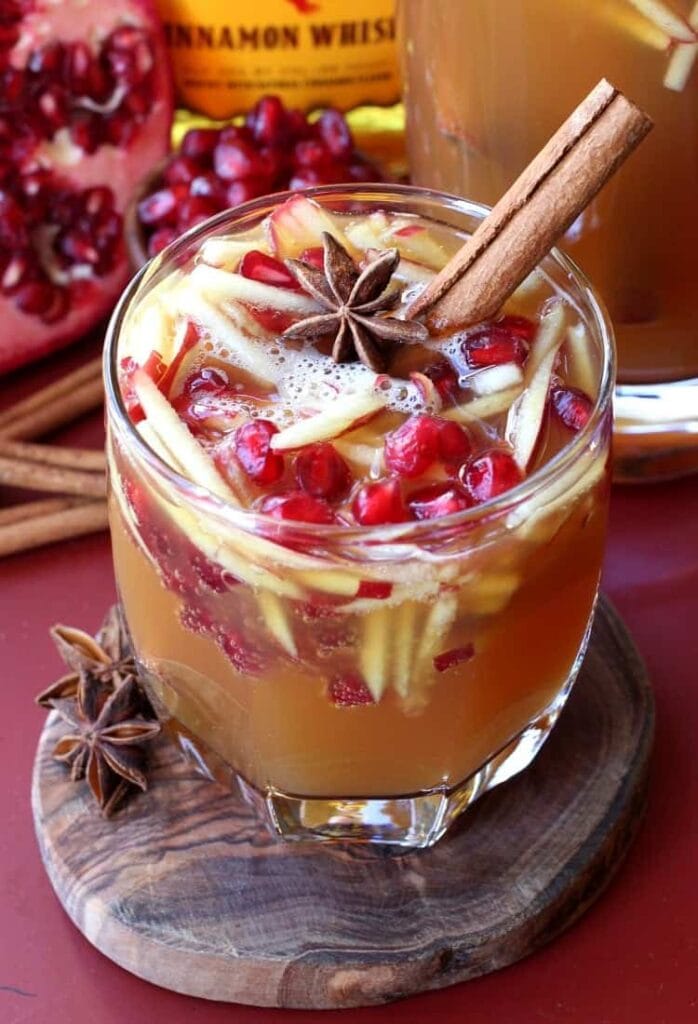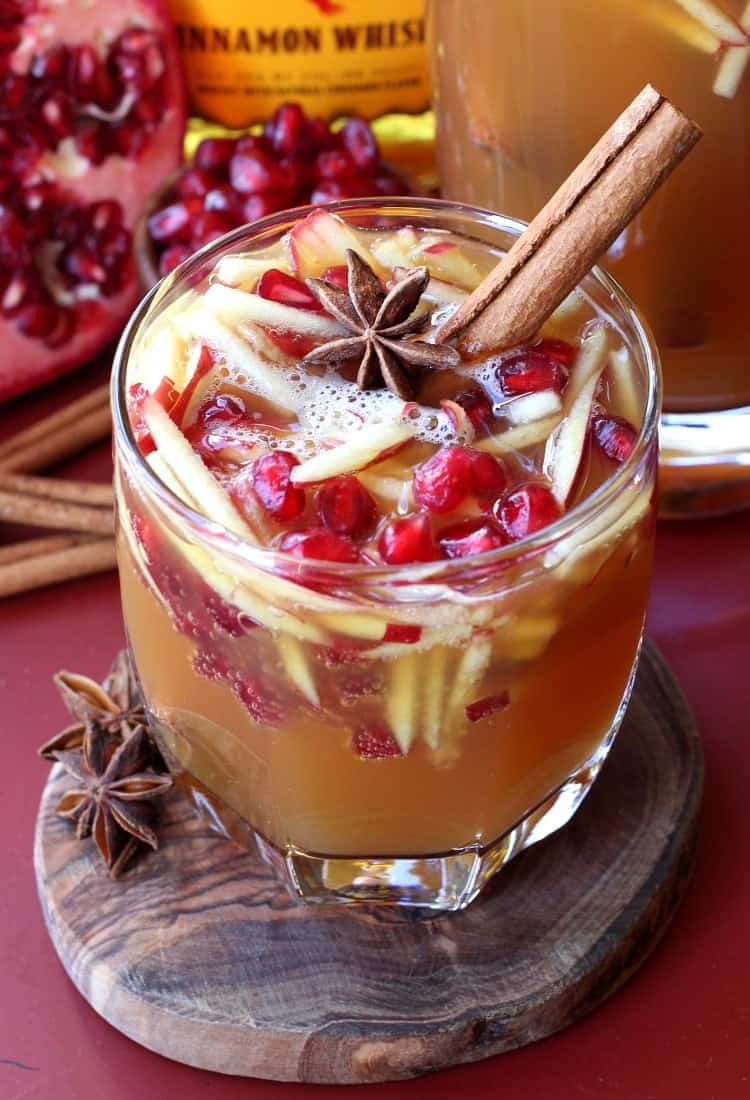 The last pressing of cider has happened, and now we need to drink it all up! We love apple cider – all of us. And we all have our different ways to drink it, too.
You could make one of these cocktail recipes like this Apple Cider Margarita, or try another summer drink turned Fall with this Apple Cider Mojito.
But for just hanging out drinking some cider, Christie likes to drink hers warm with a splash (or two) of Applejack. I like mine cold and light on the cider, but heavy on the whiskey. Of course, for the kids it's just plain cider but my little guy likes to put seltzer in his to make it "bubbly" so I guess that's his little twist – but it got me to thinking about making this Sparkling Fireball Apple Sangria.
Sangria is such a fun drink to entertain with since it looks so nice sitting right out there on your table. Also it means that I'm not getting up every 15 minuets or so making someone a drink – not that I mind that at all – but it's nice to just sit sometimes and let everyone serve themselves!
You can make this one for the kids too – we did! Leave out the booze and basically make an apple cider and sparkling cider together in a pitcher, you can add a splash of pomegranate juice or cranberry juice for color, too, and add in all the fruit. They'll love it!
But for the adults, we want the booze.
This is one of those drinks that tastes so delicious you forget that the booze is in there, until after you drink a couple of glasses then it makes you remember…
Start out by grabbing your favorite pitcher and pouring in the apple cider, apple liquor and the Fireball. For those of you who think you don't like Fireball, this might be the drink for you to try.
Then get your fruit in there and top it off with sparkling apple cider.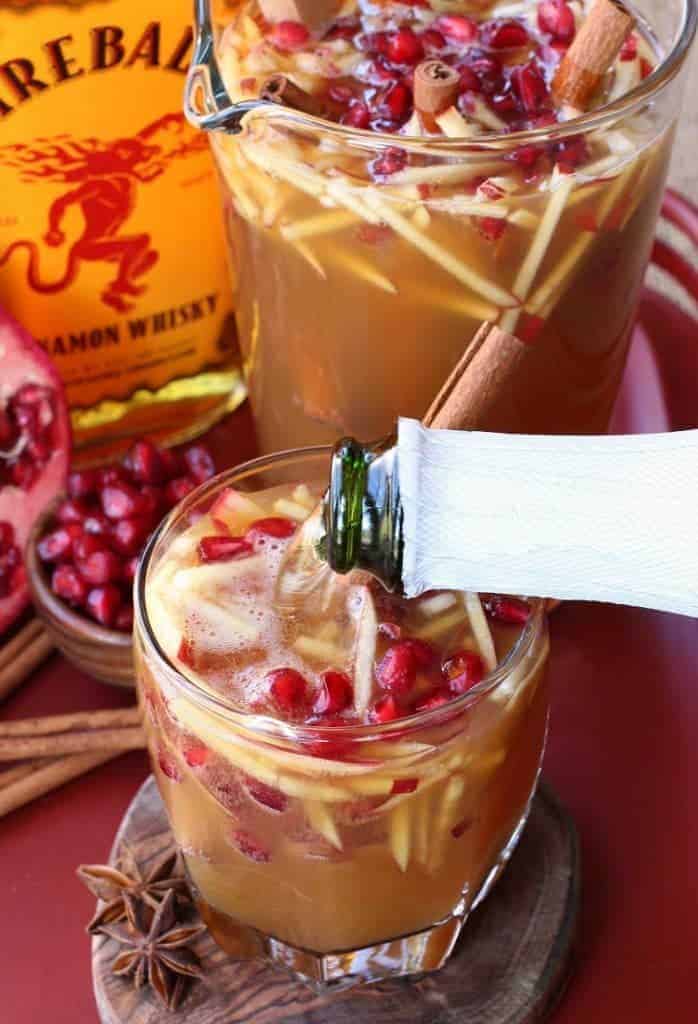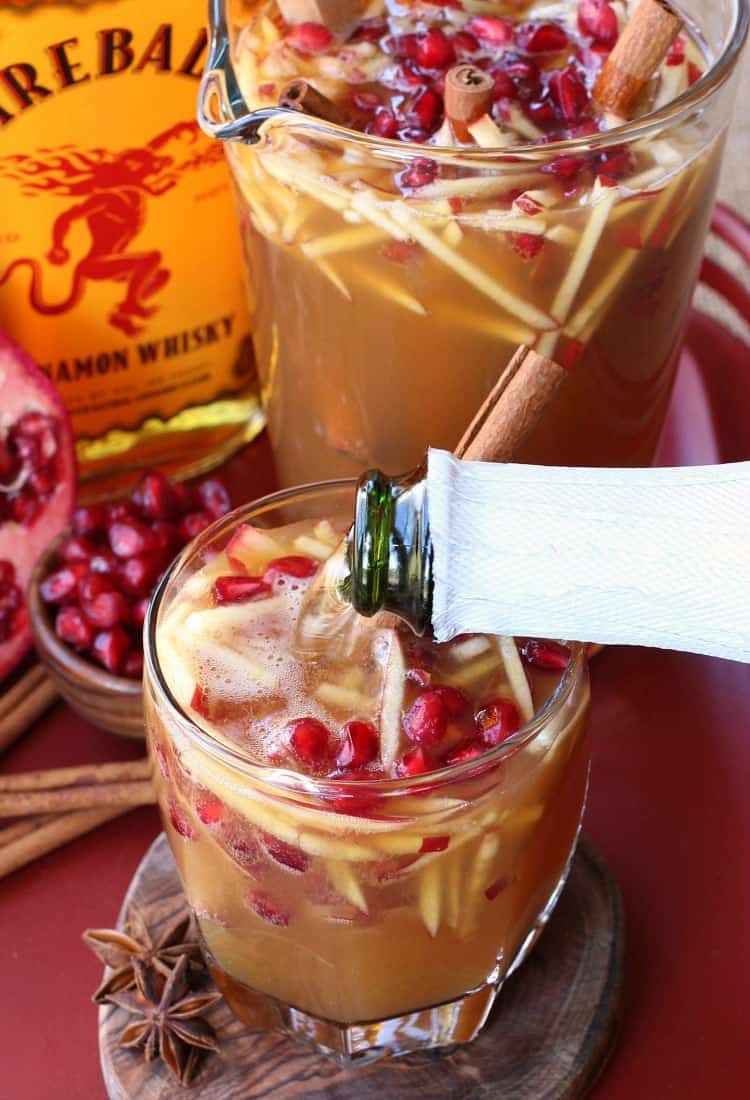 You could use champagne, too if you want to make this cider extra boozy. Totally up to you!
Get a good amount of fruit in each glass and pour the Sparkling Fireball Apple Sangria on top. Then like I said, just place that pitcher in the center of your table and sit back and relax.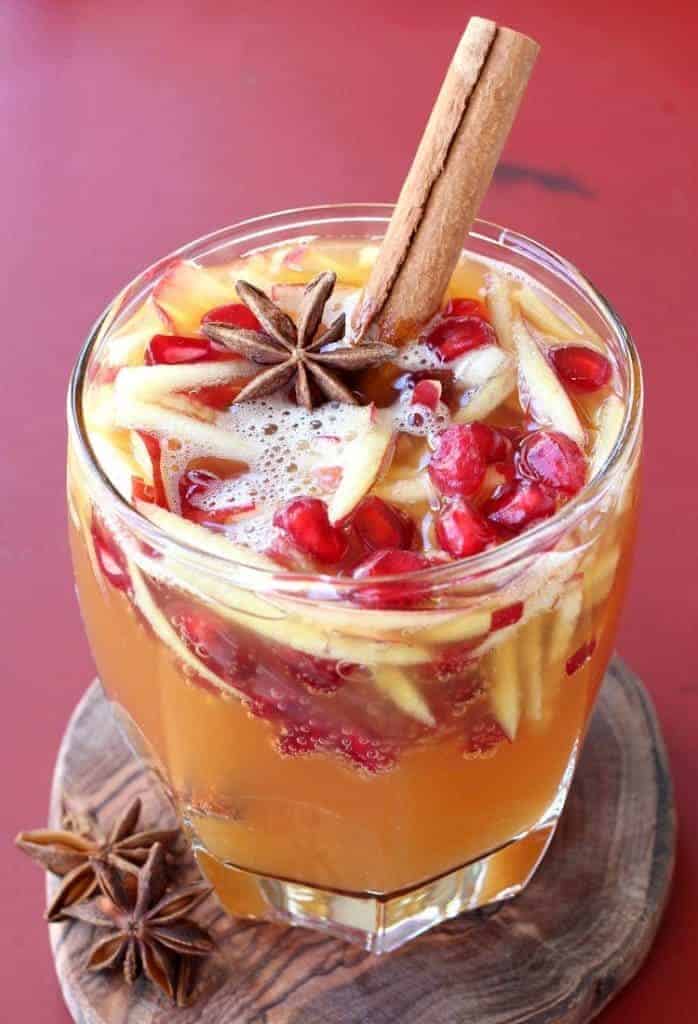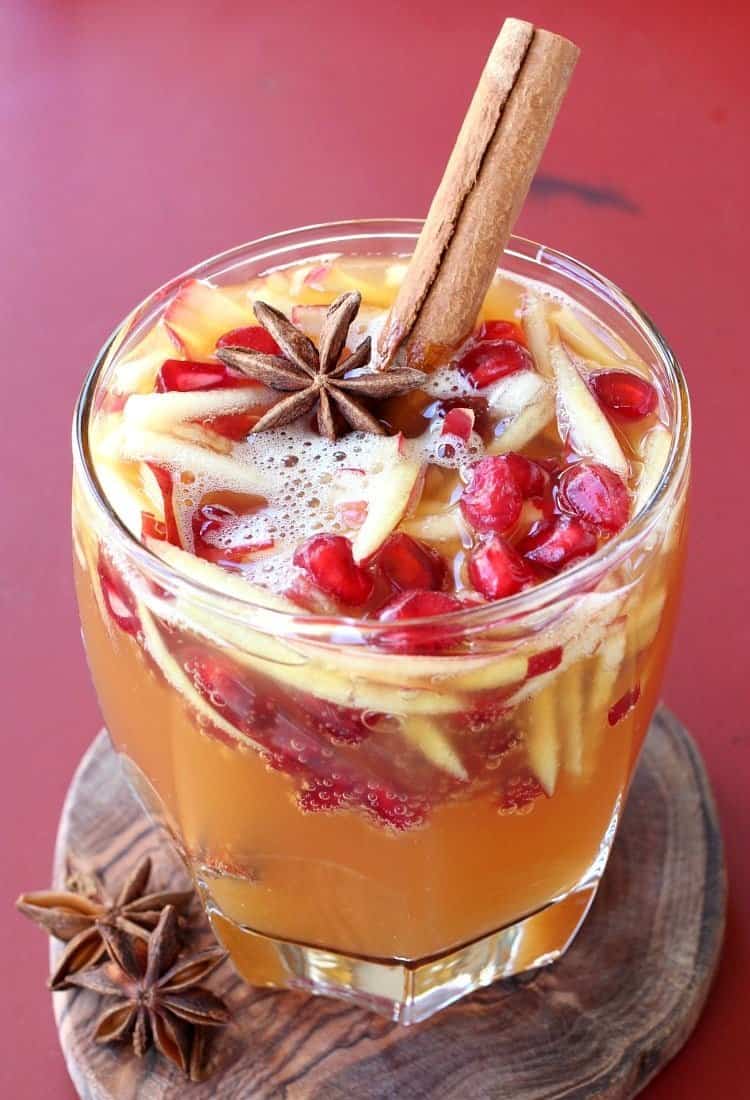 The cocktails will serve themselves this time.
Just in case your party guests are as thirsty as mine are – you might want to double this recipe and make enough to go around for more than a couple glasses each!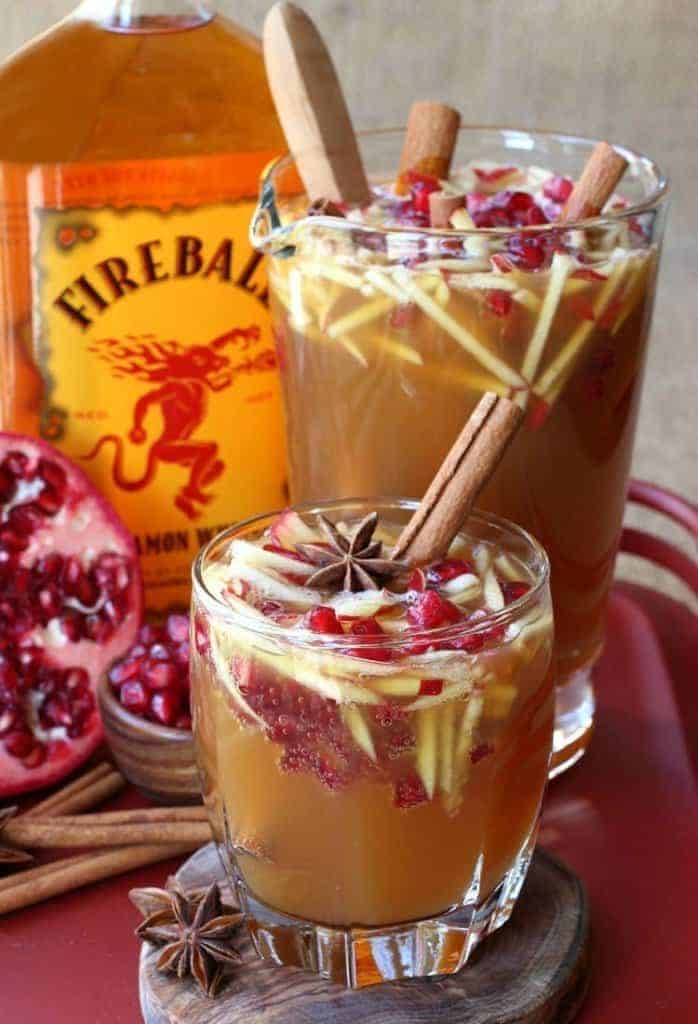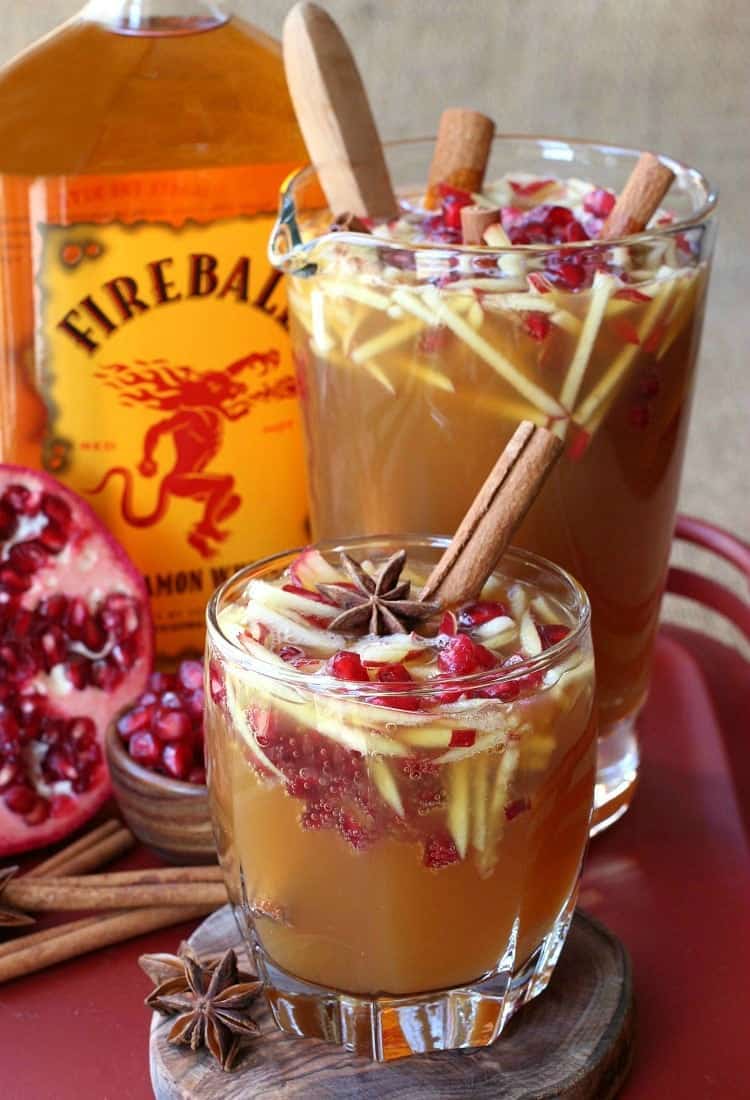 Print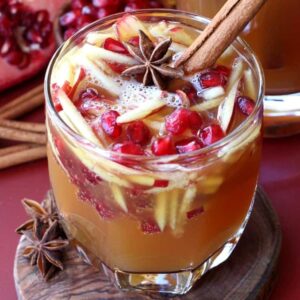 Sparkling Fireball Apple Sangria
Author:

Yield:

6

1

x
---
Ingredients
4 cup

s apple cider

3/4 cup

Fireball Whiskey

1/2 cup

caramel vodka

1/4 cup

Apple liquor (such as Berentzen)
Sparkling apple cider or champagne for topping

2

apples, washed and sliced into strips

1

pomegranate, seeded
cinnamon sticks and start anise for garnish
---
Instructions
Add the cider, Fireball, apple liquor and caramel vodka to a large pitcher.
Add the apple and pomegranate seeds and stir.
Store in the refrigerator until it's cocktail time.
Right before serving top the pitcher off with the sparkling cider (about 2 cups), stir and pour into glasses.
Top each glass with some fruit from the pitcher, a cinnamon stick and a start anise.