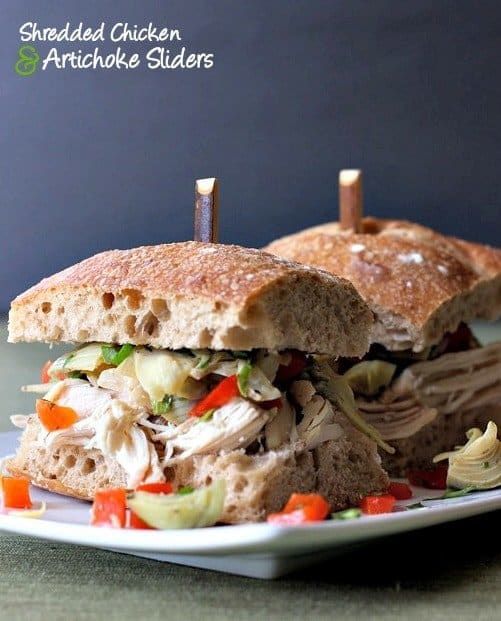 Shredded Chicken and Artichoke Sliders
If you're looking for a light meal for lunch or dinner, these Shredded Chicken and Artichoke Sliders are your answer! An easy crock pot meal that doesn't look (or taste) like a crock pot meal.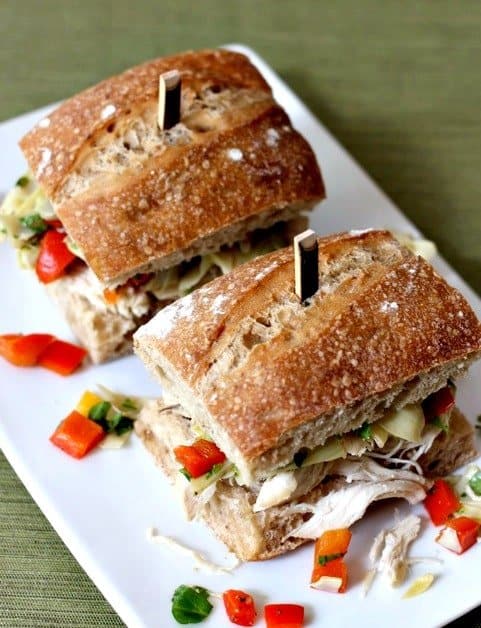 The chicken for this slider is where the crock pot comes in…some chicken broth and chicken breasts in your crock pot with a few seasonings and 4 hours later you have tasty shredded chicken. Not 8 thousand hours later, just 4. And really I think it's even fine after 3.
The chicken is perfect for the sliders but we also ended up using it for a lot of other things in the next couple of days…the wife was putting in her salads, I made some chicken salad for the kids and we even put some in a simple chicken noodle soup on the last day when my little guy got sick.
The first two nights though, it was all about the sliders.
One of my favorite salads in the summer is a Roasted Artichoke Salad from Ina Garten. We make it all the time because it goes with any meal – but a lot of the time we make it with grilled chicken and I end up cutting it up and mixing with my artichoke salad.
So that dinner gave me to the idea for these Shredded Chicken and Artichoke Sliders. I used a jar of marinated artichokes that I had leftover from my Cheesy Artichoke Bread, I love a two-for one ingredient…so there wasn't much to making this salad up because the flavor was already there.
Just chop up some of the marinated artichokes and get them into a large bowl. Then chop up some roasted red peppers, some fresh arugula, s&p, and a little olive oil.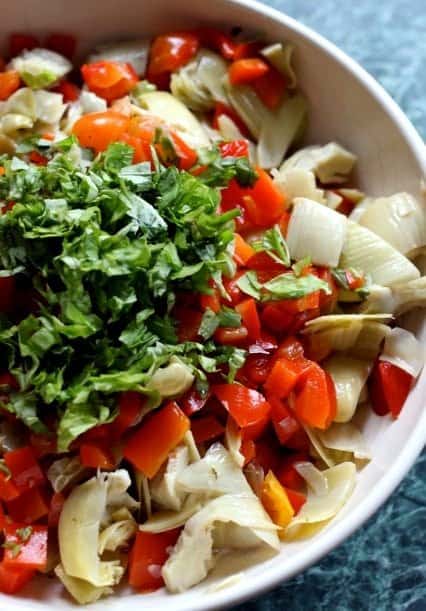 It's good to go right away but if you have the time, let it sit in the fridge for a bit and it'll get even better.
Next just assemble your artichoke salad on top of your shredded chicken and dive in. Easy and tasty.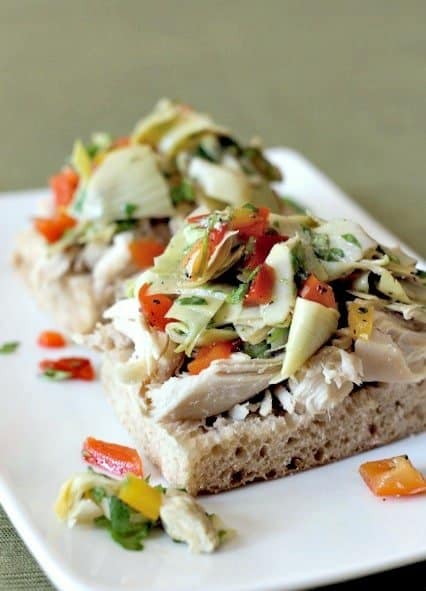 And yes, these are totally low-fat, low-cal, low-carb without the bun, etc…All of that is true. But I don't care about that so much…I just love how they taste!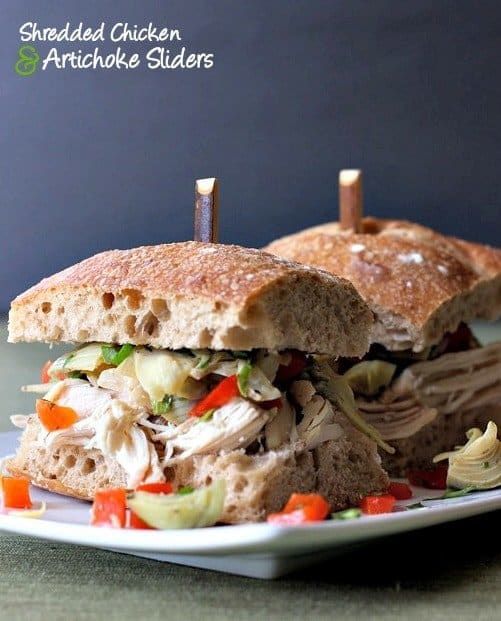 Print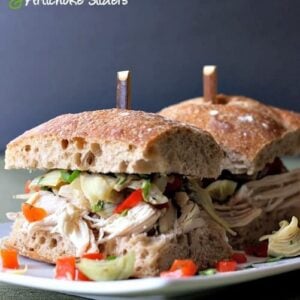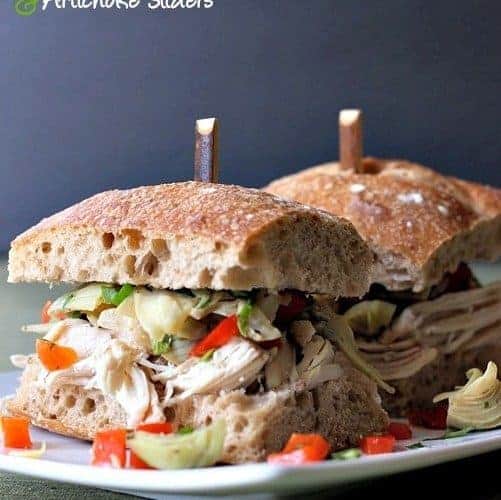 Shredded Chicken and Artichoke Sliders
---
Description
Makes 12 sliders
---
Ingredients
For the Shredded Chicken
1 3/4

lb. boneless, skinless chicken breasts

3

c. chicken broth

1

t. garlic powder

1

t. onion powder

1

t. salt
Marinated Artichoke Salad
2

c. marinated artichokes, chopped

2

c. rosted red peppers, chopped

1/4

t. salt

1/4

t. pepper

2

t. extra virgin olive oil

1/2

c. packed arugula leaves, chopped

12

small ciabatta buns, or any slider buns you like
---
Instructions
Add the chicken breasts to a slow cooker along with the chicken broth, garlic powder, onion powder and salt. Set to high for 4 hours
When the chicken is done, remove to a large bowl and shred into large pieces with two forks
Add the chopped artichokes, chopped red peppers, salt, pepper, olive oil and chopped arugula to a large bowl and stir, if possible chill for an hour in the refrigerator
Assemble the sliders with some of the shredded chicken on the bottom of a slider bun and then a scoop of artichoke salad on top
Optional toppings can include mayonnaise, red pepper flakes, fresh basil and fresh mozzarella cheese