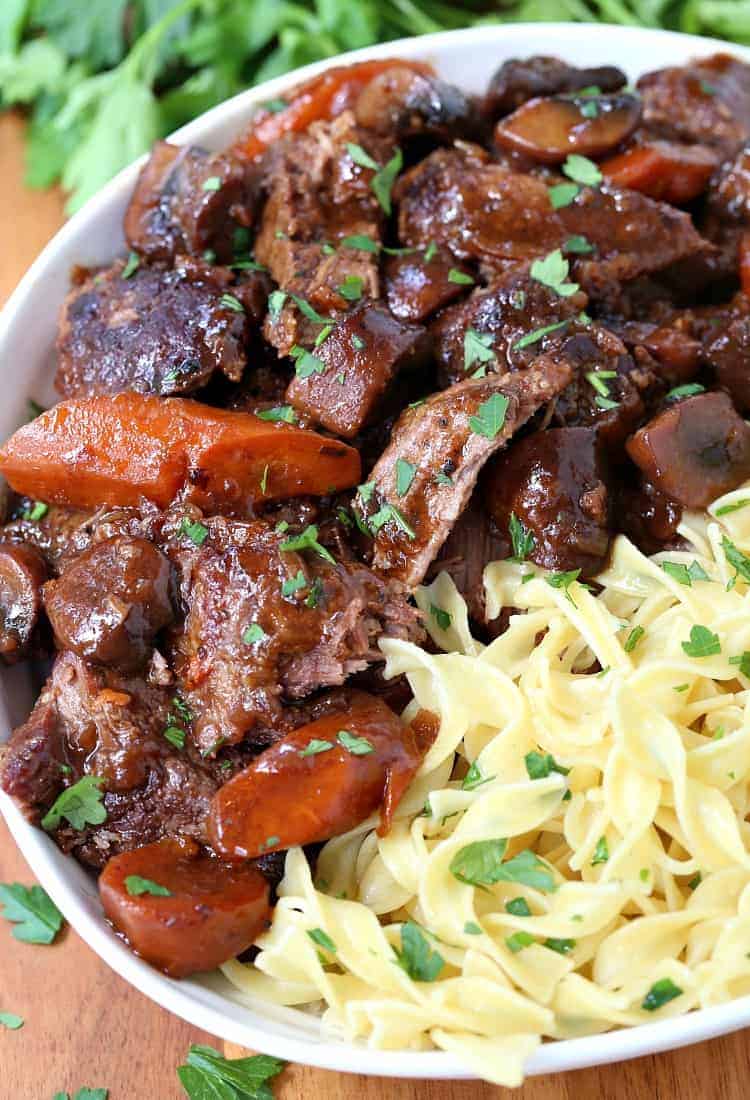 This French Bistro Beef Stew isn't as fancy as it sounds – just a few simple ingredients cooked low and slow to make the best tasting stew you've ever had!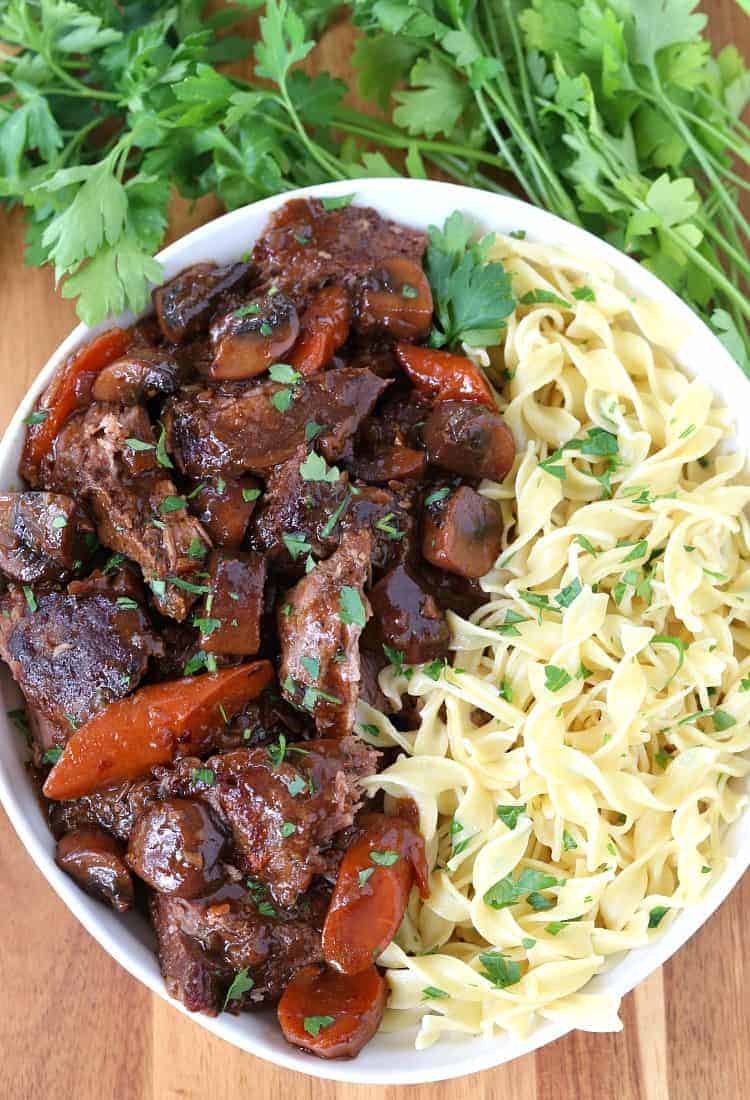 Beef stew is definitely one of my favorite comfort foods. Beef, potatoes, carrots – it's not hard to see why this would be one of my favorite types of things to eat.
It's also a recipe that can be one of those "add whatever you have in the fridge" type things, if you have potatoes, cool. Carrots, great. But most sturdy vegetables will do, too.
While this This French Bistro Beef Stew sounds like an expensive, fancy dinner it's totally not.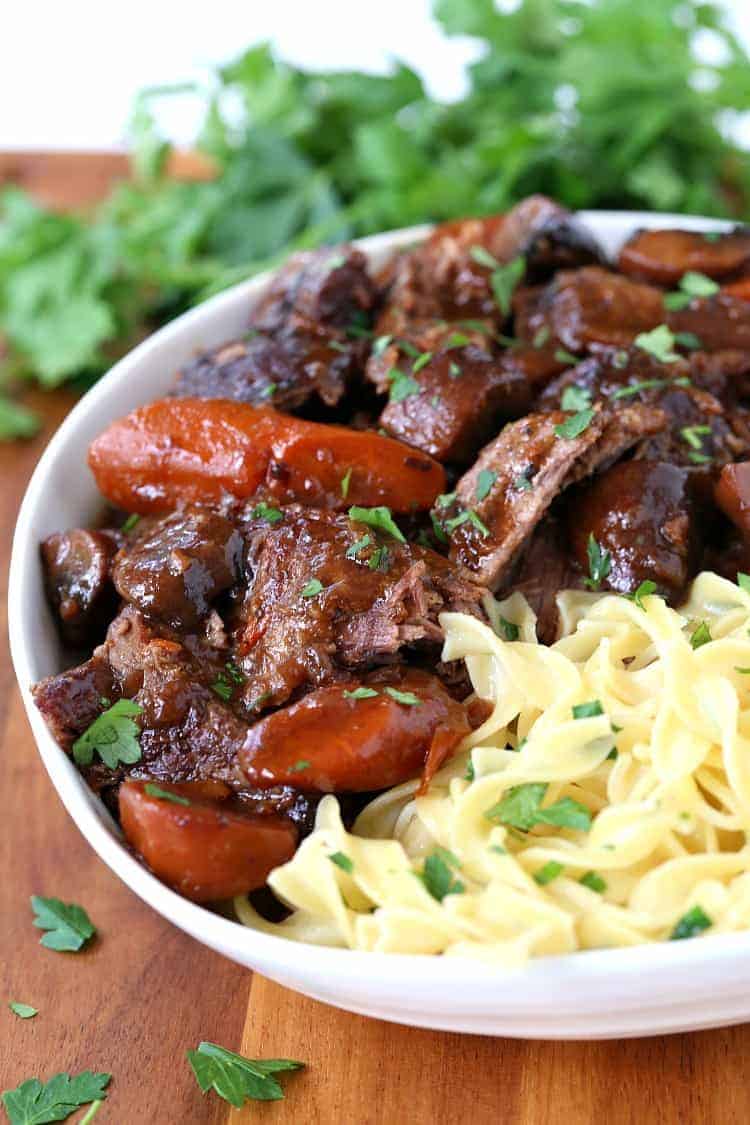 I guess I feel like everything French is expensive because it's French. Like champagne or duck or any type of French restaurant I'm going to go ahead and assume is expensive.
But as I found out when I was looking for ideas for this recipe a lot of casual French restaurants called "Bistros" serve pretty inexpensive, affordable food.
Simple recipes done well with cooking techniques and the freshest ingredients. That's for me, I'd rather make something that costs less and put the time into making taste amazing.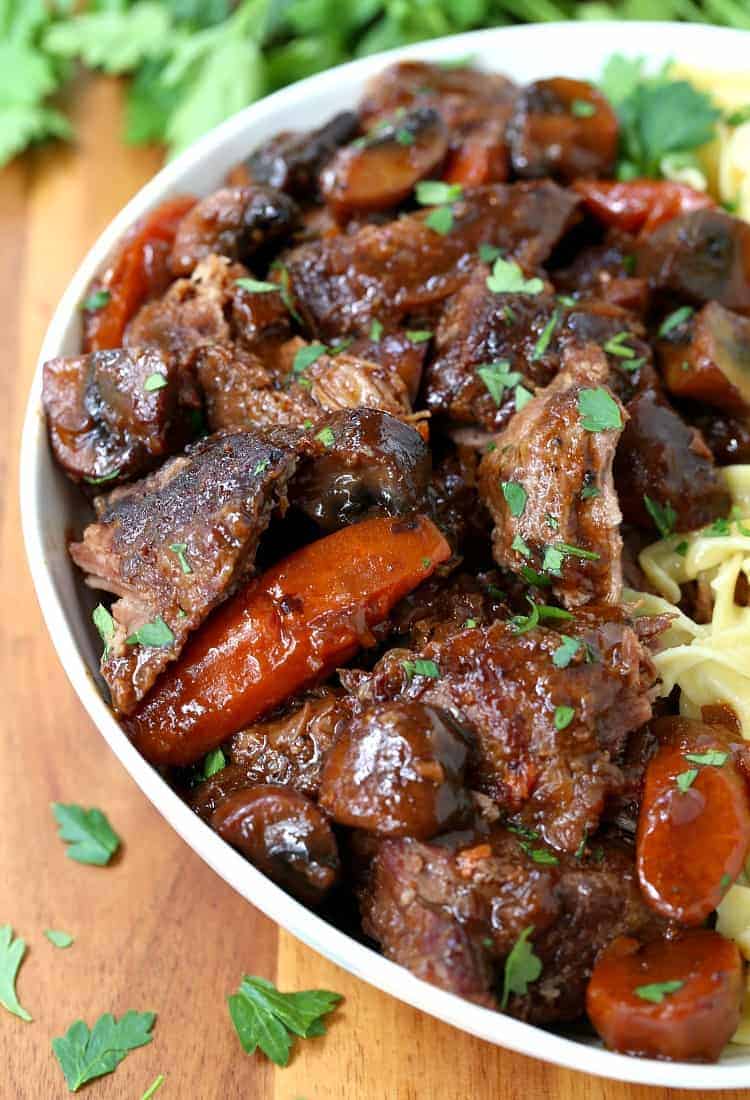 Recipes like our Grandma's Sunday Meatballs and Sauce or these Beer Braised Lamb Chops are good examples of this. Recipes that might take a little more time to prepare and or cook but the end result is out of this world good.
For this stew you're going to need a 3-4 pound chuck roast. A chuck roast is a pretty inexpensive cut of meat that's perfect for a long braise in the oven or cooked low and slow in a slow cooker.
Salt, pepper and flour the roast then sear it in a dutch oven until it's browned on both sides.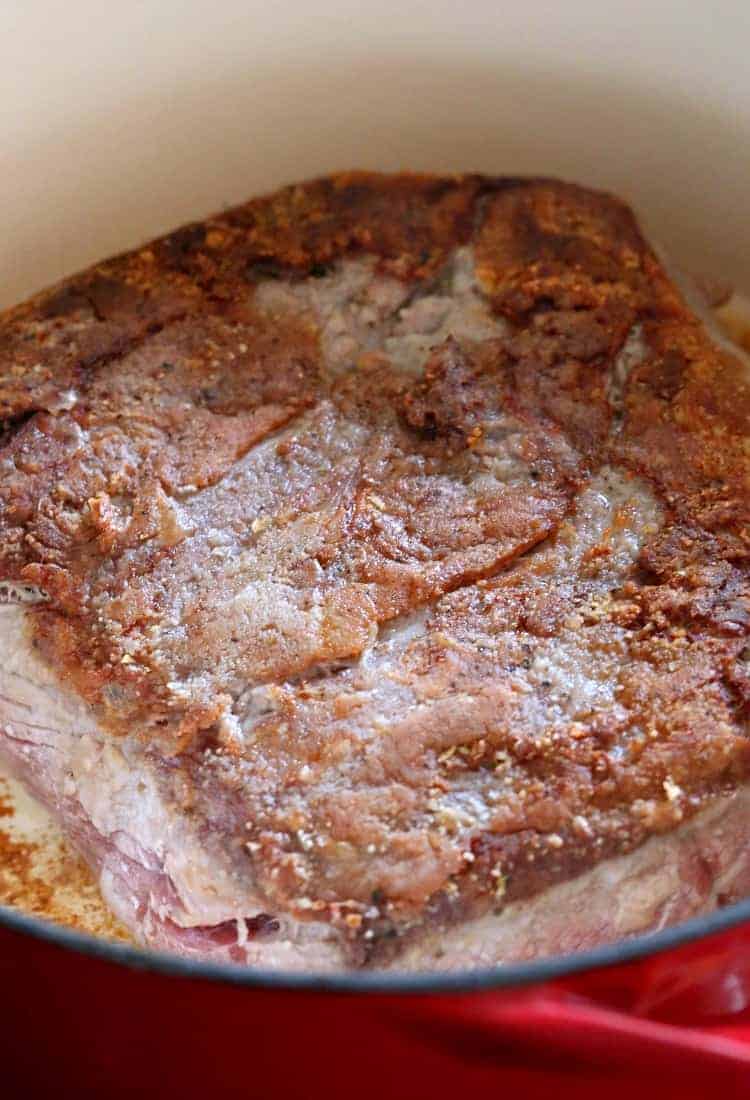 Now remove the roast and add the onions. A lot of onions here but don't worry, because they cook them down in this step and also while the stew is cooking – you won't even notice them in the final dish.
Next add the carrots and mushrooms to cook down for a few minutes before adding a good amount of red wine. If you don't cook with wine now's the time to try it. Certainly don't go out and grab the most expensive bottle, just one you want to drink.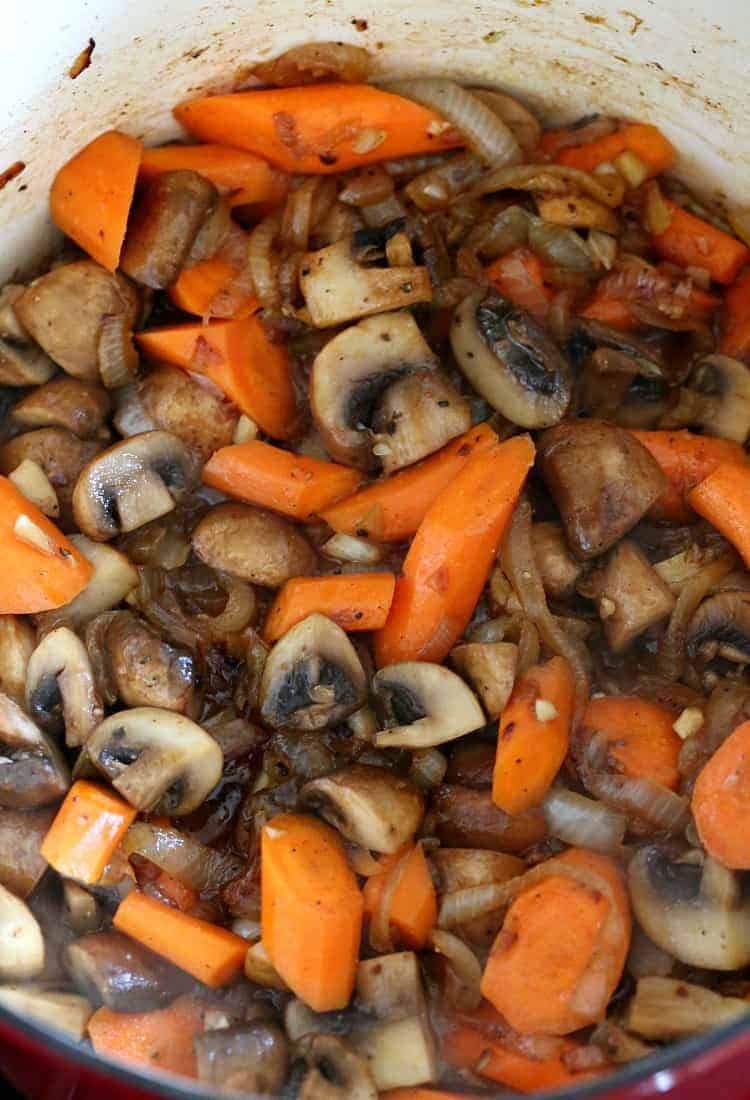 And come on, anything French is going to have some wine in the recipe…maybe you're not a red wine drinker? I promise, it's worth giving a try.
Red wine all day. That's a saying…or it is now anyway.
Pour the broth into the pot, stir and add the roast back in. For braising, the liquid should only come up about halfway covering the meat so it braises instead of boiling, just like it is here.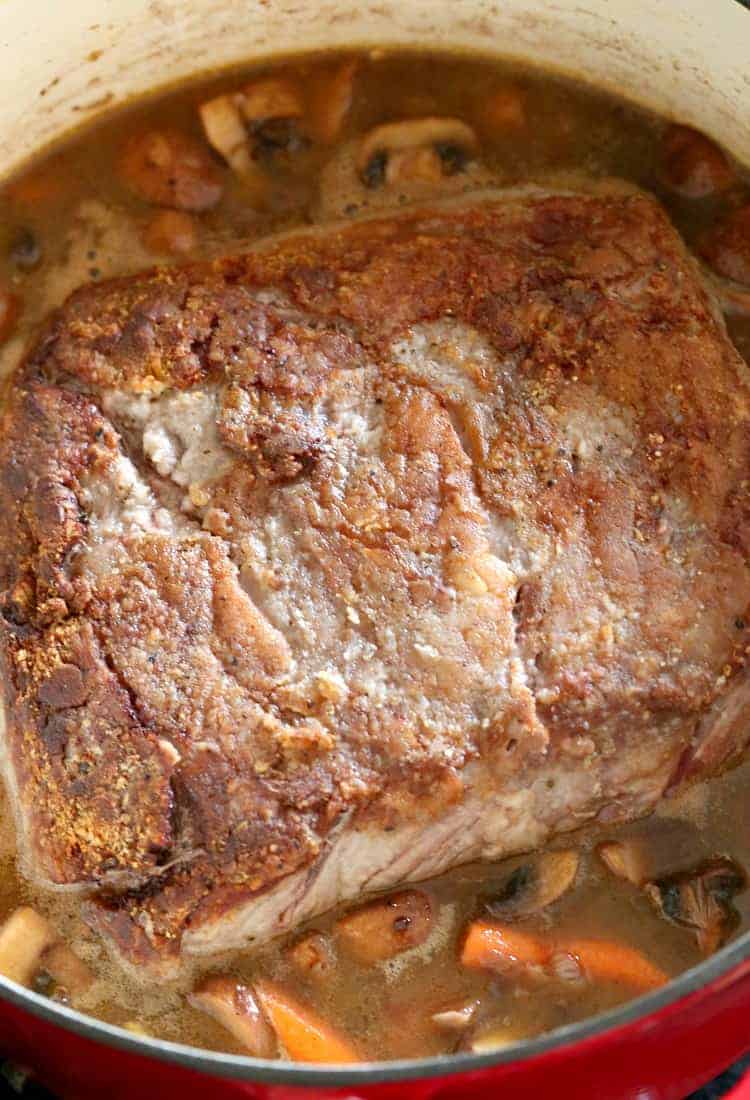 Now into the oven for 2 1/2 to 3 hours. The total cooking time will depend on a few things, the size and shape of your roast and your oven. Check it at 2 1/2 hours, if it doesn't seem tender enough to shred with a fork then give it another half hour.
I like to break my roast up into big pieces like in so it's more bite size but if you like a roast that you can slice that I'd give it less cooking time in the oven so you can actually slice it without it falling apart.
Finally. The end result.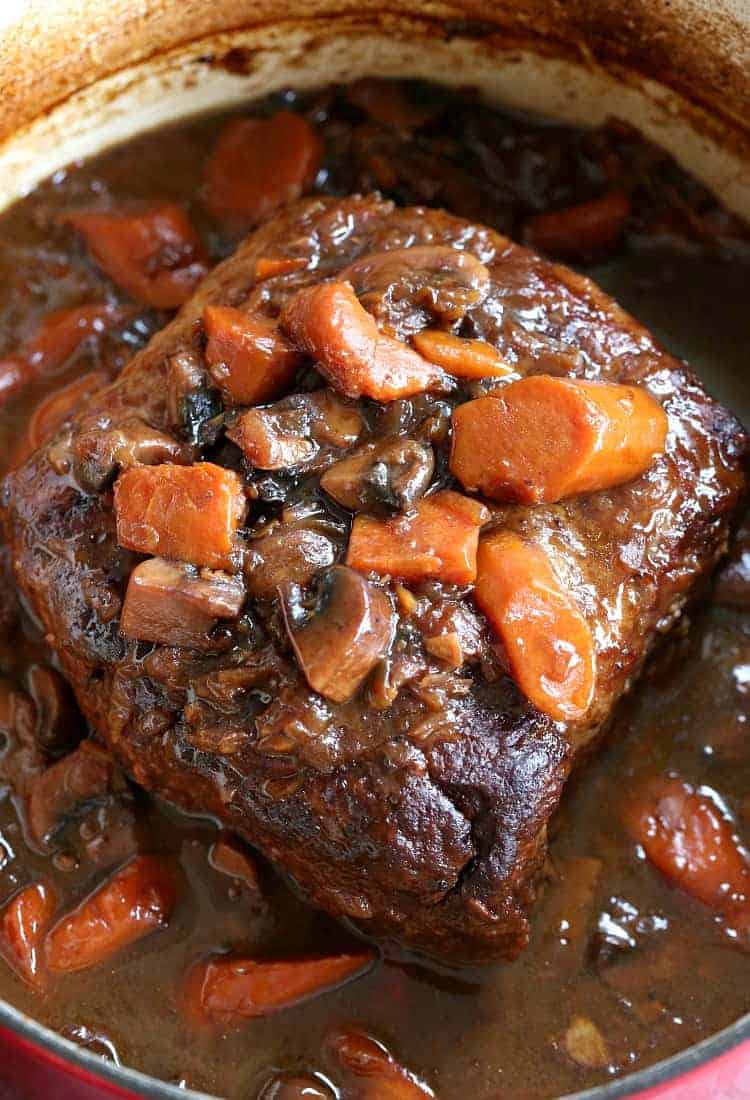 This stew is legit one of the best I've ever had. The onions melt into the brown, wine filled gravy. The meat is super tender and not overly seasoned.
All of which goes perfectly with buttered noodles, fries or mashed potatoes. Any form of carb will work well here, I'm not going to get picky about that.
But just a note – if you are a low carber there aren't any potatoes in this French Bistro Beef Stew so it's also perfect for a delicious low carb dinner.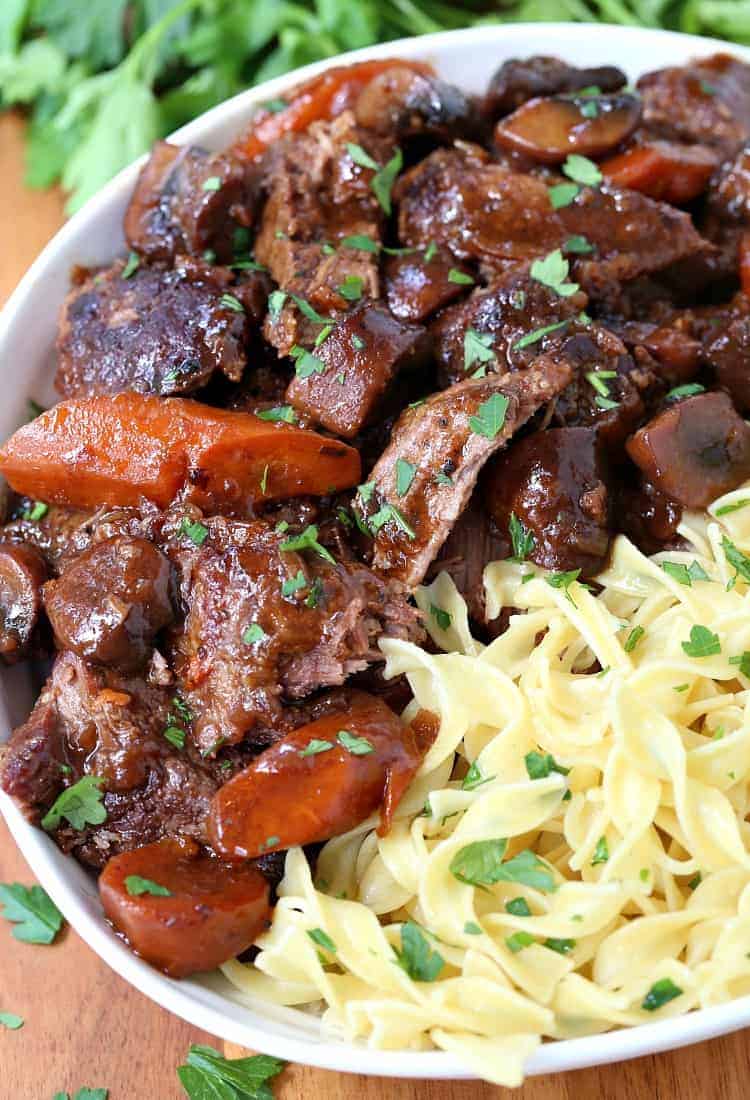 One dinner to please everyone! It's really the only way to go.
Print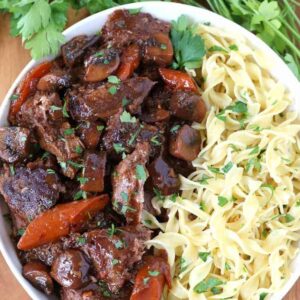 French Bistro Beef Stew
Author:

Prep Time:

30 minutes

Cook Time:

2 hours

Total Time:

2 hours 30 minutes

Yield:

6

servings

1

x
Category:

Dinner

Method:

oven

Cuisine:

French
---
Description
This French Bistro Beef Stew isn't as fancy as it sounds – just a few simple ingredients cooked low and slow to make the best tasting stew you've ever had!
---
Ingredients
1 (3-4) pound chuck roast
Kosher salt and black pepper for seasoning, flour
1/4 cup olive oil
3 cups sliced onions
1 teaspoon kosher salt
1/2 teaspoon black pepper
4–5 carrots, peeled and cut into 2 inch pieces (about 2 cups)
10 ounces button mushrooms, cleaned and quartered
3 cloves of garlic, chopped
1/2 cup dry red wine
2 cups beef broth
1 package Lipton Onion Soup Mix, Beefy Onion
---
Instructions
Preheat the oven to 350 degrees.
Season the roast on both sides generously with salt and pepper.
Add flour to a plate and coat the roast on all sides, patting off any excess.
Add the olive oil to a dutch oven over medium heat.
Once the oil is warmed, add the roast carefully to the pot to brown. Cook for 5 minutes, check to see if the roast is browned then flip to the other side for another 5 minutes.
Remove the roast from the pot to a board or plate and cover with foil.
Add the onions, salt and pepper to the pot and stir to coat in the oil. Turn the heat down to low and cook the onions for 20 minutes until they are soft and caramelized, stirring often.
Add the mushrooms and carrots to the onions and cook for 5 minutes, stirring together with the onions.
Pour in the wine to deglaze the bottom of the pot. Scrape up the bottom of the pot to get all the flavor from browning the roast into the gravy.
Pour in the broth along with the Lipton Soup Mix, stir.
Add the roast back to the pot, cover and place into the oven.
Check the beef after 2 hours to see if the meat is fork tender. Cook a half an hour longer if the meat isn't tender enough, depending on if you want to slice the meat or shred into pieces.
Remove the roast from the pan, shred or slice the meat and add to a serving platter. Ladle the gravy and vegetables over the meat and serve.
---
Notes
If you let the gravy sit for about a half an hour while the meat is covered in foil, you can skim off some of the fat from the gravy before serving.
Keywords: stew, pot roast, weekend dinners, cooking with wine, comfort food meals, easy beef steef