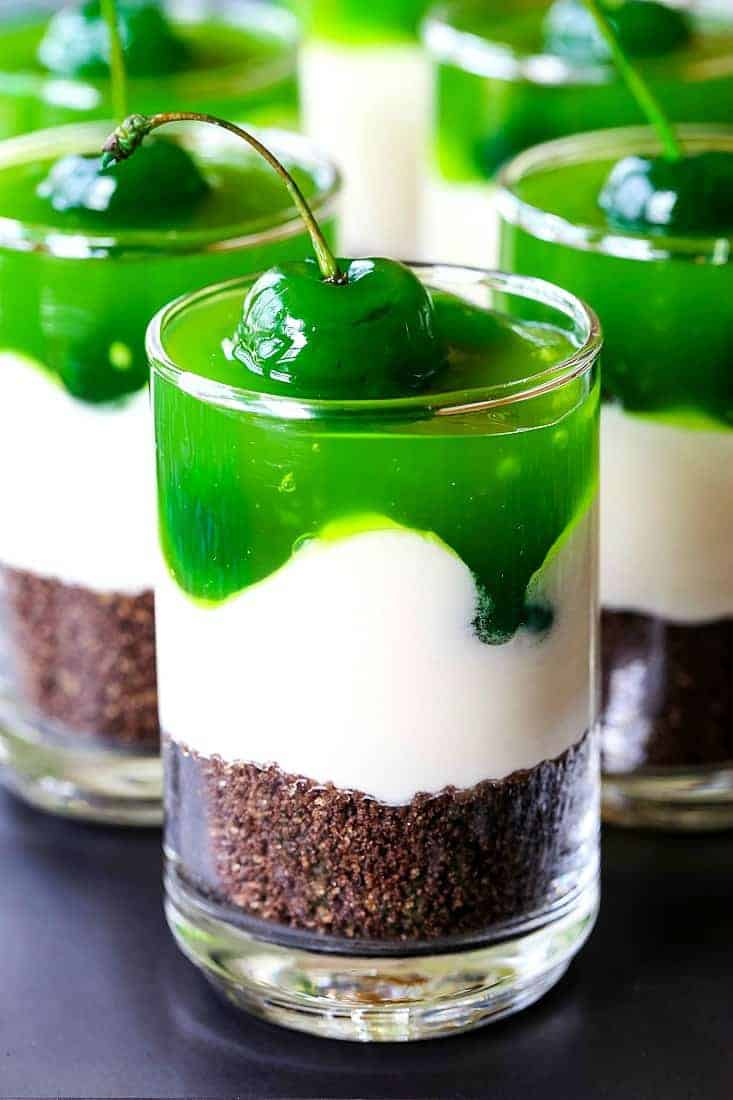 Irish Whiskey Cheesecake Shots
Break out these Irish Whiskey Cheesecake Shots on St. Patrick's Day for a no bake dessert with a kick! These dessert shots taste just as good as they look!
We love serving boozy desserts like these cheesecake shots! Also try our Boozy Strawberry Shortcake Dip, our famous Fireball Whiskey Cheesecake Shots or this Banana Bourbon Poke Cake!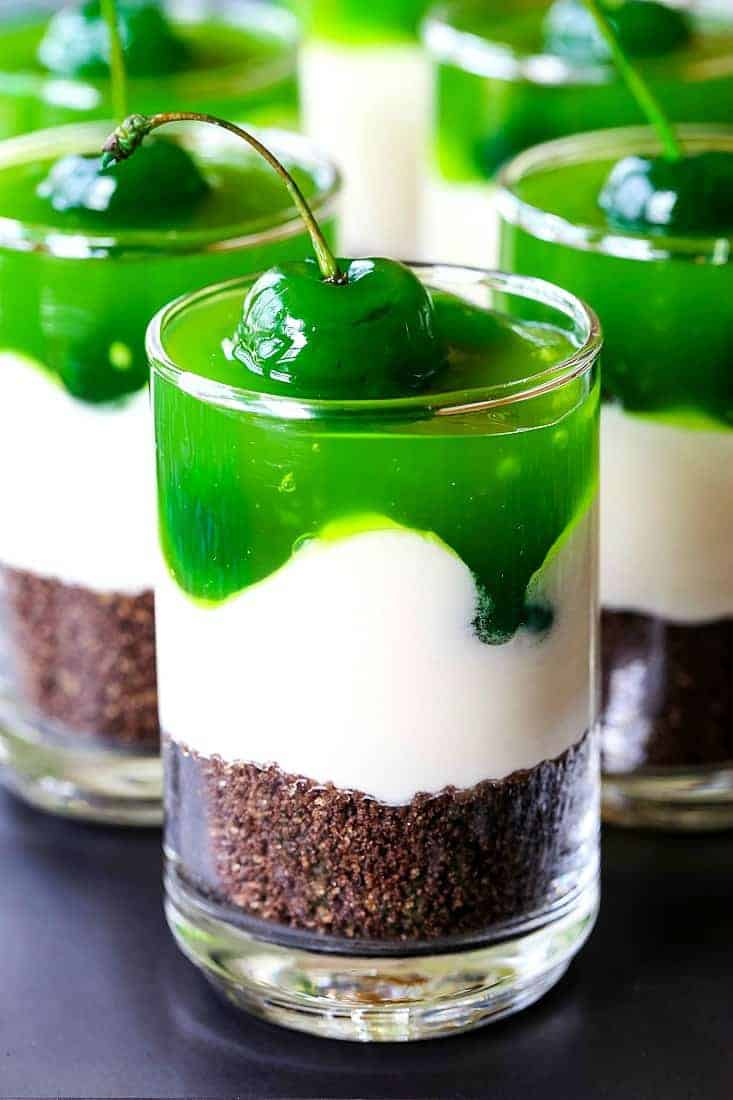 Boozy Dessert Shots
I mean, we even put a little splash of the good stuff in our apple crisp recipe.
You've gotta have fun when you're cooking, guys. Sip a little as you cook…it's all good.
These Irish Whiskey Cheesecake Shots are so easy to make, your friends won't believe it when you walk out with a whole tray of these babies.
Don't worry, you can totally make them ahead of time and keep them in the fridge, this isn't one of those last minute dessert recipes…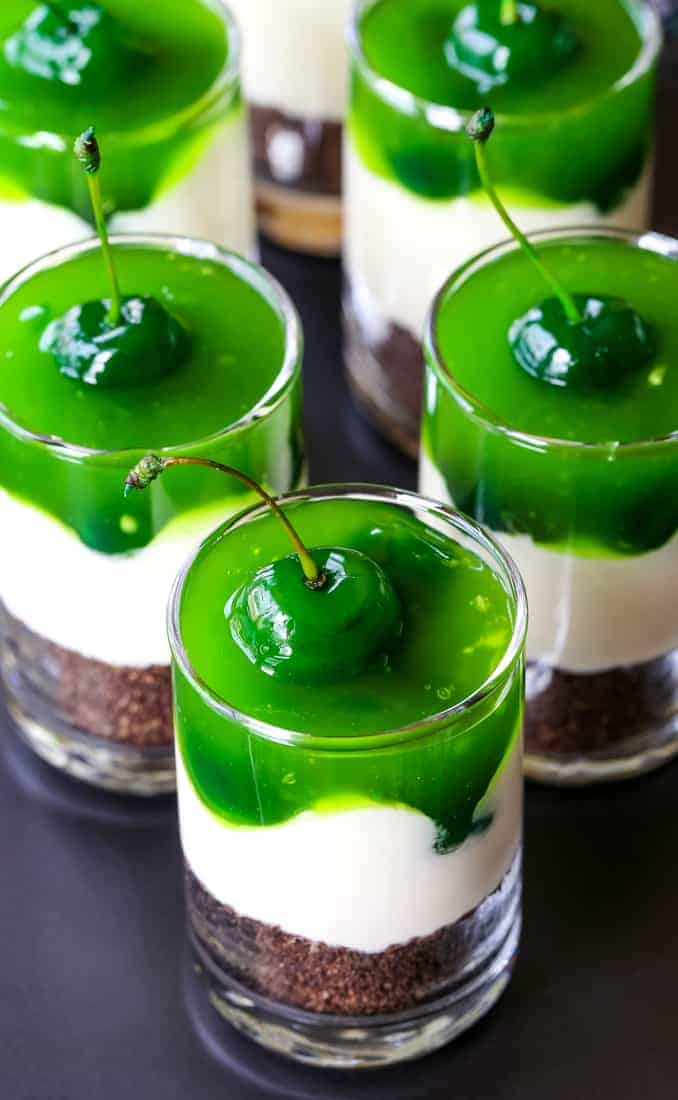 But it IS a super boozy dessert recipe, so read on.
No Bake Cheesecake Recipe
You guys aren't going to believe how easy this is!
Just add cream cheese, sugar, lemon juice, vanilla and cream to a bowl. Beat it up and chill. You can use no bake cheesecake in so many dessert recipes too. Or simple spread it out in a store bought graham cracker crust and dessert is done!
Maybe just sit there with a graham cracker and use it as a dip. Not saying we did that…but maybe we did.
As far as the boozy part goes…you've got whiskey going on in two out of three layers in these cheesecake shots. First, the no bake cheesecake filling has some whiskey and so does the green cherry topping layer.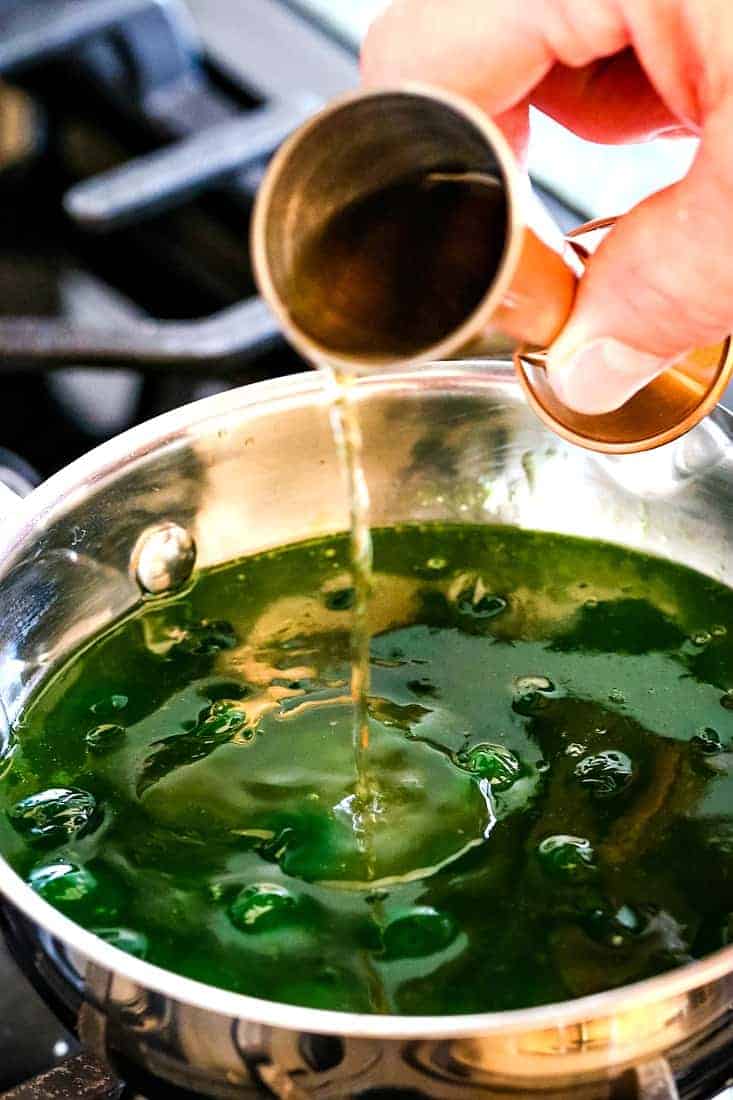 I've included a link at the bottom of the post for you, just in case your store doesn't sell green maraschino cherries. Most of them do though, mine has them right in the drink aisle at the end with all the non-alcoholic stuff.
Because we live in New Jersey and our grocery stores don't sell alcohol – one of the many stupid things about living in this state! Separate trips…all the time.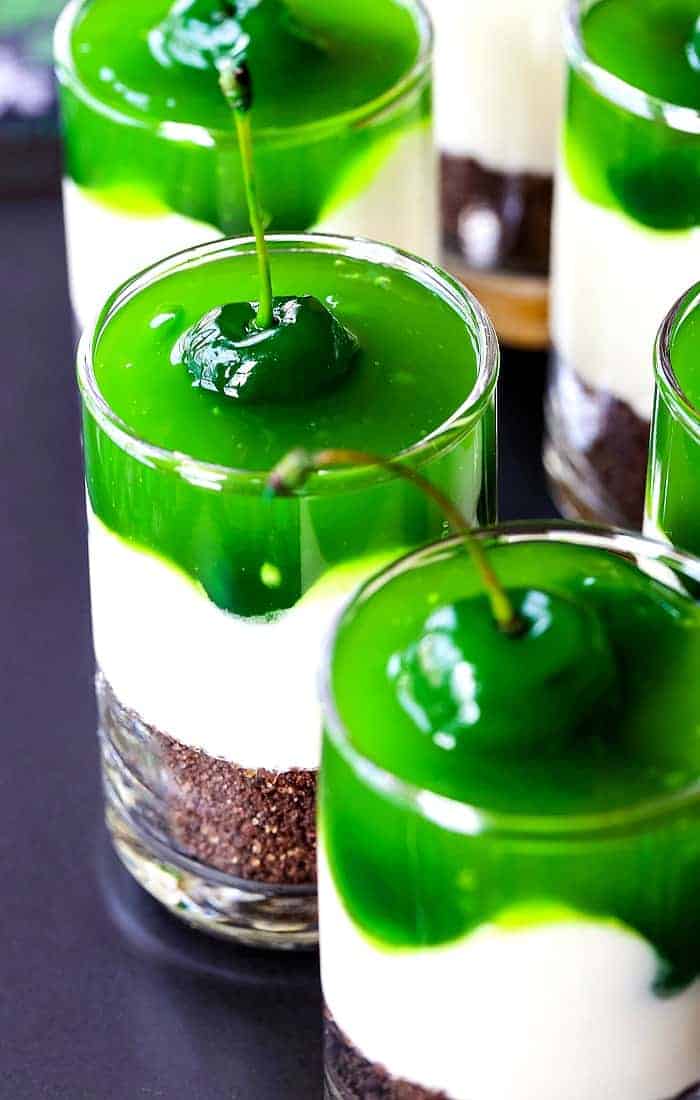 Now if you're celebrating a birthday, or any other holiday you can swap out the liquor for different colors in this Irish Flag Shot, too! Try using pomegranate liquor for a red color, then the creme de menthe for green and you'll have a Christmas Shot.
There's blue curacao and many, many different colors of flavored vodka so let your imagination go here – you can make one of these dessert shots for almost any occasion!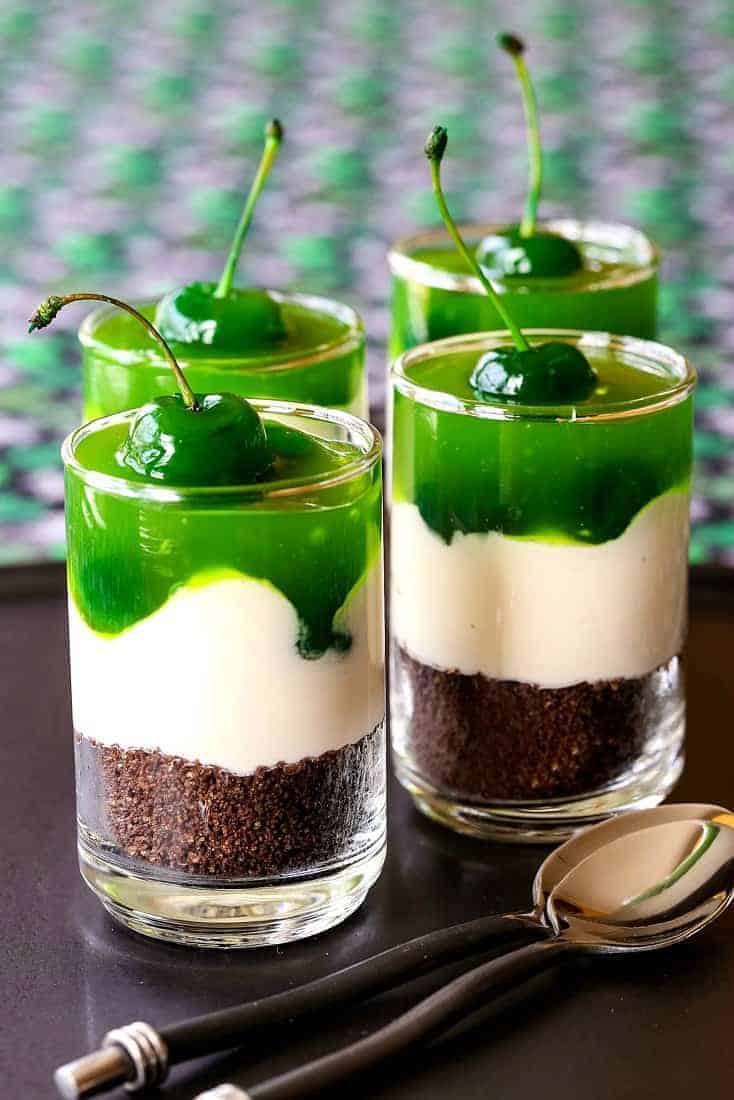 Looking For More Boozy Desserts?
• Jameson Mint Chocolate Chip Cookies
• Instant Eggnog Peppermint Pudding
• Individual Whiskey Pineapple Upside Down Cakes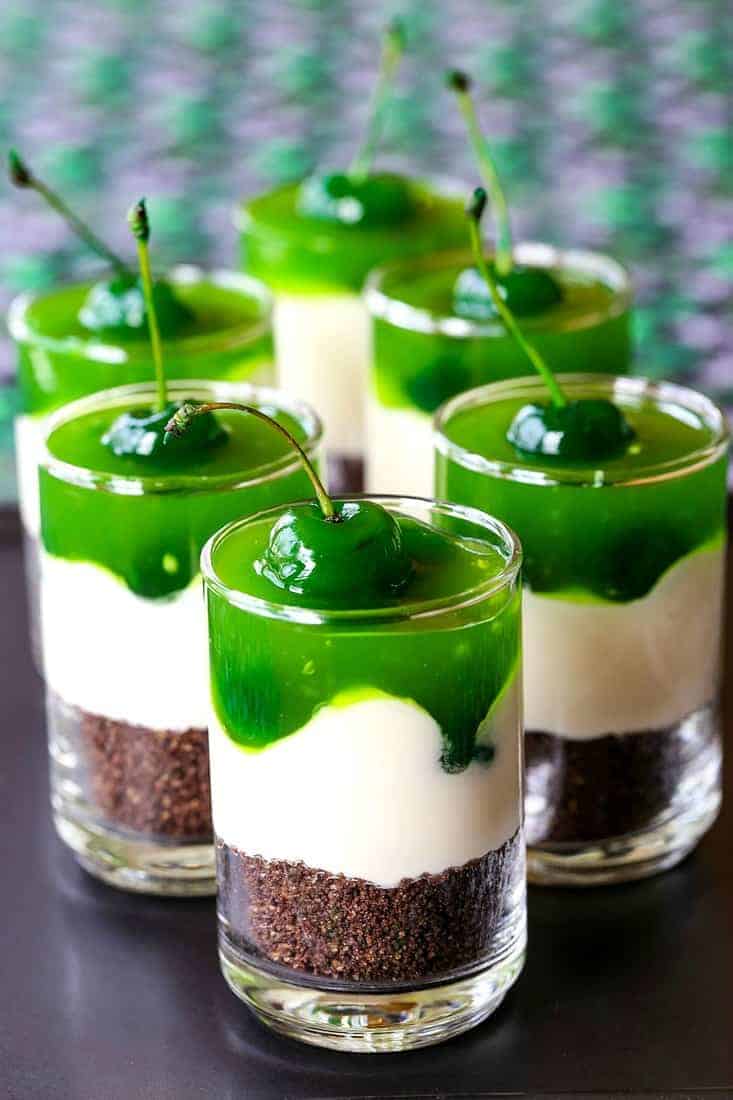 Shop This Recipe!
Yield: 30 Dessert Shots
Irish Whiskey Cheesecake Shots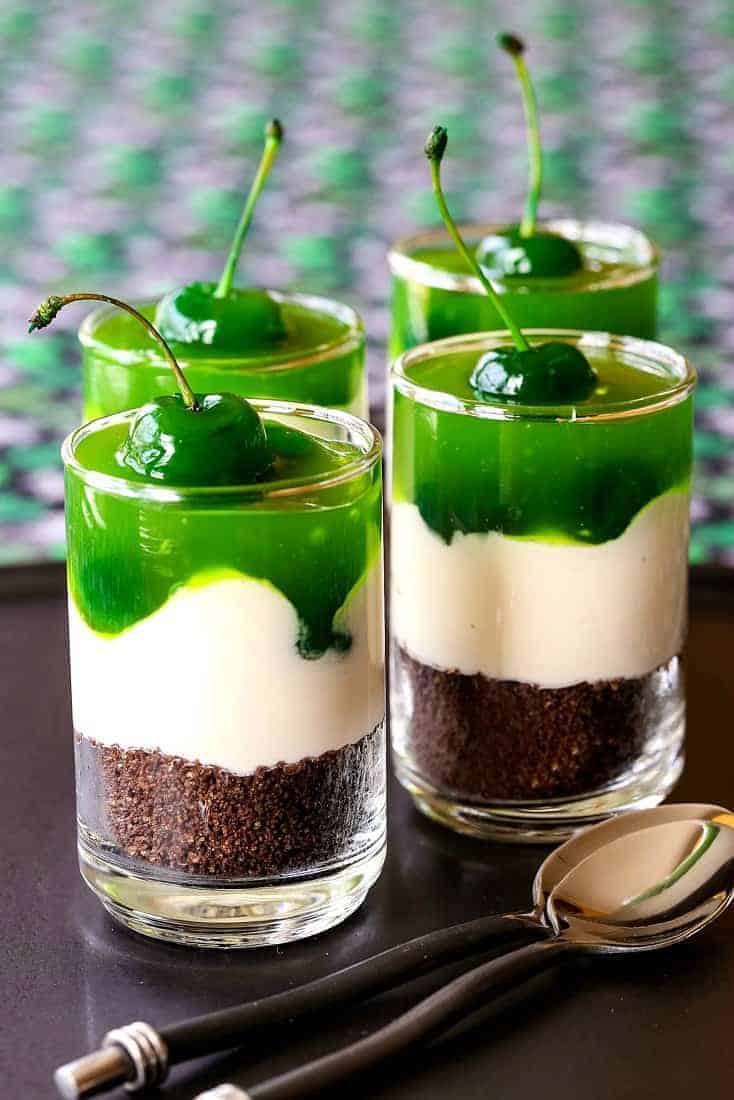 These festive and tasty dessert shots are going to be the hit of your St. Patrick's Day party!
Ingredients
1 1/2 cups chocolate graham cracker crumbs (or whole graham crackers, crushed in a food processor or blender)
1/4 cup packed brown sugar
1/4 cup butter, melted
2 (8 oz.) packages of cream cheese, softened to room temperature
2 teaspoons lemon juice
1 1/2 cups heavy cream
1/3 cup white sugar
3 (16 oz.) jars of green maraschino cherries
4 ounces whiskey, divided
1 tablespoon cornstarch
Extra green maraschino cherries for garnish
Instructions
Mix the graham crackers crumbs, brown sugar, melted butter together in a bowl, stirring until all the graham crackers are coated with the butter.
In another large bowl, add the cream cheese, lemon juice, cream, sugar and 2 ounces of the whiskey. Using a hand mixer, blend until the cream cheese filling is smooth.
To make the cherry topping, drain 2 jars of the cherries, separating the cherries from the juice. Add the juice from both jars of cherries and the remaining 2 ounces of whiskey to a saucepan over medium heat.
Remove the stems from about a cup of the cherries and add to the pan.
Once the juice comes to a boil, add a tablespoon of cornstarch mixed with a tablespoon of water, stirring until the juice thickens. The juice should be fairly thick, if it's not like a cherry pie filling consistency, add a little more cornstarch and water, bring to a boil again and let thicken.
Let the cherry juice mixture cool completely before assembling the shots. You can transfer it to a bowl and place it in your refrigerator to help it cool down.
To assemble the shots, add 2 tablespoons of the graham cracker mixture into the bottom of each shot glass, pressing down to make a crust at the bottom.
Using a teaspoon, scoop out enough cream cheese mixture to fill each shot glass about 3/4 of the way full.
Add the cherry pie topping on top of the cheesecake mixture, then repeat with the remaining shot glasses.
Refrigerate until ready, then top each shot glass with a cherry before serving.
Notes
You can easily half this recipe if you don't need as many shots. We made these cheesecake shots in 4 ounce glasses, so if you have smaller ones you'll end up with more shots.
Nutrition Information:
Yield:
30
Serving Size:
1
Amount Per Serving:
Calories:

140
Total Fat:

8g
Saturated Fat:

5g
Trans Fat:

0g
Unsaturated Fat:

3g
Cholesterol:

21mg
Sodium:

93mg
Carbohydrates:

13g
Fiber:

0g
Sugar:

9g
Protein:

1g
This nutritional information is for informational purposes only. As I am not a nutritionist, this information is provided only as a courtesy.