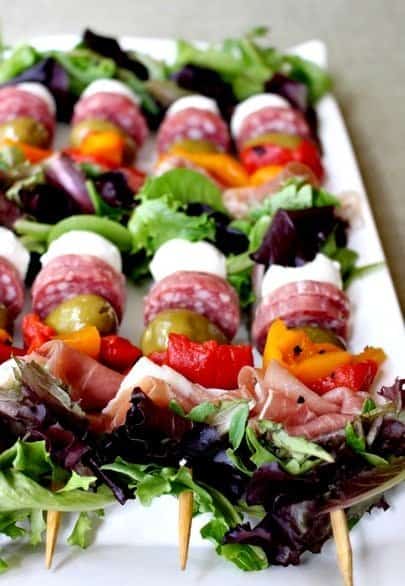 These Antipasto Salad Kabobs are a perfect appetizer to serve to a crowd because there's something for everyone. No having to worry about who likes what…there's usually something that everyone likes on an antipasto platter.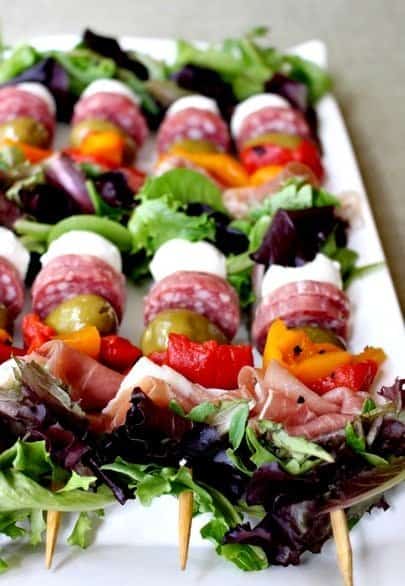 I have to say, I'm not a big salad guy at all. I eat plenty of other vegetables, just not in salad form. But I do love an antipasto salad…minus the salad part.
Then I thought about combining antipasto and salad together and putting it on a stick to make it more fun to eat.
Did it work? I think it did.
These kabobs would be an interesting way to serve an antipasto platter at your next party or BBQ, you're guests would be way more impressed than a bowl of salad thrown on the table.
All you have to do is grab your favorite meats and cheeses and whatever other antipasto ingredients you like, olives, roasted red peppers…whatever you can think of.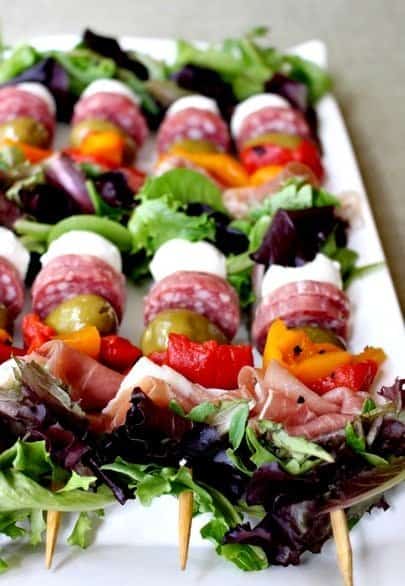 Then I just threaded them on a wooden skewer and put some (some) lettuce leaves on there too. It's not a LOT of salad, but it counts right?
You could drizzle these Antipasto Salad Kabobs with your favorite vinaigrette, or put out a couple of different dressing for dipping.
The kids liked dipping each piece into their favorite dressing and eating it off the stick, but we took our antipasto salad off the kabobs and tossed them in a bowl with some balsamic vinaigrette. Add some bread and these kabobs are almost a full meal.
The ratio of these Antipasto Salad Kabobs is perfect for me…lots of meat and cheese and just a little bit of lettuce.
Hey, you've got to start somewhere!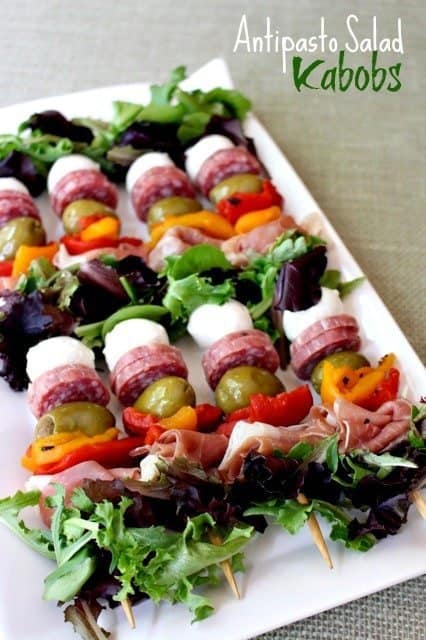 Print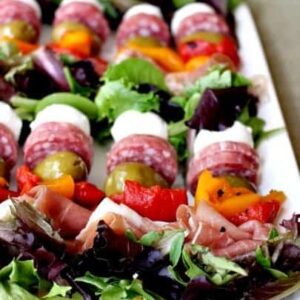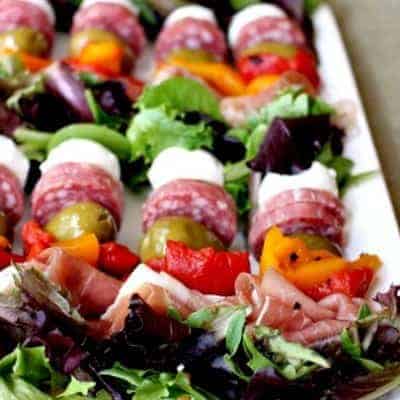 Antipsto Salad Kabobs
Author:

Yield:

8

1

x
---
Ingredients
(2) 7 oz containers fresh mozzarella balls
(2) 4 oz. packages prosciutto

1/2

lb. genoa salami, sliced thin
(1) 12 oz. jar roasted red peppers
(1) 6 oz can of black olives, or use the fresh cured olives from the olive bar at your grocery store

1

bag of leaf lettuce, any kind you like
---
Instructions
Lay out all you ingredients on a cutting board.
Alternate the ingredients onto the skewers on any pattern you like, adding lettuce leaves after every few ingredients.
Drizzle with balsamic vinaigrette or serve with dressing for dipping on the side.
---
Notes
You can customize these kabobs any way you'd like. You could use turkey and ham, chunks of parmesan or cheddar.