One look at these Philly Cheesesteak Stuffed Peppers and you know they're going to be amazing! Roast beef right from the deli makes these appetizers quick and easy!

Low-carb, no-carb, whatever. I wasn't thinking along those lines when I came up with this recipe. I was just thinking it would taste good.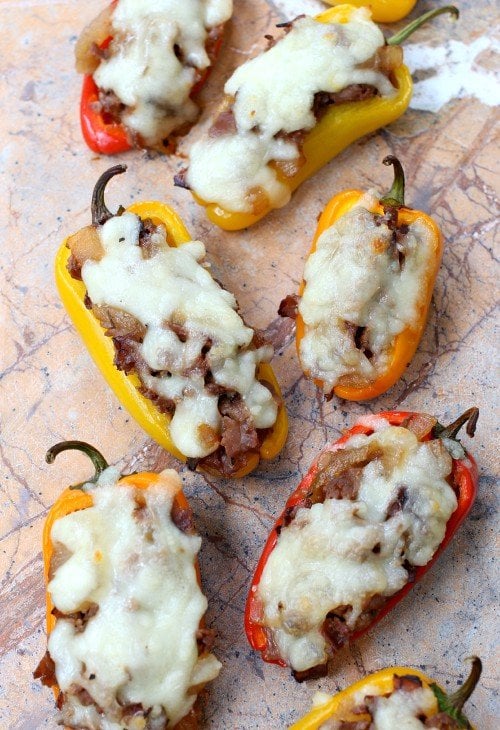 And a low-carb recipe just came along for the ride.
Christie was really excited since she's still following a sort of low-carb diet these days, salad and chicken gets old I guess so these didn't stick around long after they were made. We ended up just eating these for lunch, they kids had them for snakcs after school and the last few were a late night snack for me. But next time I'll be making these for game time, a double batch.
These Philly Cheesesteak Stuffed Peppers are perfect for Football food or party apps or even for a snack for the kids after school…yep, they are that easy to make, just hang in with me.
All you need to do is pick up lean roast beef from your deli and shredded mozzarella cheese, or provolone would work nice too.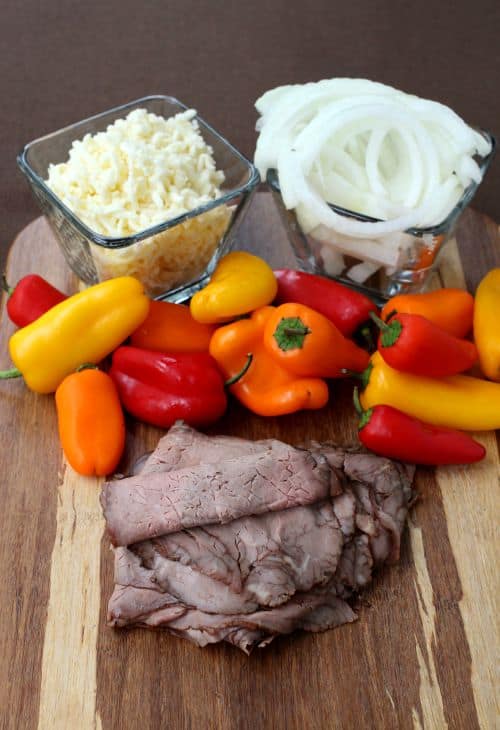 And then of course the mini bell peppers. You know the bag of the little bell peppers that you see in the grocery store? They're about 5 bucks, grab a bag or two and get cooking.
Chop up a large onion and put it in a skillet with olive oil over medium heat. After a few minutes when it gets softened up, add in the roast beef from the deli that you've chopped up into small slices.
Add in a few seasonings and a little marsala wine and the filling is done. See? Easy.
Slice the peppers in half and fill them up with the stuffing. Add the cheese on top and bake for 15 minutes.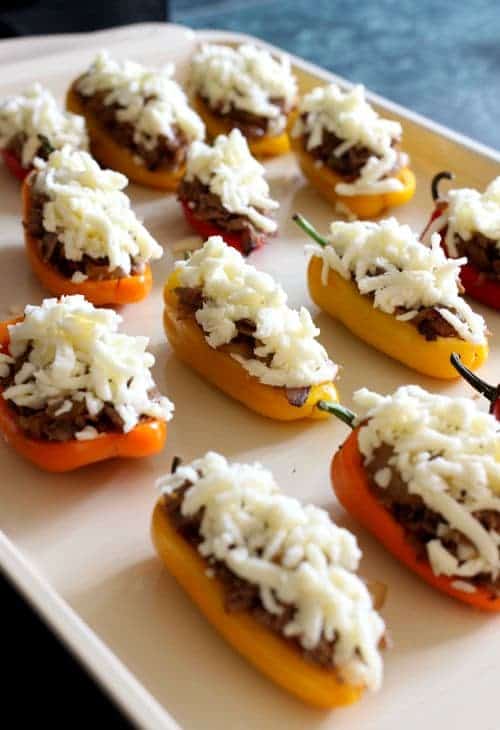 It really can't get much simpler than that. And it's a good thing because like I said, these won't be around for half-time so make sure to double the recipe!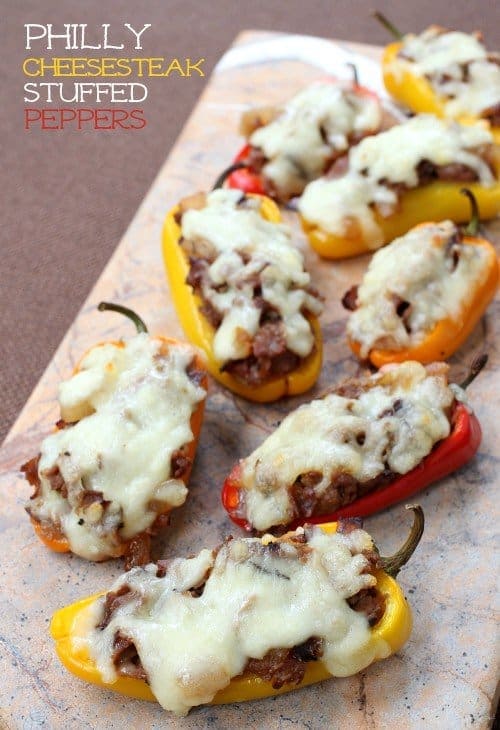 Print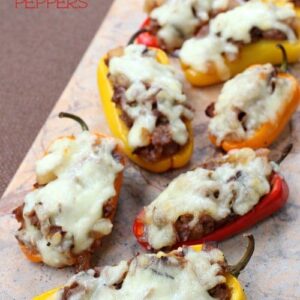 Philly Cheesesteak Stuffed Peppers
An easy, low-carb appetizer or snack that can be put together in minutes!
Scale
Ingredients
1

lb. lean roast beef from the deli

10

miniature bell peppers sliced in half

1

yellow onion, chopped

1/2

t. salt

1/2

t. garlic powder

1/2

t. ground black pepper

1/4

t. dried oregano

3

T. marsala wine

1 1/2

T. cream cheese

1 1/2

c. shredded mozzarella cheese
Instructions
Preheat the oven to 400 degrees.
Heat the oil in a large skillet over medium heat, then add the onion and cook for 5-7 minutes.
Chop up the roast beef into small pieces and add to the skillet with the onion.
Stir and cook for 3-4 minutes, then add the salt, pepper, oregano, garlic powder and marsala wine.
Cook for 5 minutes then add the cream cheese, stirring to combine with the filling.
Remove the filling to a large bowl to cool.
Place the halved peppers on a baking sheet.
Fill with the roast beef filling and top with the mozzarella cheese.
Bake for 15 minutes until the filling is warmed through and the cheese is melted.
Recipe Notes
Makes 20 mini stuffed peppers