This Shrimp and Broccoli Pasta has the most delicious, lemon cream sauce that coats every bit of pasta! This pasta recipe can be easily adapted to what you have on hand!
Pasta recipes are always on our weekly menu! Classics like our Beef Lasagna are perfect for dinner and for leftovers during the week, to a more simple, comforting Baked Ziti that you can customize with sausage, ground beef or vegetables!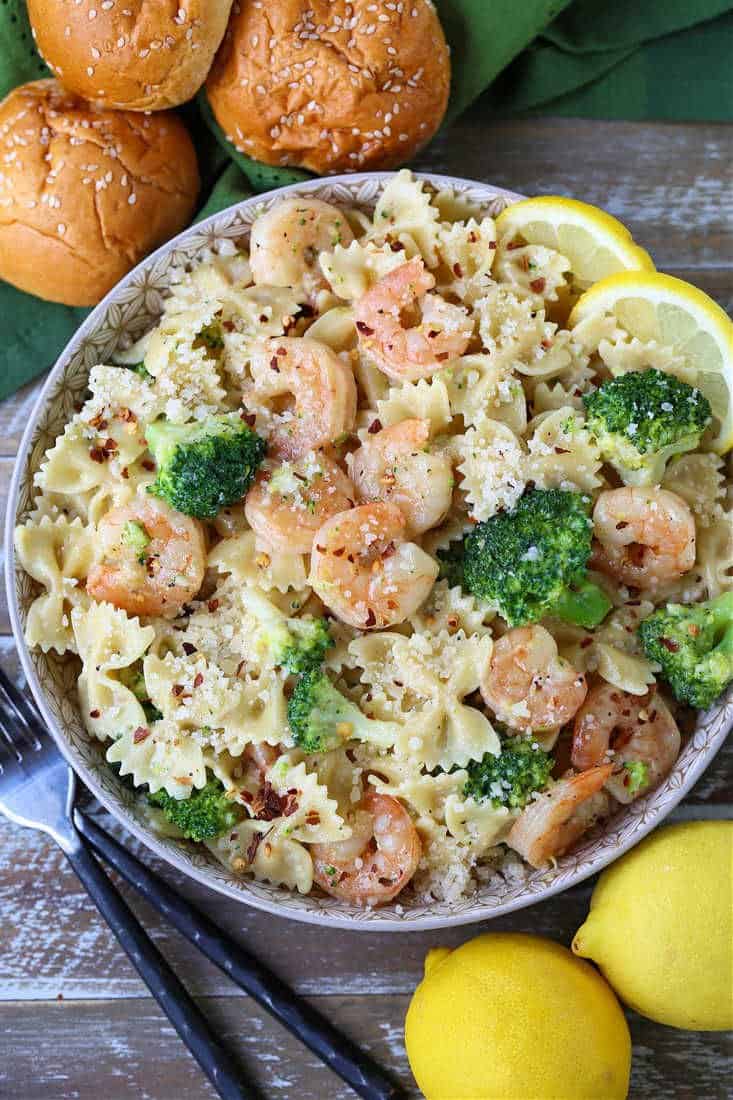 Shrimp and Broccoli Pasta Recipe
I know that broccoli and bow ties is a pretty classic recipe, but it never really appealed to me all that much. Yes, it's a perfectly fine meatless meal but just broccoli and pasta? I don't know, it just never seemed too exciting to me.
But in comes this Shrimp and Broccoli Pasta and we're in a whole new ball park. Lightly seared shrimp that's tossed in lemon pepper seasoning, fresh or frozen broccoli and mini bow tie pasta tossed in the most delicious, lemon cream sauce.
Now we're talking about a shrimp and broccoli pasta recipe that I can get excited about.
How Do You Make Shrimp and Broccoli Pasta?
Not only is the flavor of this pasta recipe going to blow your mind, but it's going to be ready to serve in less than 30 minutes!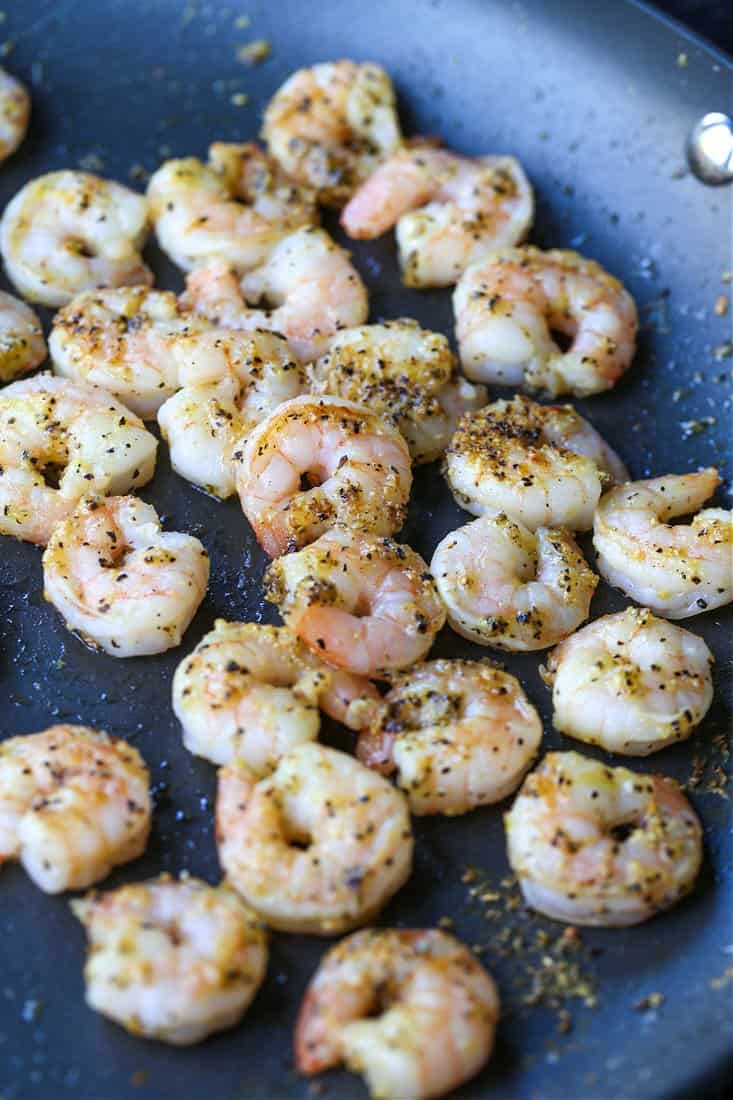 Start by seasoning the shrimp and then cooking it for 3-4 minutes in a skillet. Remove the shrimp from the pan.
Make the lemon cream sauce in the same skillet. Add butter and garlic to the skillet and cook for just a minute, then deglaze the pan with white wine. Let the wine reduce a few seconds and then sprinkle in flour while whisking to prevent lumps. Slowly add lemon juice and chicken broth, and bring the sauce to a simmer. Once the sauce has thickened, stir in heavy cream and parmesan cheese.
Season the sauce with salt and pepper to sate and a few pinches of crushed red pepper flakes.
While the sauce is cooking, bring a large pot of water to a boil. Add broccoli florets to the pot and cook for 3-4 minutes until the broccoli is just tender. Don't overcook the broccoli because it will continue to cook in with the pasta.
Use a slotted spoon to remove the broccoli from the pot, bring the water back to a boil and cook your pasta in the same water.
Once the pasta has been cooked and drained, return it to the pot that you cooked it in and pour the lemon cream sauce on top. Add the cooked shrimp and broccoli to the pot and toss with the pasta and sauce.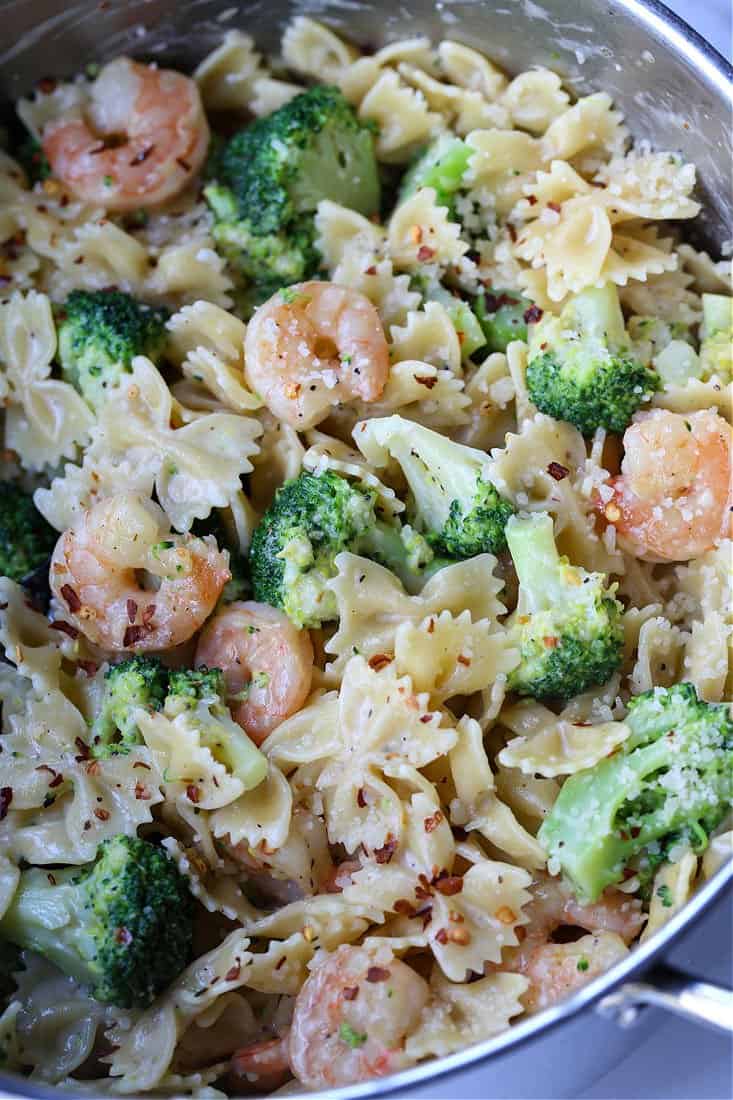 What Other Types Of Pasta Can I Use In This Recipe?
Any short tube pasta or min pasta will work. Stay away from really small shapes like orzo and ditalini, but other than that this pasta recipe will work with most types of pasta!
Rigatoni
Rotini
Penne
Cavatappi
Cheese tortellini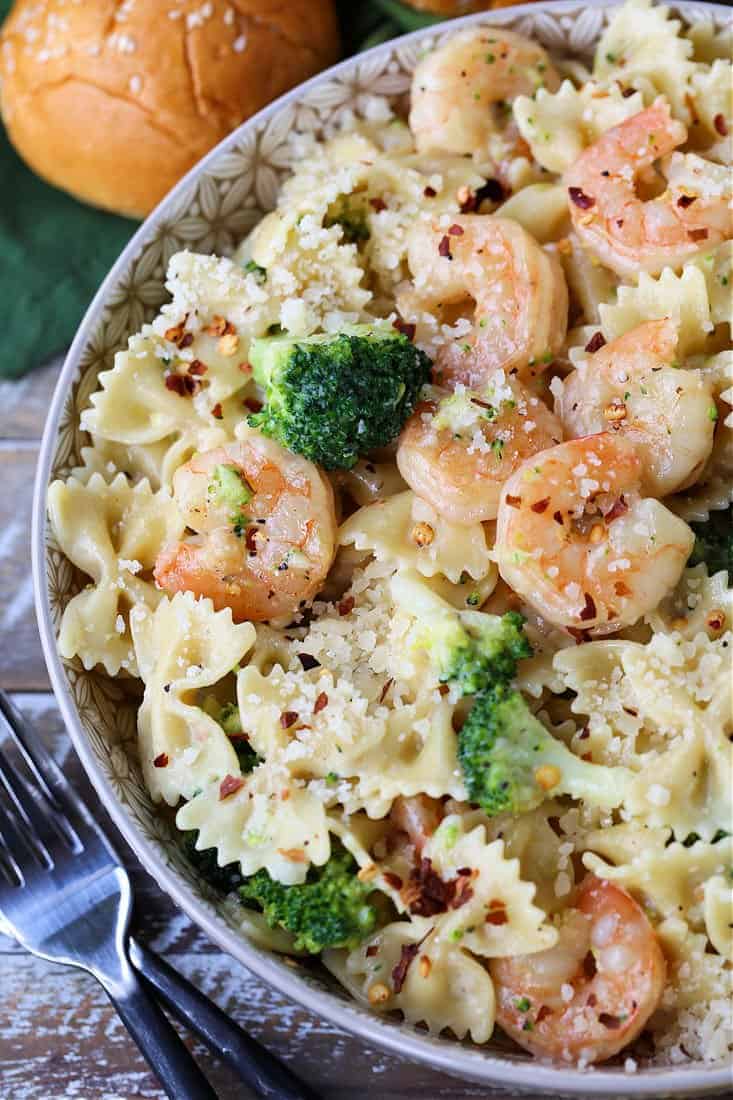 Can This Pasta Recipe Be Made Ahead Of Time?
Because this Shrimp and Broccoli Pasta is tossed in such a light cream sauce, this pasta dish is really best when it's freshly made. The pasta will absorb the sauce as it sits, you'll still have all the flavor just not as much sauce on the pasta.
Not to say that leftovers of this broccoli and bow ties aren't delicious though! We add a little more chicken stock or cream to leftover pasta when we go to reheat it and it's just as delicious.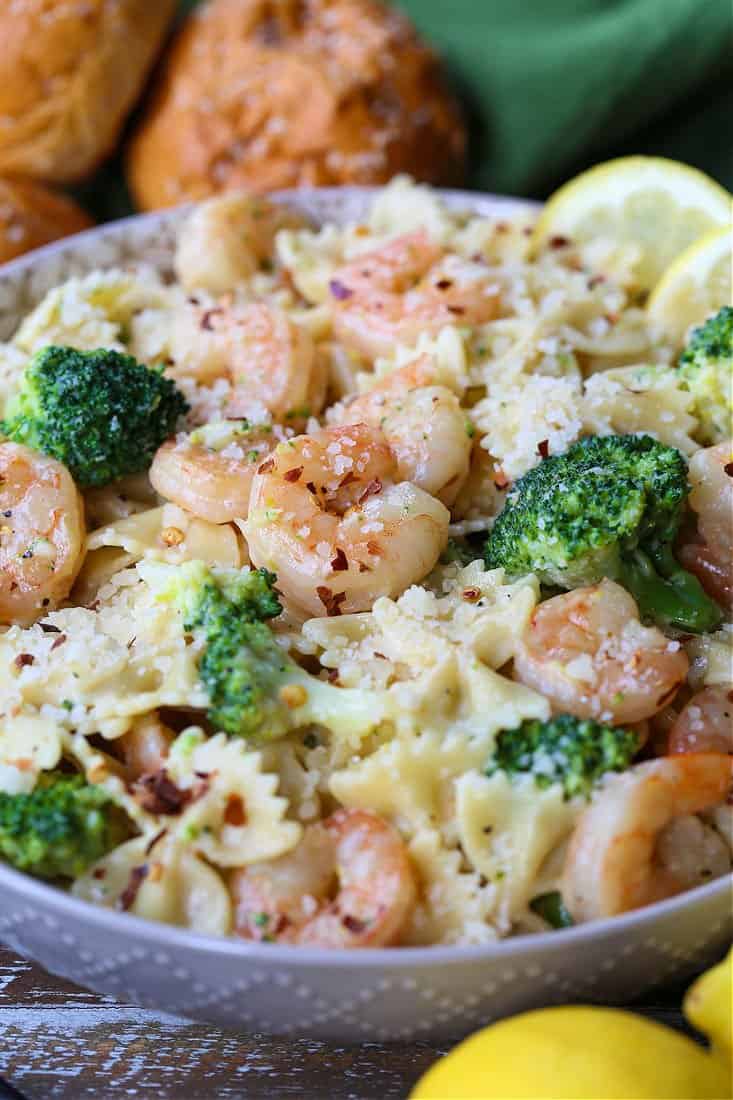 Variations On Shrimp and Broccoli Pasta
Maybe shrimp isn't your thing, we get it. So there's plenty of other options for making this pasta recipe! Here's a few ideas:
Omit the shrimp for a vegetarian dish, of course swapping out the stock for vegetable stock
Scallops
Italian sausage, mild or spicy
Leftover chicken
Ground Chicken or Turkey
Other vegetables like mushrooms, asparagus, diced tomatoes, zucchini or corn
Fresh herbs like thyme, rosemary or basil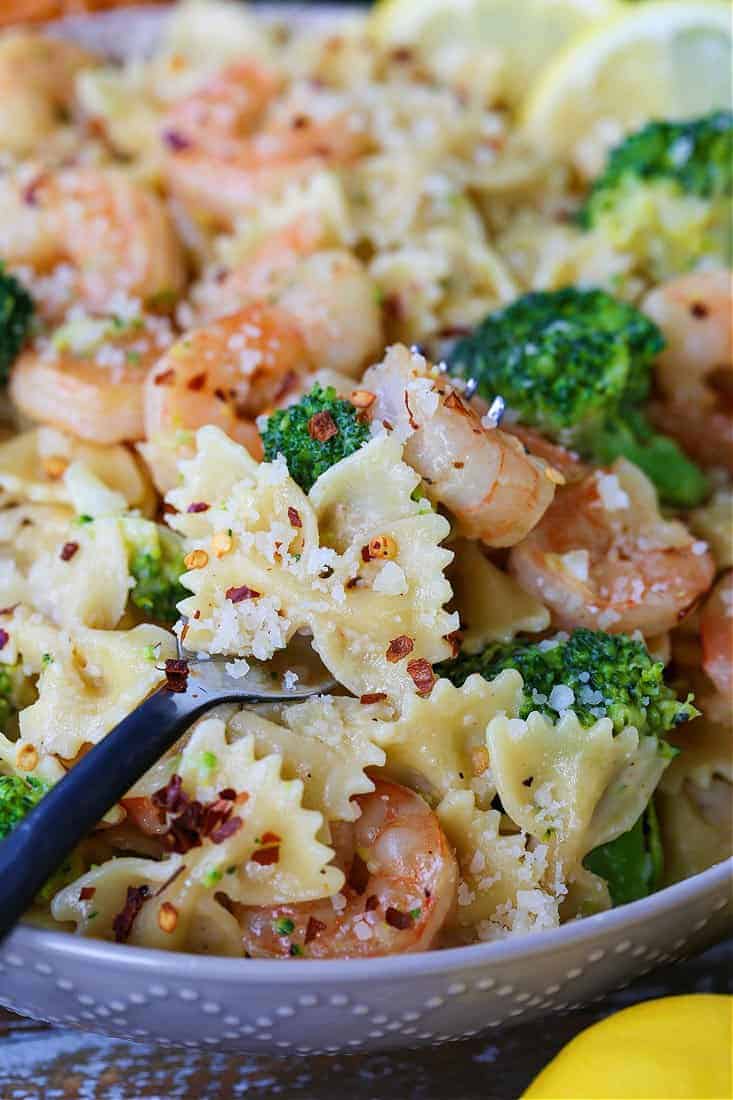 Pro Tip! Use the best quality parmesan cheese that you can find. When you're making a recipe that has just a few simple ingredients, the finishing touches are really important!
This isn't the time you use that stuff from a can that won't add a nutty, deliciously salty finish!
Looking For More Pasta Recipes?
Print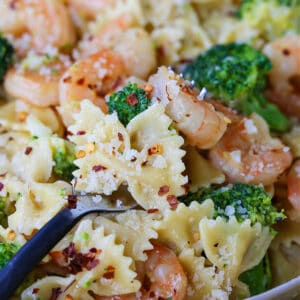 Shrimp and Broccoli Pasta
This Shrimp and Broccoli Pasta is tossed in the most delicious, light lemon creamy sauce that goes perfectly with shrimp and broccoli!
Scale
Ingredients
1

pound broccoli florets

1

pound mini farfalle (or bowties)

1

pound medium shrimp, peeled and deveined

2 teaspoons

lemon pepper seasoning

1/2 teaspoon

kosher salt

1 tablespoon

olive oil

2 tablespoons

butter

1 tablespoon

garlic

1/3 cup

white wine

2 tablespoons

flour

1/4 cup

lemon juice

1 cup

chicken broth

1/2 cup

heavy cream

1/4 teaspoon

crushed red pepper flakes

1/2 cup

grated parmesan cheese
Instructions
Bring a large pot of water to a boil. While the water is coming to a boil, season the shrimp with lemon pepper seasoning and salt.
Add the tablespoon of olive oil to a large skillet over medium heat and sear the shrimp for 2-3 minutes on each side until opaque and cooked through. Remove the shrimp to a plate and cover with foil to keep warm.
Next add the butter to the same skillet, let it melt completely and then add the garlic. Stir and cook for 1 minute and then carefully pour in the wine to deglaze the pan. Let the wine reduce for 1 minute and then sprinkle with the flour, whisking to combine and make a paste. Now pour in the lemon juice and chicken broth. Whisk the sauce so that no lumps form and bring to a simmer. Simmer the sauce for 5 minutes and then whisk in the heavy cream and parmesan cheese. Season the sauce with salt and pepper to taste and then add the crushed red pepper flakes if using.
Once the water comes to a boil, add a couple of tablespoons of salt to the water and then cook the broccoli florets for 2-3 minutes until just tender but still crisp. Remove the broccoli form the water with a spider strainer or a slotted spoon. Bring the water back to a boil and cook the pasta according to the package directions.
Drain the pasta and return it back to the pot. Pour the cream sauce on top of the pasta and then add the broccoli and shrimp to the pot. Toss the pasta in the sauce until it's very well coated and then serve with more grated parmesan cheese and crushed red pepper on top.