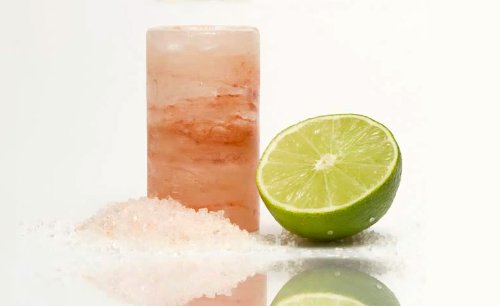 Since it's tequila week here at Mantitlement, I decide to give away these Himalayan Salt shot glasses…What better way to serve up your tequila than in these Himalayan Salt Shot glasses?
I did a post a while back on Himalayan Salt and how popular it is to cook with nowadays.
I haven't tried cooking with it yet, but I'm definitely on board for trying out these Himalayan Salt Shot Glasses.
I just took a trip to the NYY Steak House in Manhattan, and I noticed all the cool looking candle holders on the tables. Himalayan Salt candle holders, Fernando told me.
Instead of having to break out the salt if you're doing shots, just serve your tequila in these salt shot glasses and the tequila picks up the salt flavor. The company recommends that you pour your tequila in the salt shots and let them sit in the refrigerator for a bit before you serve them so they get icy cold and pick up the himalayan salt flavor.
Enter the giveaway to win these shot glasses and think about hosting a tequila tasting party if you get them…check back later this week for some great food and drink recipes using Hornitos® Tequila!
Giveaway has ended.