If you guys want a dinner recipe that everyone will come running for, this Ground Beef and Broccoli is it! Our kids devoured this meal, and then came back for seconds. The best part is that this addicting ground beef dinner is ready to go in just 15 minutes!
Serve this easy meal with steamed rice on the side or if you're looking for a low carb dinner recipe, try making this Cauliflower Rice instead!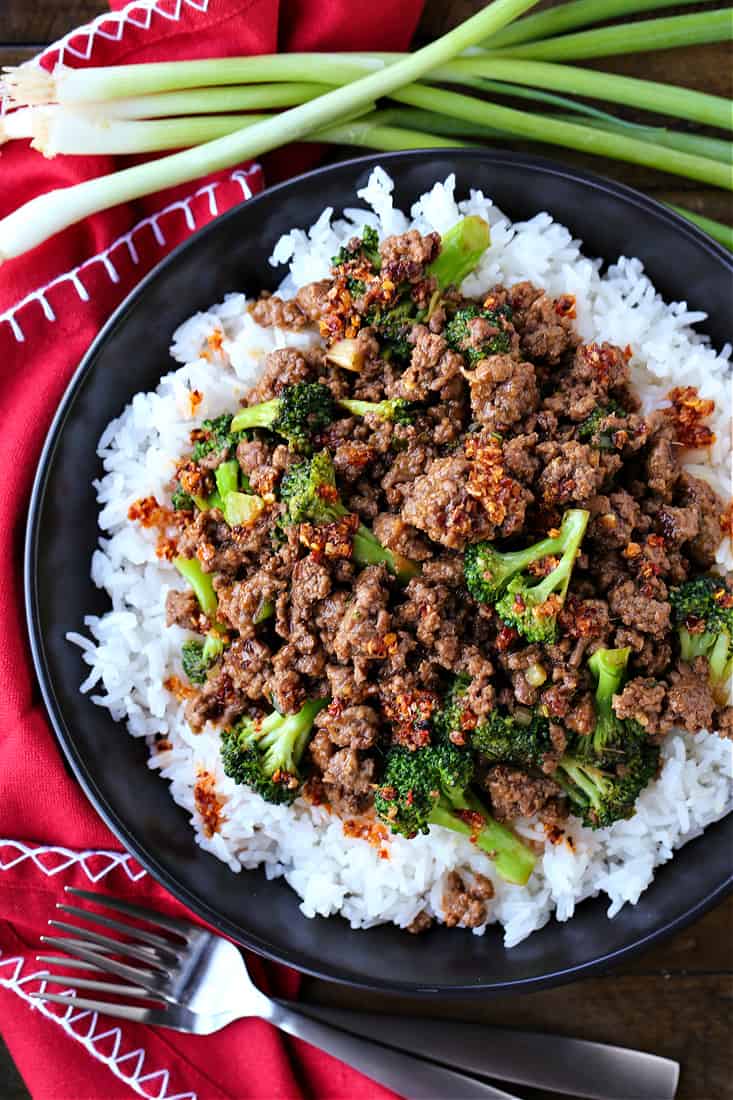 An Affordable, Delicious, Fast Dinner Recipe!
This Ground Beef and Broccoli dinner recipe covers all bases. It's super easy to make, on the table in about 15 minutes and literally everyone loves it. Win, win, right? Using ground beef makes this meal a little more affordable, and a little easier to make.
Serve over steamed rice or cauliflower rice if you're looking to keep this dinner low carb. Either way, we guarantee that you're going to be making this ground beef recipe on repeat!
Ingredients For Making This Beef and Broccoli Recipe
These are the some ingredients that you'll need to make this ground beef recipe, not pictured is the ground beef because nobody needs to see raw ground beef. AND you can swap out the ground beef or chicken, turkey or pork.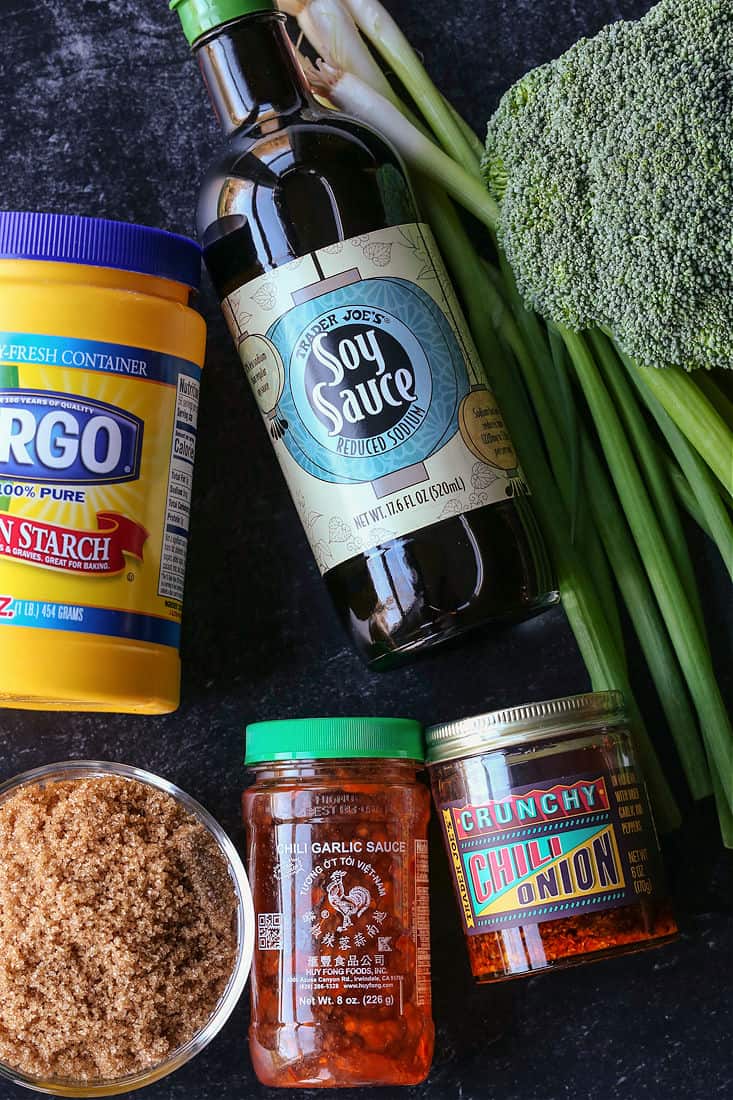 Also there's a tablespoon of garlic in this recipe but today I used garlic paste in a tube because I was out of fresh. Great ingredient to have on hand in the fridge if you've never used it!
Let's talk about this crunchy chili onion stuff. It's the new coveted condiment that you can find pretty much everywhere, Trader Joe's, Amazon, your local grocery store. There's also a crunchy chili garlic version, which is equally as delicious. It's very mildly spicy, hardly at all really, but it adds a ridiculous amount of flavor and texture that is my new favorite thing to drizzle on everything.
How Do You Make This Ground Beef Recipe?
Start by cooking the broccoli florets. We like our broccoli to be more on the crisp side instead of soft or (soggy!). Cooking the broccoli for just a few minutes until it's bright green like you see here will do the trick.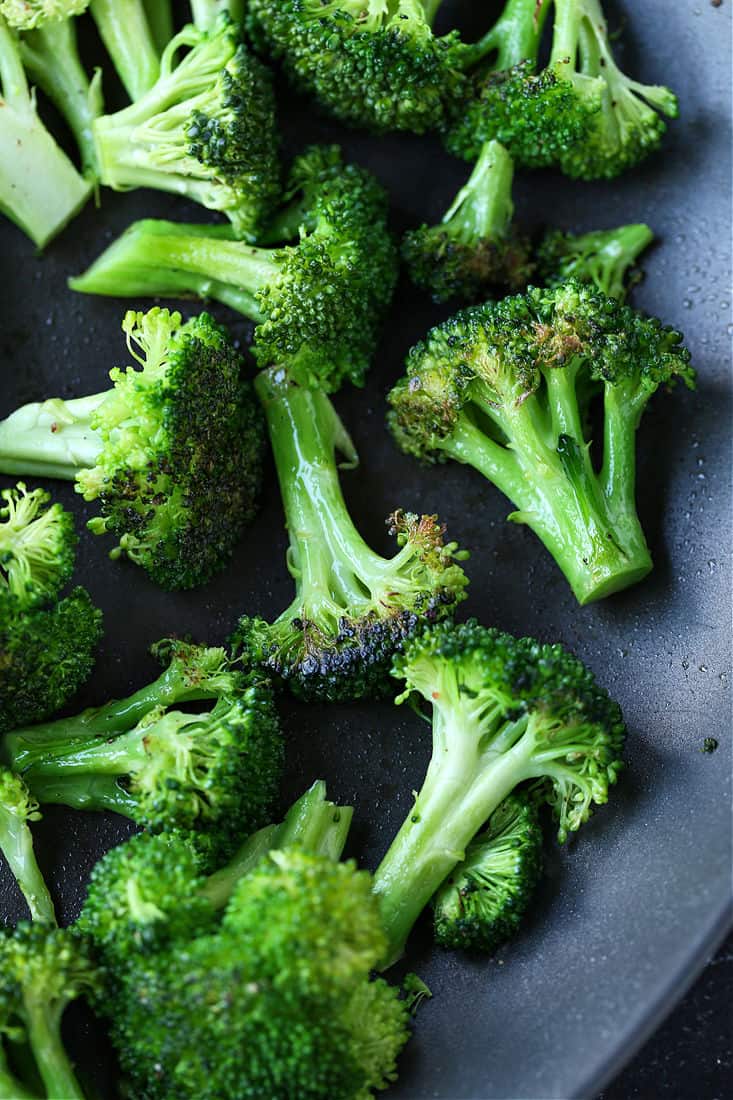 Cover the skillet and let the broccoli steam for a couple of minutes until tender but still crisp and then remove the broccoli from the skillet. The broccoli will continue to cook when you add it back to the skillet, so don't overcook on this step!
Next add the ground beef to the same skillet along with chopped scallions and then garlic. You definitely want to see that caramelization happening on the beef to give it the best flavor, so don't get in there and stir it around too much. Let it sit for a minute or two to get a nice crust.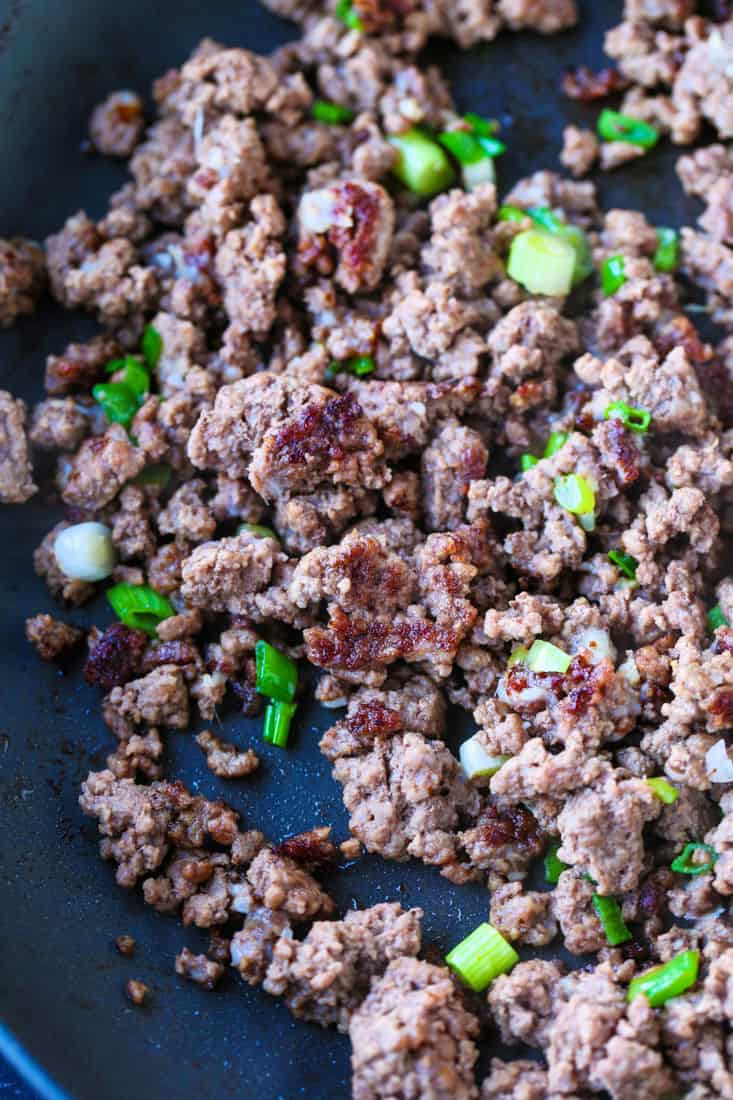 Ingredients For The Beef and Broccoli Sauce:
1/2 cup soy sauce
1/4 cup water
1 tablespoon chopped garlic
1 teaspoon ginger paste (or fresh, minced ginger)
1 tablespoon brown sugar
1 teaspoon chili garlic sauce
1 tablespoon cornstarch
Mix all the ingredients for the sauce recipe in a bowl and set aside until you're ready. When the ground beef is cooked, add the broccoli back to the skillet and pour on the sauce.
Stir to combine the sauce with the ground beef and broccoli and simmer for a minute or two to let the sauce thicken.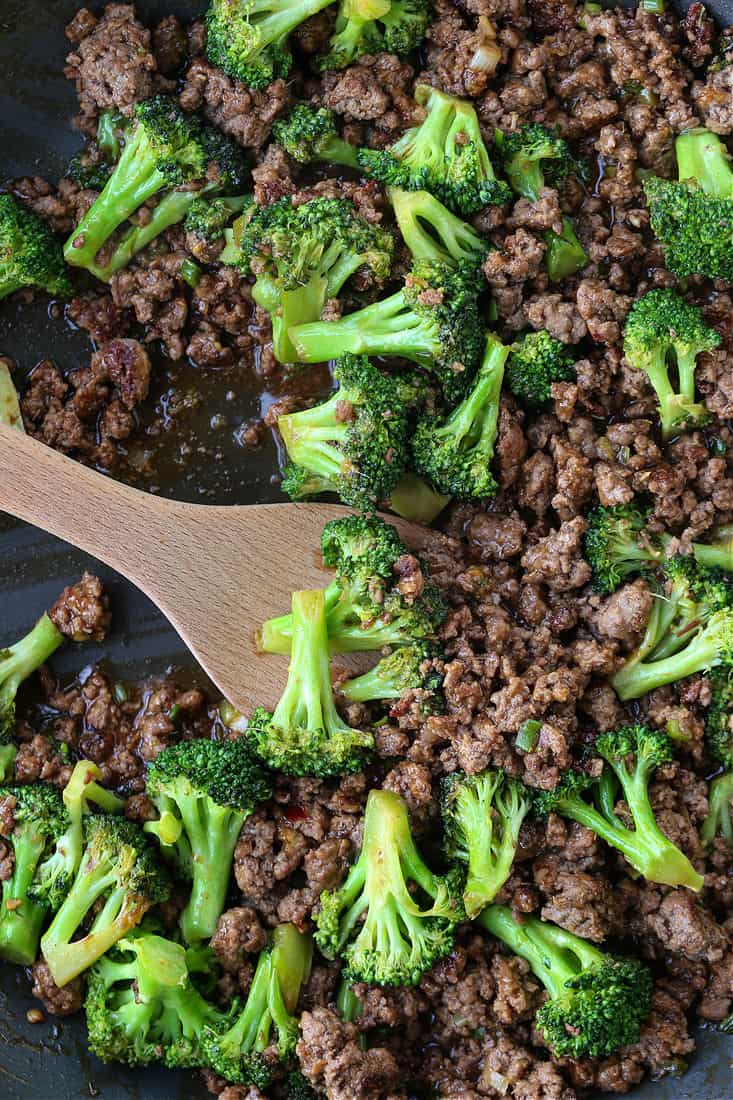 Can I Use Ground Turkey In This Recipe?
Absolutely! Ground turkey, pork or chicken will ll work for this Ground Beef and Broccoli recipe. Of course, we like using ground beef the best, but if you're looking to cut some calories, any of those proteins will be just as tasty.
And yes, you can use this same recipe with steak! Slice a one pound sirloin into thin strips, add them to the skillet just like you would the ground beef and sear on both sides.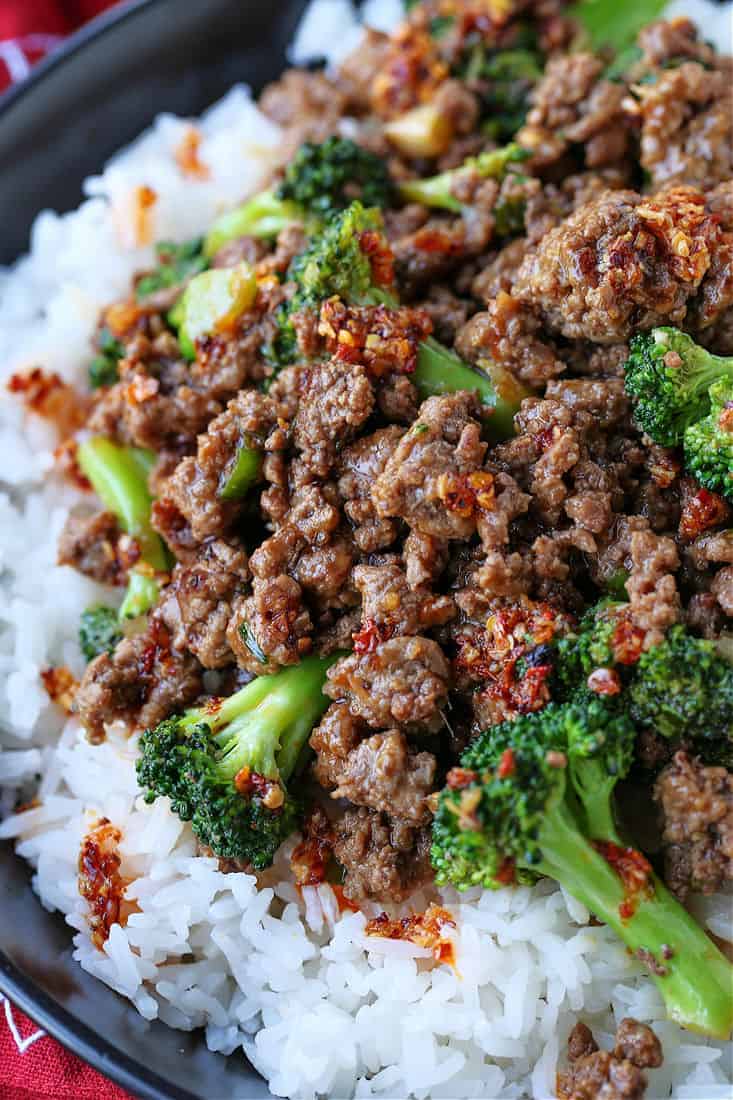 Tips For Making The Best Ground Beef and Broccoli!
We have a few of tips for making this beef and broccoli recipe taste 1000 percent better than any take out version!
Don't Overcook the Broccoli: As we mentioned before, keeping the broccoli tender but still firm or crisp is a key part to a delicious beef and broccoli dish. The broccoli will continue to cook when you add it back to the skillet with the beef so if you overcook it at the first step it's going to be soggy or mushy by the time this meal is done.
Caramelize the Ground Beef: It might sound strange, caramelizing the ground beef, but I promise you, it's key part to making this dinner recipe. When you get the ground beef in the skillet, break it up into crumbles and then let it sit for a few minutes. A brown crust will develop on the beef that's going to add so much flavor to this beef and broccoli dinner!
Crunchy Chili Onion Oil: Literally my favorite condiment these days. It's not really spicy, so don't get freaked out by the red color. But it does have the most amazing flavor and texture ever. There's garlic versions, too. Get them all, you'll thank me.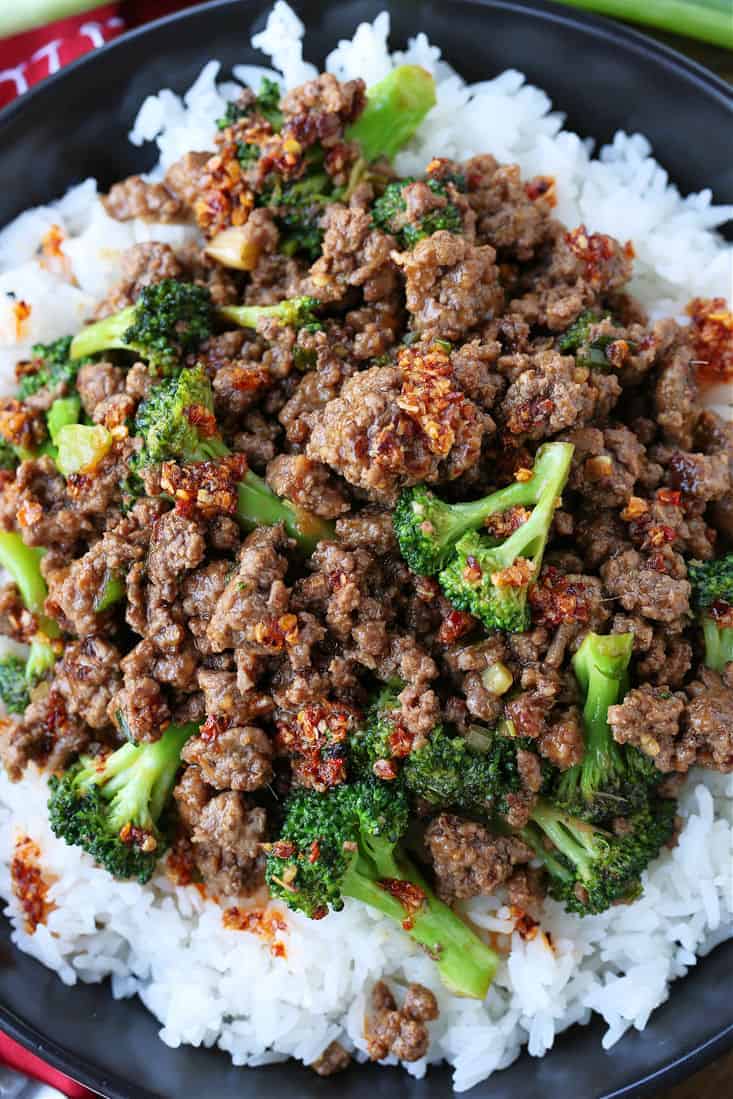 The crunchy chili onion oil is optional, so if you don't have it don't let that stop you from making this recipe. But again, if you can find some it's definitely worth the purchase!
Looking For More Recipes With Ground Beef?
Print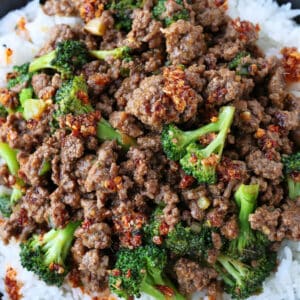 Ground Beef and Broccoli
Author:

Prep Time:

5 minutes

Cook Time:

15 minutes

Total Time:

20 minutes

Yield:

6

Servings

1

x
This Ground Beef and Broccoli recipe is SO addicting! Our kids absolutely love this dinner, and they always want seconds. Using ground beef makes this recipe a little easier and a lot more affordable.
Scale
Ingredients
Ingredients For The Sauce:
1/2 cup

soy sauce

1 tablespoon

chopped garlic (or garlic paste)

1 teaspoon

finely chopped fresh ginger (or ginger paste)

1 teaspoon

chili garlic sauce

2 teaspoons

brown sugar

1 tablespoon

cornstarch
Ingredients For The Beef and Broccoli:
1 tablespoon

olive oil

4 cups

broccoli

florets

1/4 cup

water

1 1/2

pounds ground beef

4

scallions, chopped
Crunchy chili onion sauce for drizzling on top (optional)
Instructions
Make the sauce by adding all of the sauce ingredients to a bowl. Whisk together well so that the cornstarch dissolves into the liquid. Set aside.
Add the oil to a large skillet over medium heat. Once the skillet is hot, add the broccoli florets and cook for 2-3 minutes until the broccoli turns bright green. Pour 1/4 cup of water into the skillet and then cover and steam the broccoli for another 2-3 minutes until tender but still crisp. Remove the broccoli from the skillet and set aside.
Add a little more oil to the skillet, or spray with non-stick cooking spray and the add the ground beef. Break up the ground beef into crumbles, and then let it cook for a few minutes until the beef starts to caramelize on the bottom. Repeat this process, breaking up and stirring, until the beef is cooked though. Drain any drippings from the pan and then return the skillet to the heat.
Add the scallions to the beef and cook for 2 minutes until the scallions have softened. Add the broccoli back to the skillet and stir. Stir the sauce again to make sure the cornstarch is mixed in, and then pour over the beef and broccoli and stir.
Let the sauce thicken for 30 seconds, taste and adjust the seasonings if needed and serve with a drizzle of crunchy chili onion oil on top (optional). If the sauce thickens too much, add a splash of water and stir.
Category:

Dinner

Method:

Stove Top

Cuisine:

American
Keywords: mantitlement, ground beef recipes, recipes with ground beef, beef and broccoli, easy recipes, 15 minute meals, low carb recipes